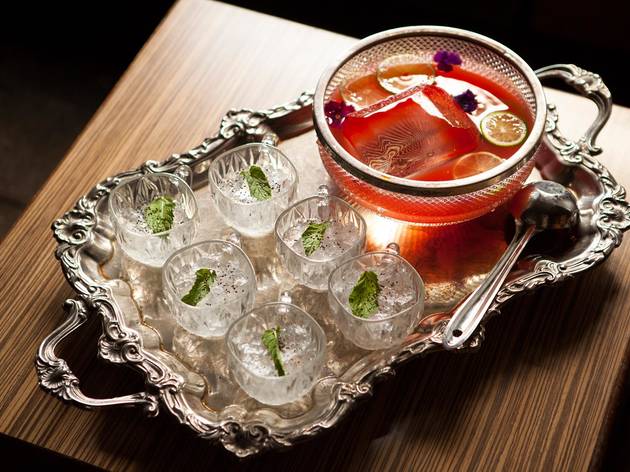 1/8
Photograph: Jakob N. Layman
Bowl Water-Malone at PUNCH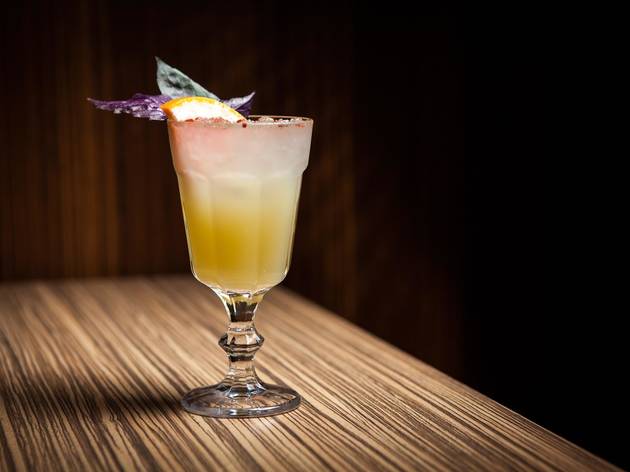 2/8
Photograph: Jakob N. Layman
Royal Vice City at PUNCH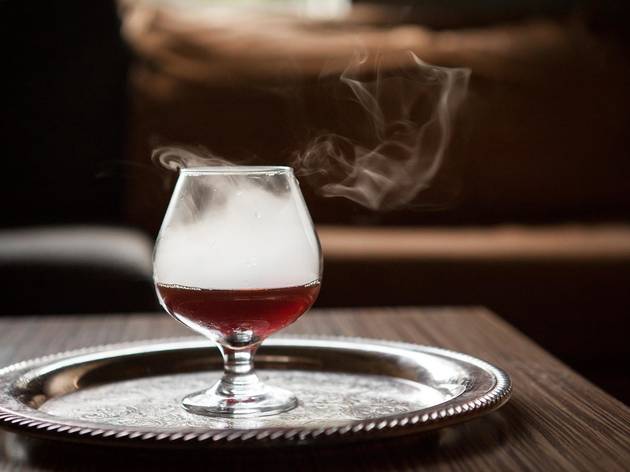 3/8
Photograph: Jakob N. Layman
El Bombero at PUNCH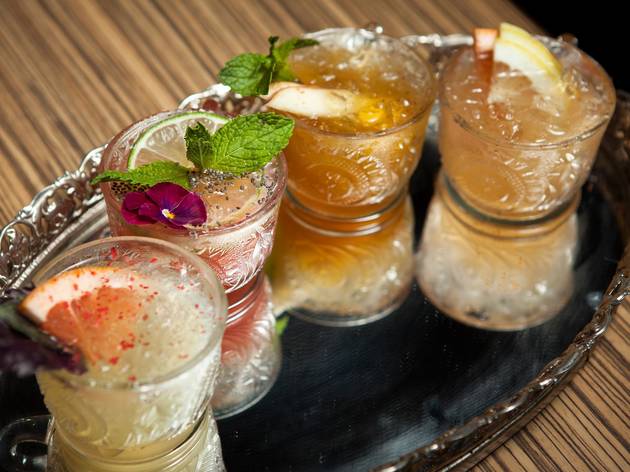 4/8
Photograph: Jakob N. Layman
Punch flight of Royal Vice City, Water-Malone, Tea with Lola, and A Horse with No Name at PUNCH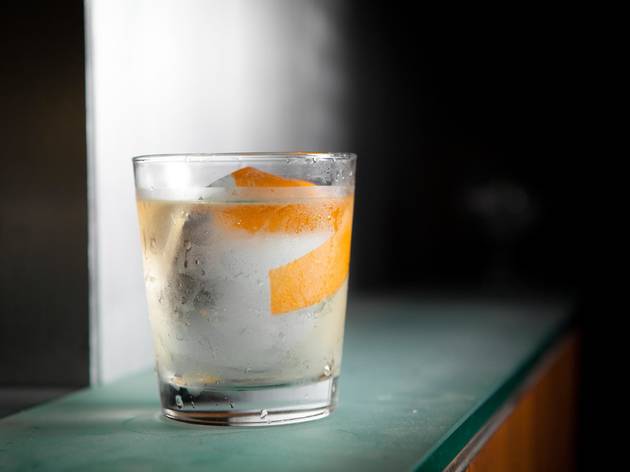 5/8
Photograph: Jakob N. Layman
Hacienda Negroni at PUNCH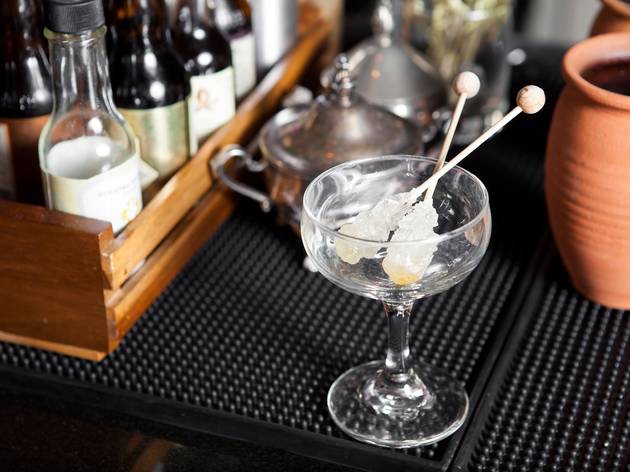 6/8
Photograph: Jakob N. Layman
PUNCH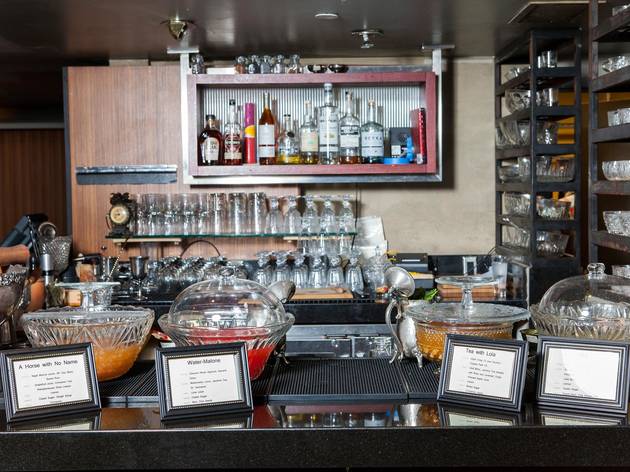 7/8
Photograph: Jakob N. Layman
PUNCH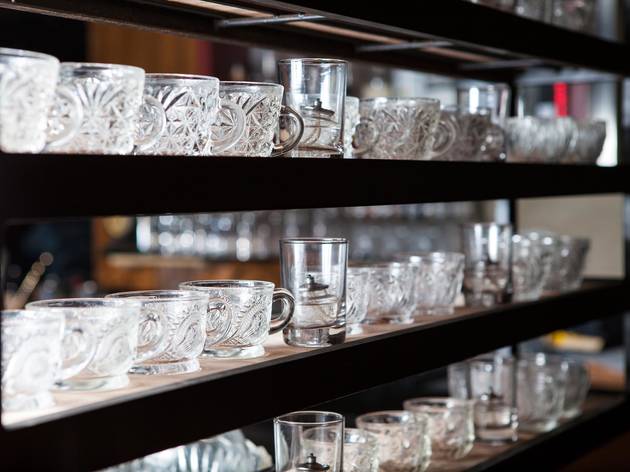 8/8
Photograph: Jakob N. Layman
PUNCH
At the height of LA's mixology craze, local bartenders are becoming increasingly creative in finding new ways to quench our insatiable obsession with craft cocktails. By now, pre-Prohibition is almost passé, there's a variation of the Old Fashioned on every menu (thank you, Mr. Draper) and even the questionable concoctions of the 1970s have experienced a revival. Something we haven't seen in abundance? Punch. Here to fill that niche is the aptly named PUNCH, a speakeasy-style lounge in the unlikely locale of Old Pasadena.
Housed above Picnik, a recently-opened beer and sausage joint, PUNCH takes us back to an era that predates modern mixology by more than two centuries, when folks made punch to disguise the unfortunate taste of their 17th-century hooch. PUNCH, too, was a concept born out of necessity—the limited space didn't allow for a full bar, so pre-mixed libations are garnished and served up from vintage crystal punch bowls. It's a win-win—instead of waiting for a bartender to meticulously muddle a single sage leaf or extract the essence of a cardamom pod, fully-developed flavors are delivered rapidly to your mouth by way of glass or bowl. And really, is there anything better than a bowl of booze?
Vitals
Good for: In a neighborhood best known for sports bars and tacky nightclubs, PUNCH is a refreshing but not radical break from the mold, which may entice those who'd otherwise avoid Old Town. A mix of intimate tables and lounge-style couches, the venue is equally ideal for couples and group celebrations, with punch bowls an obvious option for larger parties. Just be sure to make a reservation—at the moment, PUNCH is only open Thursday through Saturday and fills up fast. In modern speakeasy fashion, reservations are made by texting 626-639-8169.
The scene: For all its virtues, PUNCH does admittedly fall short on ambiance — the result of an awkward floor plan. Despite having a separate entrance, it hovers on the upper level of a modern open-plan building, with audible and visual reminders of the restaurant below shattering any "speakeasy" illusion. The large pane glass windows give the space the feeling of an airport lounge, while unfortunate lighting highlights the more unfortunate state of the floors—carpeting was a bad choice. Still, the punch alone seems enough of a draw to bring 20-somethings through 50-somethings, be it date night or girls' night, here in hoards.
The playlist: Upon our arrival, the background music was a regrettable compilation of the kind of generic alt-rock typically propagated by KROQ. Fortunately, this was soon drowned out by a female-fronted pop cover band in the Picnik courtyard, who delivered some decent renditions of Lorde, Adele and Amy Winehouse ditties. Either way, musically, there seemed a noticeable disconnect between the bar's intended concept and its actual atmosphere.
Bartender says: "The original form of mixology," punch traditionally consists of five components: strong, weak, sour, sweet and spice, so the ingredients in each of the four punches on the menu are broken down in that order.
Drink this: A glass of punch will set you back $10, while a bowl for group sipping is $60. If you're worried about commitment, the punch flight ($22) lets you try smaller servings of all four varieties (punch flavors will be changing seasonally). Royal Vice City is a bright, summery blend of pisco and gin, with cucumber, grapefruit and basil delivering a crisp, refreshing flavor reminiscent of a Pimms cup at Wimbledon. At the other end of the seasonal spectrum is Tea with Lola, a spiced whiskey and cognac punch with warm, almost Christmassy hints of cinnamon, ginger, apple and brown sugar—a bit out of place on a summer menu, but no less delicious. Then there's the Horse With No Name, a smoky concoction of mezcal and rum rounded out with grapefruit and a subtle hint of cinnamon. Our least favorite of the punches was the Water-Malone, which combines two kinds of rum, watermelon juice and St. Germaine with Jasmine tea, lime and mint. As its name suggested, it tasted mostly of watermelon with few other distinguishable flavors, and heavy-handed garnishing had us picking chia seeds out of our teeth for the rest of the night.
Venue name:
PUNCH (CLOSED)
Contact:
Address:
168 W Colorado Blvd
Los Angeles


Opening hours:
Thu-Sat 8pm-2am
Do you own this business?