On Thursday, Clifton's Cafeteria celebrated its official ribbon cutting ceremony, with brief remarks by mayor Eric Garcetti, actress June Lockhart, councilman José Huizar and Clifton's owner Andrew Meieran, who began the project to bring back the beloved eatery four years ago. After a spirited speech on the revival of Downtown LA—particularly Broadway—the crowd was invited into the beautiful, five-story space to enjoy jazz, food and plenty of Champagne. While only the first two floors were open, we were blown away by the cafeteria on the first floor and masculine bar on the second floor (a fantastic "improved" Old Fashioned, featuring absinthe and maraschino liqueur, is highly recommended). There's plenty to discover here—a massive tree that reaches from the bottom to the top floor, a giant stuffed bear encased behind glass, beautiful chairs with bone backing—but here are our top five favorite details to look out for.
1. Check out the oldest neon light in America
Nestled behind a glass screen in the basement (right next to the women's bathroom) is the oldest continuously active neon light in the world. In the world. Installed in the mid-1930s by Clifford Clifton, the light was covered by plywood and plaster when the building was remodeled, then rediscovered in 2012—still lit. Though it's covered mostly in grime, it's still glowing today—a cool little detail to check out when taking a bathroom break.
2. Walk among the Hollywoodland sign and miniature caves
Photograph: Jakob N. Layman
On the first floor of Clifton's, a peculiar little alcove on the left side of the space features details that might go unnoticed to the hurried lunch goer. Still, they are not to miss: a miniature model of Griffith Park and Hollywoodland sit perched above, while small caves looking into glass-encased dioramas line a corridor that leads to the cafeteria.
3. Load up on nostalgic food...
The cafeteria at Clifton's can feel a bit cluttered, with a center island that makes it hard to determine where the line ends and begins. But the food here, which comes from chef Jason Fullilove, is a beautiful throwback to the days of Waldorf salad (Fullilove's version is excellent) and roast beef, mac and cheese with a thick layer of bread crust and delicious creamed spinach.
4. ...especially the Jell-O.
Photograph: Courtesy Jakob N. Layman
The #1 question from Clifton's former customers—aside from when it would open—had to do with a particular dessert. "People kept asking me if we were still going to have Jell-O," said Meieran, "and I said 'Yes, Clifton's isn't the same without Jell-O.'" Pastry chef Michael Luna has honored this request with a fantastic jar of the familiar dessert, topped with Greek yogurt frosting and a bottom layer of creamy pudding. Other desserts to look out for are the butterscotch budino housed in an edible chocolate cup, and a classic white cake with vanilla frosting so sweet it'll keep you wired for hours.
5. Ogle at the old-school equipment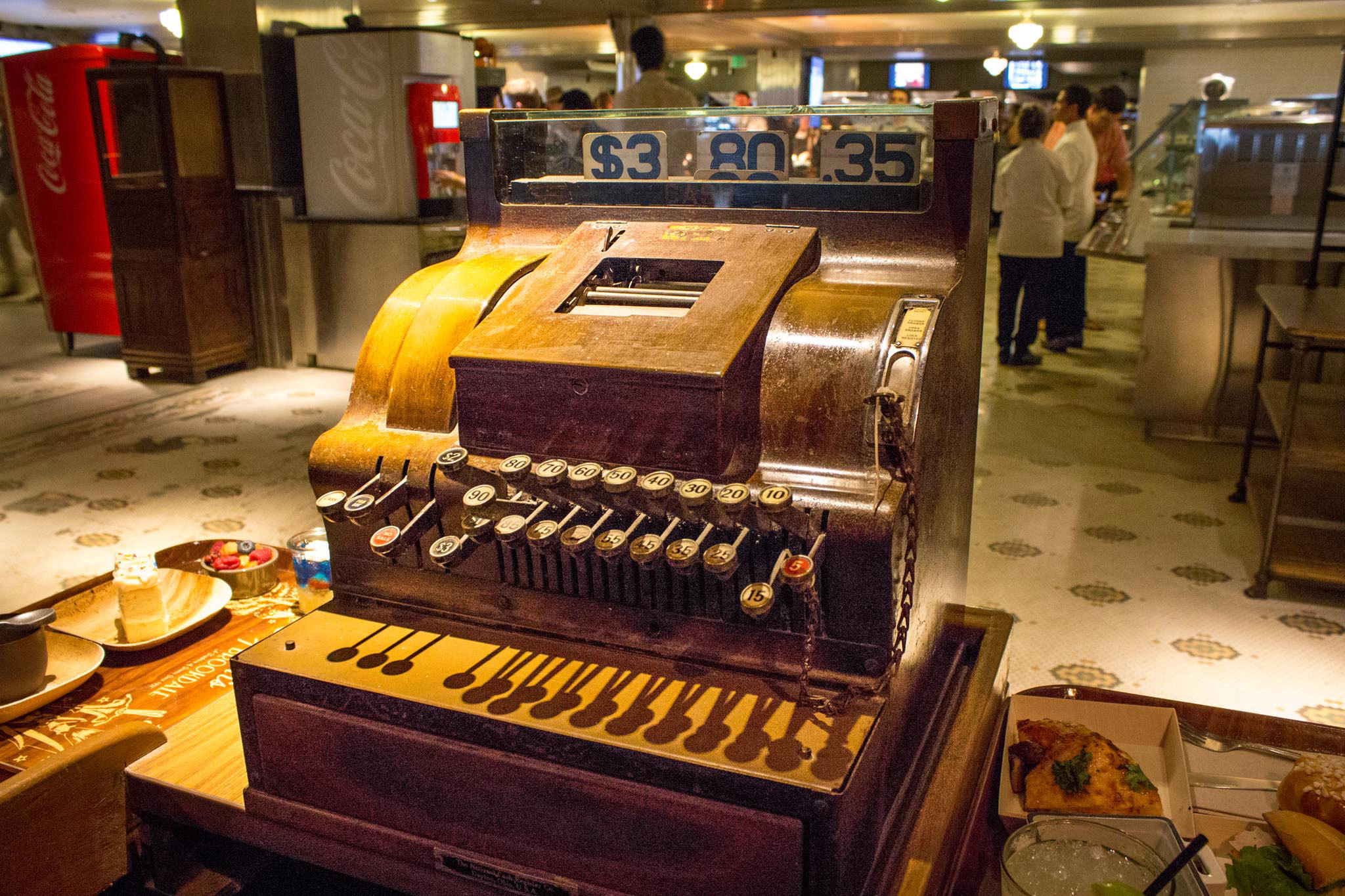 Photograph: Michael Juliano
A beautiful cash register, an old juice machine, a huge coffee urn—Clifton's is bursting with equipment that has probably been around since its inception. Don't take it for granted. "It's a great day for historical preservation," said Huizar, and that includes not just the building, but everything preserved inside Clifton's. Come for the food—and the drinks—but stay for all the beautiful details that make this place a historical treasure.
Clifton's Cafeteria (648 S Broadway, Downtown) officially opens on Tuesday, September 22, beginning at 11am. The bars will remain open until 2am.
Update: the originally scheduled opening was delayed until October 1, when it will officially open beginning at 11am.