10/9/19 UPDATE: We first ran this story during 2017's run, but now that we're back in the playoffs, baby—and these shirts are back in stock—we've updated this piece with current shopping links and prices. Go Dodgers.
It's been a longstanding joke of a conversation filler here in L.A., but today we can really say it: So, how 'bout them Dodgers? After last night's insane 11-to-1 pennant win against the Cubs, the whole city's going blue—even City Hall is lit up for the big win—as we root, root, root for the home team, which is now heading to the World Series for the first time since 1988.
Fans woke up before sunrise to buy Dodgers merch online and in-person at sporting-goods stores, but we think most may have overlooked one crucial seller: Cofax Coffee. The coffee shop along Fairfax has long supported our sports-boys-in-blue, selling perhaps the best sweets-meets-sports item around: a doughnuts-themed Dodgers shirt.
Cofax's white, gray and Dodger-blue always variants sell out fast, but they're back in stock—and you can buy these gray ones for $25 a pop. They've also got coffee mugs, sweatshirts and even a new "vanilLAtte" tee in black and blue, for espresso fans.
They stock a few of them in the shop, but if you're not shopping digitally, you'd better get there quickly; staff says some customers buy these shirts four at a time. In fact, the first two customers of the day didn't even want coffee or one of Cofax's out-of-this-world breakfast burritos—just the shirts, please.
The cotton tees are available in sizes small, medium, large and extra large. If your sweet tooth extends to cookies, they're also selling packs of Dodgers-themed sugar cookies. We suggest you move even faster than Kiké Hernandez.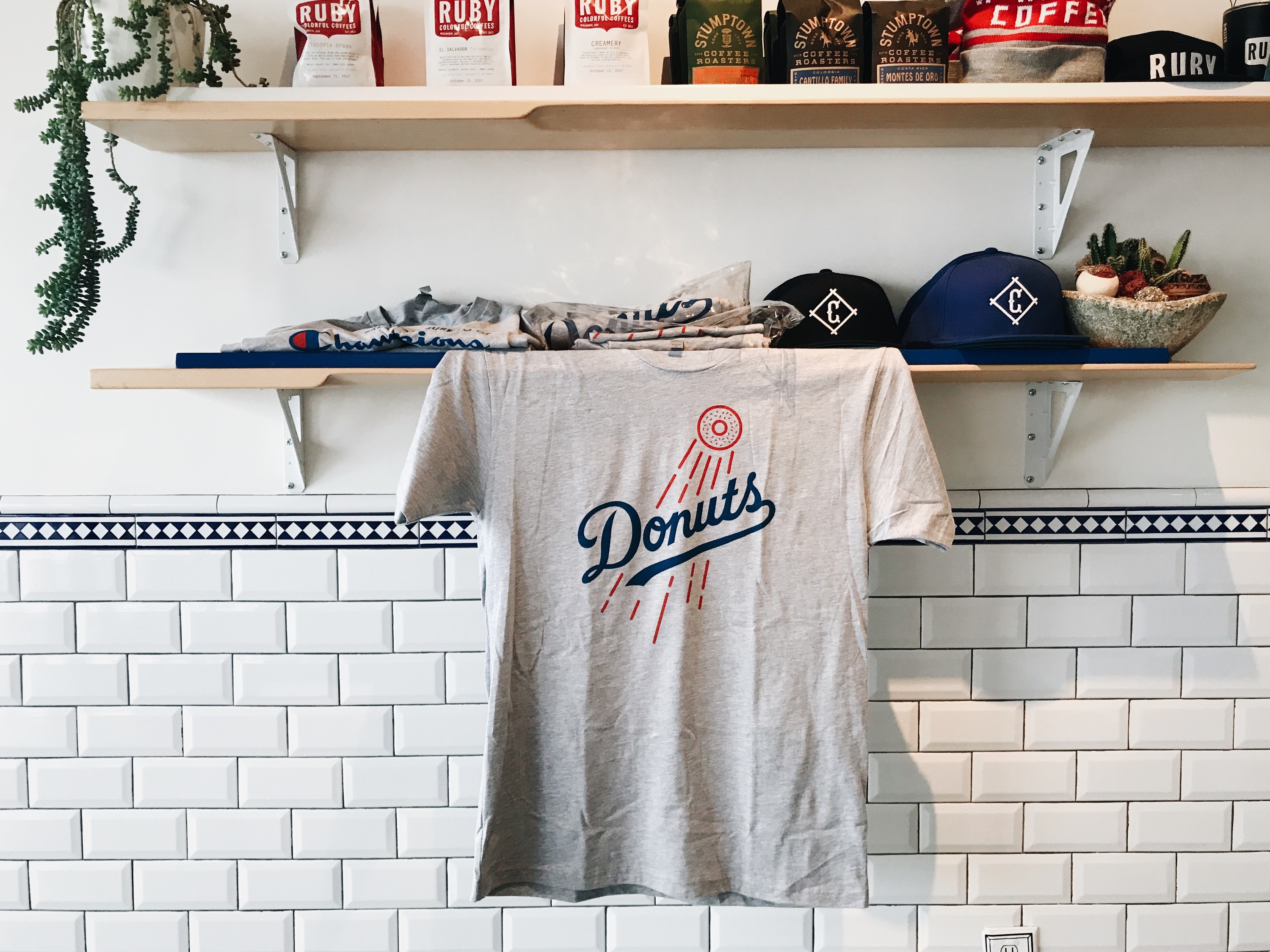 Cofax Coffee is located at 440 N. Fairfax Avenue, open Monday to Saturday from 7am to 6pm, and on Sunday from 7am to 5pm.