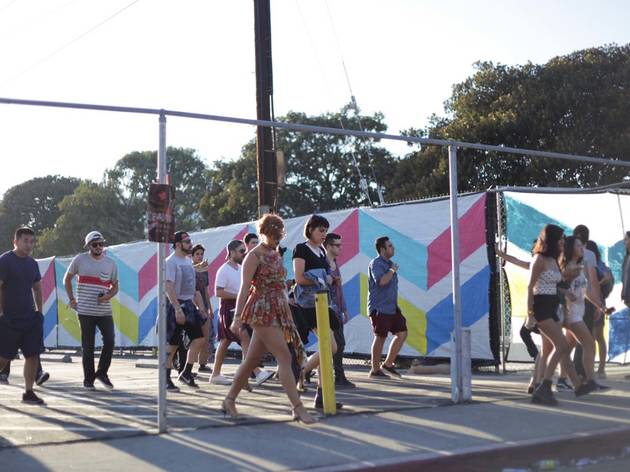 Epic long lines reported at FYF Fest entrance
Posted: Saturday August 23 2014, 5:11pm
FYF Fest is underway at the LA Sports Arena and Exposition Park, but many fans are still waiting outside in long lines and let's just say they're not happy about it.
Some festival-goers are saying they've waited as long as three hours just to get through the security lines.
"We spent over an hour to reach the the end of the line. To reach a line that is at least 3-4 hours long. How bad can you mess that up. Were missing over half of day one due to poor management it would be nice to be given some sort of compensation for the money spent," Anthony Dominguez posted on the festival's Facebook page.
"We're doing everything we can to speed up the process and make the lines go faster," said David Marek, who handles press for FYF. "We thank our fans for their patience."
Marek said he would be sending out an update with more details on what FYF is doing to help the situation soon.
The gates to the festival were scheduled to open at 2pm and the first bands began at 2:30pm. People began complaining about long lines on social media right around that time.
The festival did address this situation on Twitter around 4:30pm:
We know many of you are still in line trying to get in. Rest assured, scanning and searches are moving as quickly as possible. Thank you

— FYF Fest (@FYFFEST) August 23, 2014
On the festival's Facebook page, there's a mix of people demanding refunds and more entrances (plus a couple people still trying to buy and sell passes).
"Sure they are doing bag checks and scans but there are less than 20 people checking bags and only 15 scanners. Not to mention there are NOT ENOUGH people monitoring the lines because countless people cut in front of us and there was nothing we could do about it. Now that we are in, i can say it took over 2 hours to wait in the line and now were waiting because one of our parties wrist bands didn't scan. This is THE WORST FYF I have ever been too. This is worse than ANY music festival I have ever been to as far as getting in goes. F U C K Y O U F E S T ! !" said Tawnie Jeré Berber Riddle on the FYF Facebook page.
Update, 7pm: There's a long line to get into the arena shows with police and security because the venue is likely at capacity. Here's a photo of the line to see Todd Terje. It's still blocked off for Caribou too—probably the rest of the night too, we're guessing.
Photograph: Jakob N. Layman
Update 12:30am: Still no word from FYF on what happened Saturday, and if there's a reason to be worried about crowds and long waits again tomorrow. Read our recap of Day One and see our FYF photos here.
Are you at FYF? Leave us a comment below and tell us what you're seeing.
Share the story