If there's one thing Angelenos should know from this weekend's D23 Expo, it's this: there's a Star Wars land coming to Disneyland (and Walt Disney World in Florida). It wasn't the only Disneyland story out of the convention—a "Soarin' Around the World" makeover was announced for California Adventure and the Walt Disney Archives celebrated the park's 60th anniversary—but the Star Wars news was by far the most exciting. The announcement raised as many questions as it did answers, so we'll do our best to fill you in on the essential details.
Is Star Wars going to get its own separate theme park?
No, the Star Wars-themed land will be taking over 14 acres at the Disneyland park, according to the announcement. To put that into perspective, Cars Land at California Adventure sits on 12 acres; Disney is touting Star Wars as its largest single-themed land expansion.
So where will they be able to fit all of that?
Here's the word from one of Disneyland's official Twitter accounts:
@Malin1804 It will be in the Big Thunder Ranch area, inclusive of some backstage locations.

— Disneyland Today (@DisneylandToday) August 16, 2015
What sort of rides will there be?
Two signature attractions were announced: an "epic Star Wars adventure" that plops guests into a battle between the First Order and the Resistance—those are the factions from the upcoming Star Wars films—as well as another ride that promises to put guests behind the controls of the Millennium Falcon on a "customized secret mission."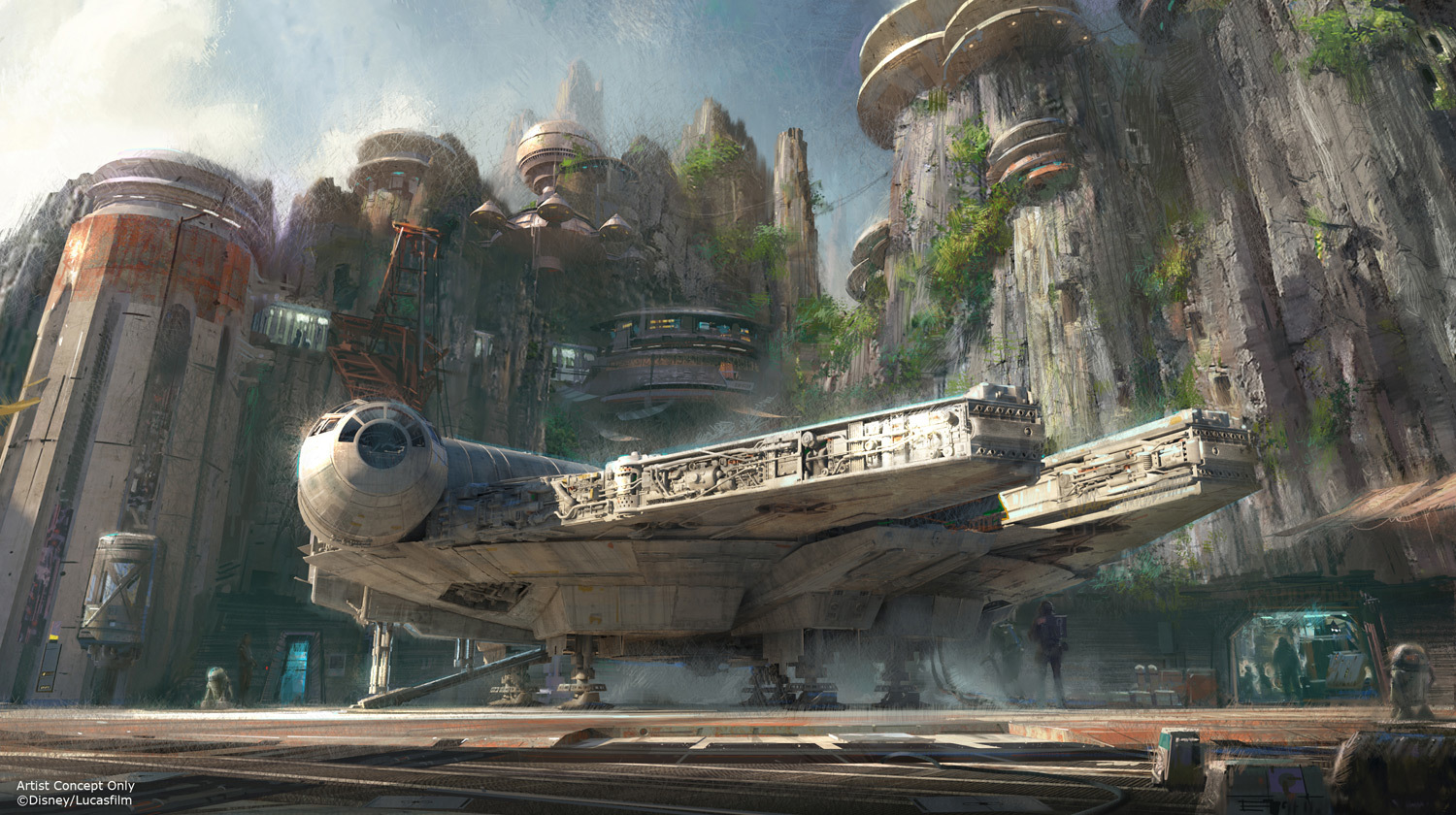 So what will happen to Star Tours?
The existing Star Wars-themed ride won't be going away and there was no mention of it moving to the new land. In fact, locations and characters from Star Wars: The Force Awakens will be added later this year as the rest of Tomorrowland gears up for the film's release.
Did you say there's going to be a temporary Star Wars takeover of Tomorrowland? But Star Wars takes place...
A long time ago in a galaxy far, far away—we know. Nonetheless, 2016 will see the arrival of "Season of the Force," a Tomorrowland-wide event that'll bring themed food and entertainment to the futuristic area, along with Hyperspace Mountain, a reimagined version of the roller coaster as an X-wing battle. This year, the land will also host the Star Wars Launch Bay, an exhibit and meet-and-greet space (which it'll share with the Marvel experiences that are already in the Innoventions building), alongside the introduction of Star Wars Rebels characters to the Jedi Training Academy.
Back to that Star Wars land—when will it open? Will ticket prices go up? Should I start lining up now?
There's a lot we still don't know, including when it'll open. Using Cars Land as a reference again, that expansion was announced in 2007, broke ground in 2009 and opened in 2012. In other words, you're going to need a bit of patience.
The most important question: Will there be a Cantina? And can I drink myself into carbonite-like state there?
Well, Disneyland is dry, so you can't get tipsy anywhere (Club 33 aside). That said, here's the word straight from CEO Bob Iger: "You'd expect to find a cantina, and there will be one."