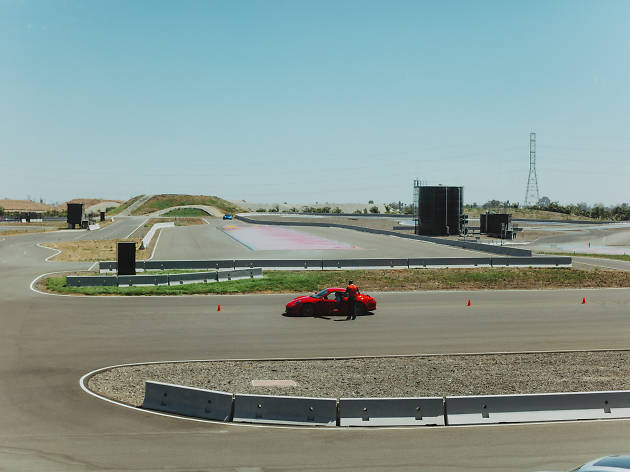 Live the high life at Porsche's restaurant overlooking a test track
Posted: Wednesday August 9 2017, 8:52pm
Suppose you're living that Porsche-dream life on an economy-car budget—trust us, you're not alone—or maybe you're one of the biggest speed freaks you know. Perhaps you're even in the market for a new luxury vehicle and want to see how it handles, or you're looking to leisurely sip champagne while drivers loop anything-but-lazy laps around a track. Whatever the case (or your bank statement), there's a new way to enjoy some seriously stunning dishes and take in some of the most elite sports cars in the world. Oh, and it's open to everyone.
Without much signage or fanfare, Porsche's Experience Center hides in plain sight between the 405 and the 110 in Carson, but don't let its humble presentation fool you. The name is spot-on: it's certainly a high-octane experience, and at the height of it all is Restaurant 917. Last November, Porsche opened its L.A.-area center, where the casually curious and automobile enthusiasts alike can drive a range of Porsches—for a price—or wander an atrium full of classic models and race cars, peer into the auto shop and even sit inside a Porsche simulator. It's the second U.S. experience center—the other resides in Atlanta—though you'll also find them in England and Germany, with a China location on the way. At the heart of each is a restaurant that's chef-driven (no pun intended); here in L.A., at the heart of ours is a modern-American, produce-inspired restaurant overlooking the curvaceous terrain of the development track.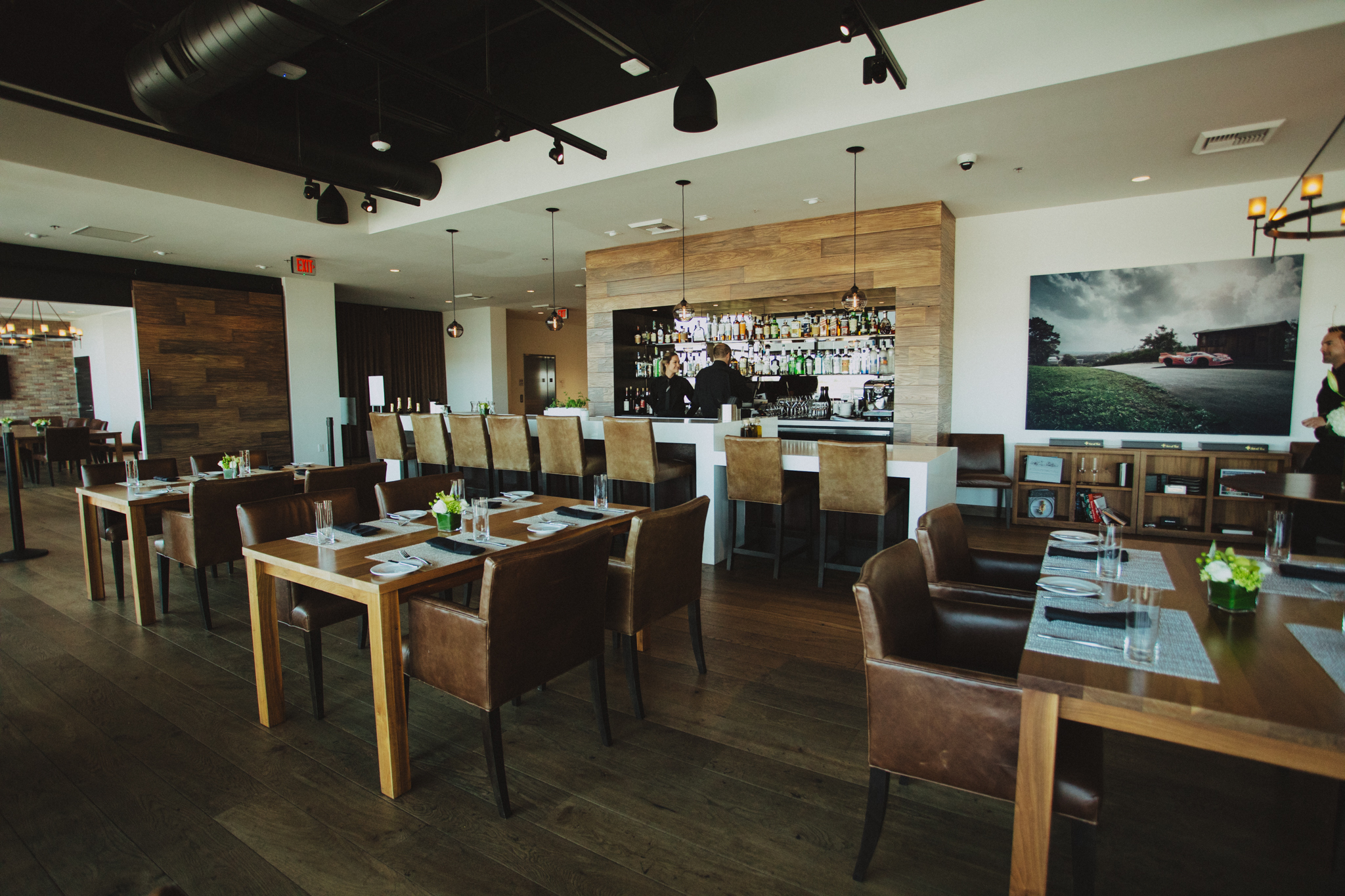 "I do a lot of shopping at Santa Monica Farmers' Market, so I change items on a whim," says executive chef Matt Lee, who sources all produce from within 150 miles. "It's very seasonal, with very sustainable seafood." As such, the menu at Restaurant 917 rotates four times a year, but the items change on a near-weekly basis. It's a hidden gem, whether you're grabbing a bite after a lap or simply there to take it all in.
From the outset, Lee—formerly of the Restaurant at the Getty Center—had one chief concern: when crafting a menu for Porsche, how could he replicate the brand's aesthetic? Fortunately, it comes naturally: his dishes have always leaned playful, he says, so whether he's building a skyline of fried sardines, charred avocado and microgreens that stand vertically on house-made toast or draping tentacles of Spanish octopus with lardo, Brussels sprouts and sherry harissa aïoli, it's paying homage to the cars, naturally.
"I like to have a nice, artistic plating style," says Lee. "I just wanted to make sure the plates were as aesthetically pleasing as the cars, so everything needed to have a sleek, modern look to it."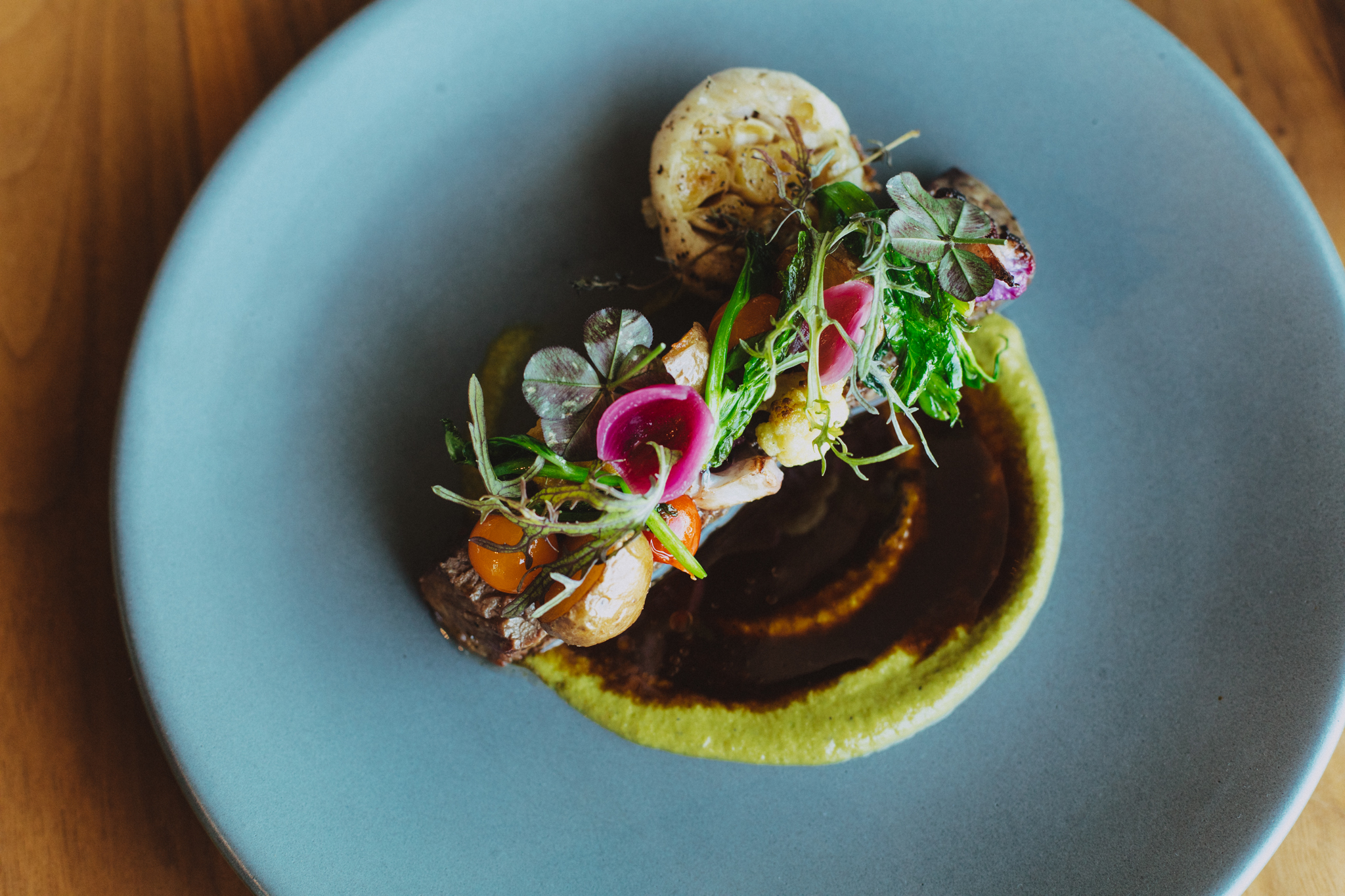 While a 90-minute session behind the wheel can cost as much as $950, Restaurant 917—named for the famed race car model—offers relatively affordable fare, with appetizers around $15, entrées around $30 and cocktails around $14. They key is reserving a spot during the day or early evening; cars are only allowed onto the track before dark, so if you're looking for a show to accompany that meal, it's best to plan on dining early.
The space itself, while also modern, is rustic at its core: brown leather, warm wood, soft light, a large wooden communal table in its private-dining room. So-Porsche-it-hurts elements abound: cut your steak with light-as-air knives designed by founder and engineer Ferdinand Porsche himself, after, of course, you've ordered from the menus made from the same leather you'd find in a 911 model. The butter even arrives Porsche-shaped.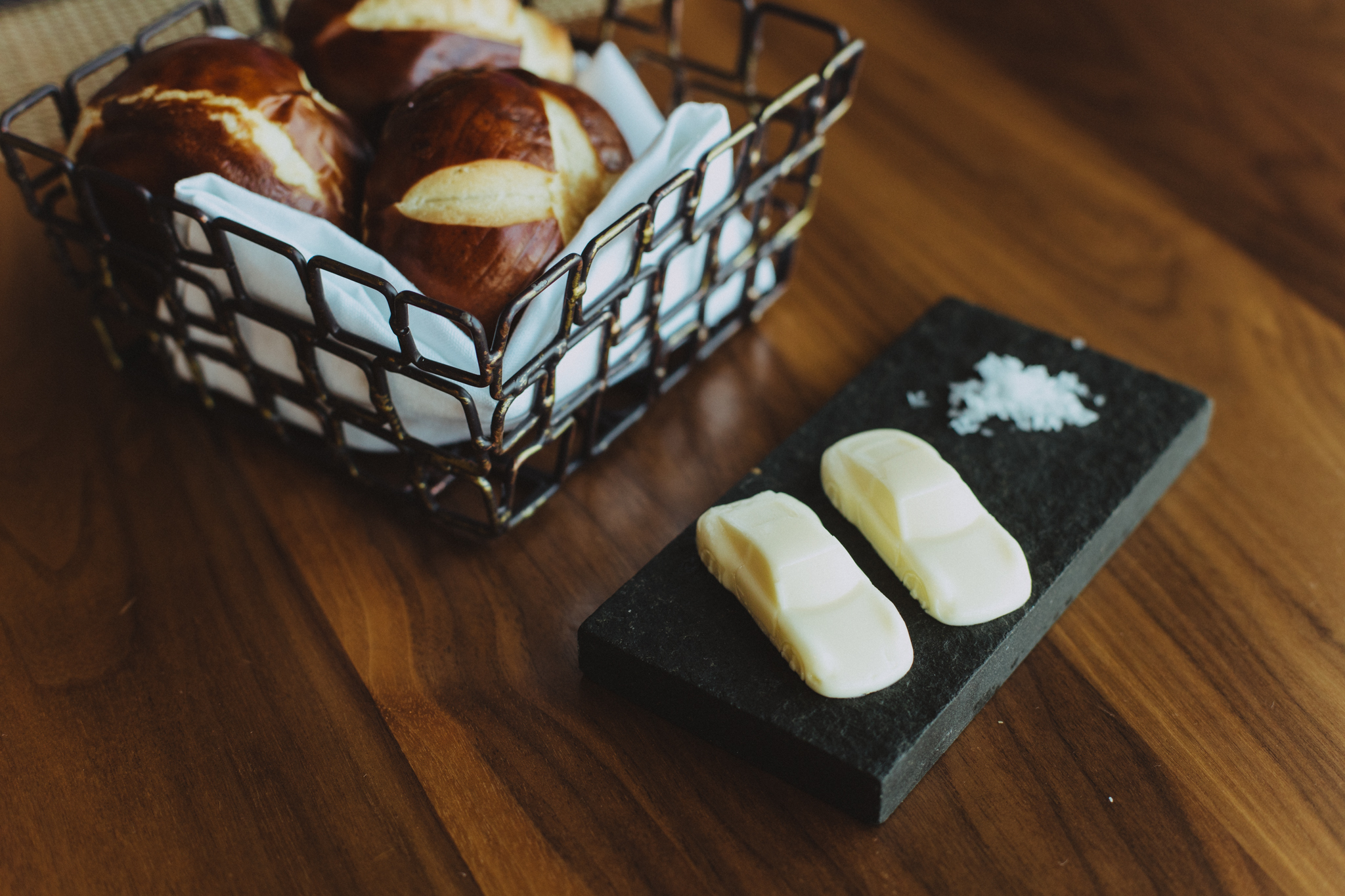 For those looking for something a bit more casual, there's the Speedster Café on the ground floor, sporting those same sports car touches: wooden panels made from the same wood of a steering wheel; behind the counter, the café's insignia sits atop the black fabric of a Speedster car cover on the wall; the front hood of a vintage Speedster hangs as art. Here you'll find sandwiches, pastries, salads and lighter fare, all made upstairs by Restaurant 917, plus a full coffee bar, happy hour and a patio right on the course.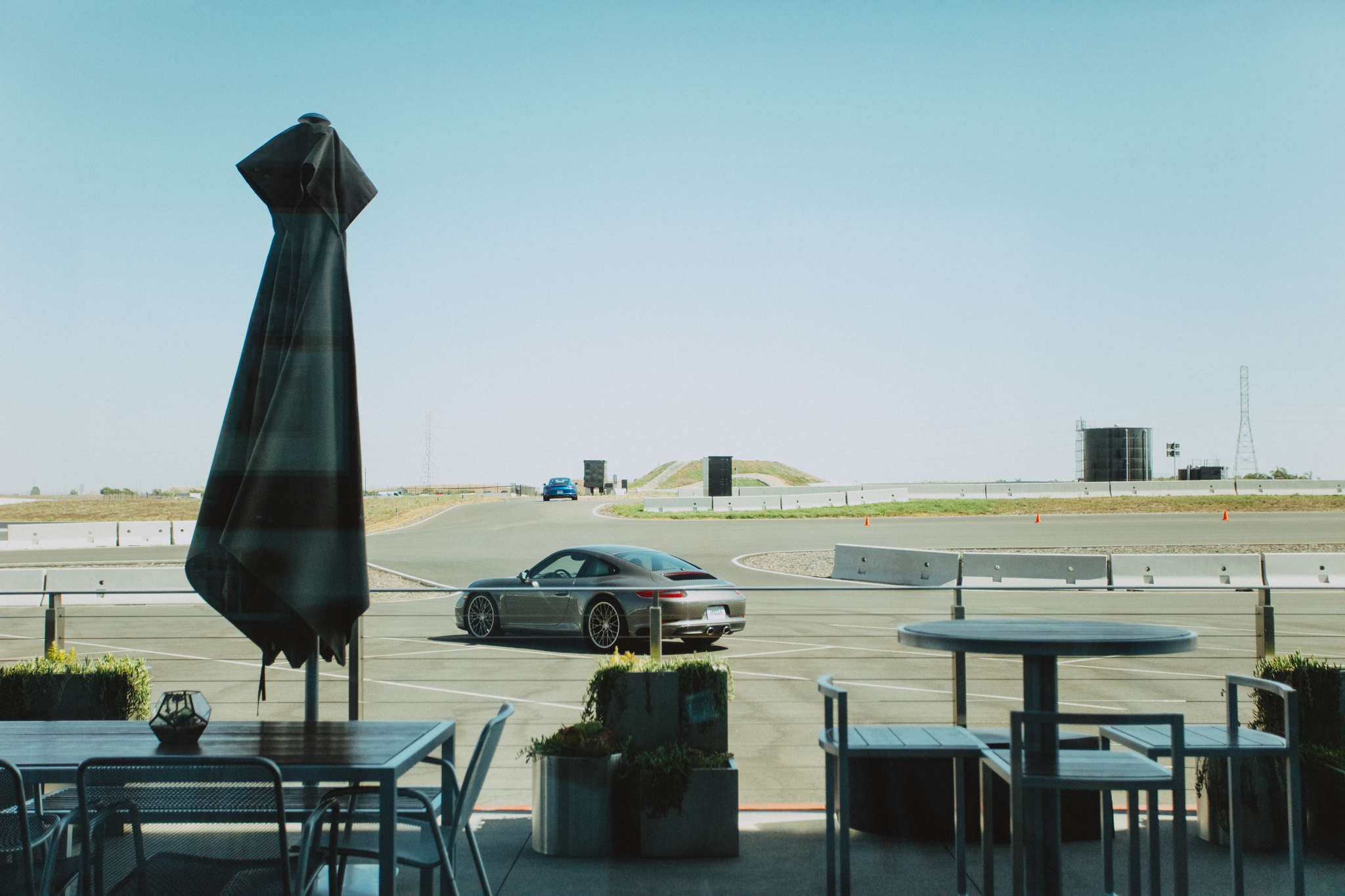 Restaurant 917 is open within the Porsche Experience Center, at 19800 South Main Street in Carson, and serves lunch Tuesday through Saturday from 11:30am to 3pm, and dinner Thursday through Saturday from 5:30 to 8:30pm.
Want more? Sign up here to stay in the know.
Share the story