We've heard of coworking spaces, but what about co-living? We're not talking about bunking up in a house with your friends or even moving into a live/work space like Art Share L.A. Elvina Beck, 31, has spent the past four years creating a complete co-living society in Los Angeles called PodShare, with locations in Los Feliz, Hollywood and the Arts District. We recently visited the last location to learn about this new way of living in L.A.
Defining co-living
Typically, co-living means residing in an environment with shared space. But Beck hopes to redefine that concept to make clear the distinction between co-living and micro-living. "Micro-living is like corporate housing; it's these 150-square-foot rooms with door[s]. With co-living, there are no doors." Basically, for Beck, co-living means sharing it all. And in her mind, PodShare is the first option of its kind.
PodShare's open-design concept
To encourage "Podestrians" to socialize, the only doors are to the bathrooms and showers—and even those are just bi-folding panels, which don't allow for much privacy. Beck designs each location using wood pallets, exposed brick and junkyard items. At the Downtown location, an old airplane wing serves as a kitchen counter and electrical boxes as wall art. Beck is also experimenting with the concept of small open spaces, having created what she calls a Murphy Pod, a twin bed that converts into a desk.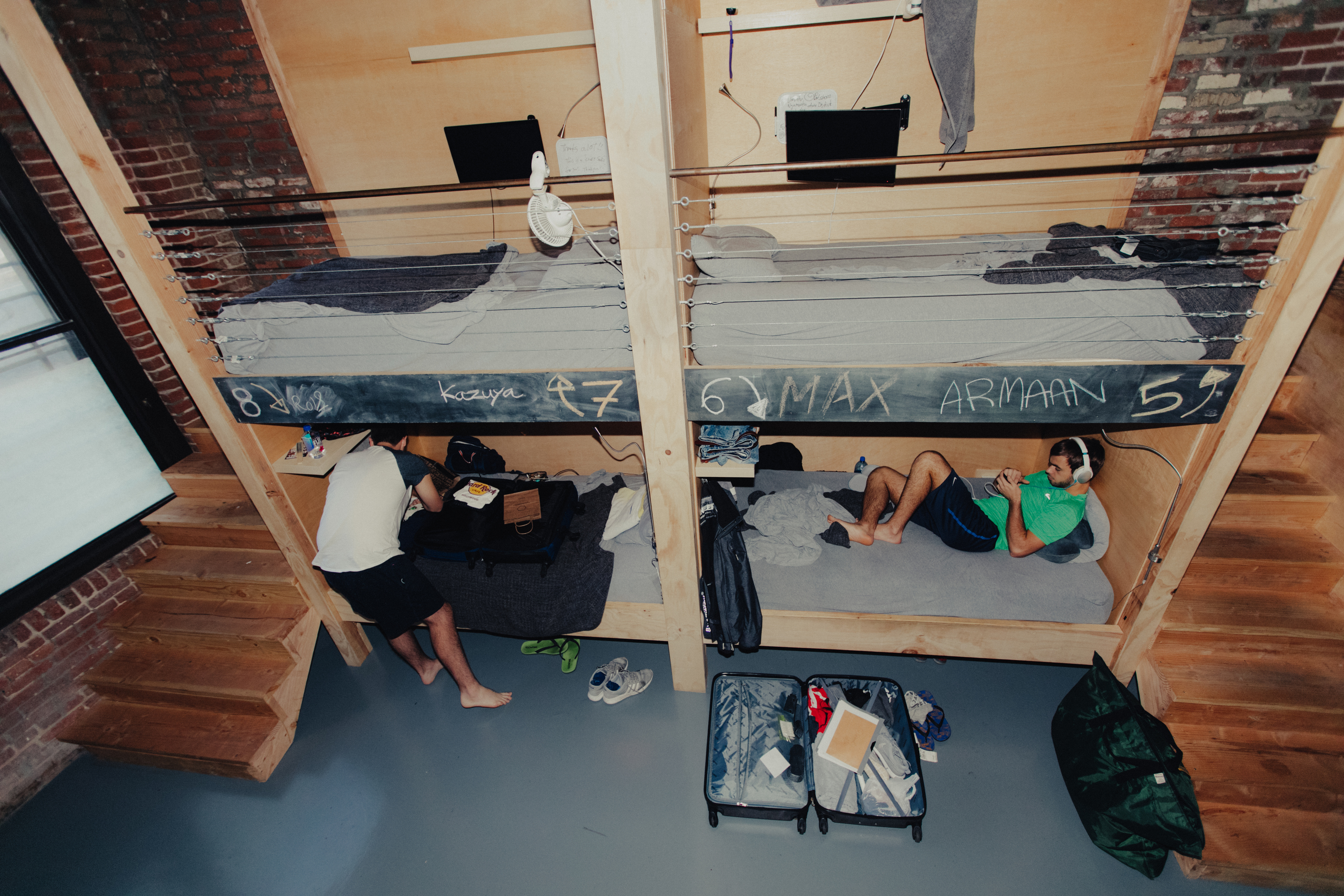 What's included
One night at PodShare is $50, and each pod features a memory-foam mattress, storage space, personal outlets, an LED night-light and a 22-inch flatscreen TV. The $50 fee also includes access to the stocked kitchen (which mostly has snacks), bathrooms, laundry facilities and use of the shared bikes and the coworking space (including a computer and printer). These extra amenities are available at any PodShare, though you must have one location set as your home base (where you sleep). As Beck describes it, "You have a bunch of addresses that you can call your own." You can stay for a day or several months, but can only book up to one week at a time.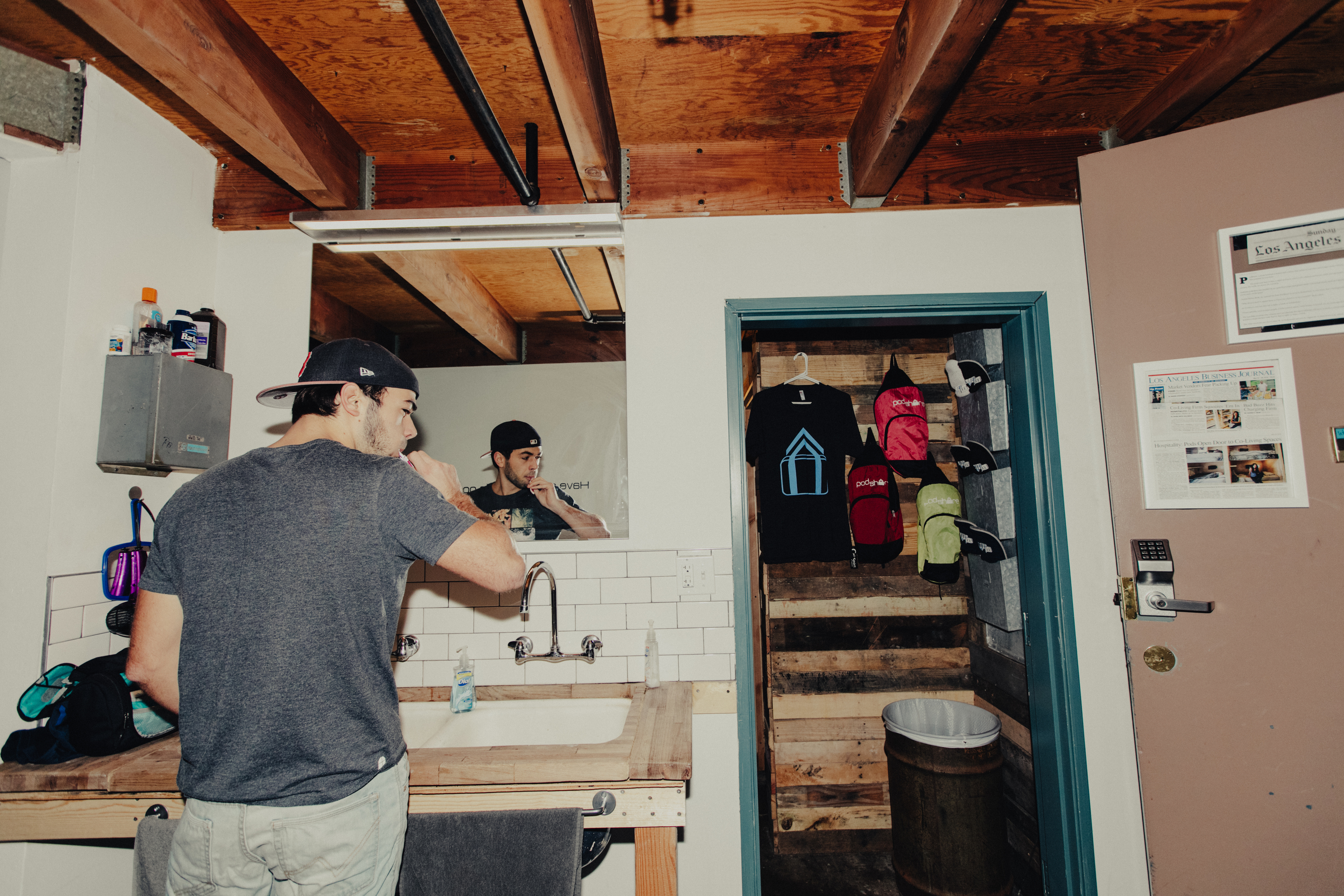 The Three Ts
PodShare has a 94 percent occupancy rate. It's popular among 23- to 32-year-olds and what Beck calls the three Ts: travelers, transitioners (those who have recently moved to L.A. and are trying to get settled) and temporary residents. Most are by themselves. About 51 percent are male and 49 percent are female.
Some tough rules
Tenants must be "safe, sane and social." You cannot bring any non-PodShare members inside with you, and quiet time starts at 11pm. Oh, and sex is not allowed. To enforce the rules, there's a PodShare employee working at all hours, and members are encouraged to speak up if they see any violations.
Creating affordable living
The goal is to open 10 PodShares in L.A., six in San Francisco, one in-between and an additional space in San Diego. "Could it replace the traditional apartment for those people who are digital nomads or freelancers?" asks Beck. "Can this be an affordable home option?" Once she knows the answer, Beck hopes to expand PodShare across the country.
For more information, visit podshare.co
Want more? Sign up here to stay in the know.