Lost Spirits Distillery is like an amusement park for adults, fueled by whiskey and rum and peppered with allusions to pop culture. Guests who embark on its unusual tour gather in a lobby at 1235 East 6th Street, where a pair of topiary triceratops spring to life with a disarming coo. Using the restroom introduces you to TESSA, a computer with a warm, disembodied voice not unlike the computer on the Starship Enterprise. Yet this is only the beginning. There's still a boat ride through a rainforest ahead.
Founded in 2010 by Bryan Davis and his partner, Joanne Haruta, Lost Spirits began in Castroville: a small Northern California town home to fewer than 6,500 residents and an annual artichoke festival. In 2014, Davis perfected a process that allows him to create a 20-year rum in the space of a week. In the most basic terms, special lights break wood down into flavor precursors, accelerating the aging of the wood. Then, the booze is heated to drive reactions to form the same type of flavorings you'd find in aged spirits. This breakthrough caused Lost Spirits to transition into more of a tech company than a spirits company for the next two years, but when they decided to get back to their distillery roots, they figured it was time for a change of scenery. In early 2017, Lost Spirits launched in the Arts District.
Realizing they'd already abandoned the rules typically associated with making spirits, they figured they might as well craft a creative workspace that, like their alcohol, incorporates a bit of unconventional magic. "We had started [our business] with the idea of doing molecular gastronomy meets alcohol," Davis says. "Then we thought, 'Wow, it'd be fun to build our own amusement park.'"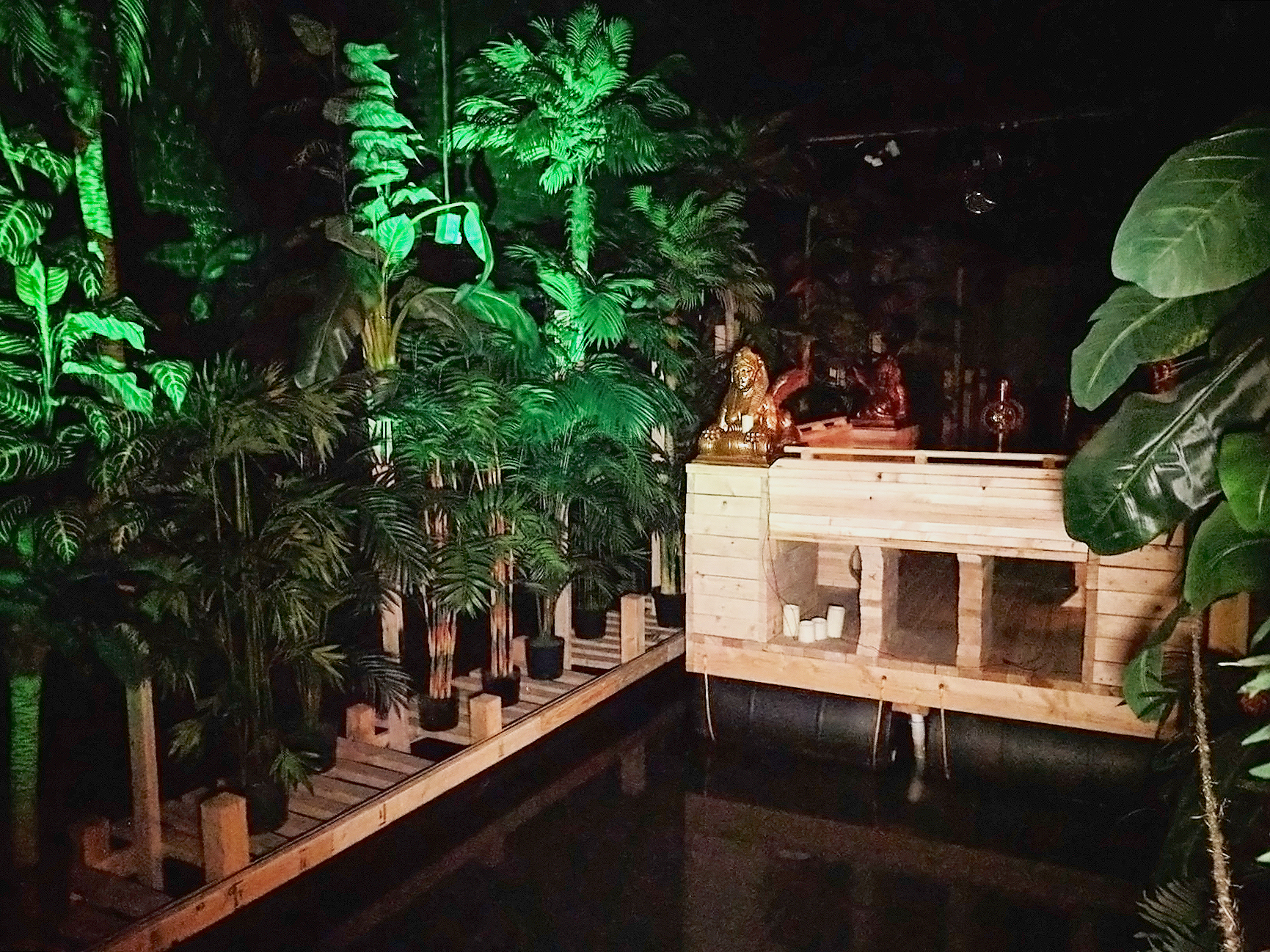 Each room of the distillery takes inspiration from a different movie or novel. The lobby has hints of Jurassic Park, while the first tasting room is an homage to The Pirates of the Caribbean. Dimly lit and occupied by an eyepatch-wearing skeleton, this is where we take our first sip of Lost Spirits Navy Rum: well-spiced, strong and bold, with a sharpness that fades to a lingering sweetness. Next, we climb aboard a wooden boat and drift slowly down a tunnel on the distillery's cooling water. This portion of the trip is oddly serene, and occurs in complete darkness. A soundtrack of distant thunder and trilling birds surrounds us, and as we float along, we're sprinkled with a light rain—refreshing in the heat of the distillery. Sometimes, the tour has different weather, Davis says enigmatically.
The boat ferries you to a red-lit room where two out of several copper vats ferment molasses, water and yeast. Visible are a pair of copper stills, where the rum gets distilled twice. Each is embellished to look like a dragon, a nod to Davis' background in sculpture, which he studied at the San Francisco Art Institute. As enchanting as all of this may sound, Davis says that this type of tour is somewhat new to them; back in Castroville, their tours were science-dense and included a two-hour powerpoint just on the chemistry aspects of their work alone. These tours catered to the true spirits geeks, but when Lost Spirits began public tours in L.A., they found many guests were delighted by the boat ride but bored by the extensive chemistry lessons. Accordingly, Lost Spirits now offers a two-hour trip for casual drinkers, while a four-hour tour for the hardcore visitors is currently available by invitation only, but will open to the public toward the end of the year.
When we leave the copper vats, we emerge in a more modern world. We pass Lost Spirits' famous reactors and into the lab, which is where the distillery dives into "whatever our flights of fancy are in the world of booze at the moment," Davis explains.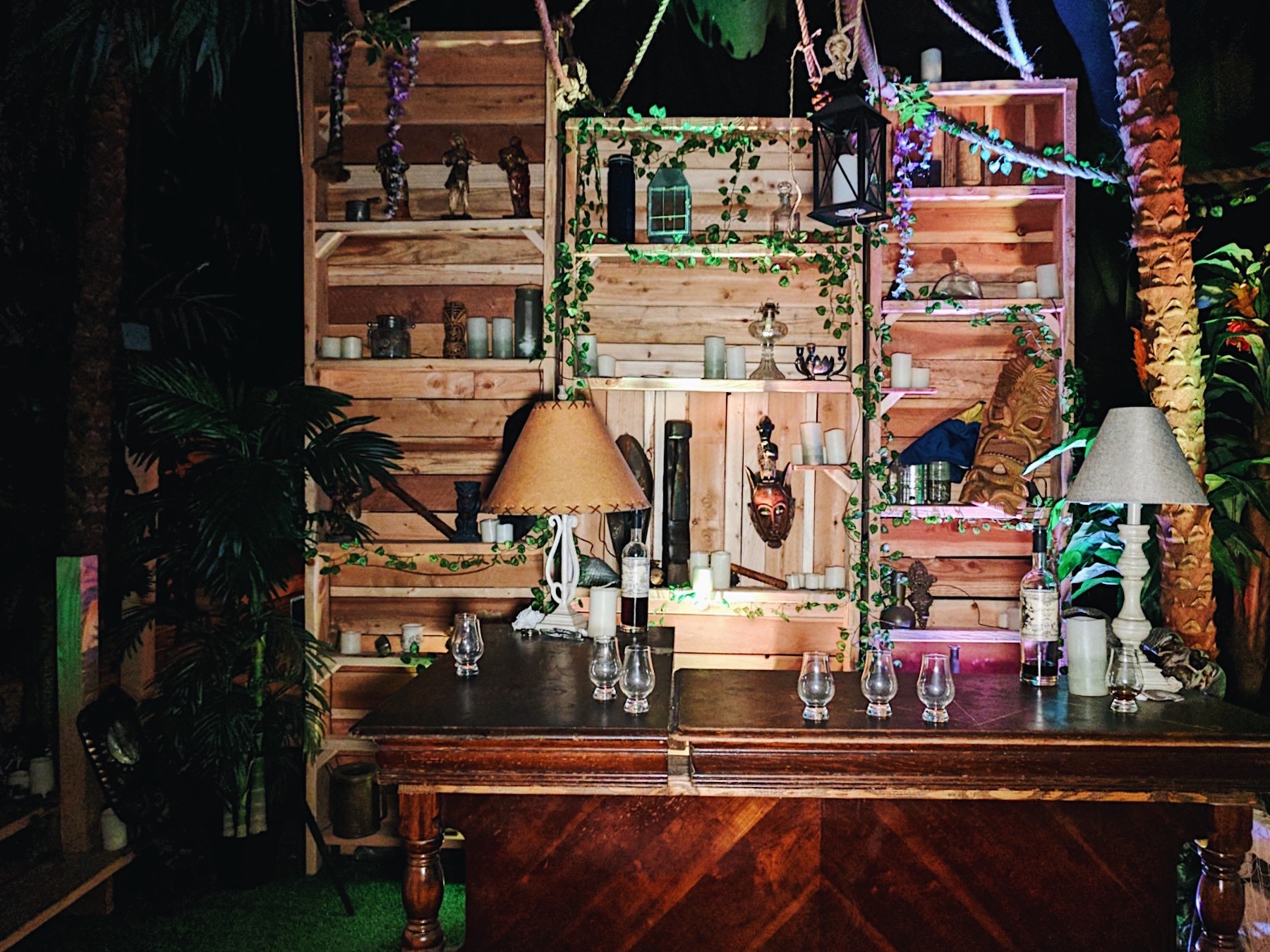 At that particular moment, it's extinct wood. In the early 20th century, blight destroyed the American chestnut tree, a tree that supplied wood for all manner of things, including barrels. It's hard to age a spirit in a nonexistent barrel, but Davis really, really wanted to know what that would taste like. So, he pursued another route. "We bought 1860s furniture made out [American] of chestnut, put it on a table saw, buzzed off all the varnish and carvings, and extracted the wood," he says. Davis intends to call the ensuing spirit "One Night Stand," as it will literally be made from a single nightstand. You can get about a case and a half of booze out of a night stand, but three out of a bed frame, he shares.
The lab is followed by a boat ride to the whiskies room, inspired by H.G. Wells' The Island of Doctor Moreau. A vintage edition of the sci-fi novel sits on the table, and artifacts both authentic and not-so-much—the books are real antiques, the "dragon skull" isn't—fill the scene. Here, we taste Lost Spirits' Abomination, a rapid-aged "heavily peated malt." Each spirit of the series is named after a different chapter of Moreau: the charred-wood variety is "The Sayers of the Law," while the toasted oak is "The Crying of the Puma."
At the conclusion of the tour, guests leave full of fantastical tales of drinking lore, and a deep appreciation for just how much science goes into a sip of rum. The two-hour tours are available for groups of up to eight attendees at a time and by reservation only, starting at $30 per person. Guests must be 21 and up, and reservations can be made online via Lost Spirits' website.
Lost Spirits Distillery is located at 1235 E 6th St in the Arts District.
Want more? Sign up here to stay in the know.