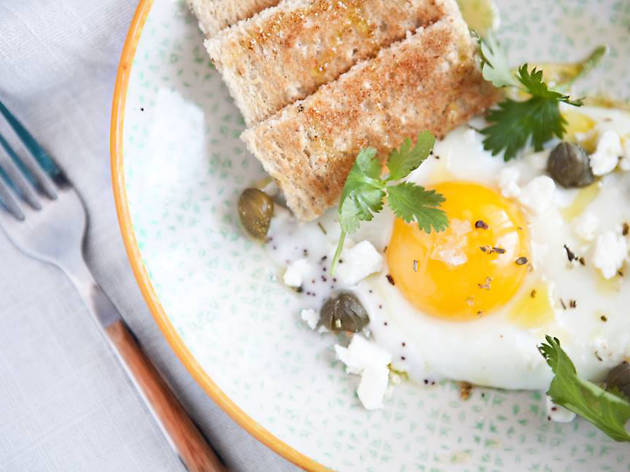 We need to talk about: Bang Bang Brunch
Posted: Wednesday November 5 2014, 11:17am
It's a Sunday afternoon and a group of hungry creatives—writers, designers, entrepreneurs—are seated at three beautifully decorated tables in the loft of Clark & Madison, a pop-up store in Westwood Village. It's brunch time, and if there's one thing Angelenos are seriously good at, it's brunch. But this isn't your wait-an-hour-in-line-at-SQIRL brunch, or your bottomless-mimosas-on-a-rooftop brunch. This is Bang Bang Brunch.
Started by Becky Reams—a former food photographer; MasterChef semi-finalist; and now a chef and culinary contributor for Chef'd, Appetites and The Queen Latifah Show—the Sunday brunch is held once a month, each time in a different location and with dishes cooked solely by Reams. Seating is limited—roughly 20 diners per brunch—and the menu is constantly changing, but always with a focus on local ingredients and artisans. "I have so much pride in what we're creating, and developing this community of creative people gathering over brunch," she says. "I get the opportunity to work with people like Clark & Madison, M. Greenwood Jams, Ora King salmon...and so many more talented food-loving and LA community-centric, radical people."
And if you think the mason jars full of Bloody Marys mixed with locally-made vodka and the glass vases of freshly picked flowers are nothing but fodder for Instagram envy—you'd be wrong. This woman can cook. At the Clark & Madison brunch, baskets of freshly baked butter rolls and potato challah bread were snatched up and cooed over before being spread with fig jam and orange marmalade from M. Greenwood jams (whose founder sat at one of the tables). An "all in one" followed: a spoonful of scrambled eggs atop crunchy granola and bits of maple bacon, all held in a cleaned out eggshell. A pumpkin toast with pressed apples and sprinkles of pepitas not only looked like fall, but tasted like the season we so rarely experience; another mason jar of grits and mushrooms was accented by an edible leaf of fried sage. Between each dish, Reams bounded out of the kitchen to give her thanks. She's clearly in love with cooking, and in love with making people happy with her food.
"Even when I'm running around and calling folks, and stuffing my truck full of tables and firewood and induction burners and 30 pounds of short rib, it's completely exhilarating and fulfilling," she says. "I just love it."
The next Bang Bang Brunch will be held on November 23 at FORT; tickets ($45 per person) go on sale on November 11 right here. It will be Reams' third brunch, but if she keeps cooking the way she's cooking, I have no doubt this will turn into more than just a monthly pop-up. "Someday I want Bang Bang to find a permanent home, where we can serve people all week," she muses. "That's the dream." After trying her food, I'm dreaming about that restaurant, too.
Share the story