Six things we learned about comedy in Los Angeles at RIOT LA
We laughed it up at RIOT LA, the four-day alt comedy festival, and walked away with these six lesson about comedy in LA.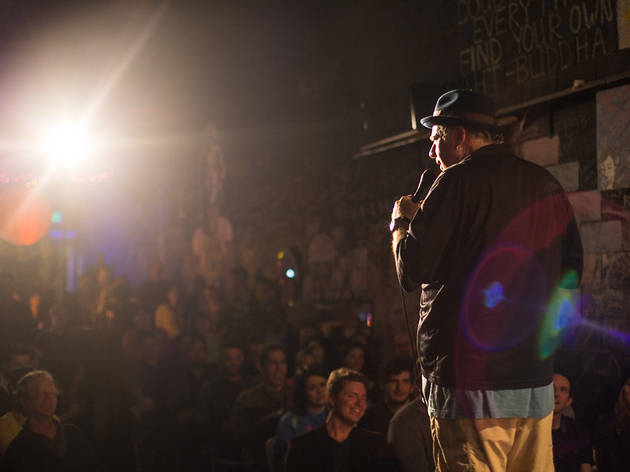 1/6
Photograph: Zach Dobson
Eddie Pepitone at RIOT LA.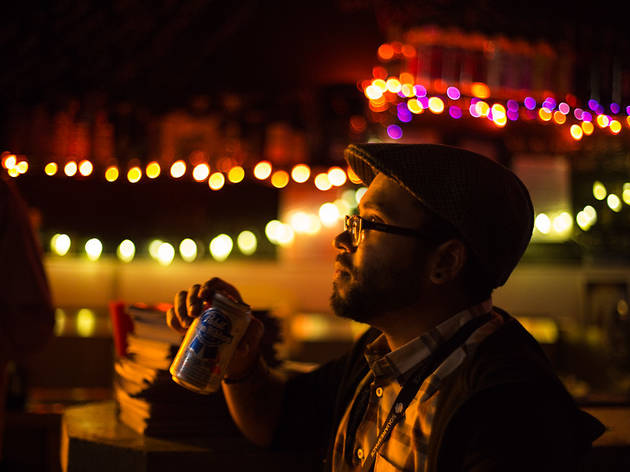 2/6
Photograph: Zach Dobson
RIOT LA.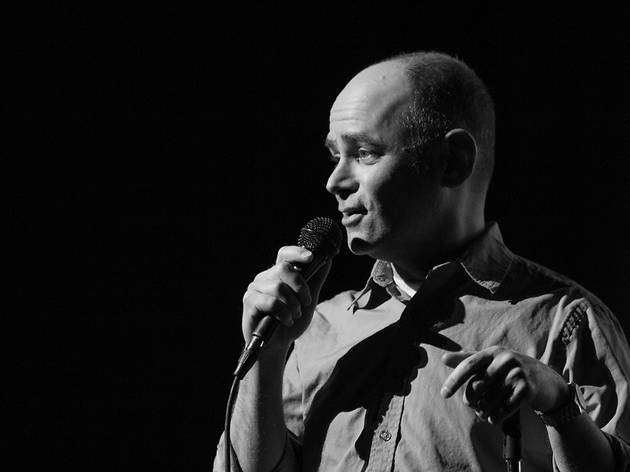 3/6
Photograph: Zach Dobson
Todd Barry at RIOT LA.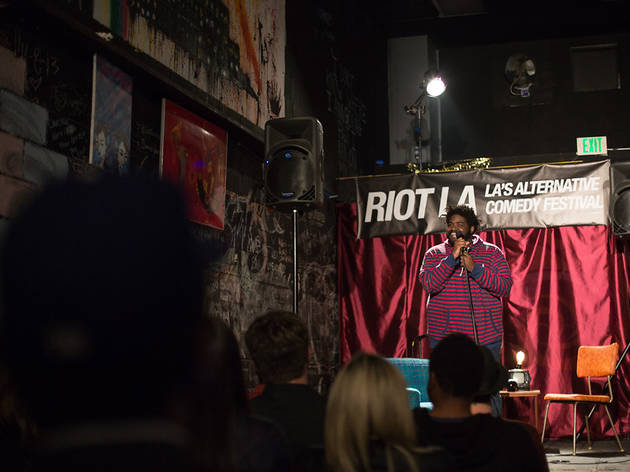 4/6
Photograph: Zach Dobson
Ron Funches at RIOT LA.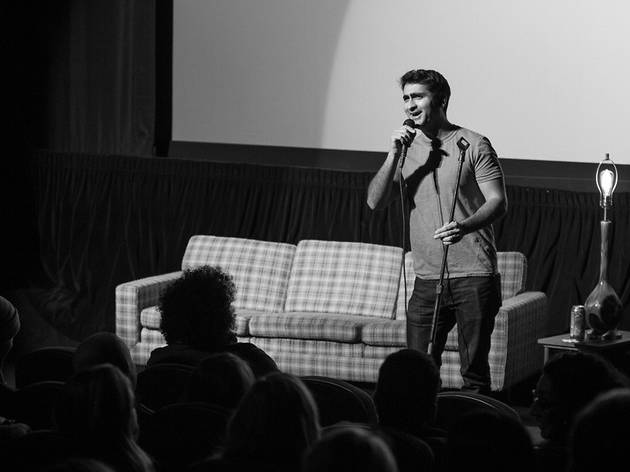 5/6
Photograph: Zach Dobson
Kumail Nanjiani at RIOT LA.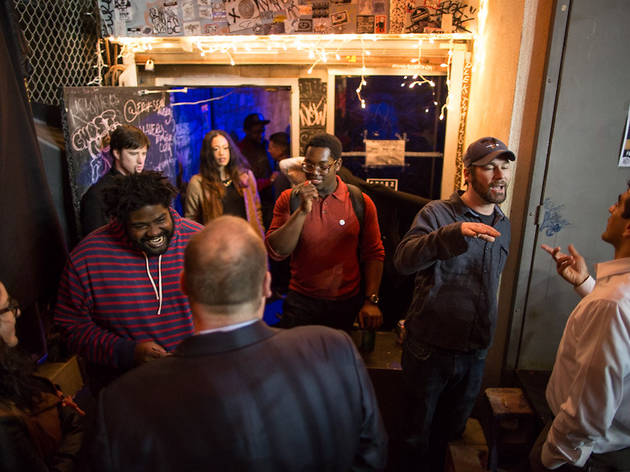 6/6
Photograph: Zach Dobson
RIOT LA.
RIOT LA, a four-day alt comedy festival, took over five venues in Downtown Los Angeles for an eclectic mix of stand-up, sketch, live podcasts and uncategorizable surprise. Read on for six lessons that we took from the fantastically funny fest.
RECOMMENDED: Read our interview with RIOT LA founder Abbey Londer
1. Kurt Braunohler is the best talk show host there never was.
"Roustabout" was either the most fully realized one-off talk show spoof or Kurt Braunohler's bid at a gonzo series that needs to happen. Either way, to borrow a theme from the show, it was bananas. Somewhere in between an episode of Pee-wee's Playhouse and a Flaming Lips concert, "Roustabout" managed to string together flying fruit, half-naked male dancers and jolly old St. Dick (you can use your imagination) with sit-down interviews and lie detector tests from Joe Mande, Grace Helbig and Nick Thune. The staggered, premature reveals throughout the night of "the grandest finale" culminated in a heavy metal skeleton dance from Paul McGinnis Puppetry and a marching band that led the crowd through Downtown to the after-party.

P.S. Kurt Braunohler is one of our comedians to watch in 2014. Read more about him and some other funny people here.
2. Always read the fine print.
Like the standard two-drink minimum at otherwise cheap stand-up shows, RIOT's ticketing options came with a few caveats. You could gain access to the entire festival via pay-per-show tickets, which guaranteed admission, or a festival pass, which at the early bird price of $65 was an absolute steal. As a pass holder, we simply followed the fest's suggestion to get in line at least 15 minutes before showtime and never had a problem getting in; however, that didn't prevent a pervasive anxiety in line as people wondered if popular shows would fill up. Perhaps that's why some of the weekend's most high-profile events required a separate ticket. It's an understandable move to cut down on the chaos, but for pass holders who wanted to see Comedy Bang! Bang! and the two KCRW storytelling showcases—three ticketed-only events—the total price of the weekend more than doubled.
3. Everything funny is made in LA.
Maybe it's not fair to compare LA's scene to other entirely respectable cities, but we have to brag: RIOT's lineup was a winner in large part due to LA's own stellar comedy community. The IFC promo reel that opened each show at the Downtown Independent played like a checklist of festival performers. The weekend's iTunes chart-topping podcasts feel like a victory lap from UCB favorites. From stand-up regulars to current comedians-in-residence—a special nod goes to the uproariously innovative Imaginary Radio Program with Drennon Davis—RIOT made a damn good case for the diversity and vitality of LA's alt comedy scene.
4. In an alternate reality, DTLA is the center of the comedy universe.
As we walked between the fest's five venues—all but one on the same stretch of sidewalk—and passed by the familiar faces of headlining comedians, Downtown felt like it was suddenly the place for comedy. Maybe if history took a few different turns it could've been: there's plenty of parking, public transit service and bars and apartment-dwellers within walking distance. And then the stench of urine hits you in the alleyway at the appropriately named the Smell. Or on the way to the Lexington, you pass Third Street's eye-opening encampment of tents. And then a very itchy homeless man manages to make his way to the stage of the Downtown Independent—but more on that in a minute.
5. Comedy crowds can be incredibly polite and cordial.
Maybe it was because of the comedy producers and struggling comedians that populated the crowd, but RIOT felt refreshingly polite and casual for a festival. Performers stood outside and chatted up fans or livened up the sidewalk without an infectious smile—OK, maybe that was just Ron Funches. The Lot—a parking lot full of food trucks and arcade games—encapsulated everything that a festival should be. Attendees and performers alike mingled in a yard of positive vibes without the typical roller coaster of festival euphoria and exhaustion. Comedy nerds would point out comedians to friends and cross paths with their idols without even realizing; you'd be waiting in line for a burrito or a round of skee ball behind a guy that would turn out to be headlining the next show.
6. "Jon Benjamin Has a Van" is worth $23.
When Jon Benjamin took the stage at the "Celebration of Failure" of his short-lived Comedy Central show, he and the show's co-creator Leo Allen lambasted that the $30 event was, in fact, only worth $21. So show writer Nathan Fielder worked his way through the crowd to hand out envelopes stuffed with $9 as the Ghostbusters theme vamped in the background, only to then take back $2 when it was decided that the comedic value of the exchange had again bumped up the worth of a ticket. There was actual content here too: a screening of the show's hilarious pilot presentation and a table read with Chris Parnell and Laura Krafft of a post-cancellation second season script. But all of that was upstaged when a homeless man managed to make his way to the front of the Downtown Independent. When the trench-coat-clad man began vigorously scratching his head in front of the crowd, Benjamin's claim that this wasn't a part of the show slowly began to penetrate. Cue some panicked staff, a generous bribe and a theater full of I'm-going-to-hell-for-this laughs at the man's incomprehensible insistence that he doesn't need money because he's a sasquatch. Only in DTLA.