The 50 greatest war films of all time
Fall in for Time Out's list of mighty military movies.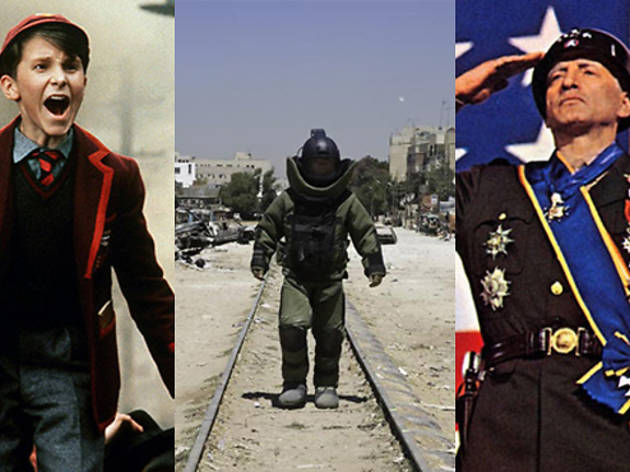 1/51
What better way to honor Veterans Day than with a ranked list of cinematic greatness? Time Out has slogged through its own basic training to arrive at the 50 ultimate war movies—from Inglourious Basterds to MASH—and not merely the ones with the biggest battle scenes (though expect plenty of ammo). Rather, here are the most profound statements, pointed and patriotic alike, on the distinctly human condition of fighting. We offer the list to you, our readers, along with our sharpest salute. Why not put on your war face and sound off, in the comments section below? Click the right arrow on the image above to see our 50 greatest war films of all time.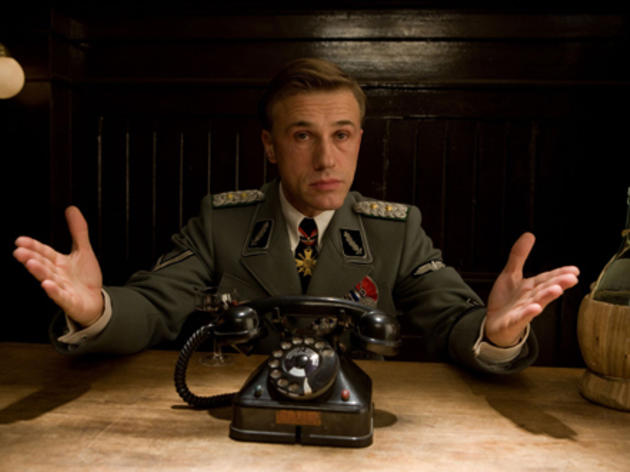 2/51
50. Inglourious Basterds (2009) Quentin Tarantino makes the WWII film his own: violent, verbose and endlessly entertaining. There's plenty of bloodshed, but this gloriously demented pulp fiction is more about the destructive power of words. In QT's universe, the right turn of phrase—especially when tripping from the malevolently multilingual tongue of Nazi commandant Hans Landa—can kill both body and spirit.—Keith Uhlich  Watch now on iTunes    Watch now at Amazon Instant Video
3/51
49. Ride with the Devil (1999) You wouldn't expect anything less complex from director Ang Lee (The Ice Storm, Brokeback Mountain), whose oblique take on the Civil War—specifically guerrilla fighting in Missouri—thrilled critics and mystified crowds. A pre-Spidey Tobey Maguire anchors the movie in sympathy, while Jeffrey Wright electrifies as a liberated slave.—Joshua Rothkopf  Watch now on iTunes    Watch now at Amazon Instant Video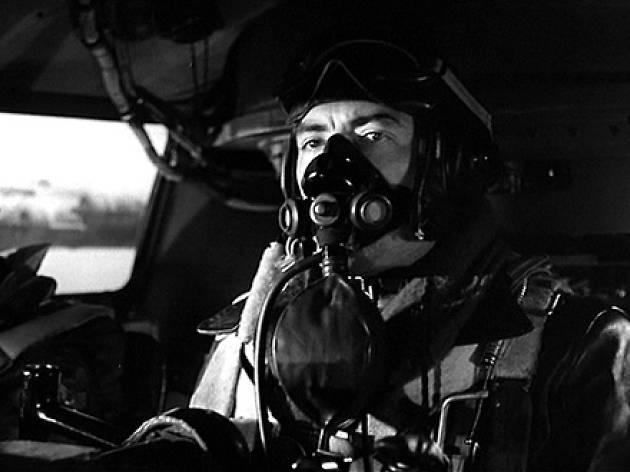 4/51
48. Twelve O'Clock High (1949) Gregory Peck had already arrived as a magnetic onscreen presence by the time this minutely detailed WWII Air Force drama gave him his most ambitious role to date, as a stern disciplinarian whose leadership transforms a bomber unit into a well-oiled machine. The ultimate praise: The movie was required viewing at military-service academies for decades—Joshua Rothkopf  Buy on Amazon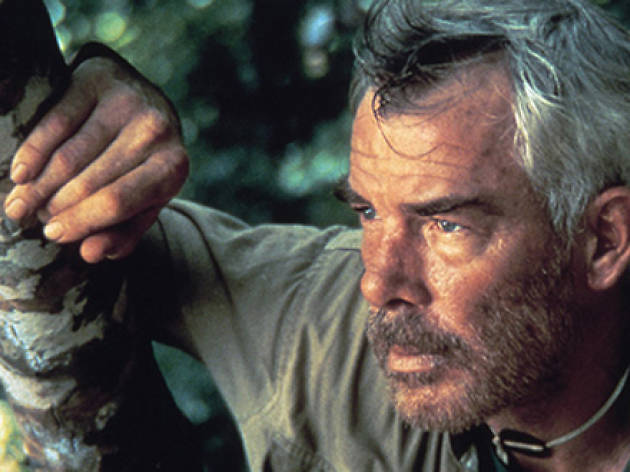 5/51
47. Hell in the Pacific (1968) Two soldiers—one American, the other Japanese—are marooned on an uninhabited island in the Pacific Ocean during the height of WWII and must work together to survive. Director John Boorman crafts a potent existential parable out of their plight (Jean-Paul Sartre would be proud) while also allowing the great Lee Marvin and Toshiro Mifune to rage with crowd-pleasing gusto.—Keith Uhlich  Buy on Amazon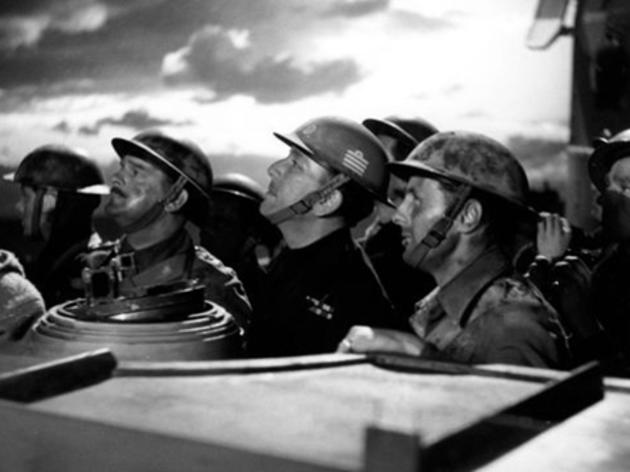 6/51
46. In Which We Serve (1942) Let's give it up for wit-of-all-trades Nol Coward, who wrote, codirected (with David Lean), starred in and even composed the score for this veddy British WWII naval tale, about a shipwrecked crew and their valiant efforts to carry on with stiff upper lips.—Joshua Rothkopf  Watch now at Amazon Instant Video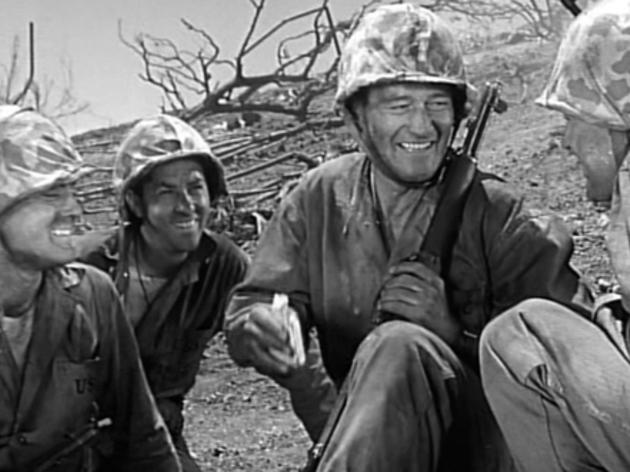 7/51
45. Sands of Iwo Jima (1949) John Wayne was born to the swagger of a certain kind of war film, neither especially negative nor devoid of a soldier's vulnerability. This celebratory recreation of the title's WWII Allied triumph accommodates plenty of heart-thumping jingoism but also the fatalism of sniper fire.—Joshua Rothkopf  Buy on Amazon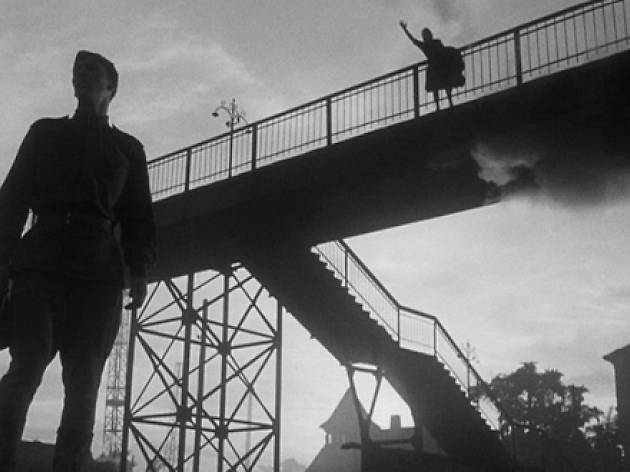 8/51
44. Ballad of a Soldier (1959) A delicate Russian-made tribute to that nation's staggering sacrifice during WWII, Grigori Chukhrai's drama concerns a teenage infantryman's journey back home for a six-day break, a reward for taking out two German tanks. He marvels at the rape of the land—and also connects with a beautiful girl. It's a film about the value of the fight.—Joshua Rothkopf  Buy on Amazon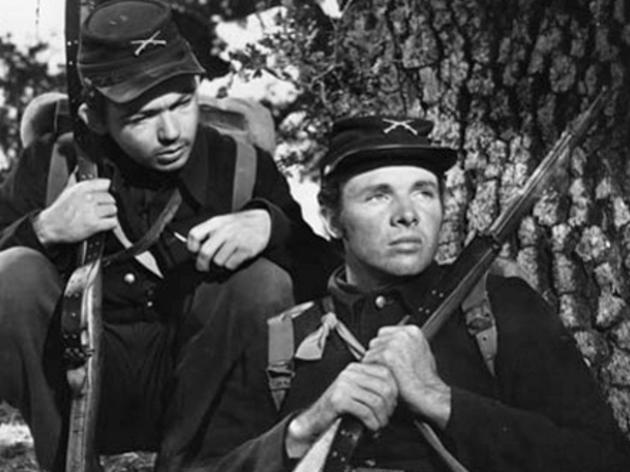 9/51
43. The Red Badge of Courage (1951) The verdict is still out what could have been the full edit of this Civil War picture, which was drastically cut to under 70 minutes after poor test screenings. Given the talent of the director—John Huston, whose next film was The African Queen—we're inclined to believe he was onto something special with Stephen Crane's classic. Enough of Huston's noirish vision remains.—Joshua Rothkopf  Watch now on iTunes    Watch now at Amazon Instant Video
10/51
42. The Great Escape (1963) Made at the peak of Hollywood's studio system and a flawless example of robust mainstream entertainment, John Sturgess's protoblockbuster turned Steve McQueen into a marquee idol—he gobbles up the lens even before he jumps the barbed-wire fence of his WWII POW camp on a motorcycle. Amazingly, the story is a real-life one.—Joshua Rothkopf  Watch now at Amazon Instant Video
11/51
41. The Sun (2005) In the final days of WWII, twitchy Japanese Emperor Hirohito (Issei Ogata in a spectacularly oddball performance) holes himself up in an underground bunker while Douglas MacArthur and his troops inch closer to the palace. Russian director Alexander Sokurov's haunting character study is a dreamy and disquieting look at an enigmatic man sliding from power.—Keith Uhlich  Buy on Amazon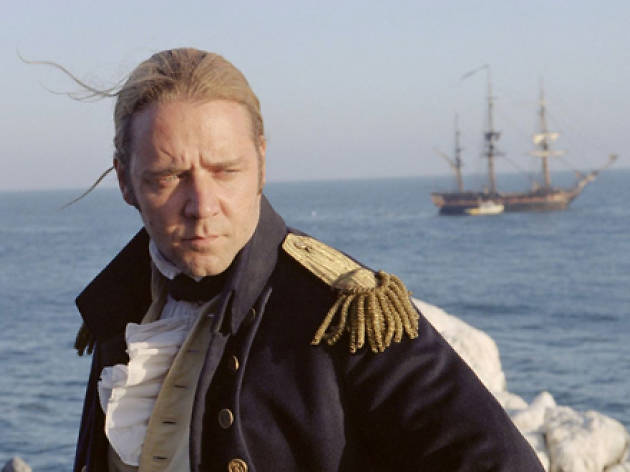 12/51
40. Master and Commander: The Far Side of the World (2003) To audience members in love with the sea, this movie, taken from three of Patrick O'Brian's popular Napoleonic War novels, will rank much higher. At its heart is the Kirk-Spock relationship between Russell Crowe's fearless captain and Paul Bettany's thoughtful doctor. The naval battles are an action fan's wet dream.—Joshua Rothkopf  Buy on Amazon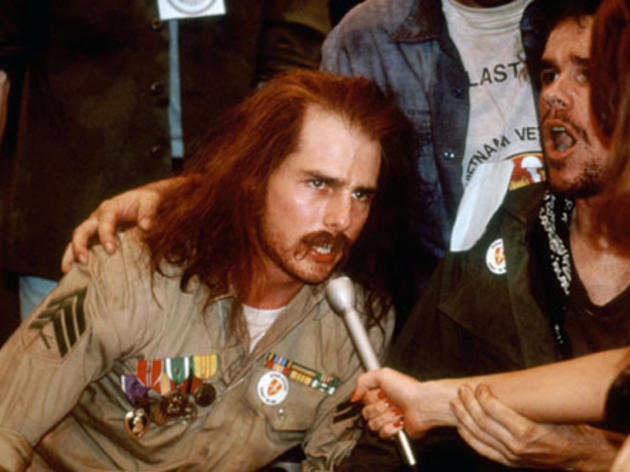 13/51
39. Born on the Fourth of July (1989) Taking Tom Cruise seriously has always been a dicey proposition. But you can't fault him for this open-throated effort, portraying real-life Vietnam vet Ron Kovic, who returned home to Long Island paralyzed from the chest down yet unencumbered mentally and ready to rage. Only three years after Top Gun, here was a real actor.—Joshua Rothkopf  Watch now on iTunes    Watch now at Amazon Instant Video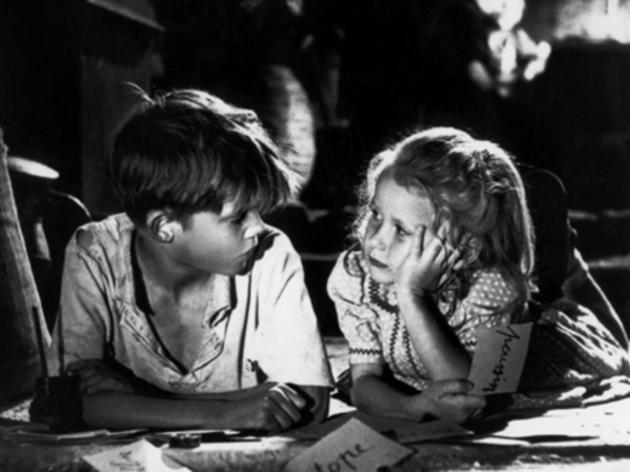 14/51
38. Forbidden Games (1952) This French heartbreaker popularized a storyline that would appear forever in war films: the strength of children to find a way through the muck. An orphaned five-year-old girl is befriended by a boy who helps her bury her dog. They tend to other dead animals in their small, makeshift cemetery, a poetic image that still wrecks.—Joshua Rothkopf  Buy on Amazon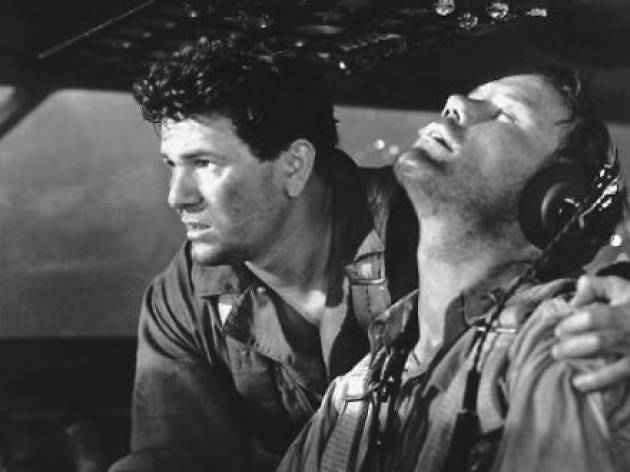 15/51
37. Air Force (1943) A master of all genres, Howard Hawks tried his hand at everything from screwball zaniness (Bringing Up Baby) to alien terror (ghost-directing The Thing from Another World). When he made his war picture, he embraced the patriotism of the moment, but brought along William Faulkner to pen a killer deathbed speech.—Joshua Rothkopf  Watch now on iTunes    Watch now at Amazon Instant Video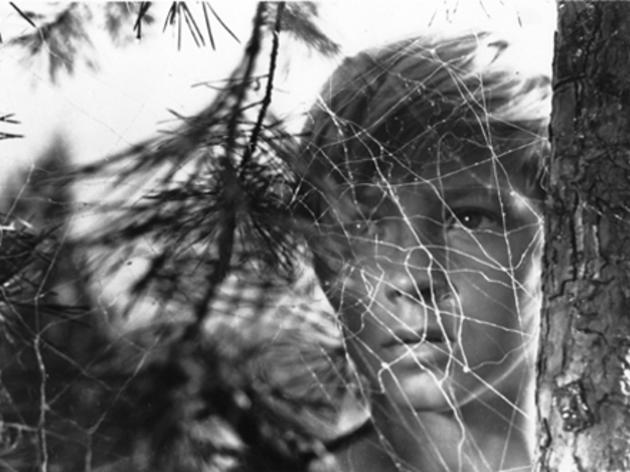 16/51
36. Ivan's Childhood (1962) Andrei Tarkovsky's devastating debut follows a vengeful Russian boy who takes on reconnaissance missions for the Soviet Army during the Second World War. Idyllic flashbacks of Ivan's early years are deftly interwoven with his stark adventures on the front. It's impossible to be unmoved by this unsparing depiction of lost innocence.—Keith Uhlich  Watch now on iTunes    Buy on Amazon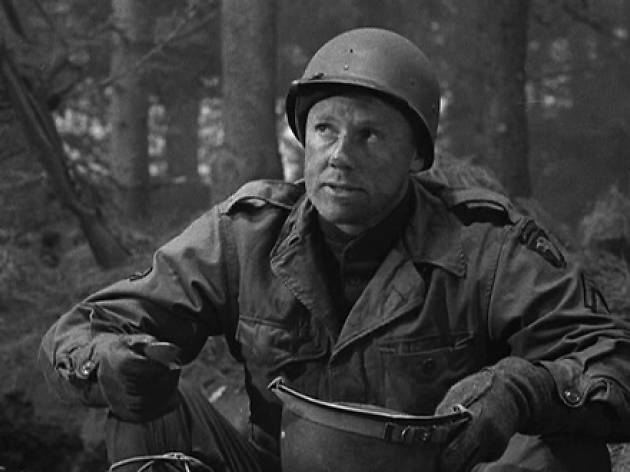 17/51
35. Battleground (1949) If war movies have become sophisticated, critical responses to the illusion of the gung-ho supersoldier, we have this Hollywood drama to thank. Taking WWII's pivotal Battle of the Bulge as its subject, director William Wellman's chronicle found room for then-bold notes of uncertainty and fear—even a hint of desertion.—Joshua Rothkopf  Watch now on iTunes    Watch now at Amazon Instant Video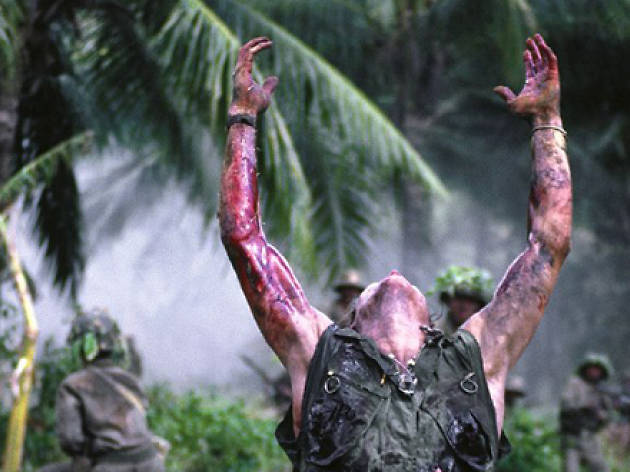 18/51
34. Platoon (1986) Much of the cult of Oliver Stone rests upon this film, an impassioned and corrective countermyth to the official version of the Vietnam War. Released at a moment when America was finally ready to reexamine its involvement, Stone's grimy drama—marked by complex motivations among the troops—wrung an emotional catharsis from Samuel Barber's "Adagio for Strings."—Joshua Rothkopf  Watch now on iTunes    Watch now at Amazon Instant Video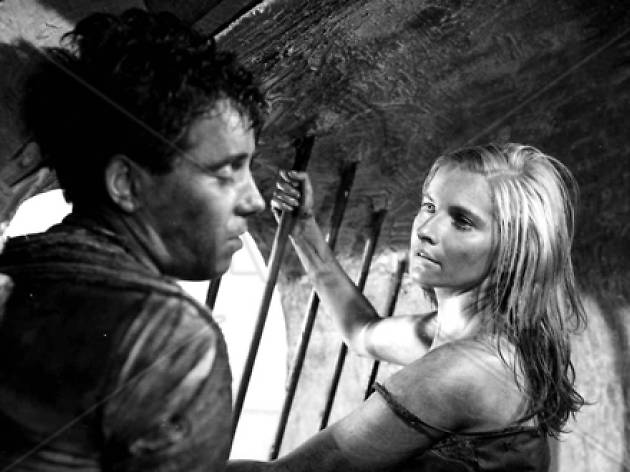 19/51
33. Kanal (1957) No proper war-movie list would be complete without an entry from the revered Polish filmmaker Andrzej Wajda, who produced a masterful trilogy that included A Generation (1955) and Ashes and Diamonds (1958), along with this Cannes prize-winner. It's the first film to (brutally) portray the sewer-based Warsaw Uprising against the the Nazis.—Joshua Rothkopf  Buy on Amazon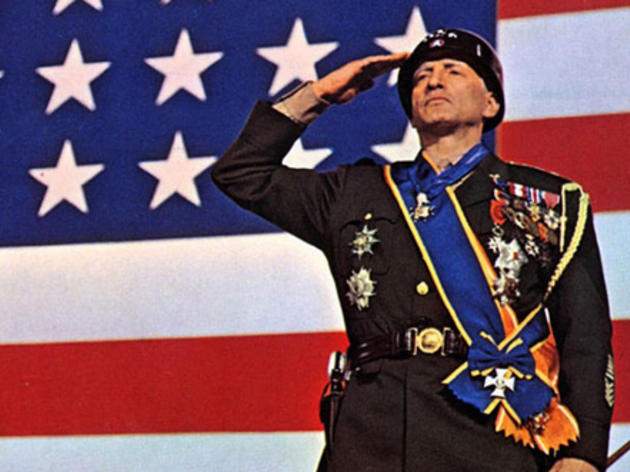 20/51
32. Patton (1970) Famously, this was Richard Nixon's favorite film, a potent counterbalance to the voices of the protesters and a manly peptalk of righteousness. (It wasn't enough to help the President with his problems.) George C. Scott is magnificent in the title role, railing iconically against "Hun bastards" in his opening monologue before a huge American flag.—Joshua Rothkopf  Watch now on iTunes    Watch now at Amazon Instant Video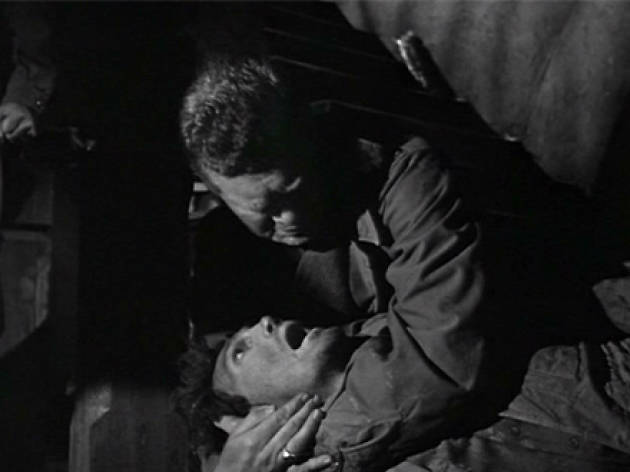 21/51
31. Attack (1956) "Not every gun is pointed at the enemy!" read a title card in the trailer, and there was truth in advertising: Robert Aldrich's WWII psychodrama concerns the breakdown of order between a captain losing his nerve (Eddie Albert) and a mouthy lieutenant (Jack Palance) rising to the occasion. The military refused to cooperate with the production, yet the low-budget filmmakers prevailed.—Joshua Rothkopf  Watch now on iTunes    Watch now at Amazon Instant Video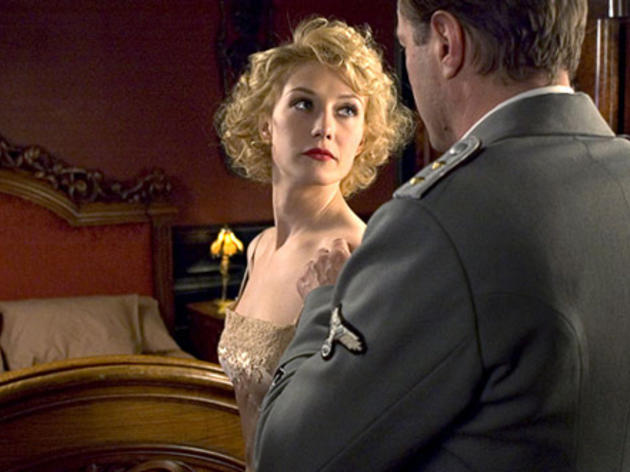 22/51
30. Black Book (2006) Pervy Dutch director Paul Verhoeven is better known for Basic Instinct and Showgirls, but war movies are his true métier. In this deliciously plotted WWII survival tale (a comeback of sorts for the Hollywood exile), a hotcha Jewish singer becomes a spy, a freedom fighter and a bed partner of Nazis. Talented Carice van Houten commits fully.—Joshua Rothkopf  Watch now on iTunes    Buy on Amazon
23/51
29. The Dirty Dozen (1967) It's become one of the most beloved "dad movies" of all time—but maybe Father knows best. The murderous "dozen," conscripted for a suicide mission on the eve of D-Day, includes a shifty-eyed psychopath (John Cassavetes), a religious fanatic and woman-beater (Telly Savalas), and a slow-witted "General" (Donald Sutherland). They get the job done.—Joshua Rothkopf  Watch now on iTunes    Watch now at Amazon Instant Video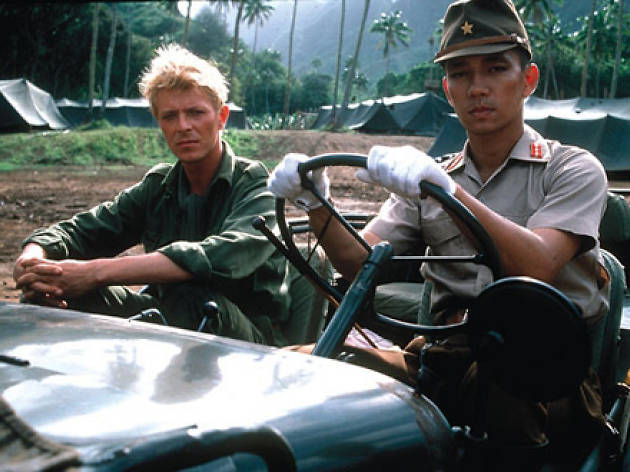 24/51
28. Merry Christmas, Mr. Lawrence (1983) Can it be that between The Man Who Fell to Earth and this quietly powerful film, David Bowie is the most underrated actor of his generation? The art-pop star effortlessly embodies the guilty conscience of a WWII British prisoner of war, striking up a complex friendship with camp sergeant Ryuichi Sakamoto (also the composer of the movie's gorgeous score).—Joshua Rothkopf  Watch now on iTunes    Watch now at Amazon Instant Video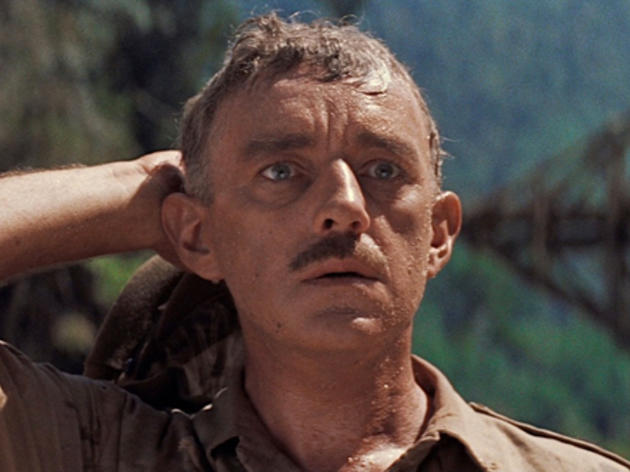 25/51
27. The Bridge on the River Kwai (1957) Hark! Is that the "Colonel Bogey March" we hear? In David Lean's rousing WWII epic, American POW William Holden plots a daring escape from a remote Japanese prison, while captured British colonel Alec Guinness and camp commandant Sessue Hayakawa determinedly vie for power. The title bridge figures in one of the most suspenseful action sequences ever filmed.—Keith Uhlich  Watch now at Amazon Instant Video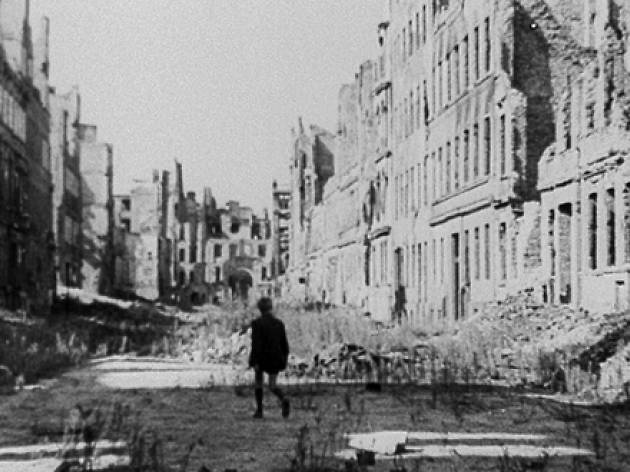 26/51
26. Germany Year Zero (1948) In the spirit of war photography itself, Roberto Rossellini focused on the ravaged aftermath of a city's destruction (here, actual locations in Berlin). Thus we have one of the purest records of the violence of World War II, an invaluable time capsule as well as a neorealist landmark.—Joshua Rothkopf  Buy on Amazon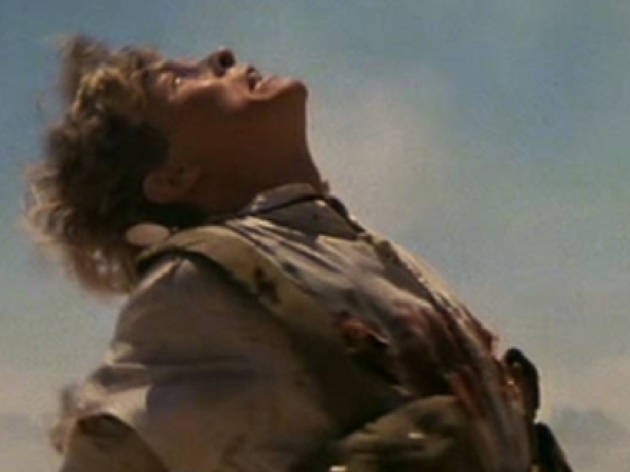 27/51
25. Gallipoli (1981) Peter Weir's tragic, superbly mounted tale of two professional sprinters who join the Australian army circa WWI sheds some light on the casualty-heavy Turkish campaign. Weir's facility with action scenes is fully evident, especially during the gut-wrenching climactic battle. The film also helped to put a young actor named Mel Gibson on the international stage.—Keith Uhlich  Watch now on iTunes    Watch now at Amazon Instant Video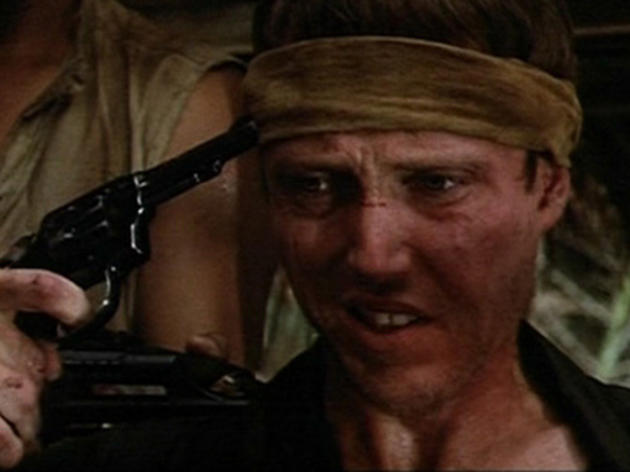 28/51
24. The Deer Hunter (1978) Based on its most notorious scenes—games of Russian roulette, one of them with vicious Vietcong captors—this actorcentric POW movie (featuring an unhinged Christopher Walken) earns its place on our list. The metaphor is a provocative one: Many saw holding a loaded gun to one's head as an obvious parallel to the United States' entrance into the war itself.—Joshua Rothkopf  Buy on Amazon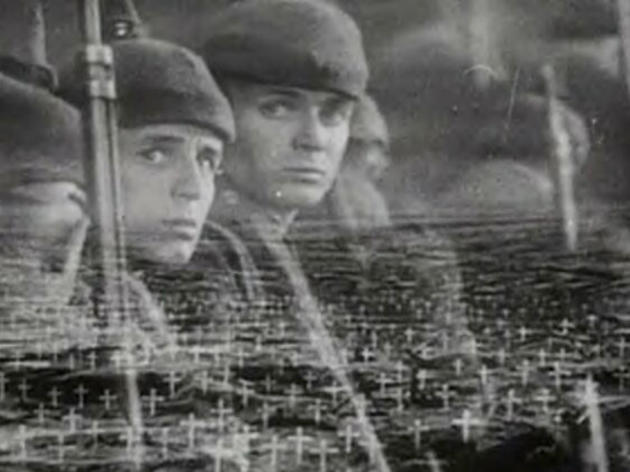 29/51
23. All Quiet on the Western Front (1930) A pacifistic masterpiece that showed the horrors of WWI trench warfare to a curious if unprepared audience, this epic (based on Erich Maria Remarque's popular novel) also positioned the genre of the combat film as a Hollywood mark of pride: It was one of the first movies to earn a Best Picture Oscar.—Joshua Rothkopf  Watch now on iTunes    Watch now at Amazon Instant Video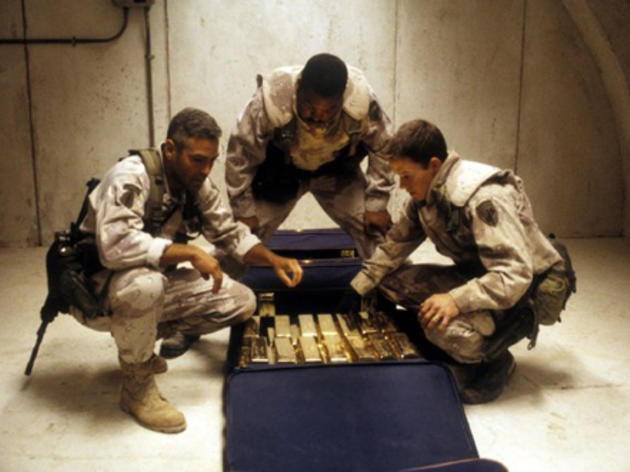 30/51
22. Three Kings (1999) Production was reportedly hellish, with director David O. Russell and star George Clooney coming to physical blows. (Guys, it's a war movie.) But the ultimate payoff was rare: a combat film that achieved political profundity via off-the-wall comedy. Call it the lure of Saddam's gold.—Joshua Rothkopf  Watch now on iTunes    Watch now at Amazon Instant Video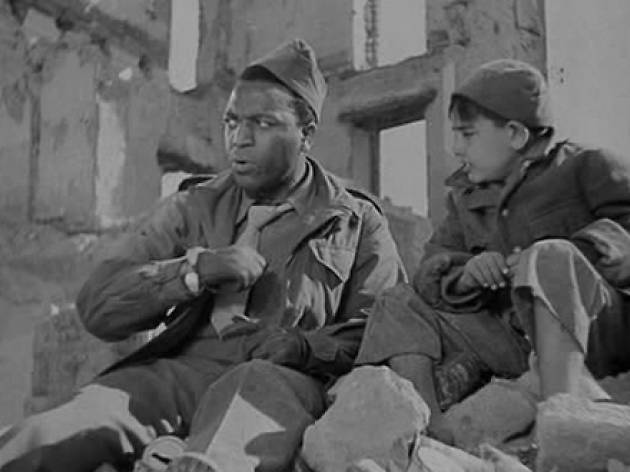 31/51
21. Paisan (1946) The masterful second film in Roberto Rossellini's WWII trilogy—in between 1945's Open City and 1948's Germany Year Zero—is built out of six vignettes set during the Allied invasion of Italy, exploring stories about street urchins and soldiers, prostitutes and priests. There's not a dud in the bunch, and the director's clear-eyed appraisal of the moral havoc wrought in his homeland is particularly astonishing considering how recently the fighting had ceased.—Keith Uhlich  Buy on Amazon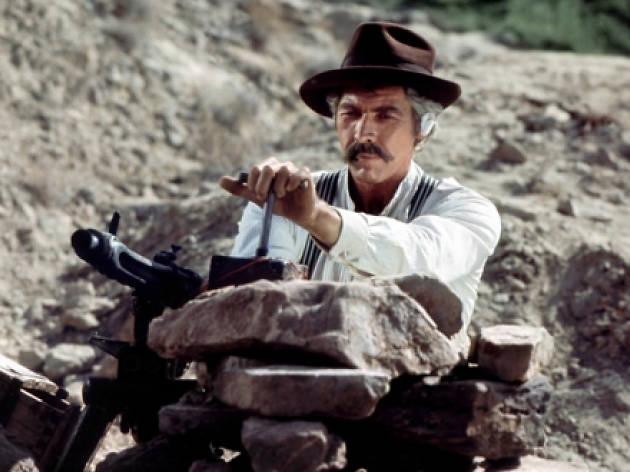 32/51
20. Duck, You Sucker! (1971) Scuzzy outlaw Rod Steiger and mysterious explosives expert James Coburn reluctantly team up to rob a bank, only to be drawn into the bloody Mexican Revolution. This lesser-known gem from Fistful of Dollars–trilogy auteur Sergio Leone brilliantly shifts between broad comedy and sobering tragedy, and you'll be humming Ennio Morricone's incredible score for days.—Keith Uhlich  Watch now at Amazon Instant Video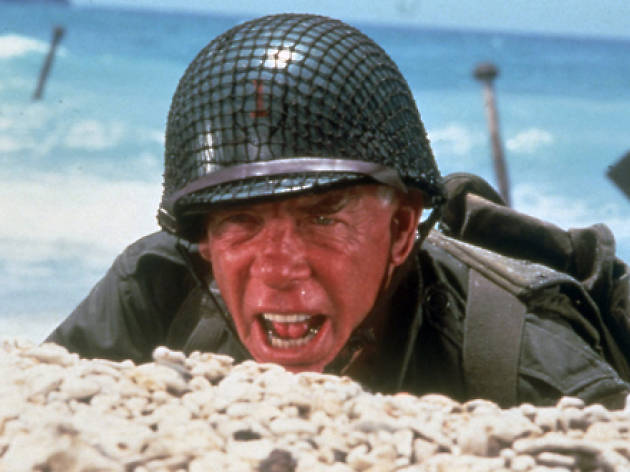 33/51
19. The Big Red One (1980) Director Sam Fuller's earthy WWII picture, starring Lee Marvin at the end of his likable career, might have lost the battle at the box office, but it's won the war of reputation: A 2004 reconstruction added nearly 50 minutes of excised material, including many off-kilter yet vivid scenes from veteran Fuller's own recollections of the battlefield.—Joshua Rothkopf  Watch now on iTunes    Watch now at Amazon Instant Video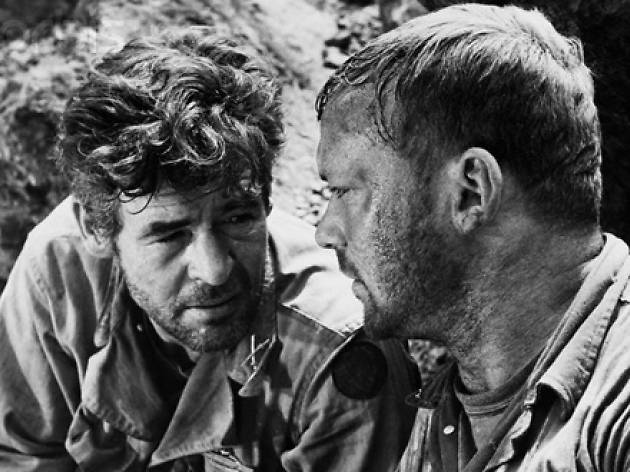 34/51
18. Men in War (1957) The director, Anthony Mann, was best known for his Westerns that pinned heroes in uncomfortable, craggy environments. When he tried his hand at a combat film (this was his first), he set the action in a Korean no-man's land where an American platoon led by Robert Ryan finds itself stranded. The result was an uncommonly tough movie for the Ike era.—Joshua Rothkopf  Buy on Amazon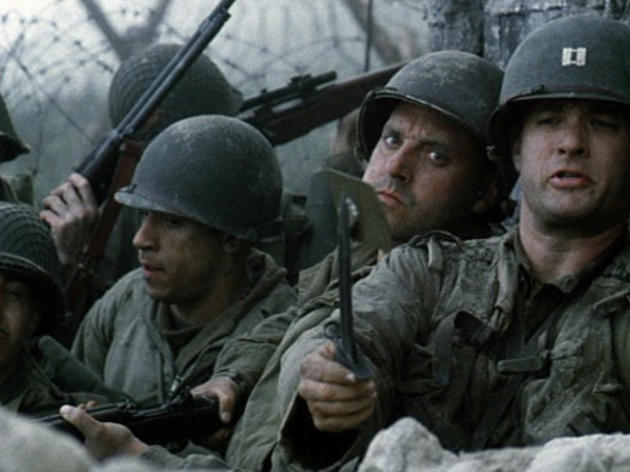 35/51
17. Saving Private Ryan (1998) Steven Spielberg's WWII drama weds an intimate story to the sweep of history—and even if you didn't care for the fortunes of one lucky soldier, you couldn't avoid being floored by the movie's epic mounting of the 1944 Omaha Beach landing. Spattered with gore and mud (and running a harrowing 27 minutes), the sequence has no equal on this list, or anywhere else—Joshua Rothkopf  Watch now on iTunes    Watch now at Amazon Instant Video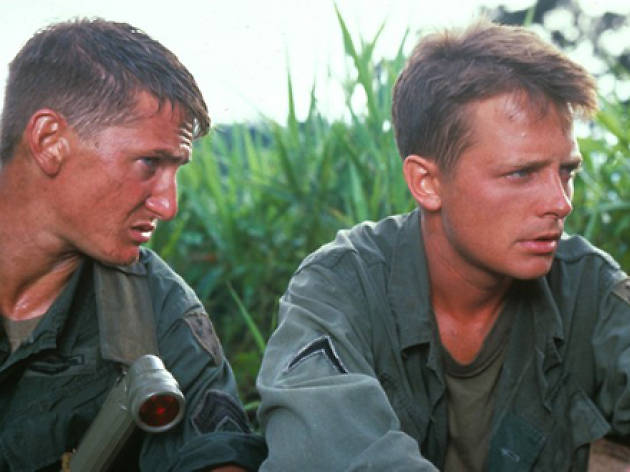 36/51
16. Casualties of War (1989) No stranger to confrontational cinema, Brian De Palma takes a lurid premise—American soldiers kidnap a Vietnamese village girl to use as a sex slave—and makes a harrowing statement about how easily integrity is discarded in battle. A mortified Michael J. Fox, beautifully cast against type, plays the squad's lone dissenter.—Keith Uhlich  Watch now on iTunes    Watch now at Amazon Instant Video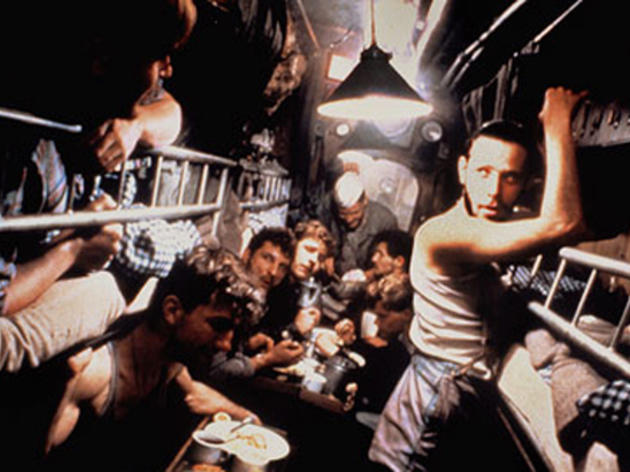 37/51
15. Das Boot (1981) If, as many have said, warfare is a state of mind (as well as a geostrategic one), no film captures that interiority with such pressure-filled flair as this one. Set hundreds of feet below the ocean in a seeping, clanking U-boat, Wolfgang Peterson's international smash almost made you forget its heroes were German.—Joshua Rothkopf  Watch now on iTunes    Watch now at Amazon Instant Video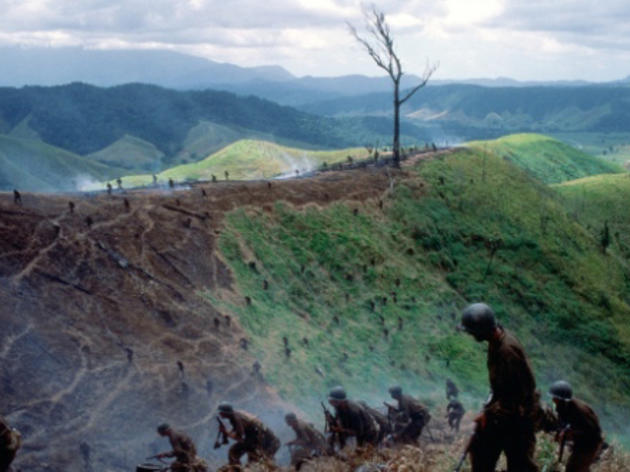 38/51
14. The Thin Red Line (1998) After a 20-year absence from filmmaking, the reclusive Terrence Malick returned with this astounding adaptation of James Jones's novel about the Battle of Guadalcanal in WWII's Pacific theater. The overall tone is philosophical and introspective (as is the director's latest, The Tree of Life), though Malick proves himself a confident director of action sequences, too.—Keith Uhlich  Watch now on iTunes    Watch now at Amazon Instant Video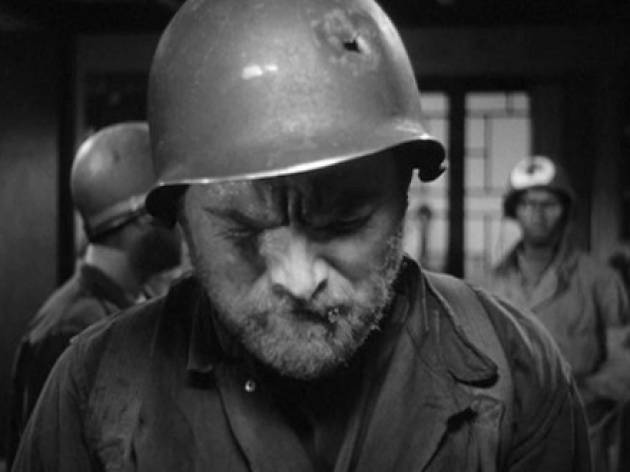 39/51
13. The Steel Helmet (1951) Ex-GI Samuel Fuller brings his rough-and-rugged perspective to this Korean War classic. A ragtag group of soldiers takes refuge from snipers in a Buddhist temple. The longer this respite lasts, the greater the racial and ideological tensions grow. The writer-director's tabloid-headline style gives the proceedings a charged immediacy that lands with a gut punch.—Keith Uhlich  Buy on Amazon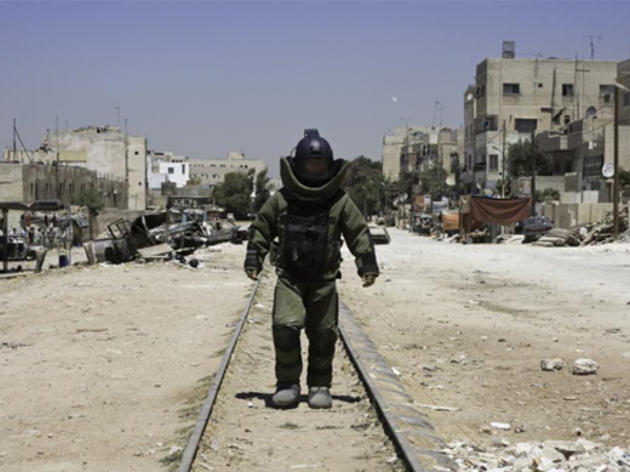 40/51
12. The Hurt Locker (2008) All eyes should be on director Kathryn Bigelow's next film, the uniquely well-positioned Kill Bin Laden (now, presumably, with a different coda). But it's worth recalling that her Oscar winner relied less on happy endings as much as an acute portrayal of the daily pressures of Iraq-based bomb defusers.—Joshua Rothkopf  Watch now on iTunes    Watch now at Amazon Instant Video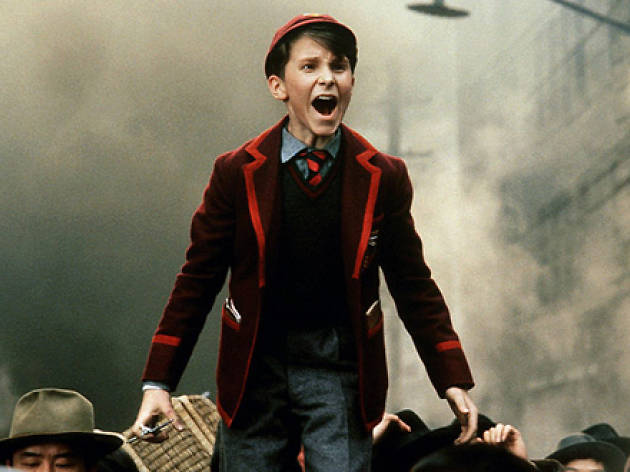 41/51
11. Empire of the Sun (1987) Steven Spielberg directed this stirring coming-of-age tale, in which a fantasy-prone English boy (Christian Bale, in his film debut) is sent to live in a Japanese internment camp after the Allied abandonment of Shanghai in 1941. Twelve-year-old Bale makes an indelible impression in the lead role, all juvenile swagger until the terrible realities of his situation wear down his resolve.—Keith Uhlich  Watch now on iTunes    Watch now at Amazon Instant Video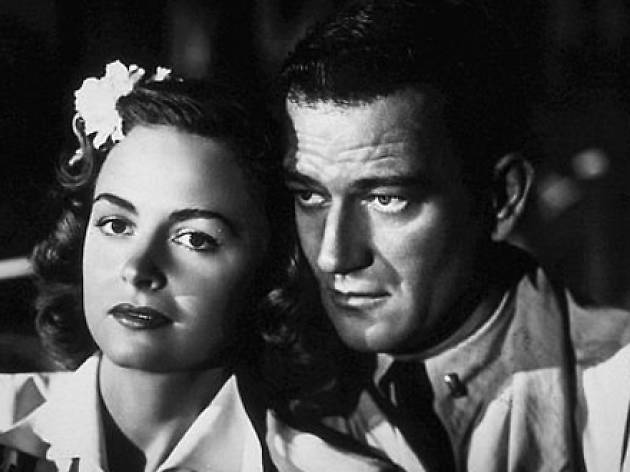 42/51
10. They Were Expendable (1945) The kind of film that can force you to revise your idea of whole careers—even decades of work—this assiduous, unshowy portrait of the fighting men of the Philippines builds a quiet impact out of small, keenly observed moments. Our heroes, mainly John Wayne's junior-grade lieutenant, wind away the small hours in Manila, waiting for an assignment to the fight. They don't realize, of course, that these are the good times; when news comes of the attack on Pearl Harbor, the tone shifts to one of a stoic ode to workmanlike sacrifice. Director John Ford, normally a sentimentalist behind the camera, reigns in his impulses, while Wayne (still closer to dewy at this point) shows depths that hadn't been tapped.—Joshua Rothkopf  Watch now on iTunes    Watch now at Amazon Instant Video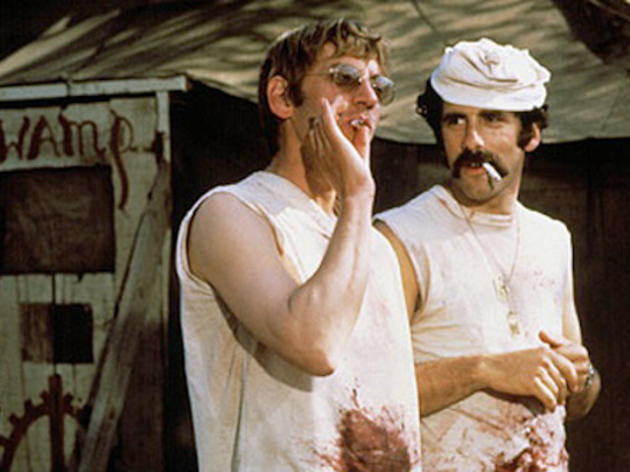 43/51
9. MASH (1970) With the U.S. mired in the seemingly endless horrors of Vietnam, what better time was there for something as biting and hilarious as Robert Altman's Korean War satire? The director's biggest hit of his career, like Kubrick's Dr. Strangelove before it, gave audiences the chance to snicker at strife: The narrative follows members of a Mobile Army Surgical Hospital—standouts include Donald Sutherland's Hawkeye and Elliott Gould's Trapper John—as they make anarchic mischief (usually of the spy-on-the-girl-in-the-showers variety) in between gory operations. No target is sacred; even The Last Supper is recreated with gleeful blasphemy. (If you only know the TV show, see where all the high jinks began.)—Keith Uhlich  Watch now on iTunes    Watch now at Amazon Instant Video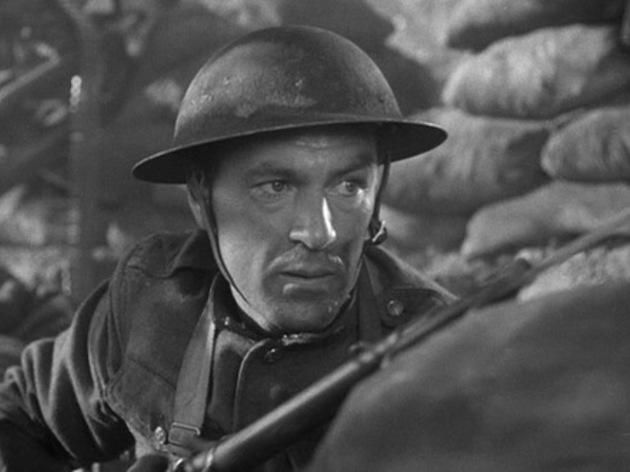 44/51
8. Sergeant York (1941) No truly great war film will ever strike a tone of total conviction; that's the realm of imperialist propaganda. Howard Hawks's massively popular drama (released only months before America's entrance into WWII) takes the exact opposite tack: It's the story of real-life First World War soldier Alvin York, a Tennessee simpleton who hoped to avoid enlistment on the sincere grounds of his religiosity and pacifism. His request denied, York proves himself on the battlefield as a singularly talented sharpshooter and wrestles with the killing gift God has given him. Gary Cooper's tortured performance won him an Oscar and continues to inspire a conversation about situational ethics.—Joshua Rothkopf  Buy on Amazon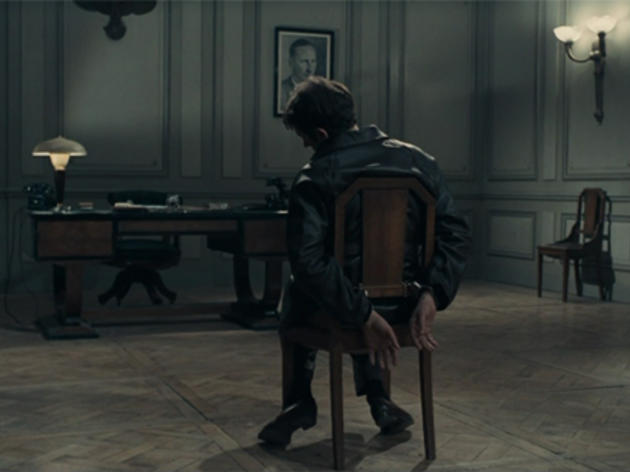 45/51
7. Army of Shadows (1969) Rediscovered in 2006 with the fanfare usually reserved for unearthing a lost classic (which was pretty much the case), Jean-Pierre Melville's cool-blue portrait of French Resistance fighters makes a beautiful case for honor among wanted men. Back-room beatings and drive-by shootings spark a mostly conversational film about the sacrifice of spies. Melville's reputation had previously rested on chilly, remote gangster pictures like Le Samoura (1967), but to see his canvas widened to national politics was a revelation. And the reason the movie had been ignored in the first place? Fashionable French critics had dismissed it as too pro-De Gaulle. What comes around...—Joshua Rothkopf  Buy on Amazon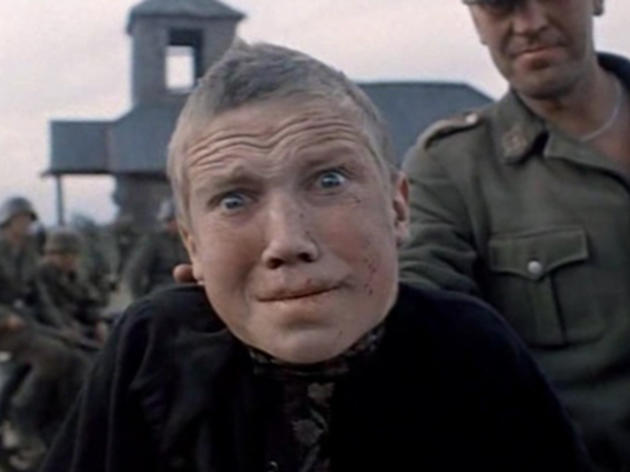 46/51
6. Come and See (1985) It's likely you'll want to avert your eyes during Russian director Elem Klimov's terrifying WWII epic about the Nazi occupation of Belarus. Yet it weaves a mesmerizing spell, from the opening image of two children digging in a field for abandoned rifles. One of those boys is taken from his home by partisans to fight the Germans. It's the start of a nine-circles-of-hell odyssey that culminates with a dreamlike encounter with the ultimate persecutor. But before that finale, we're subjected to a staggering succession of atrocities (ear-shattering explosions, corpses piled high, a village systematically destroyed) that would be unbearable were it not for the film's entrancing, near-surreal aesthetic.—Joshua Rothkopf  Watch now at Amazon Instant Video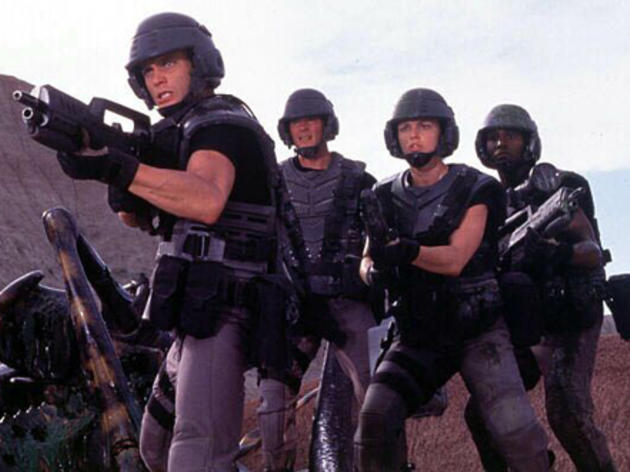 47/51
5. Starship Troopers (1997) Stop snickering: There's a real reason why this sci-fi actioner is so high on our list. Never before (and probably never again) had the monied apparatus of Hollywood been so co-opted to make a subversive comment about its own fascist impulses. Director Paul Verhoeven cackled all the way to the box office as giant bugs were exterminated by gorgeous, empty-headed bimbos; when Neil Patrick Harris showed up near the end of the movie in a full-length Nazi trench coat, the in-joke was practically outed. Source novelist Robert Heinlein meant his militaristic tale sincerely; meanwhile, the blithe destruction of humankind on display here could only be intended as a sharp critique, both of soldiering and of popular tastes. Return to it with fresh eyes.—Joshua Rothkopf  Watch now on iTunes    Watch now at Amazon Instant Video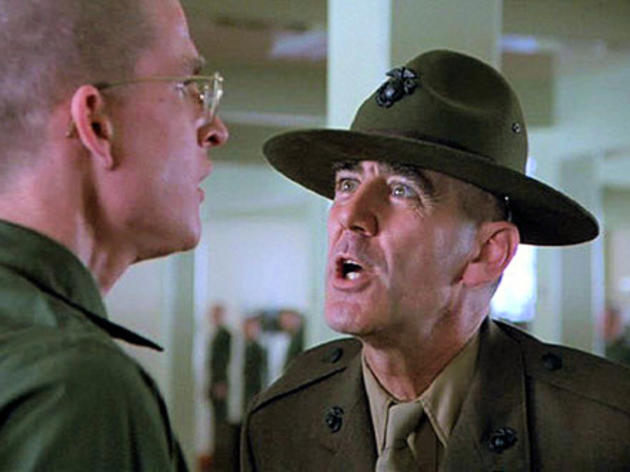 48/51
4. Full Metal Jacket (1987) Stanley Kubrick's unnerving contribution to Vietnam war movies will gouge out your eyes and skull-fuck you (to quote a line). The first half of this opus, set at the Marines' Parris Island training facility, is widely lauded: Drill instructor R. Lee Ermey spouts every imaginable expletive (plus some new ones) while putting a group of new recruits through their paces. Yet the less-discussed second half—which follows Matthew Modine's Pvt. "Joker" and his fellow soldiers through the Tet Offensive—is a necessarily complement. This is where we see the end result of turning men into killing machines, and it's like gazing into the abyss.—Keith Uhlich  Watch now on iTunes    Watch now at Amazon Instant Video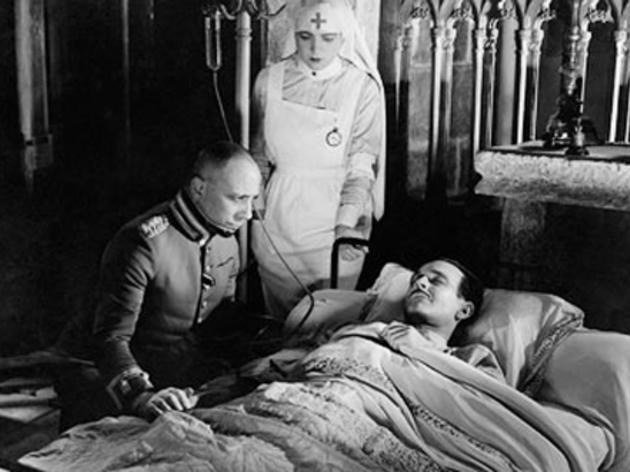 49/51
3. Grand Illusion (1937) Jean Renoir, the great humanist of cinema, cowrote and directed this superlative WWI story about two French aviators who are captured by a German captain (Erich von Stroheim, perfectly cast as a mannerly despot) and shuttled between prisons. The duo plans a great escape, but this isn't a simple tale of heroes and villains. Class conflict is prevalent: One of our heroes is an aristocrat and easily befriends his warden. The other, meanwhile, is a rough-hewn everyguy—a charismatic ranter against the system. Yet Renoir places no one character above another. Indeed, the film is sympathetic to all perspectives, even as it sagely questions how these combative circumstances came about. For its pointed generousness, the movie was awarded numerous prizes and earned the ire of Joseph Goebbels who declared it "Cinematic Public Enemy No. 1."—Keith Uhlich  Watch now at Amazon Instant Video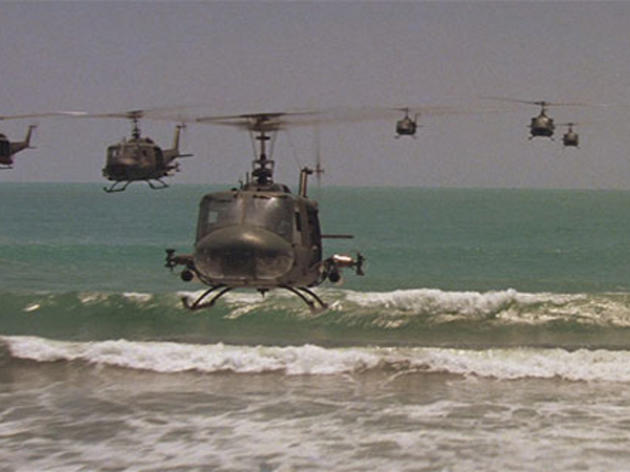 50/51
2. Apocalypse Now (1979) The battles behind Francis Ford Coppola's surreal war movie are well-documented: the nightmarish, multiyear shoot; star Martin Sheen's heart attack and recovery; a cackling press corps that sharpened its knives for a turkey of epic proportions. Coppola would have the last laugh. So much of the vocabulary of the modern-day war picture comes from this movie, an operatic Vietnam-set tragedy shaped out of whirring helicopter blades, Wagnerian explosions, purple haze and Joseph Conrad's colonialist fantasia Heart of Darkness. Fans of the Godfather director, so pivotal to the 1970s, know this to be his last fully realized work; connoisseurs of the war movie see it (correctly) as his second all-out masterpiece.—Joshua Rothkopf  Watch now on iTunes    Watch now at Amazon Instant Video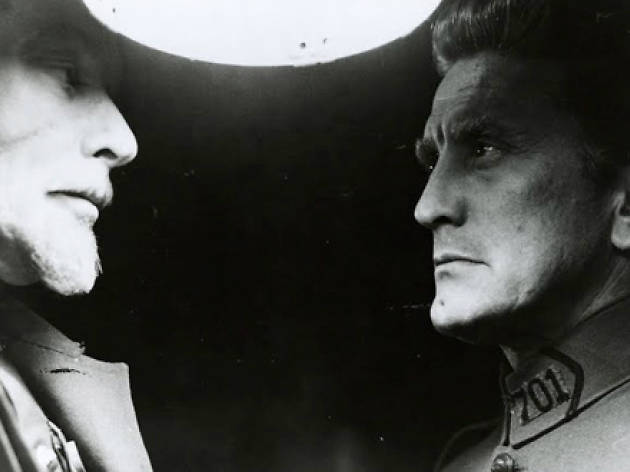 51/51
1. Paths of Glory (1957) And so we've reached the top of the top, the ultimate statement on man's inhumanity to man. Is it any surprise that it comes from Stanley Kubrick? So much of the director's filmography was devoted to depicting military folly (and believe us, we toyed with including Barry Lyndon, too). Elevating Paths of Glory above the fray—and above every other title—was not its brutal scenes of WWI trench warfare but its scalpel-scarp indictment of the pride that comes with battle. Kirk Douglas's lawyer-colonel is tasked with mounting a courtroom defense of three innocent soldiers who just happened to be part of a losing skirmish. Based on a real-life episode of French soldiers executed for "cowardice," Kubrick's movie so angered France's government that it couldn't be screened publicly there until 1975. The film's lesson is universal and timeless, though: If warfare turns us into monsters even off the battlefield, then we have no purpose waging it.—Joshua Rothkopf  Watch now on iTunes    Watch now at Amazon Instant Video