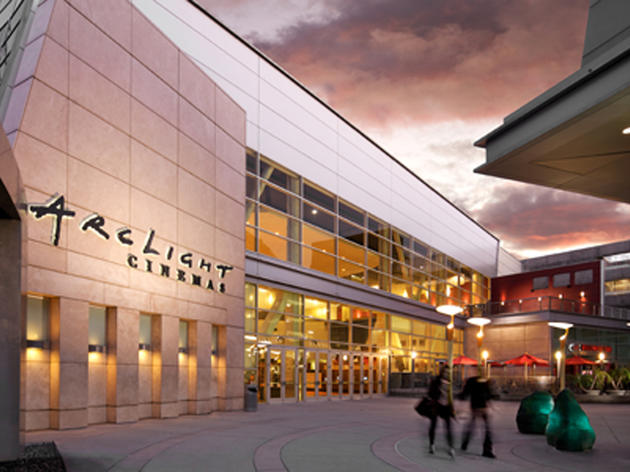 A Hollywood favorite since 2002, the ArcLight offers comfortable assigned seating (cushy, reclining, leg room for days), state-of-the-art sight and sound, fantastic snack bars and, for some Dionysian indulgence, an in-house café-bar. The programming is an astute mix of first-run flicks, indies, foreign fare and premieres and alcohol is even allowed to be taken into some screenings. As an added bonus, there are always fun cinephile treats on display (original costumes, architectural models, etc.). It's the most appealing modern multiplex in L.A., but is also a vintage classic due to the Cinerama Dome, a fabulous and unique domed movie theater that opened in 1963.
Venue name:
ArcLight Hollywood
Contact:
Address:
6360 W Sunset Blvd
Los Angeles
90028

Do you own this business?
Fortunately the story of an alternative future is realised with such visual imagination and sparky humour that it's only half way through that the plot's weaknesses become apparent. Like 1984, it looks forward from the '40s to a vast urban society...

Read more

Overblown in almost every respect (not only its giant ape), Kong: Skull Island is the kind of Hollywood fever dream that, in its first few minutes alone, throws at you a WWII bomber crash, a sizzling montage of Cold War nuclear escalation and a wi...

Read more

The virtue of courage is high up on the list of Disney princess must-haves (just below kindness, beauty and a strapping prince in tight pants). So three cheers for Dreamgirls director Bill Condon and star Emma Watson for having the courage to make...

Read more

You can't re-create your past, but you can relive it in your head over and over again, seeing it differently as you become someone new each year, month, week and day. That's the big, trippy idea at the heart of Danny Boyle's T2 Trainspotting, a fr...

Read more

A horror film with the power to put a rascally grin on the face of that great genre subverter John Carpenter (They Live), Get Out has more fun playing with half-buried racial tensions than with scaring us to death. To some, that will come as the s...

Read more

The world's most impossibly gorgeous actors lounge through exclusive parts of Austin, Texas—high-end homes, sprawling bedrooms and roped-off concert VIP areas—in Song to Song, a movie so deeply in need of a plot, a clue, anything at all, that you'...

Read more

Even if you love your job, going to work can sometimes seem like a slow death. For the employees in Greg McLean's nightmarish horror-comedy, that feeling is literalized, as the automatic exit doors of their high-tech office tower lock shut and int...

Read more
Rating Breakdown
5 star:

0

4 star:

5

3 star:

0

2 star:

0

1 star:

0
This is basically the only way I can see a movie in theaters anymore. Booking your seat in advance is such a gamechanger—it takes all of the stress out of hunting for seats together. It also means being able to see huge movies on opening night without needing to get to the theater early. Throw in consistently top-notch projection quality and the lack of pre-movie ads, and it's definitely worth the extra couple of bucks.
I love coming here to see a movie. Parking is a breeze in the attached structure and if you get there a little too early, you can take a seat inside the bar/restaurant and have a drink or two. Seating isn't usually a problem because you can get your tickets in advance. Overall, it makes moviegoing a delight!
What a great place to see a movie! Being able to book your seat in advance makes the entire experience so much more enjoyable. I recently saw The Force Awakens at the ArcLight and high quality display and sound made it worth the slightly higher than average ticket price.
The Arclight is one of my favorite places in LA to see a movie. It's always exciting to see the classic domed cinema rise up from Sunset Boulevard. The restaurant inside the theater has a surprising good menu as well with plenty to choose from!