TCL Grauman's Chinese Theatre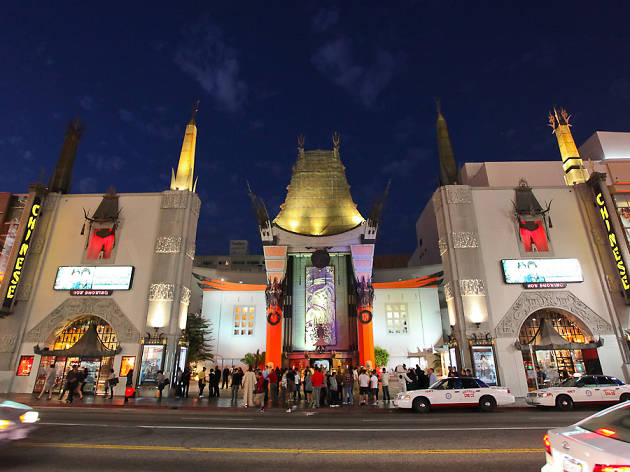 It's still a great place to catch a movie, particularly since reopening after exenstive renovations in 2013, but most people come to the Chinese Theatre for the hand and/or foot imprints of around 200 Hollywood stars. As legend has it, Norma Talmadge accidentally stepped into the wet cement outside the new building during construction; in response, theater owner Sid Grauman fetched Mary Pickford and Douglas Fairbanks to repeat the "mistake" with their feet and hands, beginning the tradition. The courtyard is usually choked with snap-happy tourists measuring their own extremities against the likes of John Wayne and Judy Garland; it's just a pity that its appeal is tempered by the tour hawkers and the ticket agents who clutter the courtyard. If you do come to see a film, the 932-seater theater—which is among the world's largest IMAX auditoriums—offers architecture as stunning as the screen's projection quality.
Venue name:
TCL Grauman's Chinese Theatre
Contact:
Address:
6925 Hollywood Blvd
Hollywood
90028

Do you own this business?
Review by Joshua Rothkopf Something is off about this defiantly unmagical remake of The Lion King, a film that is both photorealistic—down to every artfully crafted lens flare and whisker on Simba's chin—and the furthest thing from real. It'll ei...

Read more
Average User Rating
4.2 / 5
Rating Breakdown
5 star:

4

4 star:

3

3 star:

2

2 star:

0

1 star:

0
This place is most definitely a tourist destination. But for a movie buff, its gigantic screen and old Hollywood history are hard to ignore. There's a parking lot and they validate. They also have good dining options for your pre or post movie dining needs.
I love everything about Grauman's Chinese Theater, except for the crowds of tourists. However, what else can be expected with its majestic and historic appeal? The design and architecture is beautiful, and it makes for great photo ops from the outside, and inside is a genuinely great venue for watching a movie, or even an IMAX movie. The theater may be old (and by that I really mean "historic"), but they've done some great renovations to make the movie watching experience there a comfortable and enjoyable one. If you're a local, this is still something you should try... just be prepared for the crowds, and avoid being around the area during movie premieres (unless you're there for that reason, of course!).
The Chinese Theater serves as one of the quintessential Hollywood landmarks and a pretty spectacular working movie theater. This place has gotten event better since they renovated the theater with stadium seating and plush chairs. Definitely worth a visit if you're an out-of-town tourist or a Los Angeleno looking to discover his/her own city.

Everything about the surrounding location is awful—the people putting their hands in the cement molds, the congestion on the Walk of Fame, the general grime of Hollywood—but boy is this theater fantastic. Everybody's seen the Chinese Theatre in movies and on TV, so there's something kind of amazing about the fact that you can see a movie here. The architecture inside is beautiful and the projection and screen quality are by far the best in all of LA. If you're going to see something in IMAX, see it here—any place else just won't do.
Great place to visit, spend $$$, meet the womenof ur dreams kidd
I went for the Blended Premier two week ago... it's totally renovated! I'm really impress with the whole theather... Of course if you go just outside for that magical place, you gonna love the history and all...