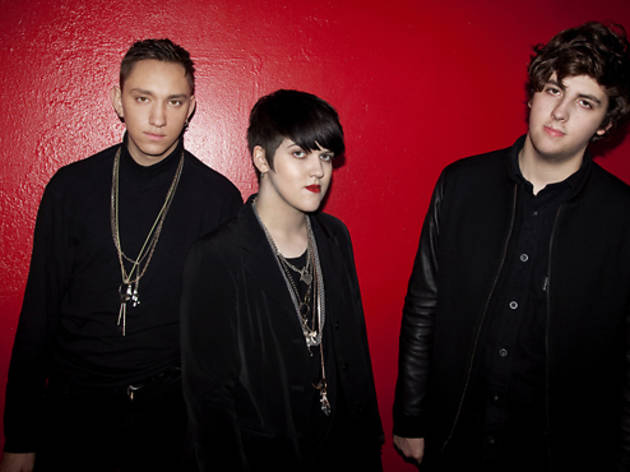 Coachella 2013 artist spotlight: The xx
The London indie pop trio brings its minimalistic, sensual tones to the California desert in April.
RECOMMENDED: All Coachella coverage
Very few band names are actually any good, and fewer still are as good as the xx—a moniker that's at once suggestive (of sign-off kisses and X-rated movies) and obfuscatory (deleted letters, Mr. X, Generation X). It suits the sound of this London trio to a tee: Crowds at the band's first U.S. shows, in 2010, were swept up by the music and its mystery; a girl and a boy trading smooth, whispery vocals over bare-bones beats, like a minimalist take on Sade. The sound was subtle, febrile and languorous; this was baby-making music, as evidenced by the number of what singer-bassist Oliver Sim refers to rather coyly as "standing-up spoons" in the audience. It was, as the band's MySpace page read at the time, "so sexxy."
That said, in true is-it-or-isn't-it? xx style, soft-spoken singer-guitarist Romy Madley Croft says the group's songs aren't necessarily designed to get you hot and bothered. "We've always tried to be quite cryptic and leave it open to interpretation—that's why we never really explain the lyrics of our songs too much," she shrugs. "If you want to interpret it in a more"—she pauses, then continues—"sensual way, then that's okay." Sim chuckles quietly. "What it might mean to me is maybe different."
Playing as a trio since the departure of Baria Qureshi in 2009, the xx comprises Sim, Madley Croft and beats-maker Jamie Smith, and today all three members are being simultaneously interviewed in the lounge of the Bowery Hotel, in readiness for the launch of their second album, Coexist, since released by XL.
It's an apt title (well done again, the xx), given the closeness of the band's members; Sim and Madley Croft have known each other since they were toddlers, which is perhaps why their voices meld together so magically. "We learned to speak together," Madley Croft offers, "maybe that's it." As tempting as it might be to imagine the pair together romantically while listening to an xx song, Sim says that he and Madley Croft have a sibling relationship. ("It never even crossed my mind that people would interpret it like that," he says. "But of course they would—a man and a woman…") They formed a band with school pal Smith at the age of 15, and played their first shows at 19 to a crowd of 35-year-olds, according to Sim.
"It was only once the album had come out and we'd been written about in NME and blogs that younger people, people our age, started coming," he says. "And we were so surprised. We never invited any of our friends to our shows, because it was much easier playing in front of strangers." Similarly, the band's first songs evolved in shyness; Madley Croft and Sim wrote alone at home, communicating with each other by e-mail.
But the xx returned from its first marathon tour armed with newfound confidence (not to mention, thanks to Sim, a collection of 20-odd flight pillows and the key card to every hotel he'd stayed in). All three members moved out of their parental homes, and they now live within ten minutes of each other in East London. "It's Jack the Ripper territory," Sim says, adding cheerfully, "I learnt that a few doors down from my house is where one of the victims was found."
For Coexist, Sim and Madley Croft began collaborating in the same room for the first time, singing songs together there and then; a daunting experience, says Sim, but a gratifying one. "We wrote some of my favorite songs in less than half an hour each," he says. The band's London loft studio was soundproofed with black velvet and dotted with candles—so far, so goth—but with natural light flooding in through the windows, and seagulls flying overhead.
Try as you might, you just can't pigeonhole the xx. Sim jokes about the band's enduring predilection for wearing black ("Our teenage years were a descent into darkness"), saying, "If I looked at us I would think, Cheer up. [But] I don't think we take ourselves terribly seriously as people. We're a pretty smiley bunch."
This much is true. And honestly, isn't it nice once in a while to be treated to a bit of mystery? Let's just call it a little of the xx factor.—Sophie Harris
The xx plays Coachella Saturday April 13 and Saturday April 20.
Download Coexist on Amazon

Download xx on Amazon

Follow Sophie Harris on Twitter: @SophieMeve
This article originally appeared in Time Out New York on October 25, 2012.
More Coachella 2013 artist spotlights
See all Coachella coverage