FYF 2013 artist spotlight: Eleanor Friedberger
The Fiery Furnaces singer dons her rosy specs and goes it alone.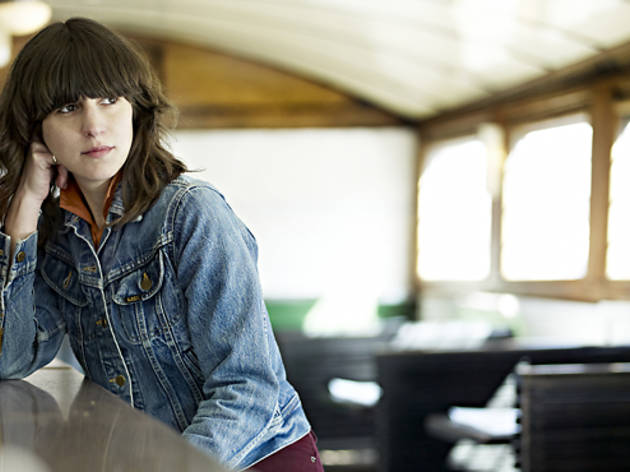 RECOMMENDED: See all FYF coverage
Fiery Furnace–gone-solo Eleanor Friedberger hits FYF to celebrate her dreamy debut album, Last Summer (released, appropriately, last summer). We spoke to Friedberger, calling from her home in Greenpoint.
Your album is rooted in the past. When you think of early memories, where do you go back to in your head?
I grew up on the west side of Chicago, in a place called Oak Park. It was very safe and idyllic in a lot of ways. I mean, I complained a lot as a teenager and couldn't wait to get out of high school, but I had a lot of time to myself. When I wasn't playing sports after school, I would sit in a room next to my bedroom, where we had the stereo, and I would just sit in there for hours and sing along to music.
On one song, you remember a time "when we didn't have cell phones." Do you feel nostalgic about that?
I do. I just started using Twitter when my album came out, and I was so reluctant to do that. It's easy to get swept up in it, but I wish it didn't exist. [Laughs] I don't quite know how to position myself in that world. You could invent a character. Just before my brother and I put out our first album, we got into a big argument about our names—my brother really wanted to use a fake name and I just thought that was so stupid and phony. And that's one of my biggest regrets. Friedberger is just about the most unrock [name]. My brother and I have this conversation a lot [Chuckles]: If we had a different name, wouldn't we be more successful?
You wrote Last Summer in six weeks. Did you have an intention before you made it?
I wanted it to sound nostalgic and sentimental; I wanted to write about things that had happened to me a long time ago. And because it was my first record on my own, I wanted it to sound naive.
The video for "My Mistakes" has VHS footage of you as a teenager.
My great friend Beth Lieberman, who I met in college in Texas, recruited me to be in her video-art project. So it's this young woman preparing her body for a date. We didn't use the whole video because it gets kind of pornographic towards the end [Laughs], but we used what we could.
The passionate kiss at the end is crazy! "Is she enjoying it or not?"
Right, that's actually the point of the video, that I've gone to all this trouble to get ready and then I don't enjoy the payoff. So we found this VHS tape, and then I recruited another friend to shoot me now. And we decided that the ending had to be a better payoff.
Is the guy Britt Daniel from Spoon?
Yeah, he was my boyfriend at the time.
The kisser.
[Laughs] Yeah, the licker.
In February you were the special guest musician on the Portlandia tour…
Oh gosh! I just saw Fred and Carrie last night—I went to see Wild Flag at Webster Hall. It was great. I feel so close to those girls, it was such a treat to tour with a bunch of women [last fall].
What are the big differences?
Your tour ends in May. What are you most looking forward to for the summer?
I'm really looking forward to being at home this summer. And riding my bike a lot, and playing a lot of tennis. I just got my tennis permit renewed. And I'm curious that the McCarren Park pool is opening on June 28. It's gonna be such a crazy scene there.
It's actually a really hard question, because you're doing the same things. I just felt a greater sense of camaraderie; to be onstage all five of us was just really powerful. When you're in a rock band it should feel like you're in a gang, and I've always been in a band with my brother, so I've never had that feeling, 'cause there's always something a little bit uncool about it. [Laughs]—Sophie Harris
Eleanor Friedberger plays FYF Saturday, August 24th.
Download Personal Record on Amazon

Download Last Summer on Amazon

Follow Sophie Harris on Twitter: @SophieMeve
This article originally appeared in Time Out New York on April 12, 2012.