After this winter's remarkable low-elevation snow, it's time for another rare weather pattern to impact Los Angeles: a tropical storm—the first one to hit the area since 1939.
Hurricane Hilary—now a tropical storm, but a category four hurricane at its peak on Friday—is currently sitting along the Pacific coast of Mexico with maximum sustained winds of 70mph. As it works its way up Baja California, it'll continue into Southern California—in weakened form—with the heaviest rains arriving Sunday evening.
So what does this all mean for the Los Angeles area? About one-and-a-half to three inches of rainfall is predicted (and up to seven inches in the San Gabriel Mountains), with up to an inch of rain an hour possible on Sunday evening.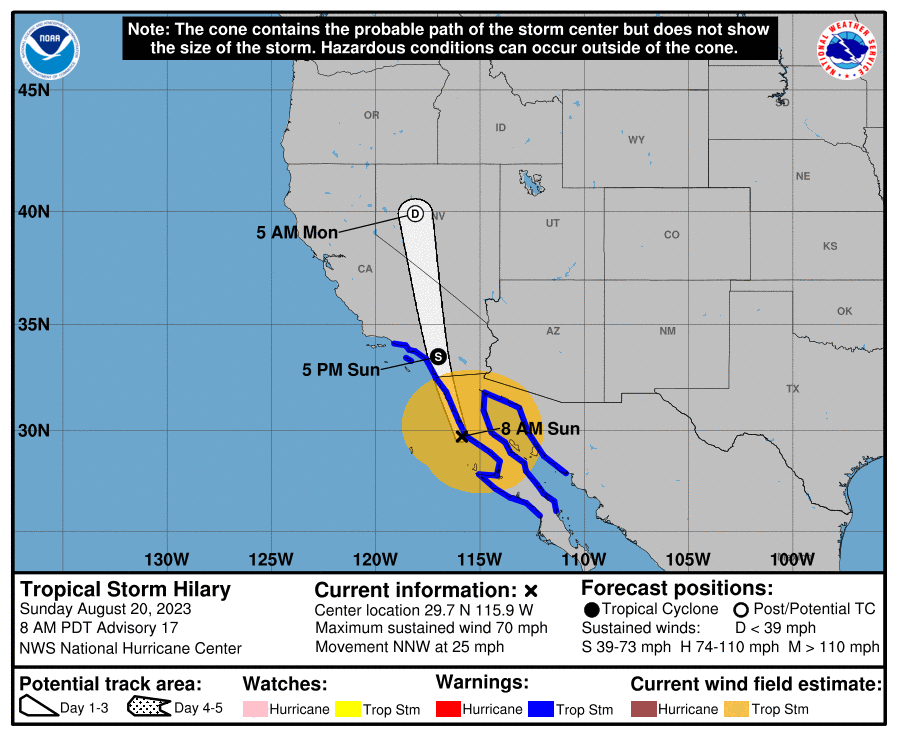 A flood watch is in effect across the greater L.A. County area from 10am on Sunday to 10am on Monday, with flash, urban and arroyo flooding all possible. There's also an unprecedented tropical storm warning that's been issued for all of L.A. County, including the coastline and neighboring counties. Some of the county's mountainous areas could see gusts up to 60mph, but the National Weather Service expects most parts of L.A. County to see considerably weaker winds, around 10 to 20mph with gusts up to 30mph. However, even just a 20-mile variation in Hilary's projected track could have an impact on the severity of the weather. Regardless, expect it to be humid (gross) and for showers to be widespread.
When will Hurricane Hilary hit L.A.?
Rain was already underway in L.A. on Sunday morning, with the heaviest winds and precipitation due for early evening Sunday. The storm is expected to move out quickly after dawn on Monday.
What can we expect in Los Angeles?
To allay some of your fears: not a major hurricane. As Hilary has moved north up the coast, it's weakened into a tropical storm, with winds around around 10 to 20mph for most of L.A. (for comparison, the Santa Ana winds routinely bring gusts far more powerful than that each fall). The most noticeable impact will likely be the heavy rain, with 1.5 to 3 inches expected between Sunday and Monday. (To put that into perspective, remember that winter storm that dumped snow on L.A.'s foothills? That peaked well above four inches of rain in a day in many parts of L.A.) As mentioned above, expect both of these impacts to be more significant in mountainous areas; in addition, desert areas to the east are facing "devastating to catastrophic" impacts from flooding.
All that said, it's still a good idea to make sure you have an emergency kit prepared (you know, that one you've been meaning to put together for the Big One). Otherwise, keep tabs on the latest forecasts and try to avoid areas prone to flooding.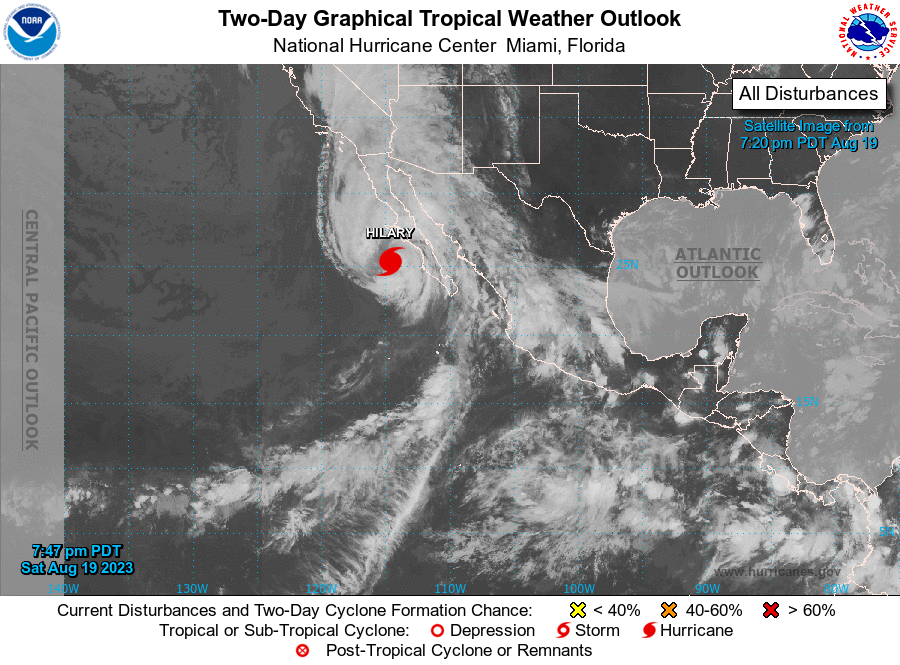 Where is the storm now?
As of Sunday morning, Hilary is currently a tropical storm that's situated just over 200 miles south of San Diego and is moving north-northwest at 25mph.
When was the last hurricane in Los Angeles?
If you're trying to remember the last time a hurricane or tropical storm actually made landfall in L.A., you're going to have to look back pretty far: An unnamed tropical cyclone that came ashore in Long Beach in 1939 was the last such storm to make landfall in California. Even farther back, an 1858 hurricane in San Diego is the only known storm to reach the state at hurricane strength.
This story was originally published on August 17, 2023 and has been updated with the latest info as of the morning of August 20.