This year an iconic L.A. sandwich turns 100—or 110, depending on who tells the story. Regardless of the storyteller or whose tale you believe, the birth of the French dip always begins in 1908, when both Philippe the Original and Cole's Pacific Electric Buffet opened their doors. Both served hand-carved roast meat between French rolls, as was customary at the time, and both claim to be the originator of what came next, but no matter whose side you take, one thing is certain: A single dunk au jus changed sandwich history forever, and it happened in L.A.
Harry Cole's operation sat in the basement of one of L.A.'s largest hubs, the terminal for the Pacific Electric Red Car lines at Sixth and Main Streets, providing a stop for commuters and Downtown's workforce looking for a beer, a quick meal or a check-cashing service. Chefs would cuts slabs of beef, pork and ham at the carving station, which stood in Cole's into the '90s. (Today, you can see its former spot in the dining room, on the left where a communal table now resides.)
The story goes that within the restaurant's first six months of operation in 1908, its chef, Jack Garlinghouse, obliged a sensitive-gummed regular who asked for the bread to be softened with the meat's juices; a quick dip of the sandwich at Cole's carving station and history changed forever—or, perhaps not. Today, Cole's bills itself as not only the originator of the French dip, but also the city's oldest public house, denoted by a brass plaque you'll easily walk past on your way into the subterranean spot. Employees claim Cole's recognition as an L.A. historic cultural monument proves the sandwich's origin story, but nowhere does the city's designation mention the French dip.
Seven blocks away, Parisian Philippe Mathieu—nicknamed "Frenchie"—claimed that in 1918, a decade after opening his restaurant, a policeman stopped by 246 Aliso Street and ordered a sandwich; Philippe accidentally dropped the roll into a roasting pan, and the cop loved it so much he returned with all of his friends. (To this day, Philippe's does the dunking for you, on a scale of single-dipped, double-dipped or "wet.") According to one of Philippe's own descendants, however, it was a fireman who ordered the sandwich, and according to at least one current employee, it was a girl working the line who'd dropped the roll. Historical accuracy is a tricky thing.
Philippe's, now at 1001 North Alameda Street, retains its original recipes, orally passed down from Philippe to the restaurant's fourth-generation owners, the Martin family. It also keeps its 1940s cafeteria-style format, sawdust floors, candy counter and, amazingly, 45-cent cups of coffee. On a busy day, the Chinatown establishment serves 3,100 to 3,600 French dips, with roast beef leading the popularity polls, followed by lamb. Pastrami, added only a few weeks ago, is one of the only changes this restaurant has seen in decades. "Everything is still the same," says manager Grace Alejandre, an employee of Philippe's of more than 30 years. "The pies are even from the same company. Roast beef, everything is the same recipe."
Meats roast slowly with carrots, celery and a secret blend of spices; the drippings falling into a pan that combines with stock and beef bones to create the jus, daily. While the soft French rolls aren't made in-house, they're still baked by the same company that's been providing them for decades, Frisco Baking Co., over on 26th. The Philippe's atomic mustard—spicy and hot, but without the vinegar bite of Cole's—originally began as once-a-week batches; now it's so popular the staff churns it out every other day, and it's helped keep guests coming back for decades. "Mostly it's generations who come," says Alejandre. "Parents were brought by their grandparents, now those kids are grandparents and bring their own grandkids. That's how it goes. Generations, like the owners."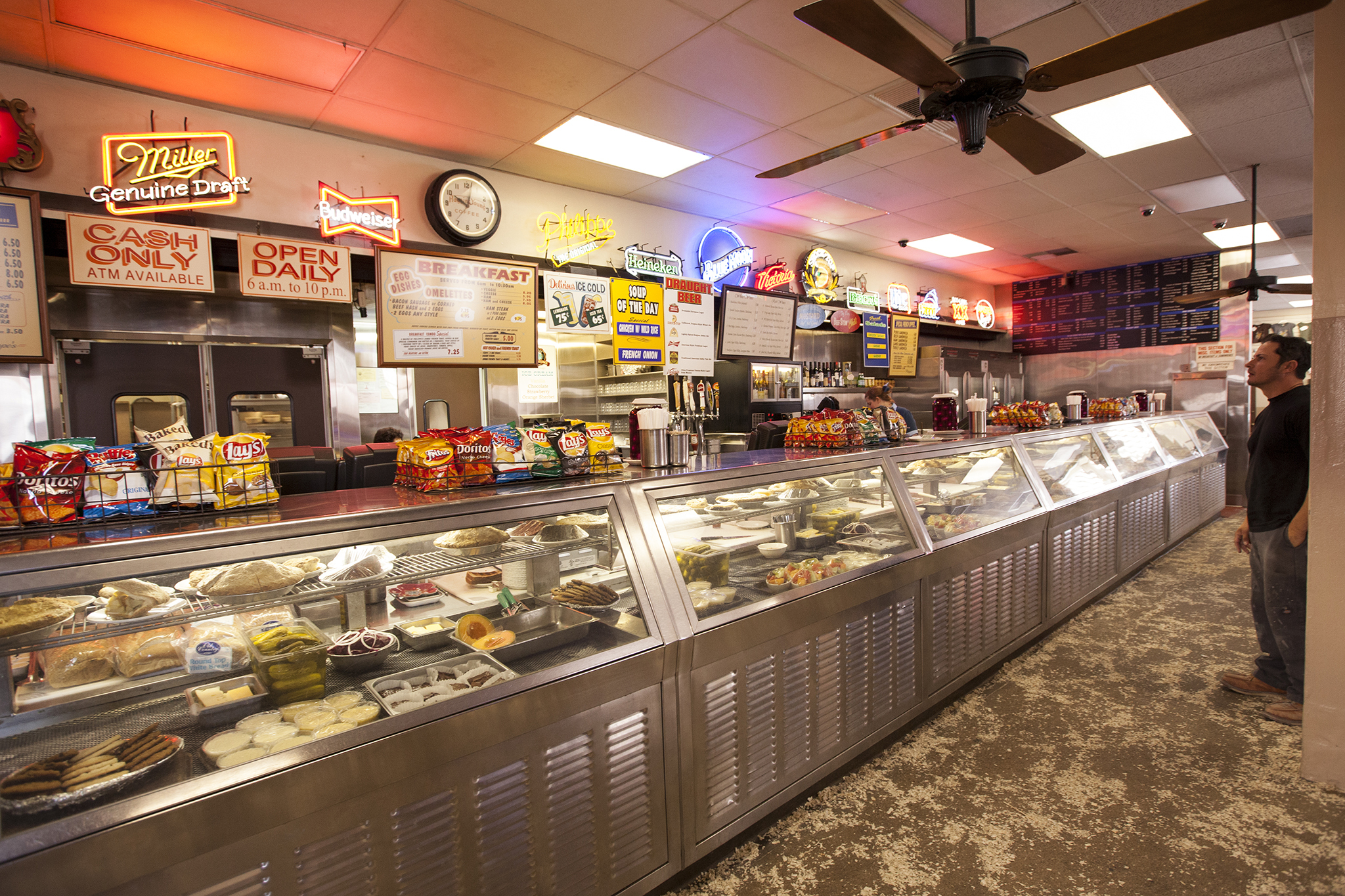 Cole's, meanwhile, sold to 213 Hospitality in 2007 and the group's owner, Cedd Moses, carefully restored the space to the tune of $1.6 million, and eventually added hidden cocktail bar the Varnish. Though 213 is one of DTLA's major nightlife players—operating Bar Clacson, Golden Gopher and Arts District Brewing Co., to name a few—Moses purchased Cole's for sentimental reasons, and not a simple expansion of his empire. It was, after all, one of his own watering holes throughout the '80s and '90s—not to mention a favorite dive of Charles Bukowski's.
"I've had amazing experiences in this bar itself with people like Bukowski and Jimmy Barela [a Cole's bartender for 63 years]," says Cedd. "I was on the board of L.A. Conservancy a long time, and I'm all about preserving the soul and history of Los Angeles. What better place to work with than Cole's, which felt like a real gem that needed resuscitation?"
Before a former owner could rent the space to a Subway—which planned to gut the saloon—the conservancy board intervened, informing the owner that he could not rip out the history of L.A.'s oldest sandwich. The French dip saved the restaurant.
And in turn, Moses saved the French dip. In addition to rescuing the mahogany bar, the boxcar siding, the penny tile floors and the booth devoted to gangster and regular Mickey Cohen—where he'd sit with his back to the wall, watching the restaurant and the door—he reinvigorated the sandwich. Saved from decades of bone-dry meat and multiple health code violations, Cole's French dip now comes reimagined by Redbird chef Neal Fraser and baked on a house-made roll that stands up to the dip; the jus, practically a bone broth, takes two to three days to create. The result is a French dip that's more tender and tasty than ever, though Fraser's always tweaking, always perfecting the recipes. "I'm just trying to improve on something already good, and making it better," he says. It's hard to perfect a sandwich that's already, by design, perfect.
While both restaurants claim ownership, both agree it's all in good fun. But if unsubstantiated rumors are to be believed, a midcentury legal spat over the invention was settled out of court in Cole's favor. If conjecture is to be believed, the sandwich is named for its creator, "Frenchie." Neither operation can provide original opening or 1918 menus, which would provide first mention of the sandwich, but even if these relics do exist, the mystery of the French dip is perhaps best left unsolved. After all, both restaurants deserve a place in the city's history books, and the rivalry's half the fun.