From one angle, the Hideaway looks like the sort of luxurious lounge you'd expect to find on Sunset Boulevard. Like an all-black, marble-filled take on the white bedroom at the end of 2001: A Space Odyssey, it mashes up classical elements (ornately detailed moldings, a limbless sculpture and throne-like chairs) with showy contemporary decor (speakers embedded in Gucci wallpaper, a water vapor fireplace and lots of illuminated distractions).
But swivel around and you won't see the Hollywood skyline: Instead, you'll catch the inside of the Crypto.com Arena with a perfectly perched view of the Lakers' and Clippers' home court.
Hideaway is easily the swankiest-looking suite inside of the Downtown L.A. arena. And with over a $2 million buildout, it's by far the most expensive custom suite in the former Staples Center, too, if not the entire country. Even if you could afford tickets to a game or concert inside of it, there's no set pricing yet as the suite is invite-only "for the near future." But eventually, hospitality entrepreneur Matt Ampolsky says Hideaway will open up to the public via his ticketing startup, Granted (for now, you can join the waitlist).
Granted invited us to watch the Lakers vs. Clippers game from Hideaway, and immediately we were struck by the size of the space—probably because it's technically two suites. The project from Barrett Building Co. and Anthony W Design knocked out the shared wall to create one spacious, 660-square-foot suite that looks unlike anything else in the arena.
"The goal has always been to create an intimate environment within the suite where guests and patrons could enjoy their favorite arena events in a new, experiential capacity," Ampolsky says. "From a professional DJ booth and Zoltar machine to unique, custom-built seating, we are creating a community at Hideaway where tradition and whimsy meet."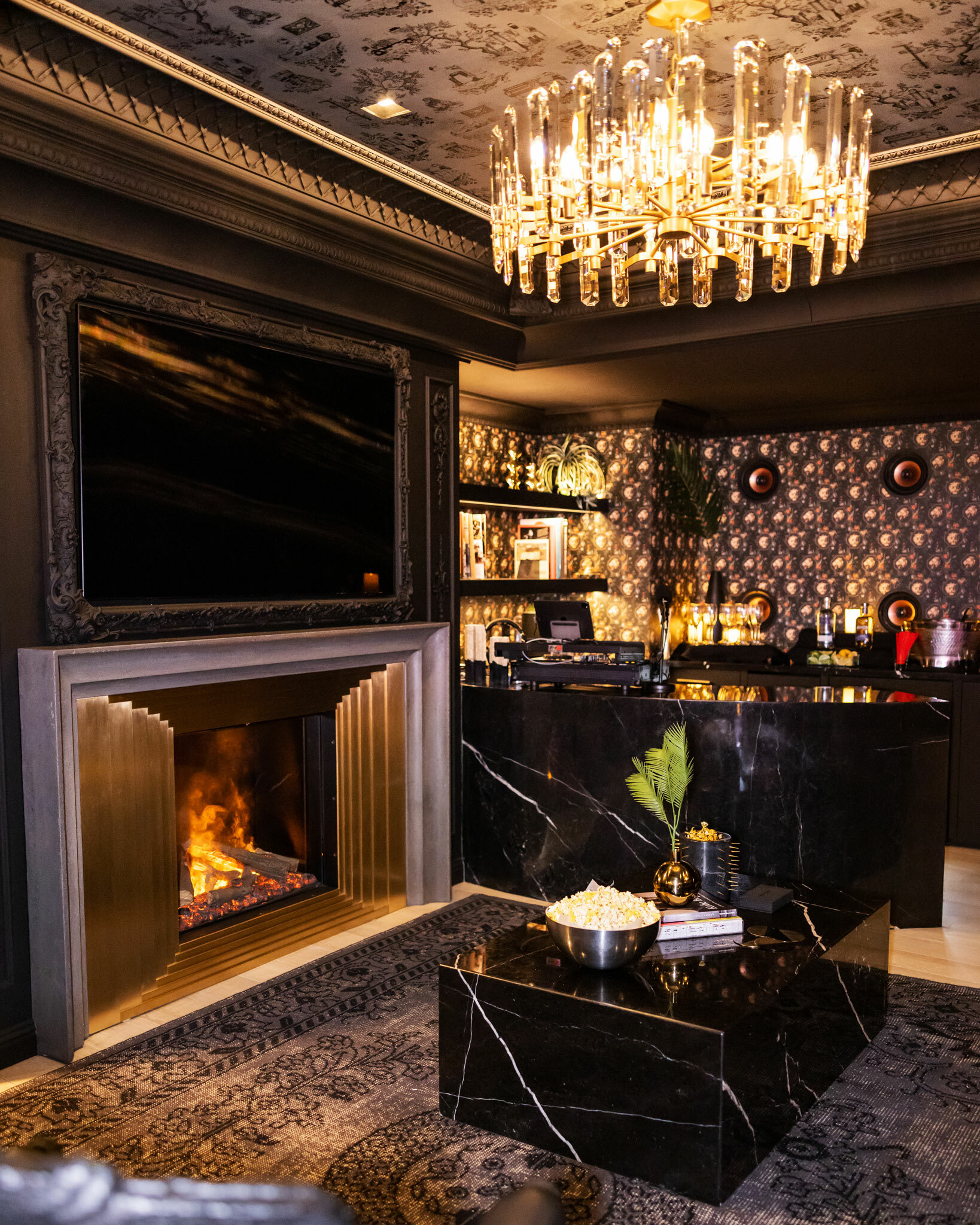 We certainly felt the draw of the whimsy while we were there. The sideline-meets-baseline perspective is fantastic, but as the game became a blowout we gravitated toward sinking into a couch in front of the very convincing water vapor fireplace, vying for bath bombs and gummies in the free play claw machine, and getting our fortune read by Zoltar. ("Once you start practicing the art of saying 'no' to things that don't serve you, you will find your life to become more purposeful and less stressful.")
While talking to one Hideaway regular, it's clear that for now the space is largely accomplishing what most suites tend to be used for: wooing clients. But it's also already living up to its name: Celebrities regularly pop in for a bit of discretion or, on the flip side, to start a party from behind the DJ booth. The suite sometimes even has its own programming separate from the rest of the arena; in one instance, Hideaway hosted a halftime performance from mentalist Simon Winthrop. Ampolsky says that he has more out-of-the-box experiences like that planned for Hideaway, and that "some very exciting additional, custom features" will soon debut on Hideaway's Instagram account.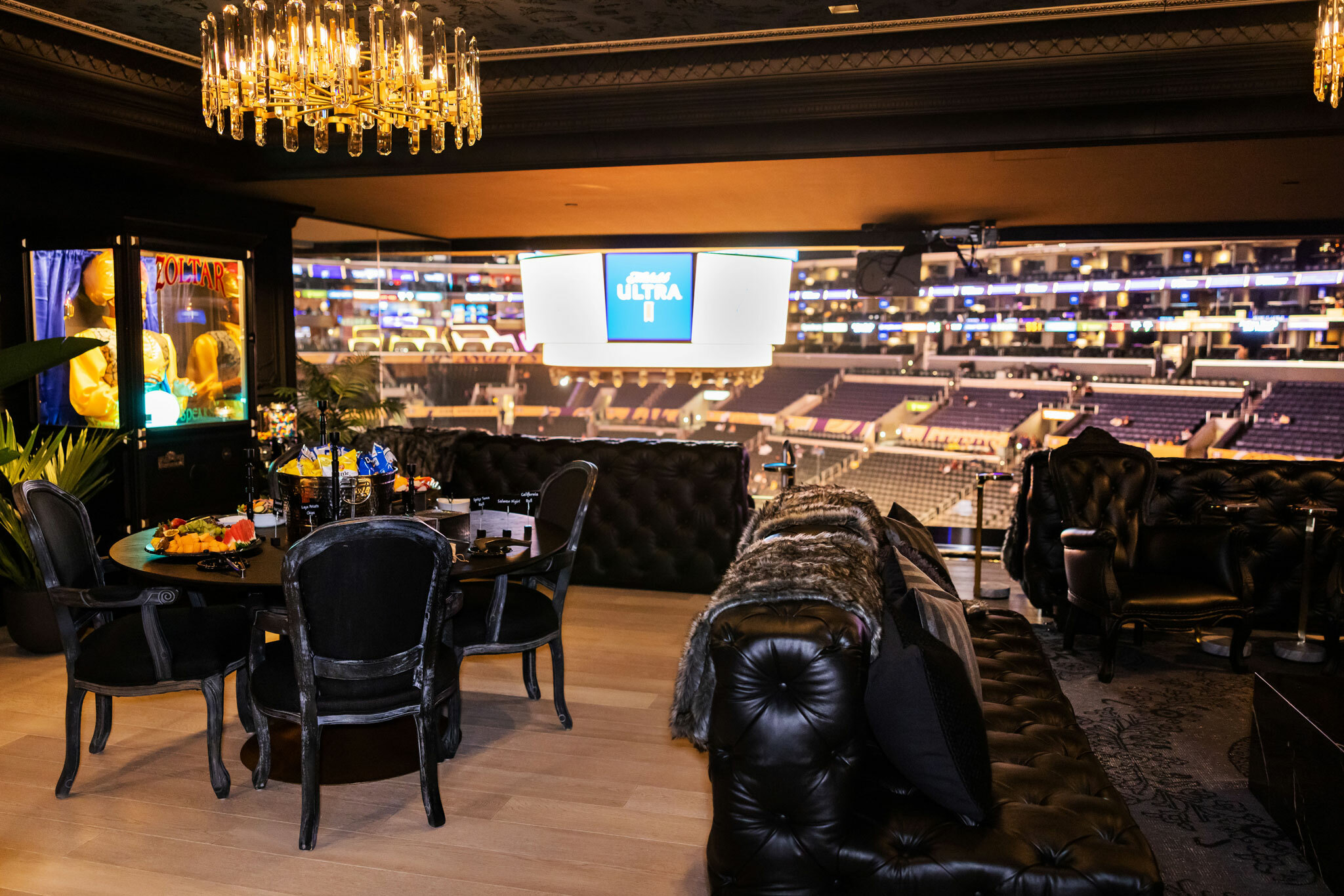 Tickets to ordinary seats at a Lakers game are already prohibitively expensive, so we can't even fathom how much an evening at Hideaway will cost once it opens to the public. But here's hoping you eventually find your way in at a game that gets sent into overtime—because you're going to want to soak up every possible minute inside.