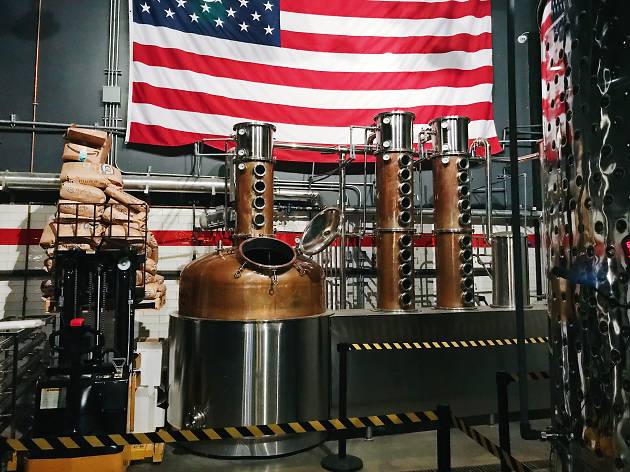 L.A. distilleries are flipping to become hand sanitizer factories
Posted: Monday March 30 2020, 1:12pm
Few resources seem scarcer than hand sanitizer right now, and your average quarantiner isn't advised to make their own at home, which means it's time to call in the professionals—professional booze makers, that is. And in L.A. and Long Beach, they're pumping it out.
No, really, don't try this at home: According to the CDC, hand sanitizers require an alcohol content of at least 60 percent, rendering home concoctions made with the usual 80-proof liquors ineffective. Fortunately distilleries across Southern California are stepping up, including Long Beach's Portuguese Bend Distilling—one of our Best New Bars of 2019—as well as Culver City's Los Angeles Distillery, among others.
While distilleries brew up the same bottled alcohol that's not fit for home remedies, their neutral base for most spirits rings in at a rough 95 percent before processing. By following the FDA's guidelines and tweaking their product with a little glycerin, hydrogen peroxide and denatured alcohol to safeguard against drinking it, they're converting what could've been your favorite vodka into a potentially life-saving antibacterial commodity.
Some of these distilleries moved to wholesale- and donation-only models for their hand sanitizer; Los Angeles Distillery, for instance, has been working with Temecula Valley Hospital and APM Terminals. Meanwhile, El Segundo's R6 Distillery just launched a fundraiser to bankroll their donations to local hospitals, the homeless and other high-risk groups.
If you're stuck at home sans hand sanitizer, a few of these distillers can help:
The Arts District's Amass offers an alcohol-based "waterless hand wash," where a portion of proceeds help bartenders who've lost work from the virus, and it even features some of the botanics you can find in the distillery's gin and vodka.
Portuguese Bend isn't just home to some of the region's most creative spirits and large-format cocktails; it also boasts a full gastropub menu, which is still up and running, along with a handful of grocery items for quarantine. You can opt to pick up food, bottled rum, gin and vodka, plus large batches of cocktails, or find them through delivery app Postmates, and all orders over $30 include a bottle of the new sanitizer. You know, so you can snag some top-tier alcohol for drinking and some for keeping healthy. Win-win.
Share the story