The LA Roller Girls, a chupacabra and some chickens walk into a bar. Well, it's less of a bar and more of a historic L.A. theater, but there is alcohol—and lots of it. It's not the setup for a bad joke; it's the makings of one of the city's best events, now in its 15th year.
Lucha VaVOOM mixes Mexican wrestling, burlesque, lowrider culture and live music at the Mayan Theater, crafting one of the most high-flying variety shows ever to hit L.A. The luchadores (wrestlers) travel internationally and don outlandish costumes, be they Chupacabra's spikes, Green Fuzz's slime-green faux-fur vest or the Crazy Chickens' rainbow of feathers and beaks. The format is consistent, with four matches per show, but Lucha VaVOOM is anything but predictable: Luchadores fly out of the ring and into the crowd, surprise tag-teams face off and even the referee gets in on the fight. Music, dance and comedy performances provide palate cleansers between matches, and each night features new talent, thanks to founders Rita D'Albert and Liz Fairbairn, who work unflaggingly to keep the show fresh.
We caught up with D'Albert to learn what's in store for this weekend, the most insane thing to hit their stage and why this will always be L.A.'s show.
What is the craziest thing that's ever happened during one of the shows?
Ooh. I would say one of the things that caught the audience by surprise is we had this performer names Mat "Seal Boy" Fraser—he was on American Horror Story—and he came out and sang "An American Trilogy," and his wife, Julie Atlas Muz, who's is an amazing singer and dancer from New York, comes out wearing next to nothing and just dancing around waving an American flag. And at the end, she's doing a handstand in front of him and she opens her legs and he unsheathes a diamond sock on his member, which he then rested on her. I've never seen the audience go so crazy. They just went wild, a standing ovation forever, everyone was on their feet and going insane. It's not something you can talk about delicately, but it was the most wild thing.
From a production standpoint, what goes into making these happen? It feels like there are so many moving parts.
There are. The other thing is that we have to watch it every time; it has to keep being interesting to me. When I book an act, it has to be something that motivates me to come back, as a person who comes to every show, or it it's someone who'd never been, I want them to go, "Oh, this is good." It's constantly raising the bar, and I think that's the hardest part: trying to top the last one.
What is the general outline of each show? What are some fights or acts or components you need to have every time?
I liken it to when you go see the Stones or another favorite band: They're gonna do "Satisfaction." They're gonna do the songs they wanna do, but they're always going to do the hits. For us, I feel like the chickens are going to be at every show. There are always four matches but the makeup within those matches isn't always four people in each match. We also have [comedian] Blaine [Capatch] hosting the show almost every time, and we have about six dance acts, or we'll throw in a musical performance if there's someone we're really inspired by.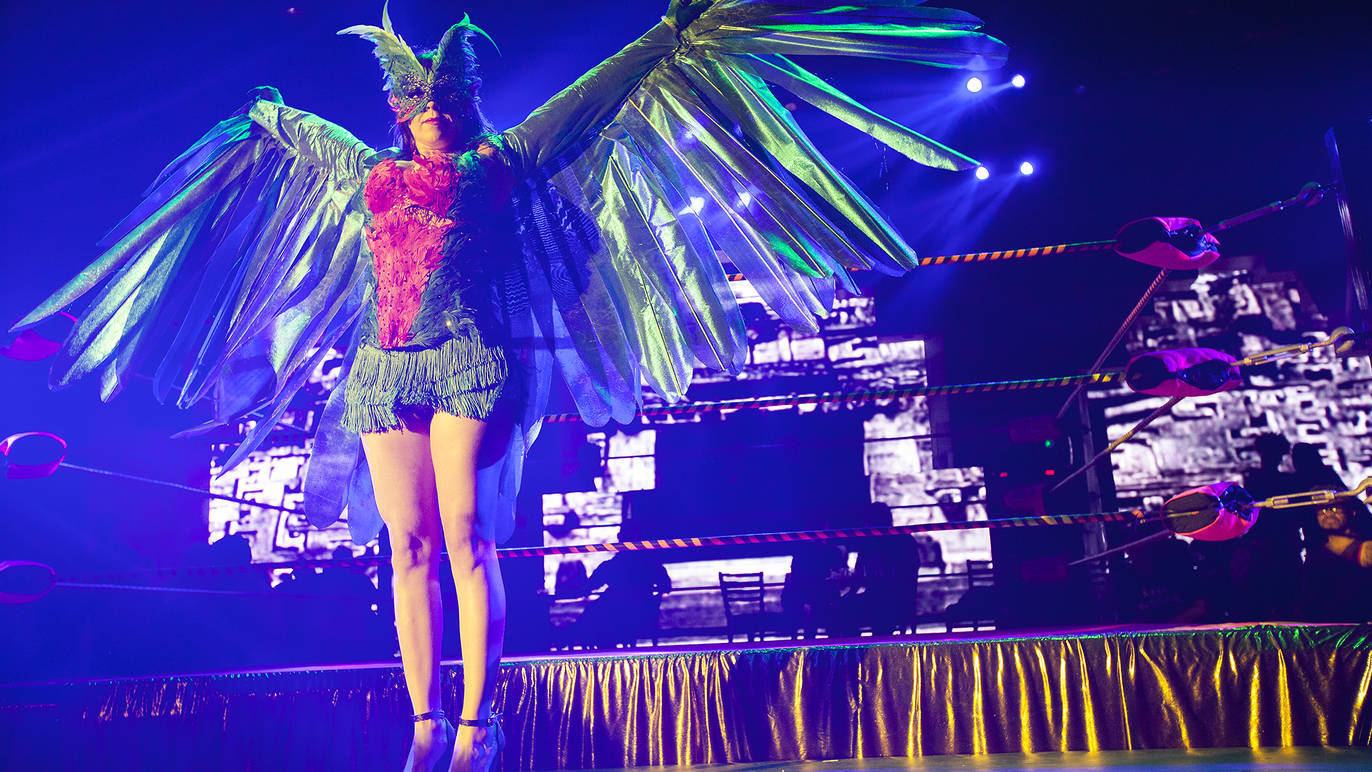 Burlesque or music performances between rounds isn't entirely traditional for lucha; why this format?
I've been to a ton of lucha libre shows both here and in Mexico and they're really entertaining but it's always back-to-back-to-back-to-back matches, and we've billed [ours] for the American or nightlife audience; the variety keeps the night moving and it also cleanses the palate for the next thing.
How many luchadores would you say you've worked with over the last 15 years?
Wow, I can't even say. We always have the chickens, we've done a lot of work with Joey Ryan, who's gotten really big over the years and he's in so much demand, so we just get him when we can; he's a delight and we love him. I don't think I can even say a number, but I know that when we go to Mexico and scout who's new and amazing—because there are stellar wrestlers in Mexico City—we always get the people we want, and they always wind up loving working with Lucha VaVOOM because it's such a different experience.
How often do you scout talent in Mexico?
I went to Mexico City four times last year and Guadalajara twice. I'm also looking for musical acts; I went down there once and got this electropunk performer who's absolutely wild.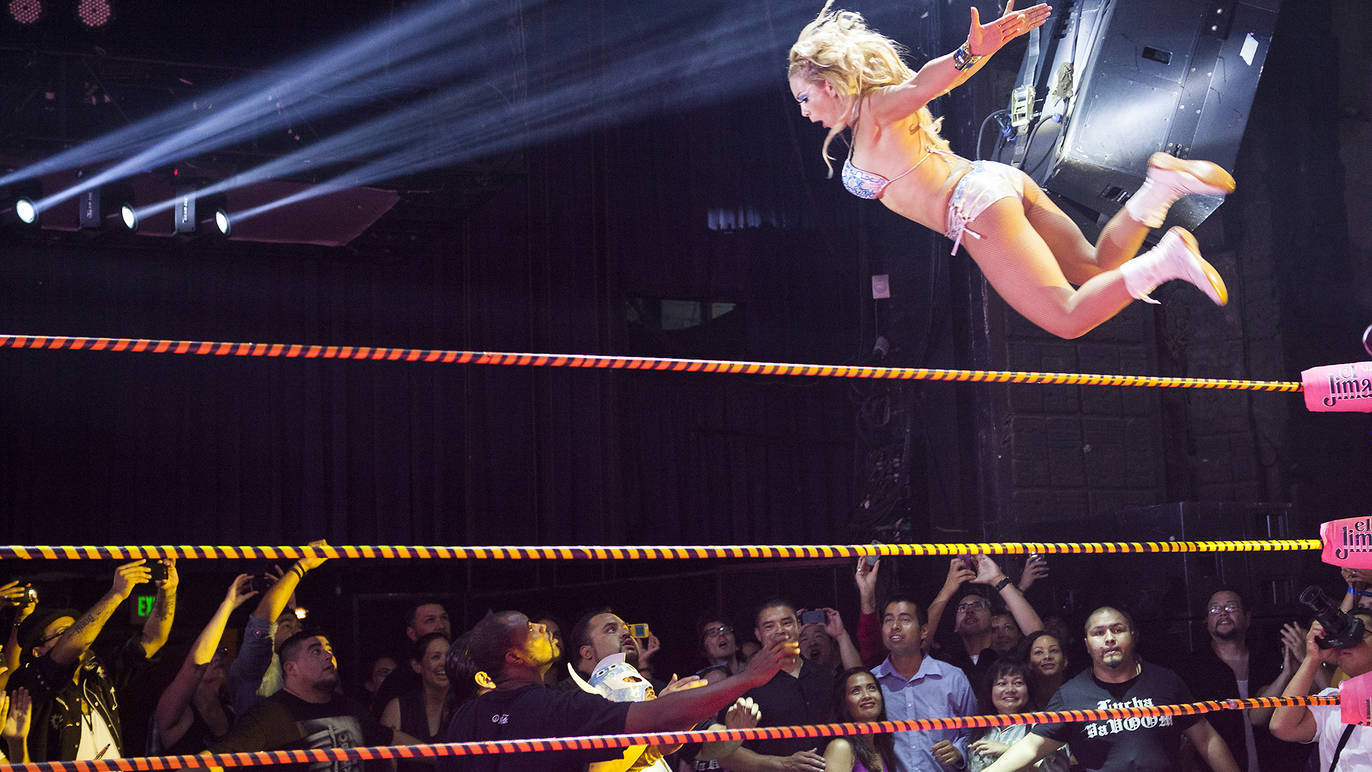 Those wrestlers really catapult through the air and out of the ring; has anyone ever gotten hurt sitting ringside?
No, no, no. The most danger that [guests are] in is what they do to themselves with alcohol. The people who sit in the golden circle are the diehards; they want the wrestlers to fly out at them.
Do you sell out every show?
We do. We sell out of the ringside tickets really quickly, within a couple weeks of when we announce the show, and then it's just people hemming and hawing about buying tickets until they eventually do. Valentine's Day sold out about two weeks before the event, but it'd be much better if people bought tickets earlier, so we could add nights. We probably could have added one for that. For Cinco, that's the only show we do with free seating and one ticket price, so everybody can watch the show from wherever they want. We want it to feel more like a party. Not only do we have the usual dancing and wrestling and comedy and Los Master Plus, but we add folklorico, Aztec dancers and mariachi. We start with the mariachi and the lowrider parade outside, so it's so Cinco; it's like a living embodiment of a Mexico celebration.
Does the show still tour?
We used to tour a lot more and we're hoping to get back up to that, but we would play New York and Chicago and San Francisco pretty regularly, then fill it in with Seattle, Portland, Baltimore, and we're talking about hopefully doing Miami later this year. We just want to make sure it's spectacular, because if you've seen it at the Mayan and then you go see it at some club, the feeling is different and it's not as nice. What we're really trying to do is find a way to do more of a short run at a theatre, rather than a night at a club, which takes a little more time to put together.
It's beloved in so many cities, but what makes the show resonate here to the extent that it does?
Well a lot of it has to do with the Mayan; the Mayan is so perfect for it. Often we've been able to do this regular schedule so you can set your watch to the annual events: You always know we're going to do Cinco, etc. It's also such a product of Southern California, of the melting pot that we are and have access to: these great car clubs with the lowriders, the great talent here, the comedians, and I feel like it's a very California show—not that it doesn't translate. We always incorporate some local talent wherever we go to make it unique to that city.
But we resonate with L.A. so much because you either have theatre, which can be expensive and not everyone loves, or opera, which is insanely expensive. We're a very reasonably priced option, especially when compared to something like Cirque du Soleil when it comes to town. And it's raucous like when you go to see bands, so you're getting this raucous, theatrical experience for not that big of a ticket price.
At this year's Cinco de Mayo event, running May 4 and 5 at 8pm, look for new-to-VaVOOM acts such as luchador El Bandido, electrocumbia duo Los Master Plus, and the burlesque and Cyr-wheel performer, Tosca, as well as the return of staples like the beloved chickens, mariachis, Aztec dancers, the lowrider parade and Piñatita (the pint-size wrestler dressed as a piñata). $48.50. Catch the Lucha VaVOOM summer show on July 26; tickets are on sale now.