One of L.A.'s most influential wine bars is heading west, bringing Spanish fried chicken and a range of biodynamic and organic wines from the Central Coast, France and beyond to Brentwood.
Tonight, chef Suzanne Goin and restaurateur Caroline Styne's lauded A.O.C. is getting a second location and opening in the former Larder at Tavern and Tavern spaces, which the duo closed last year.
What once offered retail shelves and a cold case for salads and other prepared foods—and then made way for a bakery case and a bar—has been transformed into a more formal dining room, with a communal table for walk-in seating. Tavern's atrium is gone, but the remodel offers a new private dining room, plus outdoor seating, and for those fans of the Beverly A.O.C., an identical menu of seasonal small plates.
The quintessential Spanish fried chicken with chili-and-cumin butter and a romesco aioli will be on offer at A.O.C. Brentwood, as will long-time favorites such as the parmesan-stuffed, bacon-wrapped dates; wood-fired clams in sherry; and the beloved roasted chicken with green olives, a dish in ode to San Francisco's Zuni Café—all with a kitchen led by Tavern's former chef de cuisine, Hamilton Lyons. Shannon Swindle, who oversees the pastry program at the original A.O.C., will also lead the dessert program in Brentwood.
Dinner will be offered Tuesday through Sunday, beginning at 5pm, with brunch service and the Brentwood-only addition of weekday breakfast and lunch to follow in the coming weeks. Take a peek inside the new A.O.C., below, then drop by for wine and charcuterie as soon as this evening.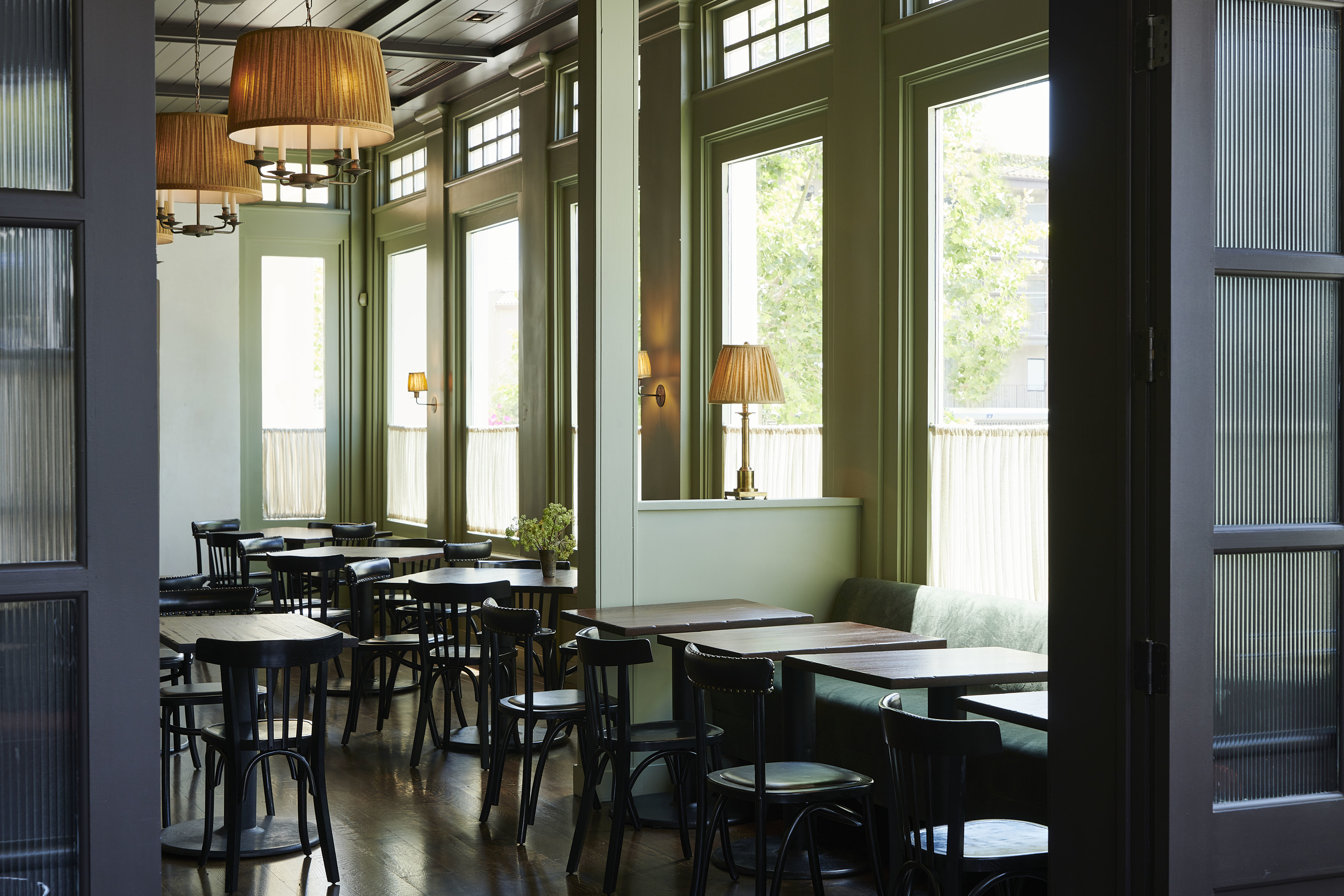 A.O.C. Brentwood opens tonight, Tuesday, June 8, at 11648 San Vicente Blvd., with hours of 5 to 10pm on Sunday and from Tuesday to Thursday, and from 5 to 11pm on Friday and Saturday.