There's still another year before the long-awaited Academy Museum of Motion Pictures finally opens in late 2019 (UPDATE: As of June, the opening has been pushed back to 2020), but the Miracle Mile institution just announced on Wednesday its first temporary exhibition: a Hayao Miyazaki retrospective.
Put together in partnership with Studio Ghibli, it marks the first major American exhibition focused solely on the My Neighbor Totoro and Spirited Away animator and director. Slated to open with the museum, "Hayao Miyazaki" (that's just a working title for now) will delve into 11 films through projections, spatial installations, concept sketches, storyboards, layouts and production cels, many of which will be on display outside of Studio Ghibli's Japanese offices for the first time. "[Miyazaki's] films have a universal and timeless appeal," said exhibitions curator Jessica Niebel. "They transcend cultural boundaries and generational differences; the results are movies that are both beautiful and profound." You can also expect film programming and Ghibli merchandise to accompany the exhibition.
Following that, the museum will present "Regeneration: Black Cinema 1900–1970" in the fall of 2020. The self-described research-driven, revisionist exhibition will reveal the important and largely unrecognized history of African American filmmakers and cinema from its advent to the Civil Rights era. Designed to travel following its L.A. run, "Regeneration" will also restore lost films and bring them back into circulation.
Housed in the May Company building (the Academy's now calling it the Saban Building) next to LACMA, the museum will take over the Streamline Moderne former department store with six stories of exhibition galleries, event spaces, a studio, theater, store, restaurant and café. It's there that you'll find the long-term show "Where Dreams are Made: A Journey Inside the Movies."
This 30,000-square-foot exhibition begins with some behind-the-scenes magic from the Wizard of Oz (including Dorothy's ruby red slippers) and continues onward into galleries that focus on the early days of filmmaking, the silent era, the studio system, realism and imaginary worlds. The Academy notes that throughout its galleries, it'll pay special attention to the under-recognized players in cinematic history, including women both behind and in front of the camera in the early days of film, plus the challenges that the studio system presented for actors of color as well as blacklisted writers.
Across the way, a Renzo Piano-designed glass sphere will house a 1,000-seat theater, as well as a panoramic terrace on top. The museum will be equipped to handle seemingly every format of film imaginable: laser-projected digital along with 16, 35 and 70mm film and even nitrate for some of its pre-1950 screenings. Plus, there'll even be a stage to accommodate orchestras for live scores. The building will also house a project space that'll initially welcome an immersive installation from Tokyo-based collective teamLab.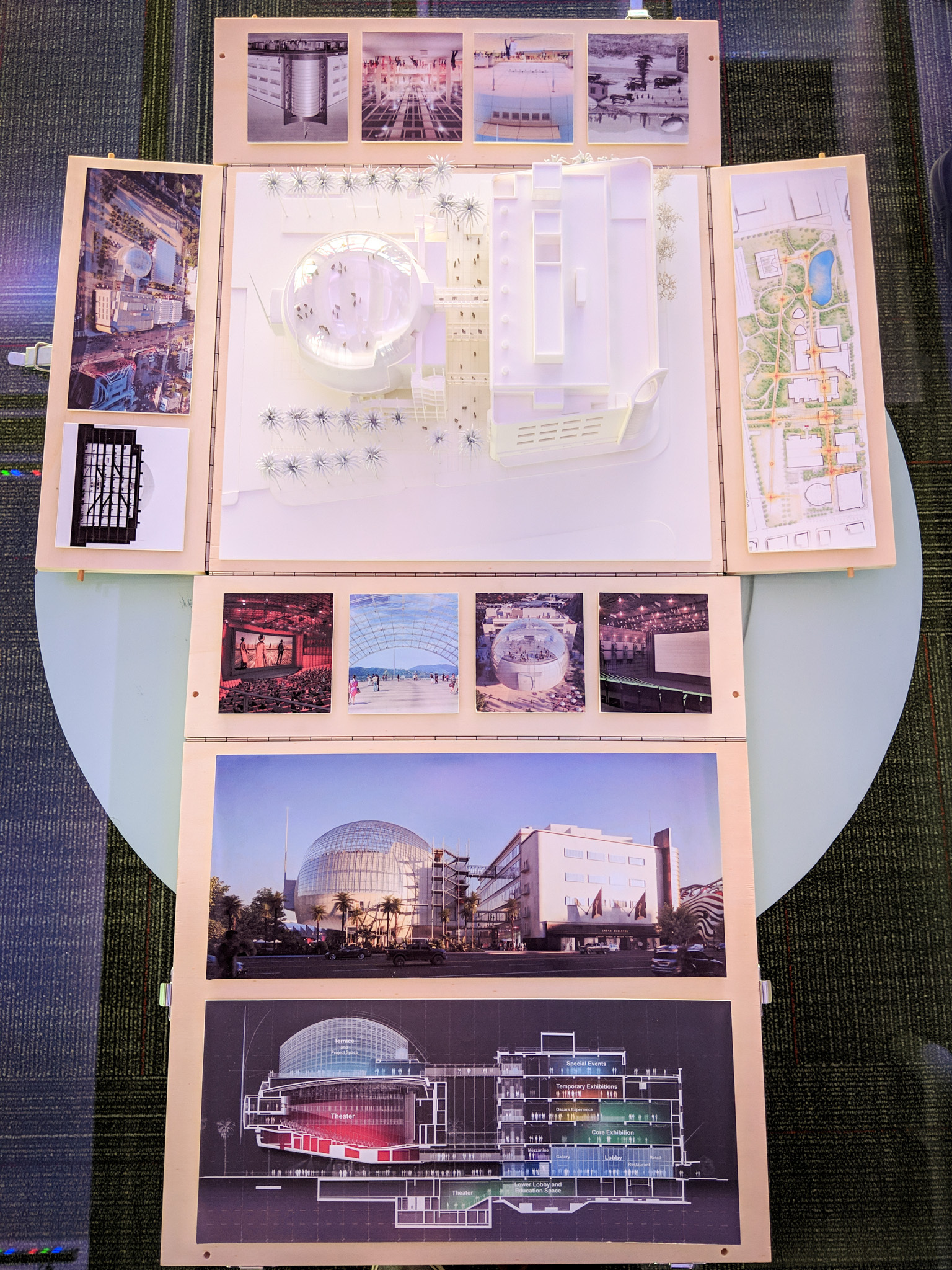 If it feels like you've seen the museum under construction for what feels like forever, it's not just you: Construction began in early 2016, and the museum was initially slated to open in 2017, though community-driven legal setbacks pushed it to 2019. As recently as this spring, the opening was projected for mid-2019. Expect an opening date and details about admission to be announced next summer.