Many of us are still sorting out when and how to actually get a vaccine, especially with scarce supply and the state's early fumbles at messaging its eligibility tiers. But believe it or not, the county has received doses for about 21% of the population and administered shots to over a million Angelenos—and it's now offering more in-depth details about who exactly has gotten vaccinated.
On Friday, the Los Angeles County Department of Public Health released a map that shows what percentage of the population has been vaccinated, broken down by each city within the county as well as neighborhoods within the city of L.A.
As a quick reminder: Healthcare workers, nursing home residents and people 65 and older are the only ones eligible for a shot right now, and vaccinations among them have totaled to about 1.3 million (a nearly equal number of additional residents will become eligible in March when teachers, emergency workers and food workers are brought into the mix).
On the map below, the darker an area appears, the higher the percentage is of its vaccinated population. (In case you're looking at this story a while after this has been published, click here and you should find the most up-to-date map.)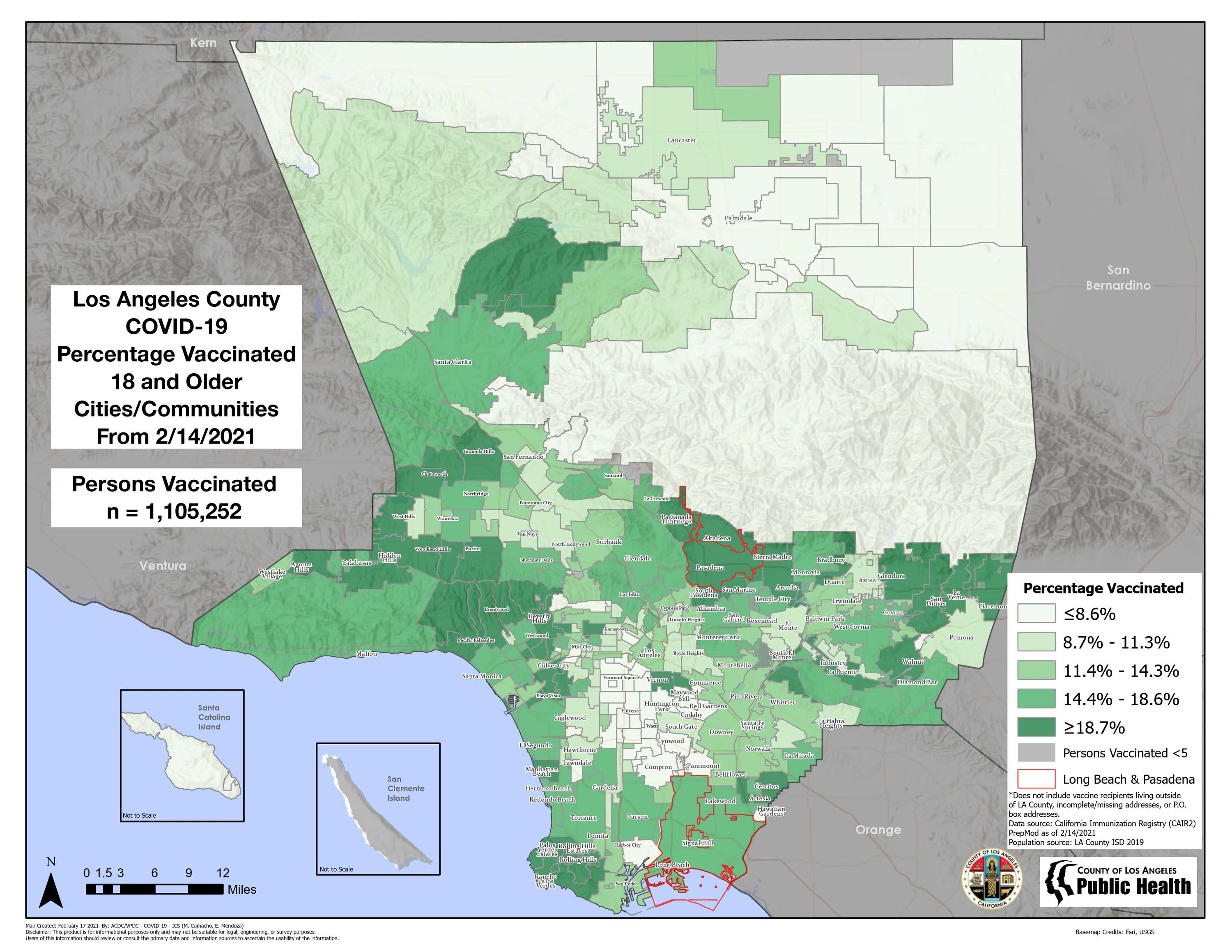 Not-so-shockingly, it basically looks like a real estate pricing map (in particular, toward the top of the ranks you'll find Cheviot Hills, where a home will cost you $3 million and 33.7% of the population is vaccinated). Some of the neighborhoods appear pretty small on the map, so you might find this data table from the county easier to scroll through.
The L.A. Times has one-upped the county's display with their own interactive map that includes some income and demographic details for each area. Roll over the most-vaccinated regions and you'll find that they're indeed largely whiter and wealthier than the less-vaccinated areas. But those areas also tend to have much higher populations of senior citizens by percentage—and note that seniors currently make up about half of the county's vaccinated population.
By that logic, it sort of makes sense that, for example, between View Park-Windsor Hills and Baldwin Hills, two adjacent majority-Black neighborhoods, the former has a higher percentage of people vaccinated since it has a higher percentage of senior residents. But then why does nearby Hyde Park (called Hyde Place on the map) have a similar proportion of nonwhite and senior populations but way fewer vaccinations? Or why does largely-white Beverly Hills have slightly fewer seniors by percentage but a higher vaccination rate than any of them?
Public Health's big-picture data makes it clear that disparities certainly exist right now among vaccine distribution. Of the roughly 1.1 million county residents who had received at least one dose of the vaccine as of February 14 (the most recent date for which the county has published these demographic numbers), 33.5% are white, 23.1% are Latinx, 19.1% are Asian and 5.2% are Black. None of that takes population into account, though, so when limited to people over the age of 65, the disparities become a bit easier to read: 42.8% of white seniors have been vaccinated, but those numbers decrease slightly to 39.4% among Asian seniors and then significantly to 29.3% for Latinx seniors and 24% of Black seniors.
"We have and do extend our apologies," Public Health director Dr. Barbara Ferrer said during a press conference on Monday about the inequities. "It's not about talk, at this point, though, it's really about shifting the ability of us to make sure that we're improving access in those communities."
She noted that the county has already begun to see improvements by opening up more vaccination sites in nonwhite neighborhoods and limiting shots to the people who live in those communities. But Ferrer also noted that My Turn, the state's online system for appointment registration, inherently disadvantages people who don't have the time or access to sit on a computer for a prolonged period of time in search of scarce vaccination appointments.
Most popular on Time Out
– The 'Immersive Van Gogh' exhibition is coming to L.A. to devour your social feed
– Metro is considering congestion pricing on these L.A. freeways
– What's the worst intersection in L.A.? Angelenos have some opinions.
– This chic Airstream campsite is coming to Joshua Tree
– This superb soundtrack transforms as you walk around Griffith Park