As you hike up to the Griffith Observatory, a serene orchestra of brass and woodwinds starts to give way to spacey ambiance, which crescendos in a Blade Runner-like drone of synths toward the top of the hill, punctuated by a bubble of Apollo 11 radio chatter on the front lawn of the celestial landmark. It's sublime, it's totally free and it's actually sitting in your pocket right now.
This is Soundwalk, a new location-based musical piece from Pulitzer Prize-winning composer and sound artist Ellen Reid. You simply download a free smartphone app (available on both iOS and Android), and as you walk through Griffith Park the music will seamlessly transition between over 100 tracks composed for the area and recorded by a mix of orchestral ensembles and the renowned Kronos Quartet. There's no set path you need to follow, and due to how the different tracks overlap, no two hikes will sound exactly the same.
Up Fern Dell, for example, you'll be greeted with a bombastic overture that transitions into a jazzy backdrop by the Trails, with fragments of strings and choral passages that layer on top of them as you venture between the two. The soundtrack mixes minutes-long compositions that blanket entire areas with short stings that are tied to a much more specific location, like a smoky sax line by the James Dean statue or a tribute to "While My Guitar Gently Weeps" by the George Harrison Tree.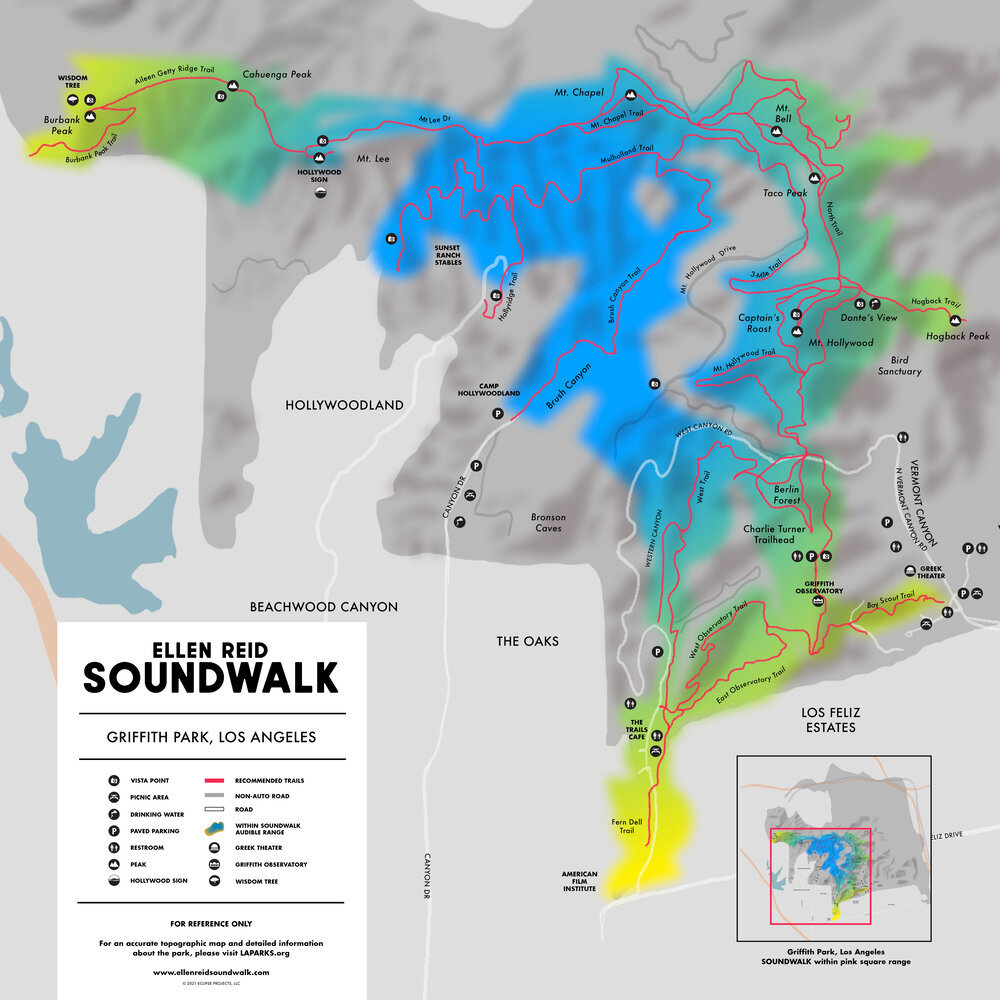 Soundwalk covers pretty much all of the trails on the western portion of the Los Feliz side of Griffith, from Fern Dell up to the park's tallest peaks and as far west as the Hollywood Sign and the Wisdom Tree (the more facilities-focused sections of the freeway-facing sides are left out). Reid and CAP UCLA, which commissioned the piece, landed on the location due to its status as a beloved outdoor space shared by all Angelenos.
When you first boot up the app and swipe over to the Los Angeles location, it'll prompt you to download the music—though it should only take a minute or two, you'll want to do so at home so you're not stuck grappling with the park's spotty reception. And please use headphones and not an external speaker while you're in the park (and of course wear a mask and keep your distance from others).
Soundwalk is available now, and you'll actually have quite a bit of time to experience all of its different musical variations: The app will be available through 2023. And L.A. actually isn't the only city to get its own Soundwalk installation; it'll launch in parts of Virginia, Pennsylvania and Oregon this spring, and Reid debuted her first composition in New York's Central Park last year, which you can view below.
Most popular on Time Out
– The 'Immersive Van Gogh' exhibition is coming to L.A. to devour your social feed
– Metro is considering congestion pricing on these L.A. freeways
– What's the worst intersection in L.A.? Angelenos have some opinions.
– This chic Airstream campsite is coming to Joshua Tree
– Sugar Rush is bringing a sweet, candy-themed drive-thru to the Valley