"L.A. doesn't need another fucking coffeeshop." Joseph Geiskopf says this every so often, and it would be big talk coming from anyone else who just opened their own coffeeshop in L.A. But Triniti is not your ordinary coffeeshop, and chef-owner Geiskopf is anything but your average coffeeshop chef.
On a stretch of Sunset Boulevard in Echo Park, you see TRINITI scrawled in chalk on a black sandwich board. Traditional enough. You step through the doorway into a minimalist, Nordic-meets-Japanese den dotted by ceramics, high-end matcha whisks for sale and architecture magazines for perusing. Seems about right. But photo-snapping diners are hunched over bowls of something very green and very ornate. Huh. You were expecting sandwiches or waffles or… wait, is that a whole fish?
These are your first clues that this unassuming coffeehouse doubles as a 26-seat fine-dining restaurant. By the time you reach the counter, you're staring down a menu of six to eight courses, all of which are so simply described, they're almost deceitful: "potatoes, farm greens, poached egg." Geiskopf lavishes over plates in the kitchen—more like two induction burners, one circulator and a half-sized oven, all in plain sight of the customers—while co-owner David Wynn pulls shots for Triniti's signature black-sesame cortados. The foraged vinaigrette on the salad, the repurposed-vegetable slushie, the grits under a forest of fried onion stalks: Geiskopf and Wynn are propelling the third-wave coffeeshop movement into—well, they don't even know what to call it, but it's anything but stuffy.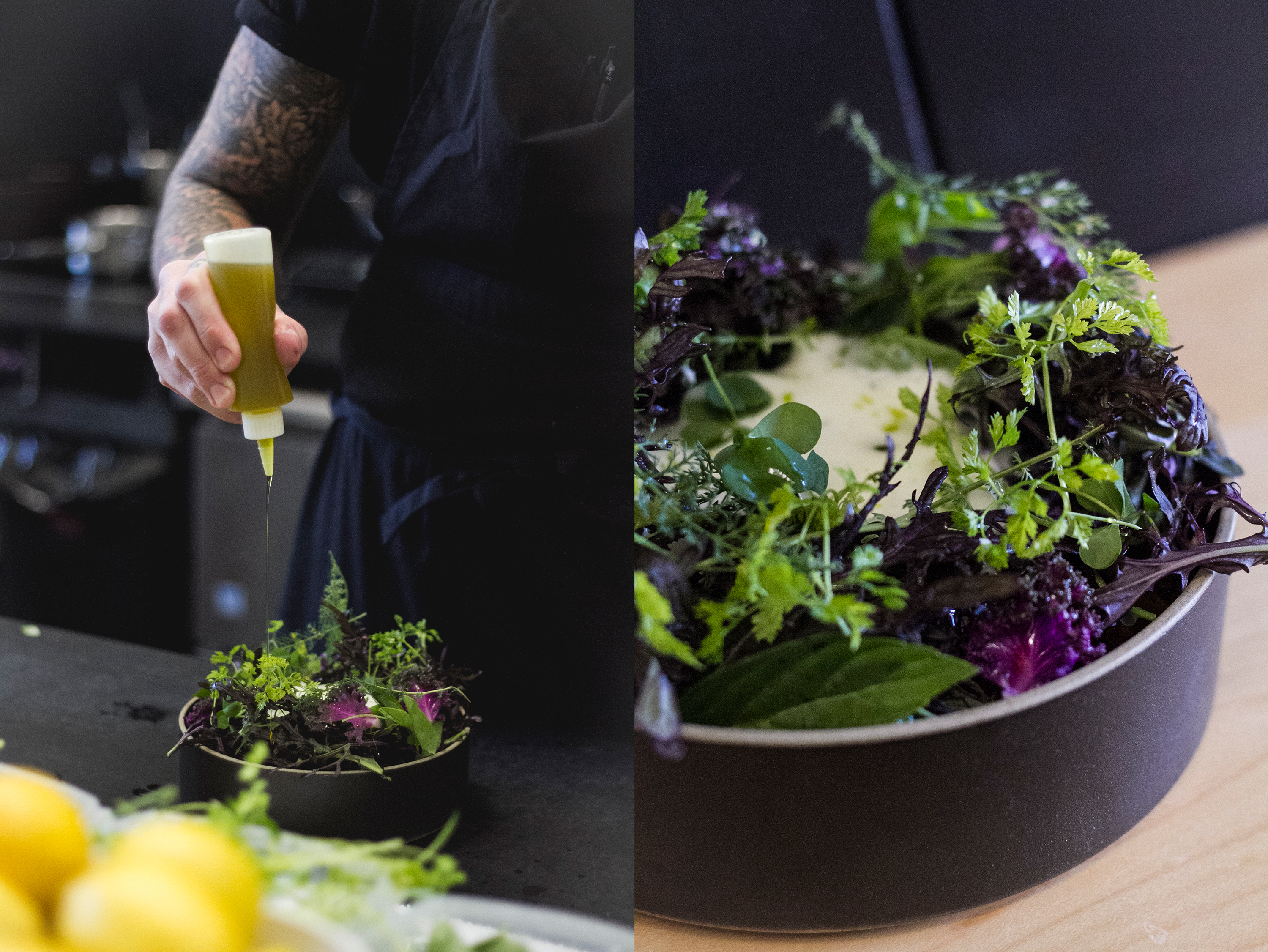 "We exist in such a weird space—we're like the demilitarized zone for food and coffee," says Geiskopf, an alumnus of Noma and Destroyer. "I think we struggle with [definition] every single day. On the food side, it's built on fine-dining sensibilities. On the service side, it's way elevated. On the beverage side, it's very serious. Everything has fine-dining roots but just very approachable—refined casual."
You can picture Triniti's artful, vegetable-forward dishes in a much more austere setting, maybe some scarcely decorated, candlelit chamber with experimental violins in the background and a $200-per-guest bill. But here, the sunshine streams in, the hip-hop plays and surprised delight accompanies every bite as textures and acidities mingle on the tongue—and you're set back only $20. The experience doesn't demand your respect but earns it. And more importantly, you enjoyed it.
On a long shelf near the kitchen, jarred eucalyptus bark ferments into vinegars, while mushroom scraps liquify into house-made soy sauce. They may be used atop the weekly whole-fish special or in a salad that tweezers-in the stems of exotic ice plants. Some of these ingredients make their way into Geiskopf's still-evolving dishes, which he trots out only on Mondays and Tuesdays. This is unexpected café fare, and that's the beauty and accessibility at the heart of Triniti: high-end dishes for as little as $6, which all complement Wynn's thoughtful coffee program.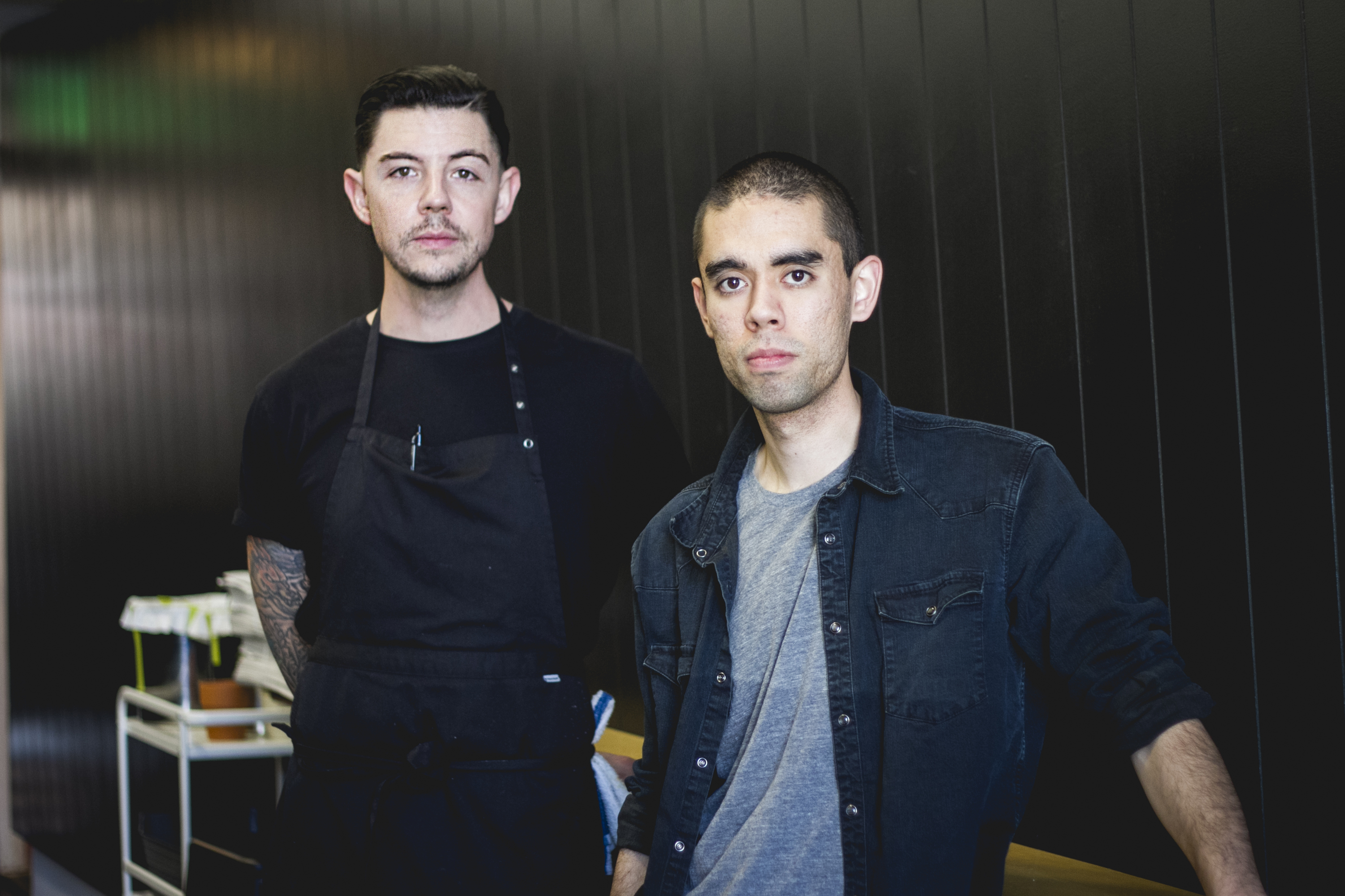 The former Cognoscenti barista runs two grinders: one for espresso blends, which find their way into milk-based concoctions such as ginger-scented chai lattes; and another for single-origin espresso beans, which are enjoyed all by their lonesome. "I think when you get into the specialty-coffee community, you want to taste the best single-origins or lighter coffees and enjoy the nuances," says Wynn, adding, "Kind of like a pinot noir versus a merlot: The pinots have a lot of gradient and range you can appreciate, and sometimes a full-bodied blend is delicious, but there's not as much there."
Treating coffee with the reverence usually reserved for wine isn't new, but it informs the way Triniti's coffee and complex plates connect. Should you wish for a pairing recommendation—perhaps a bright, acidic blend to enjoy with those smashed potatoes under the garlicky skordalia—the entire team is well versed in each drink's nuances and would be happy to talk you through a few options. It's all part of Triniti's evolution of the coffeeshop.
"We're building a team around expat Michelin guys, and coffee guys who just want to learn food," says Geiskopf. "Everybody pulls shots; everybody makes drinks. It's changing the culture. It makes us stronger, too."
Triniti is located at 1814 W Sunset Blvd, open 8am-6pm daily.