An anything-but-typical wedding season has seen brides and grooms-to-be scrambling to make alternative plans. But forget settling: This one-day-only elopement event enters dream wedding territory.
On August 22, Short + Sweet will stage a series of only-in-L.A. kind of weddings. The incredibly intimate elopement pop-up is taking over the Bob Baker Marionette Theater's Highland Park home with a whimsical, all-inclusive wedding package—and yes, you can have a puppet officiate your wedding.
UPDATE (10/13): The event will once again pop up at the theater on December 12. Short + Sweet will be working with the same vendors, but this time around it'll be a white and ivory floral palette with pops of iridescent colors to match the venue.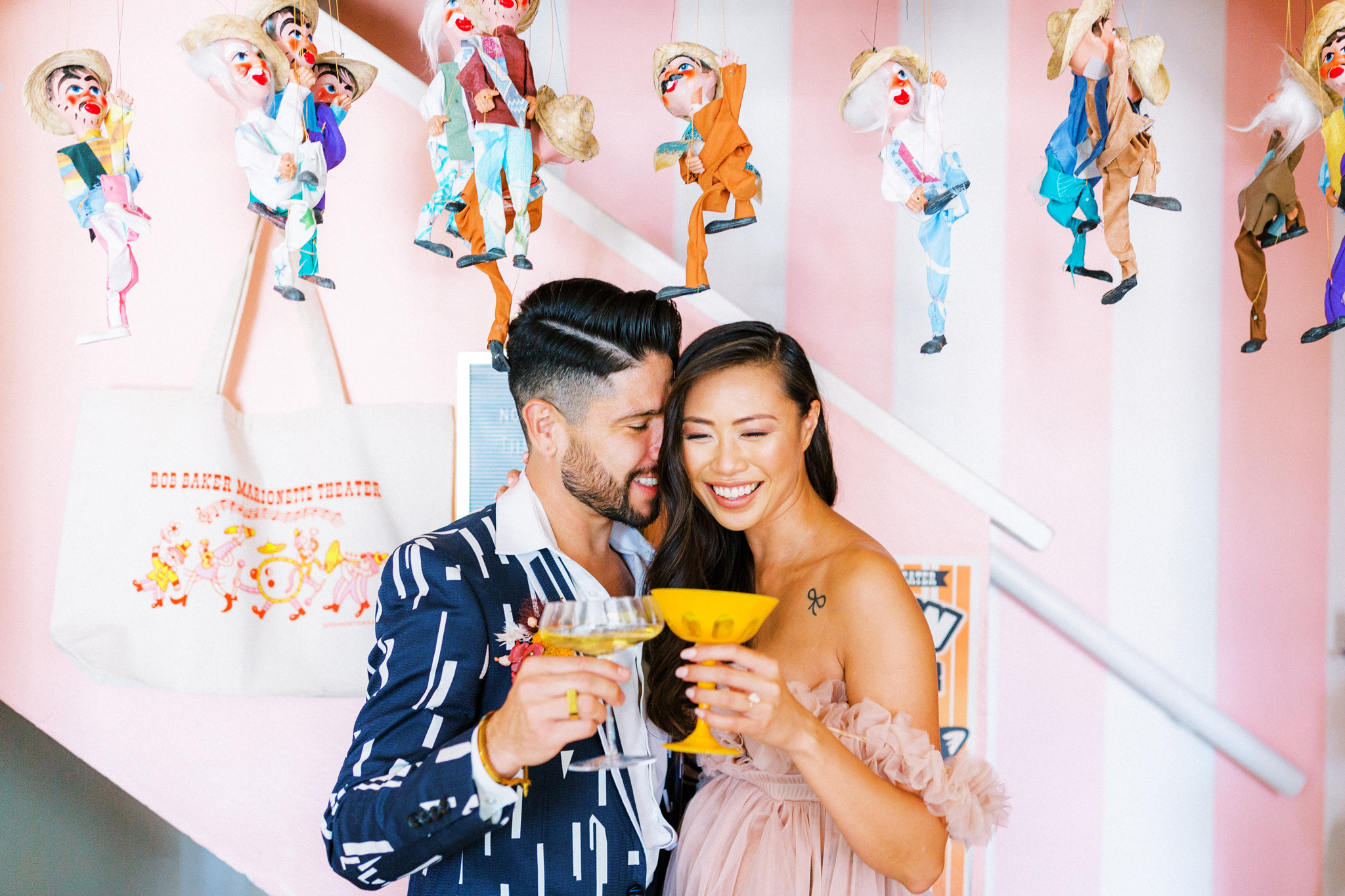 Floral designer Katie O'Gorman, one half of the team behind the event, says that she and photographer Alissa Noelle first hatched the idea after a growing number of cancellations and postponements among their wedding clients. "As restrictions were set in place and gatherings became limited, one thing we noticed was an uptick in our elopement inquiries," O'Gorman says. But for the planning duo, that meant shorter hours and less memorable settings. "I started thinking of ways that I could still provide some fantastical florals and design a lavish day for couples who have also had to shift their thinking and their budget—and also do it in a safe way. A day of elopements just seemed like a win-win."
Here's the gist: Your two-hour time slot includes events coverage and a portrait session from Alissa Noelle Photography; a floral installation from Going Steady Studios, plus your personal choice of bouquets and boutonnieres; a six-inch celebration cake from vegan bakery Just What I Kneaded; a champagne toast; and a marriage certificate from local stationery designer Poppy + Birch.
It also may be one of your only chances in the foreseeable future to step inside of the puppet theater, which has been temporarily closed since March per the state's ban on gatherings (though we've stayed occupied with the theater's At Home Happiness performances and crafts). For O'Gorman, she feels lucky that she's been able to be a part of that magic at the theater. "The theater means so much to so many people here and the response we've gotten to this rare opportunity of tying the knot here (with a puppet officiant!) has been a true testament to how much people love this institution," she says, and notes that she hopes to continue these sorts of meaningful intimate elopements even once we all can return to big, joyous celebrations.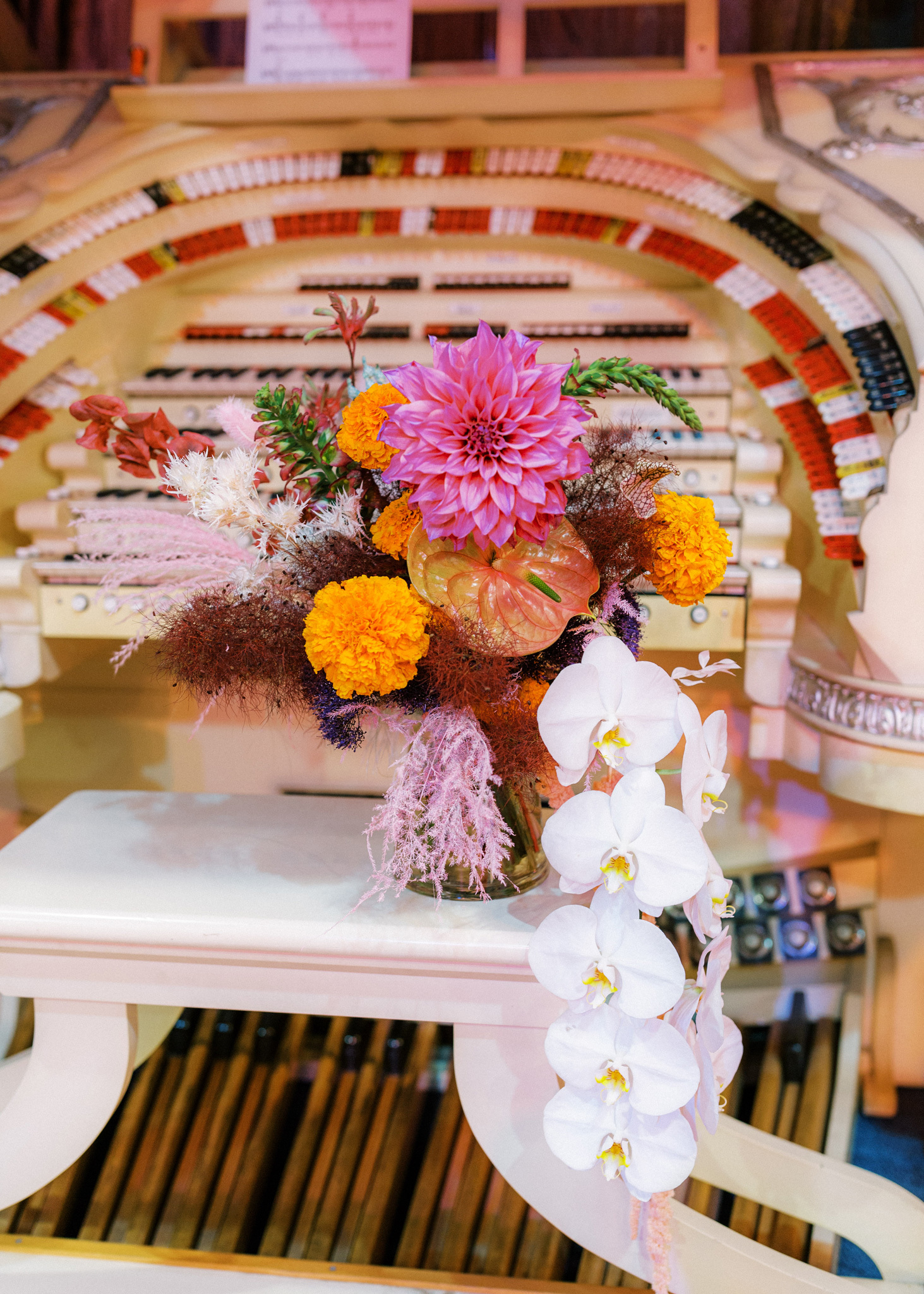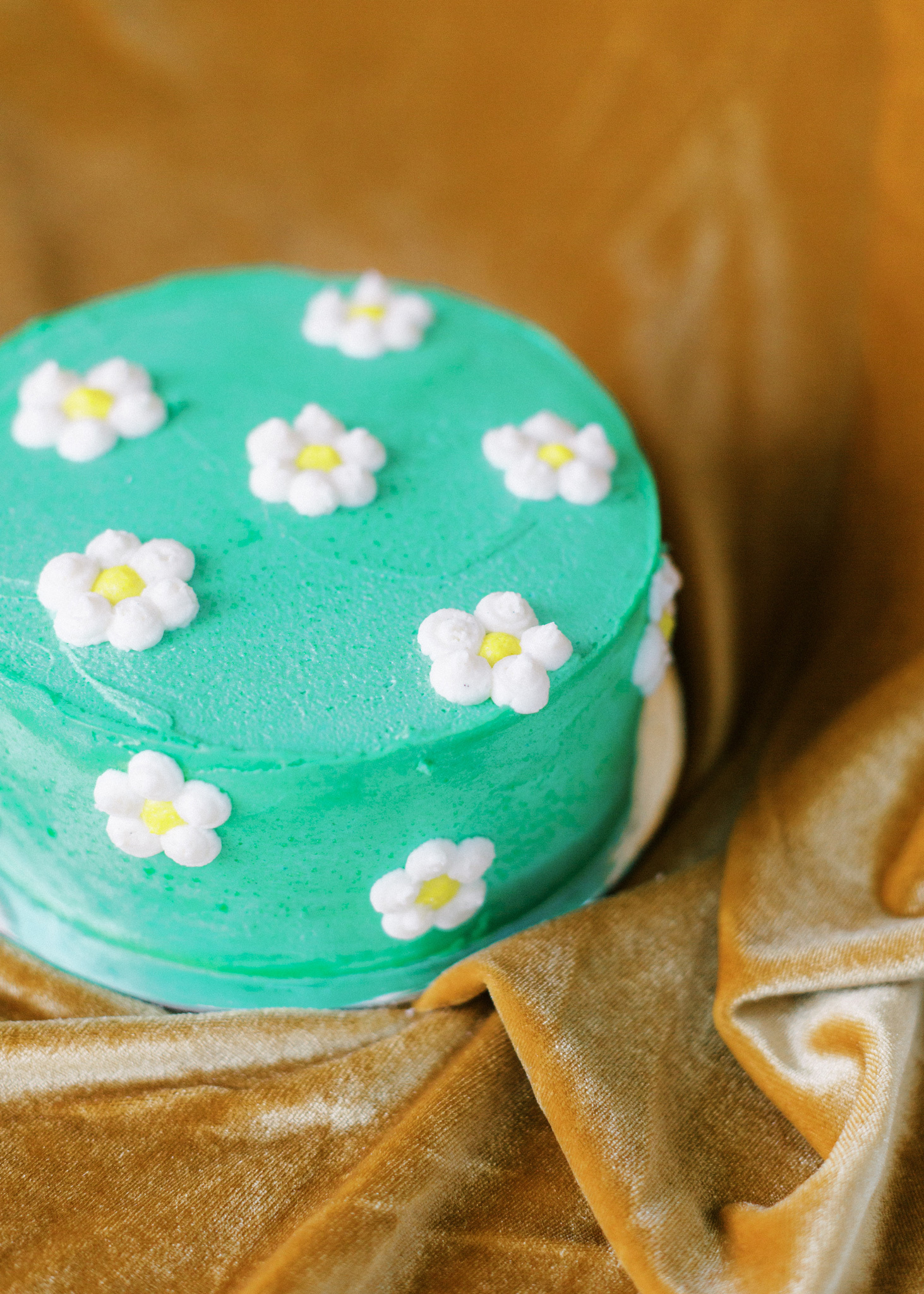 In keeping with the county's current public health guidelines, the wedding will be limited to just four people: the couple, a witness and an officiant (be it human or puppet). But not to worry, since the package also includes a livestream of the ceremony, as well as a video file that the couple will receive afterwards. Though the couple doesn't need to wear masks, vendors will along with rigorous cleaning and social distancing practices.
Short + Sweet is limited to only four couples, so if you're interested you should probably reach out by the time you're done reading this sentence. Or maybe after this one: It'll cost you $4,000. But that seems like a fair price (and thousands of dollars cheaper than a full-blown wedding, and even many elopements) to have everything taken care of for you—and, you know, puppets.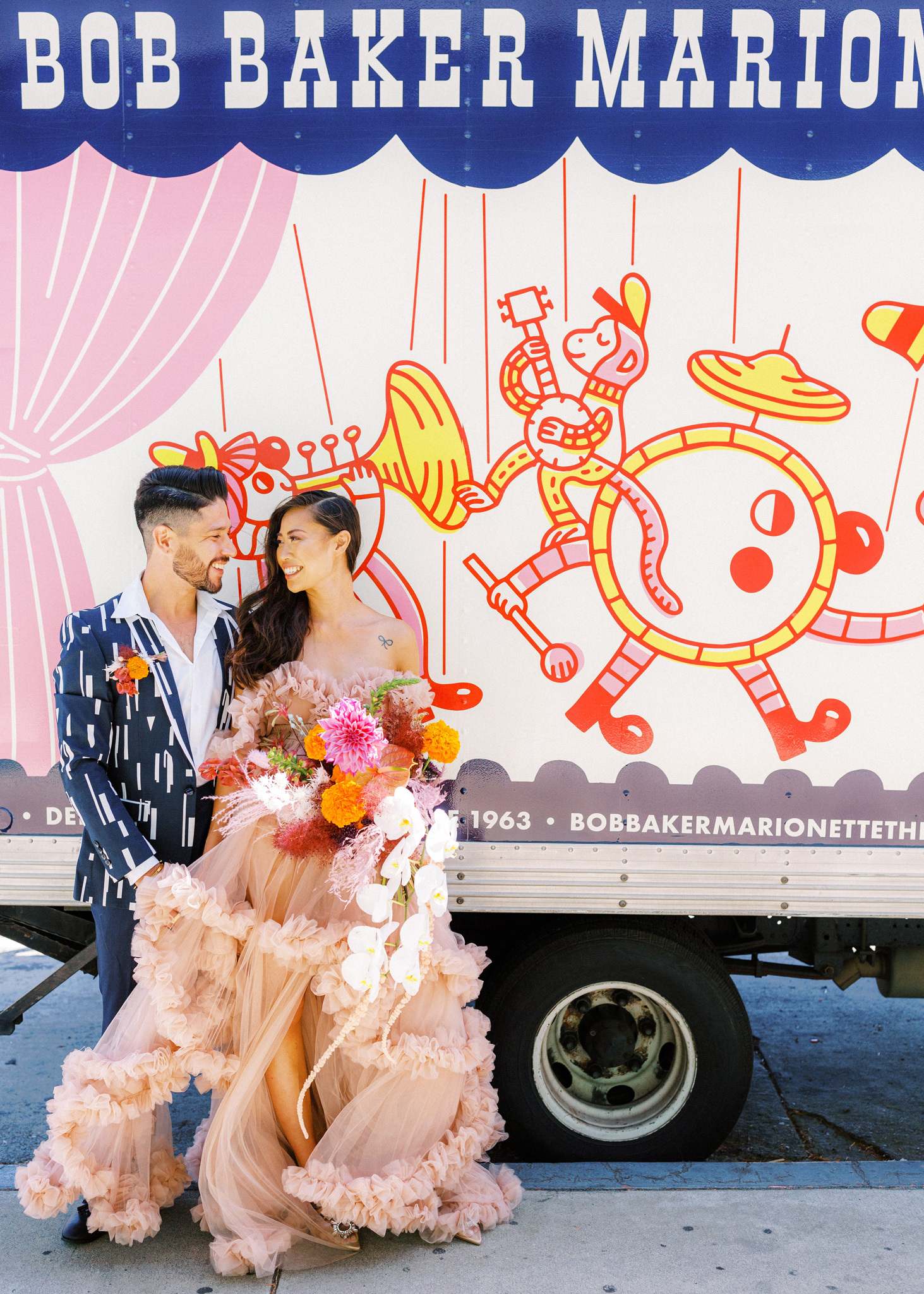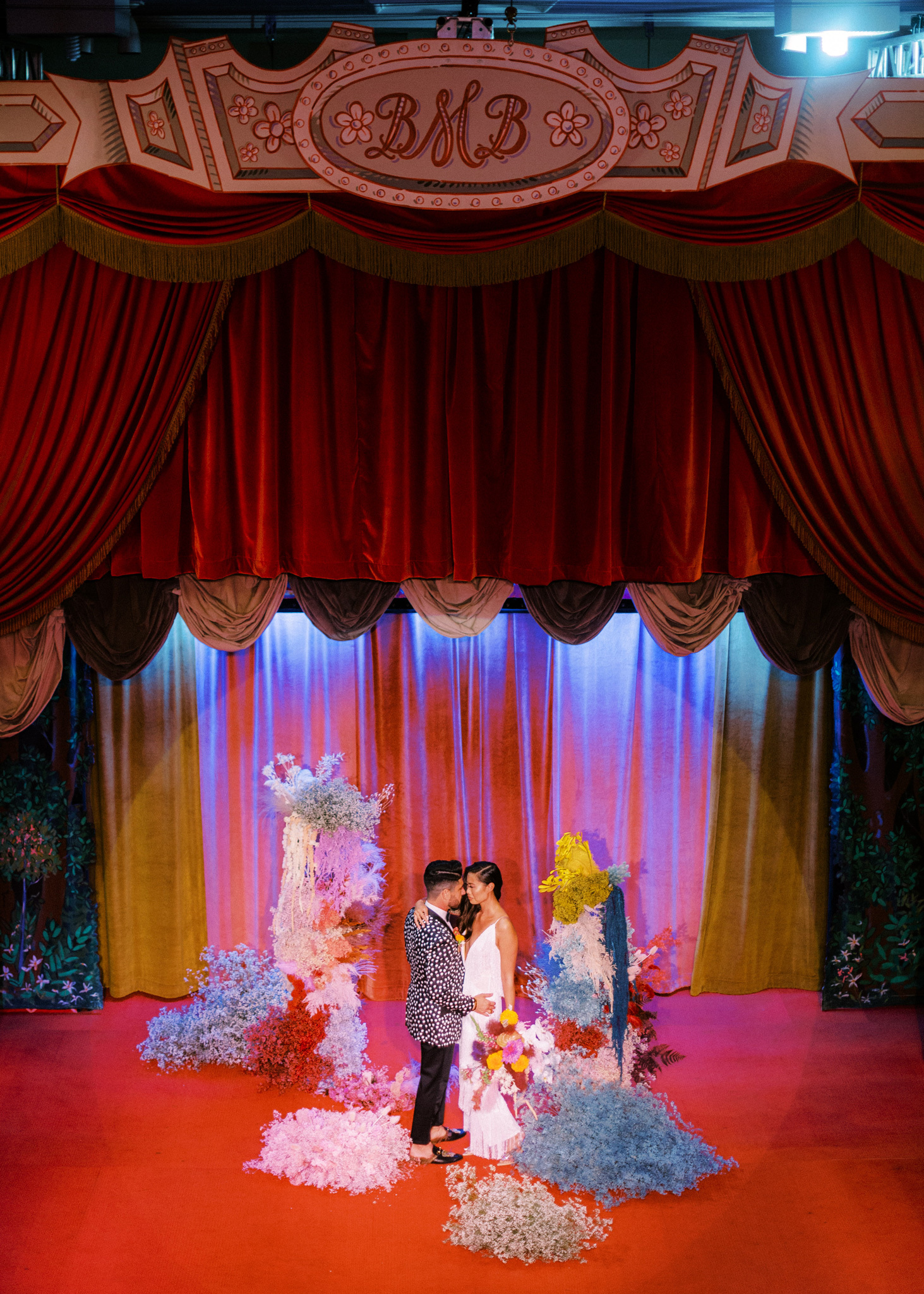 Photographer: Alissa Noelle Photography (@AlissaNoellePhotography)
Venue: Bob Baker Marionette Theater (@BobBakerMarionettes)
Florist: Going Steady Studios (@GoingSteadyStudios)
Cake: Just What I Kneaded (@JustWhatIKneaded.LA)
Marriage certificate designer: Poppy + Birch (@PoppyAndBirchCA)
Rentals: Table Method (@TableMethod)