Heads up! We're working hard to be accurate – but these are unusual times, so please always check before heading out.
1/7
Photograph: Jakob N. Layman
Let us take a moment to mourn the loss of the breakfast danish at Olio at GCM, a sugar glazed, fruit-filled delight that was so drool-worthy it won a Critic's Pick at our 2014 Food & Drink Awards. Alas, it seems the Grand Central Market crowd is more into Olio's savory offerings—and once we had a bite of their Margherita Plus pizza ($10.50), we were into them, too. This pie is an amped up version of Olio's classic Margherita pizza, and it's the huge dollops of burrata that give the "Plus" an extra gooey oomph. Cooked in three to four minutes in Olio's 900-degree wood fired oven, the pillowy crust holds a layer of sweet tomato sauce, a smattering of basil and that heavenly burrata. It's almost enough to make us forget about that breakfast danish...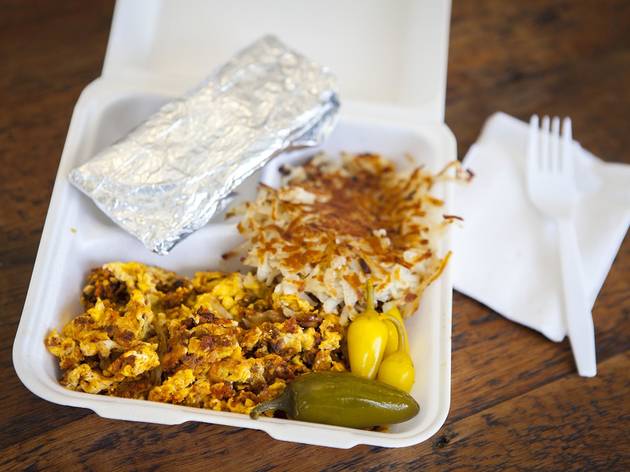 2/7
Photograph: Jakob N. Layman
The sign above Jose Chiquito at Grand Central Market says "Breakfast, Hamburgers & Sandwiches," but all we hear are chorizo and eggs. Served until close, Jose Chiquito's chorizo and egg breakfast plate ($6.25) comes with hash browns, salsa and peppers, and is pretty much the ultimate hangover food. Pile a little bit of everything into the accompanying tortilla and suddenly everything seems right with the world. Their reuben sandwich is a dream, too, and you can wash it all down with Jose's horchata—a combination that's been working for over 15 years and counting.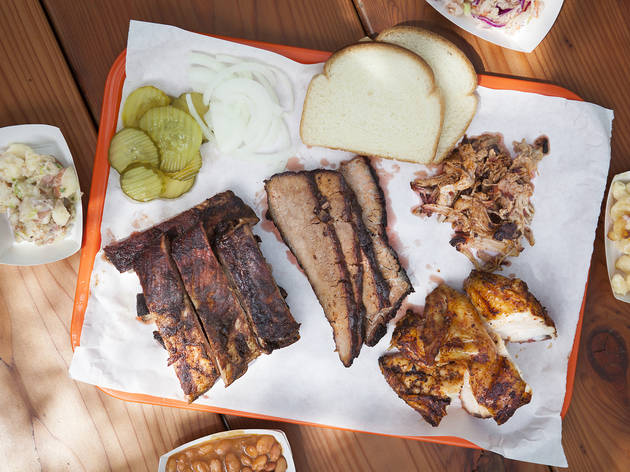 3/7
Photograph: Jakob N. Layman
It's a little hard choosing a favorite at Grand Central Market's Horse Thief BBQ. So, uh, sometimes we just get it all. There's the dry rubbed beef brisket ($6, 1/4 pound) that's been smoked for 15 hours, and the half rack of fall-off-the-bone spare ribs ($13) that may be a little work to eat (but it's totally worth it). There's the juicy chicken and the pulled pork and, of course, all the necessary sides: white cheddar mac and cheese, bacon potato salad, jicama cabbage slaw ($2.95-$6.50) and more. Enjoy some of the best BBQ in LA on Horse Thief's outdoor patio, and you might as well be in Texas.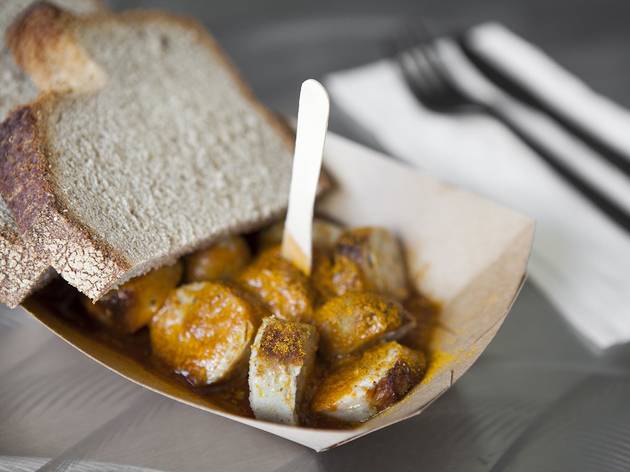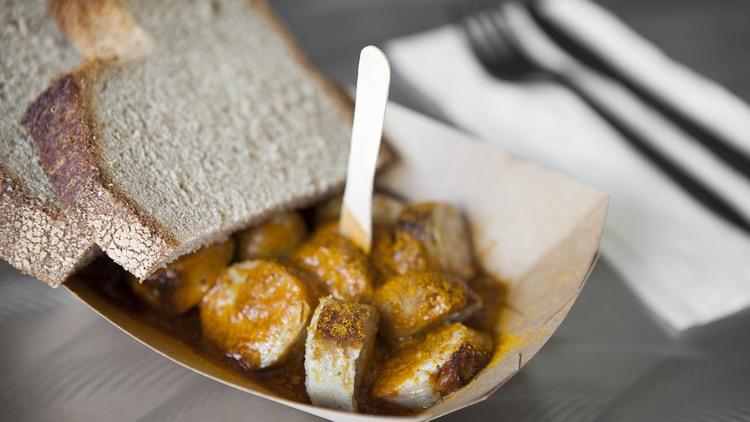 4/7
Photograph: Jakob N. Layman
Berlin Currywurst, a Silver Lake and Hollywood staple by way of Berlin, recently brought a third location to Grand Central Market, supplying Downtown dwellers with traditional currywurst. Their best-seller, the Paprikawurst, is still on the menu, but the Nürnberger Bratwurst ($7.75) is really where it's at. Made with veal and pork, the curry-dusted brat is served with bread slices or in a bun (choose the slices) and comes with your choice of sauce and a topping (we're partial to the Krëuzberg chipotle and minced onions). It's a little bit of sweet, a little bit of spicy, and a whole lot of delicious. Heat levels range from 0-4, though there's also a "secret level 5" made with ghost chili extract—ask for it at your own risk.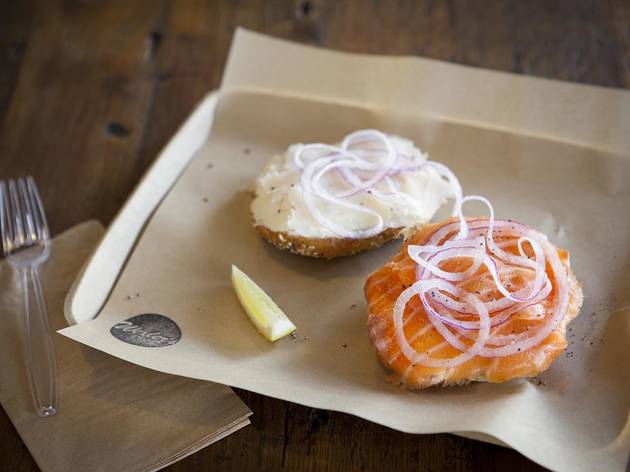 5/7
Photograph: Jakob N. Layman
Wexler's Deli is getting a lot of hype for its pastrami sandwiches—and we have to admit, The O.G. is a solid addition to LA's pastrami selection. But even more noteworthy is their bagel and cream cheese with lox ($8). Yes, it sounds simple, and it is: unless you account for the fact that the lox (farm raised and from Sweden) is smoked in house daily, the bagels are made specially for Wexler's at Santa Monica's New York Bagels, and the pickles ($2 extra, and most definitely necessary to order) are fermented on site. Topped with tangy capers and paper-thin slices of red onion, the breakfast bagel tastes even better when you sit at the Wexler's countertop watching shoppers weave through Grand Central Market. It's like a little slice of New York...but in LA so, you know, it's better.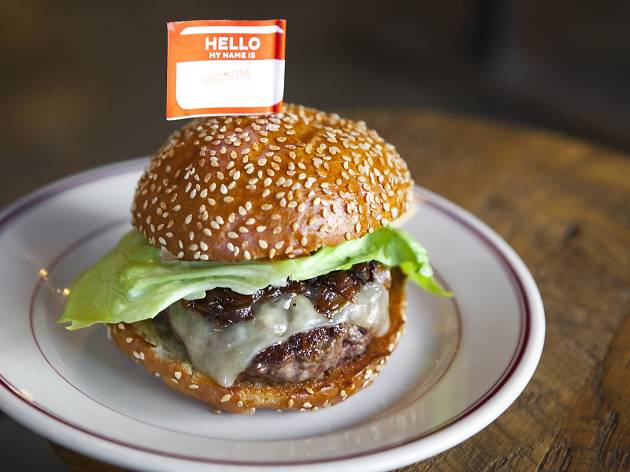 6/7
Photograph: Jakob N. Layman
Oh, you think you've had a cheeseburger before? One juicy bite of the Belcampo Burger ($12.50) at Grand Central Market's Belcampo Meat Co. and your definition of this all-American staple will soon be flipped on its head. The 5.5-ounce beef is dry-aged and grass-fed, and topped with cheddar and caramelized onions that seamlessly melt together. A red-flagged toothpick sporting the Belcampo logo is placed triumphantly in the center of a sesame seed bun, staking claim to unchartered beef territory. You could dab it in Belcampo's homemade ketchup (a victory in its own right)—but you don't need it. This burger is pretty much perfection on its own.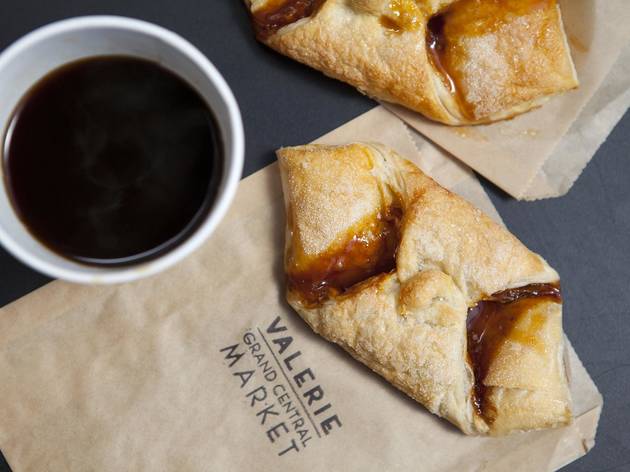 7/7
Photograph: Jakob N. Layman
You may usually stop by Valerie Confections in Silver Lake for her petit fours and incredible chocolates, or a spot of tea at Valerie Echo Park, but walk past Valerie at Grand Central Market during breakfast time and the smell of her salted caramel croissants ($3.50) will stop you dead in your tracks. Flaky and sporting a sugar glazed coating with salted caramel oozing out of every crack, this is one helluva pastry that'll have you ordering 10 more to take home. Dunk that baby in a cup of coffee and you're golden.
7 dishes at GCM we're loving right now
Downtown's Grand Central Market has so much amazing food, it's hard to pick favorites. But we did.
A lot has changed at Grand Central Market since it opened in 1917—especially in the past year. New vendors have set up shop, selling artisanal pizza and Texas BBQ among decades-old produce stalls; a beer and wine license was acquired; and, more recently, the market extended their hours Thursday through Sunday, so that you can now come by for dinner until 9pm. We're so enamored with the place, we even held our 2014 Food & Drink Awards there. So what hasn't changed? All the outstanding food you can get under one roof. Whether you're visiting for breakfast, brunch, lunch or now dinner (hooray!), here are some of the dishes we can't get enough of at Grand Central Market.
RECOMMENDED: The best restaurants in LA

---