Best brunch in LA: Japanese
Next stop: Japan. Nori, pickled vegetables, steamed rice and eggs—for a traditional Japanese morning spread, the best brunch in LA is at Fukagawa.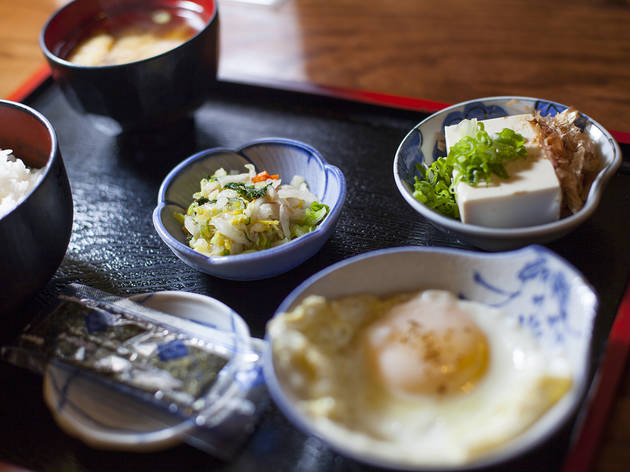 RECOMMENDED: More restaurants serving the best brunch in LA
Fukagawa
While Gardena may be a trek, and the restaurant even more difficult to find (it's hidden at the far west end of the Marukai market shopping complex), you'll be rewarded with one of the city's few places for all-day Japanese breakfasts. Upon walking in, you feel as if you've been transported to Japan. There is a small separate tatami room, two TV screens blaring Japanese variety shows and shevles of Japanese books. Breakfast includes four choices: the basic A includes egg—raw (mixed with soy sauce and drizzled atop rice), scrambled, sunny side up or sweet
dashimaki
(a rolled omelet made with dashi, soy sauce and sugar) with a steaming bowl of rice, miso soup, a small packet of nori and pickled vegetables. B involves
nato
—for the uninitiated, that's fermented soy beans, which divides diners between love or hate. Mix yours with mustard, green onions, raw egg and soy sauce atop rice. C upgrades your nato with grilled meat—salmon, mackerel, Spanish mackerel or steak for carnivores. If you can't decide, D solves your dilemma (and appetite) with all of the above.
Itadakimasu!
Breakfast served all day: Mon-Thu 7am-2pm, 5:30-9:30pm; Fri 7am-2pm, 5:30-9:30pm; Sat 7am-2pm, 5:30-9:30pm.
1630 W Redondo Beach Blvd, Gardena; 310-324-4306.