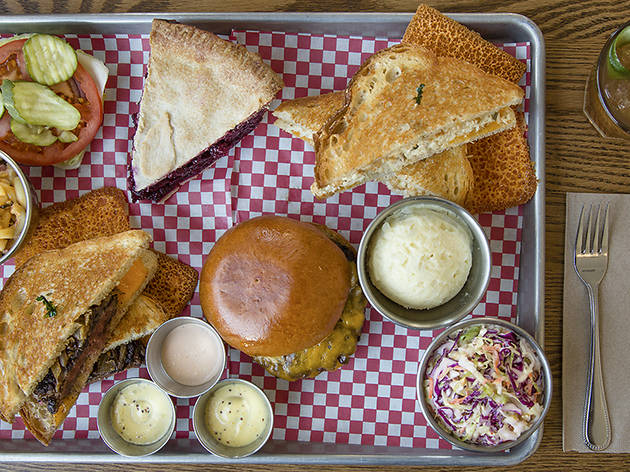 1/7
Photograph: Victor Leung
Cassell's Hamburgers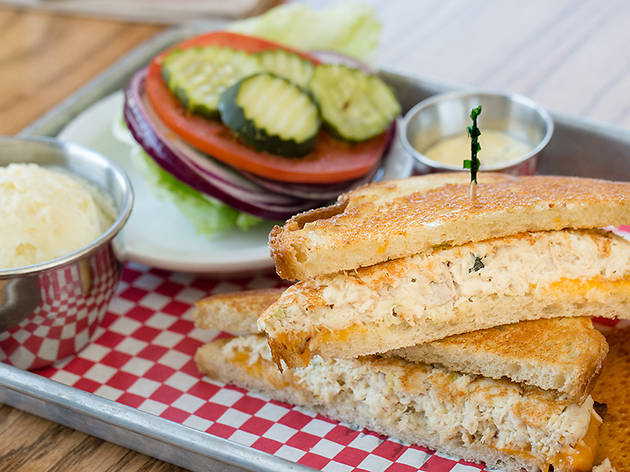 2/7
Photograph: Victor Leung
Tuna melt at Cassell's Hamburgers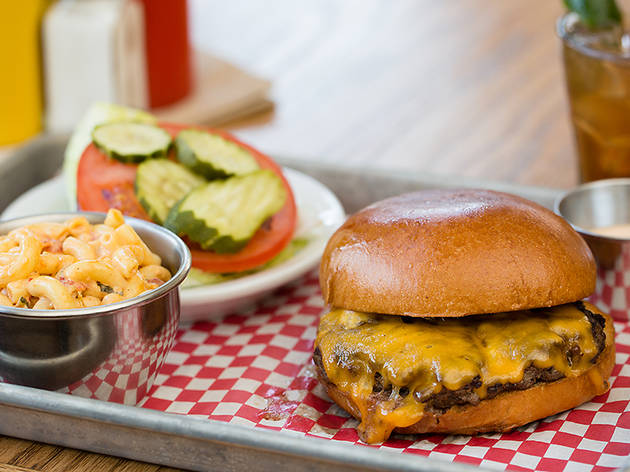 3/7
Photograph: Victor Leung
Burger at Cassell's Hamburgers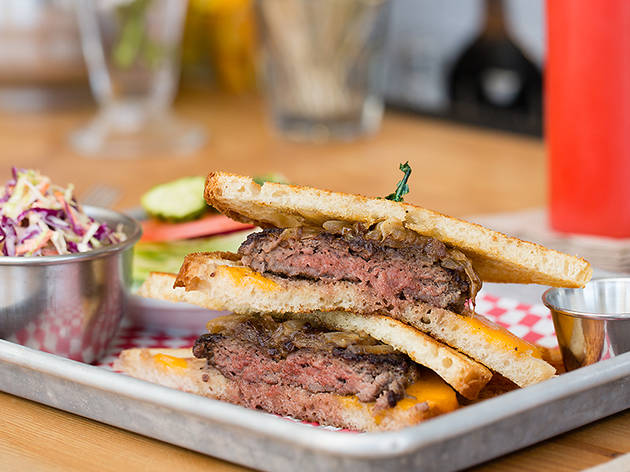 4/7
Photograph: Victor Leung
Patty melt at Cassell's Hamburgers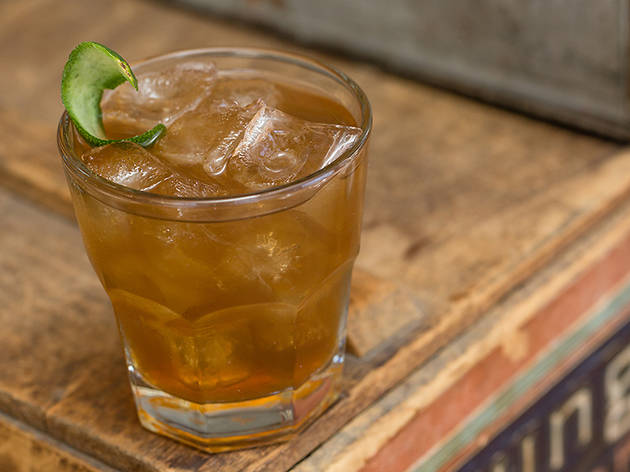 5/7
Photograph: Victor Leung
Root Cause at Cassell's Hamburgers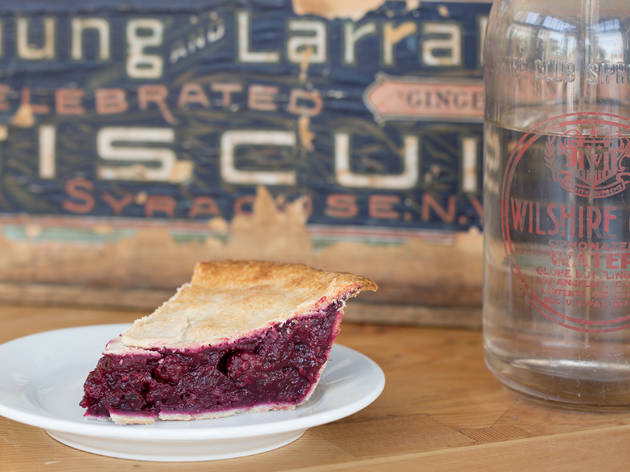 6/7
Photograph: Victor Leung
Mixed berry pie at Cassell's Hamburgers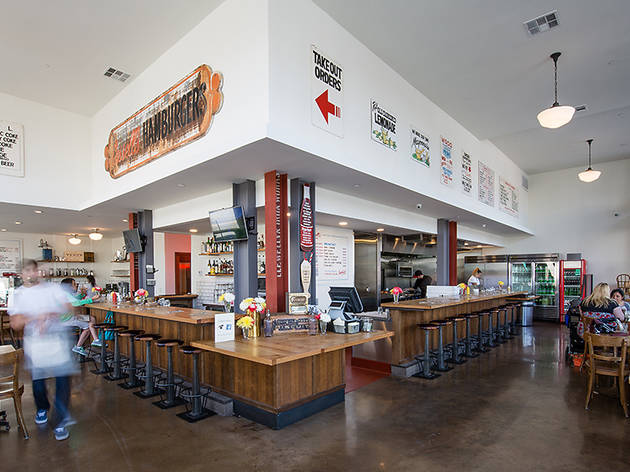 7/7
Photograph: Victor Leung
Cassell's Hamburgers
Cassell's Hamburgers is part of The Normandie Hotel's multi-million dollar makeover, one that includes the adjacent Le Comptoir and The Normandie Club. Yet Cassell's itself isn't new, per se. The original diner, founded by Al Cassell in 1948 and located just a couple blocks away, was an institution, known for its burgers, patty melts and slices of pie; a Korean family bought it in 2006, running the restaurant until it closed again in 2012 (quit playing with our hearts!). Now reimagined by chef Christian Page, the relocated Cassell's pays tribute with '50s memorabilia hanging on the walls and the use of the diner's original Hobart meat grinder and patty press. A lot has changed, though, and not necessarily for the better.
The menu is basic, with variations on burgers and sandwiches that evoke lunch box staples. A lackluster tuna melt elicited indifferent shrugs around our table, which was discouraging for a $14 sandwich. I know, I know: the tuna is wild-caught albacore soaked in pickle juice; the mayo is homemade. Still—it could use a jolt of flavor, or at least something to warrant its plumped-up price tag. Other hot, melted options are better: a patty melt uses house ground beef with a slice of cheese (your choice of cheddar or Swiss) on toasted rye, while the burger is Cassell's all-around winner. Page uses natural, hormone-free Colorado Angus, which he grinds twice a day. It shows—the beef is rich and tender without being greasy, and the Parker House bun does its job soaking up the burger's contents without falling apart. Is it one of the best burgers I've had in LA? Nah, but it's a good one.
A banchan-like collection of sides came with our order, including three salads: potato salad, coleslaw, and a macaroni salad that reminded me of family picnics, in the very best way. It makes up for the fact that Cassell's doesn't offer French fries at the moment, a stance taken by Al Cassell, who favored chips instead. But the public wants what it wants, and our server informed us that a plan to put fries on the menu was in the works. She also offered us a second helping of our sides, which never came, so I don't really know what to believe. I can believe in the pie here, though. The filling options change daily and involve a flaky crust, a side scoop of ice cream, and a sense of simplicity that, I think, would have pleased Cassell himself.
Vitals
What to Eat: The burger ($10.99 for 1/3 lb., $15.99 for 2/3 lb.). The patty melt ($11.99). The macaroni salad ($2.50). The mixed berry pie ($5).
What to Drink: There's a reason diners aren't known for their booze. Cassell's has a hefty cocktail menu (each drink is $10), with a separate list for brunch drinks, like the Brass Monkey, a mix of Colt 45 malt liquor and OJ. We tried a couple—the Sidearm, made with Bulleit Rye and Fernet; the Root Cause, made with bourbon—but each drink was loaded with small chips of ice that quickly melted, leaving our drinks watery and weak. It's better to go for the shakes, malts and house sodas. Sweet and bitter, sarsparilla ($3.50) is poured into a huge glass, certainly enough to last you through your meal and providing the necessary dose of nostalgia that cocktails just don't do for a diner.
Where to Sit: Cassell's is great for people-watching: tables are pushed up against windows that look out onto Normandie and 6th Street. There's a counter, too, which might provide a more authentic feel—even if sipping on a watery cocktail at the counter doesn't.
Venue name:
Cassell's Hamburgers
Contact:
Address:
3600 W 6th St
Los Angeles
90020

Opening hours:
Sun-Thu 8am-10pm; Fri, Sat 8am-Midnight
Do you own this business?
You may be interested in:
Average User Rating
3.3 / 5
Rating Breakdown
5 star:

1

4 star:

0

3 star:

1

2 star:

1

1 star:

0
Cassell's would be a perfect late-night spot if the food were just a tiny bit better and they were actually consistently open the late-night hours they list. On a couple of occasions I've stopped by after drinks at the adjacent Normandie Club or elsewhere in Koreatown to find they randomly closed up early. Other than that, the burgers are pretty good, though the veggie option could use some work, but the pies twirling around in the display case are probably better as decor items than actual food.
Cassell's is a classic burger joint with a gourmet sensibility. It have a mom & pop attitude that comes through in the Service. They easily serve the best burgers in this part of town. The fried chicken sandwich is amazing. Then, the desserts are homemade to top it all off. For me, Cassell's for dinner, then the Normandie Club for drinks is a perfect night. Try it...I dare you.
I had high hopes for Cassell's going in and was ultimately disappointed in their execution. The interior is hip, but also very self aware of it's status as an instagram hotspot. The dishes lacked flavor and originality across the board, with only the patty melt standing out as something with actual taste. The cocktails were also drowned in thin ice cubes, which left us with watery drinks by the time the food even came out.