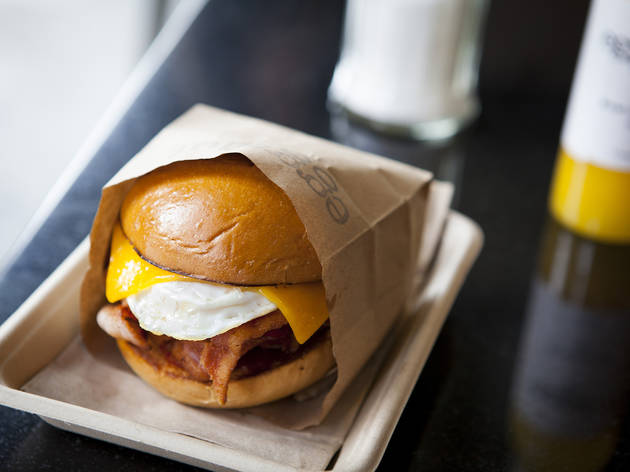 1/11
Photograph: Jakob N. Layman
Bacon, egg and cheese sandwich at Eggslut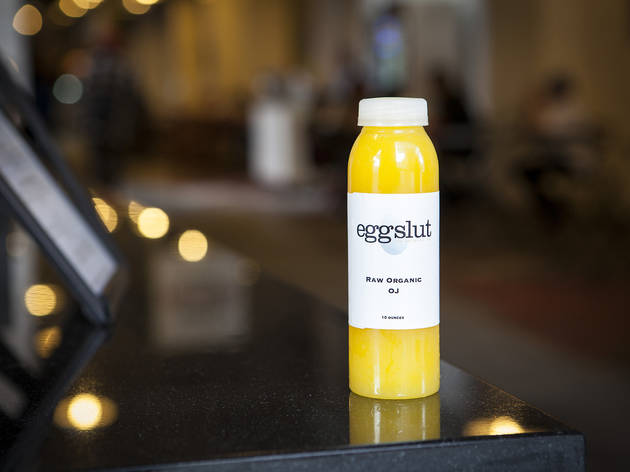 2/11
Photograph: Jakob N. Layman
Presh Brother's orange juice at Eggslut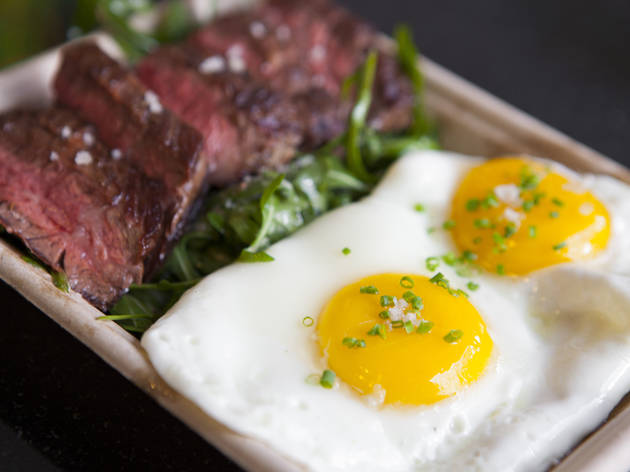 3/11
Photograph: Jakob N. Layman
Steak and eggs at Eggslut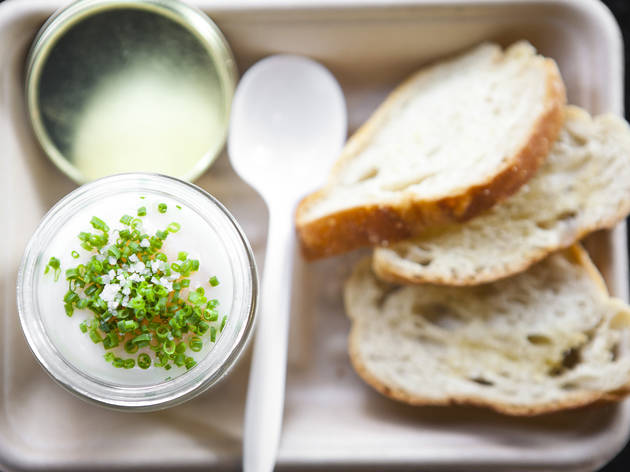 4/11
Photograph: Jakob N. Layman
The Slut at Eggslut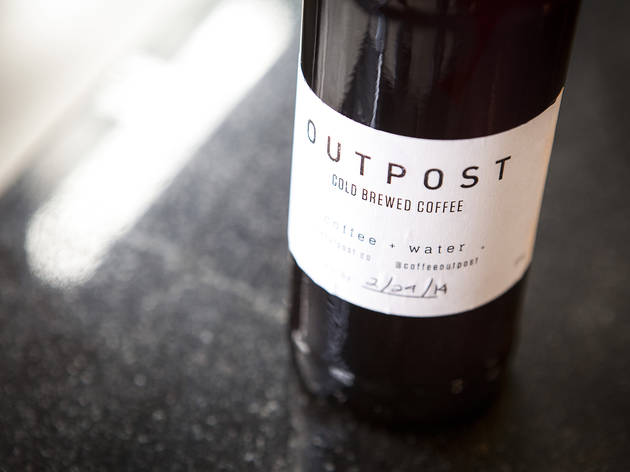 5/11
Photograph: Jakob N. Layman
Outpost cold brewed coffee at Eggslut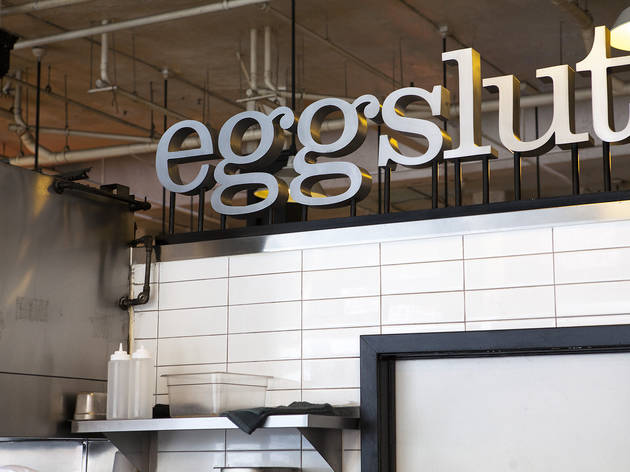 6/11
Photograph: Jakob N. Layman
Eggslut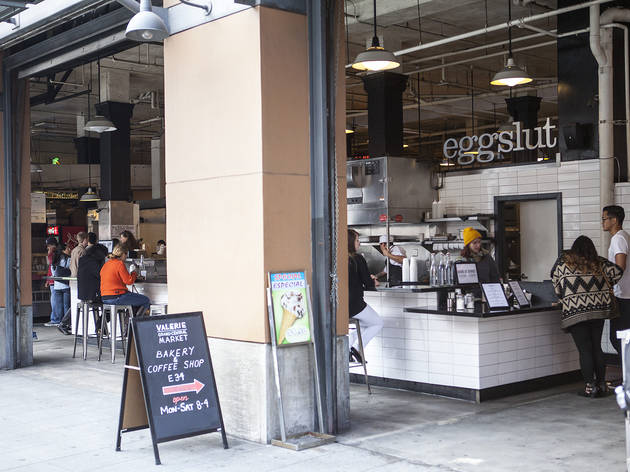 7/11
Photograph: Jakob N. Layman
Eggslut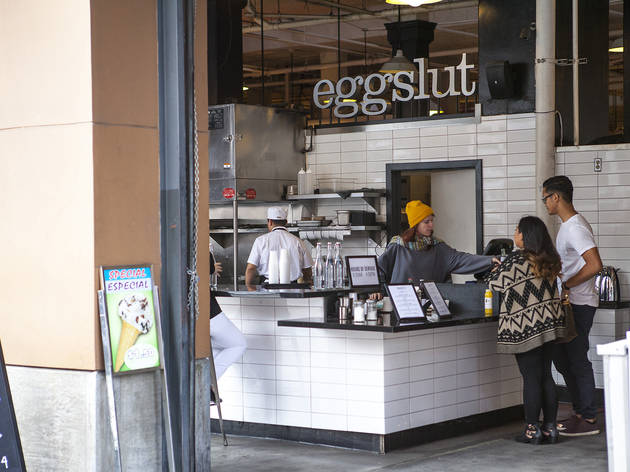 8/11
Photograph: Jakob N. Layman
Eggslut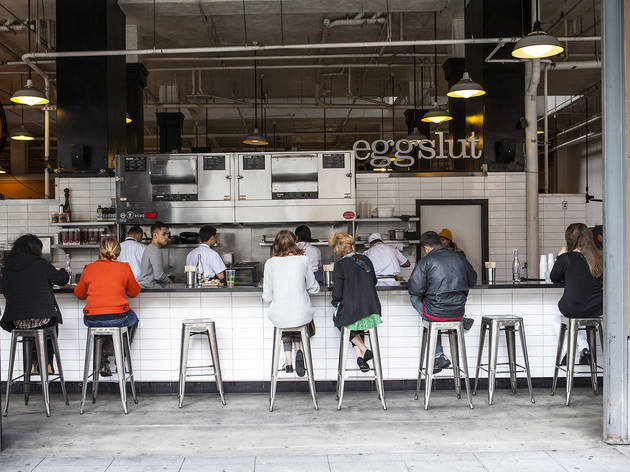 9/11
Photograph: Jakob N. Layman
Eggslut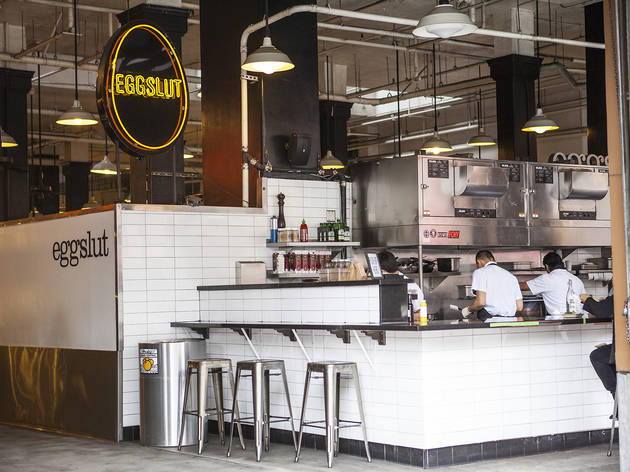 10/11
Photograph: Jakob N. Layman
Eggslut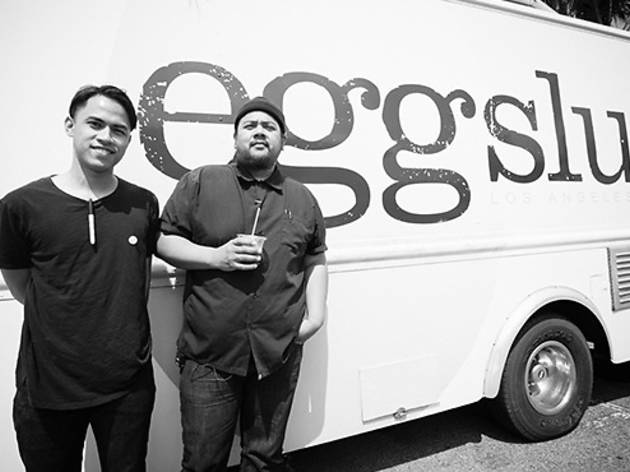 11/11
Photograph: Zachary Marshall
Jeff Vales and Alvin Cailan of Eggslut
Grand Central Market opened nearly a century ago in 1917, and you can have a lot of fun thumbing through the Los Angeles Public Library's photo archive to see what stalls stood there in decades past: Magee's "Old Missouri" Horseradish, Hattim's grocer, butchers, fishmongers. And, as it turns out, someone who sold nothing but cartons of eggs. Which conveniently brings us to Eggslut, an egg-centric vendor that opened in the Market a few months ago, one of several establishments moving in to revitalize the open-air market.
As you probably can infer from its name, Eggslut's choice ingredient is the (organic) egg, a conceit that, yes, we've seen almost too many times now, when no dish (Tacos! Pizza! French fries!) is complete without a fried egg on top. Thankfully, Eggslut largely succeeds even if you've grown weary of the trope.
The menu here is short but smartly focused on a few breakfast and lunch items made with quality ingredients, like the Bacon, Egg and Cheese breakfast sandwich ($6), stacked with hardwood-smoked bacon, just-melted cheddar cheese, a perfectly medium-cooked egg, and a slightly too thick, but still very good, housemade brioche bun. Or, if you can order it with a straight face and forget the misogynistic jokes published at its expense, try the Slut, a jar of smooth pureed potatoes topped with a coddled egg and served with toasted crostini ($9). You'll break the lovely yolk, mix it with the puree, and slather it on the bread; as you do, you may look around and see you're sitting between Las Morelianas and Jose's Ice-Cream Corner, eating eggs out of a mason jar, planning to grab some dried chiles from Valeria's on your way out. How things have and haven't changed.
What to Eat: The aforementioned Slut makes for a terrific breakfast, so much so that even Ruth Reichl once tweeted her love for it. And while breakfast sandwiches like the Bacon, Egg and Cheese also do well at lunch, heartier appetites might want to go for the Steak and Eggs ($10), served with sunny-side up eggs, arugula, and toast.
What to Drink: At the stand, you'll find orange juice from Press Brothers Juicery and bottles of cold-brew from Outpost Coffee. Or, if you prefer, wander the market to grab a drink: Thai ice tea from Sticky Rice, a horchata from Tacos Tumbras a Tomas, a cappuccino from G&B Coffee...
Where to Sit: Order at the register, then grab any one of the 20 stools lining Eggslut's generous granite counter. There's also plenty of seating inside the market.
Conversation Piece: Prior to moving into Grand Central Market, Eggslut was a popular food truck that parked, among other places, in front of Coffee Commissary and Handsome Coffee Roasters.
Venue name:
Eggslut
Contact:
Address:
Grand Central Market
317 S Broadway
Los Angeles
90013

Opening hours:
Daily 8am-4pm
Do you own this business?
Average User Rating
3.1 / 5
Rating Breakdown
5 star:

0

4 star:

3

3 star:

2

2 star:

2

1 star:

0
I finally made it to Eggslut, tried the Fairfax ( scrambled eggs, cheddar & bacon on a brioche bun) and OJ it was...ok...
I mean, after I heard someone at Airbnb Open that this place is ONE of the things you can't miss in LA, I was definitely expecting an epiphany.
Which didn't happen because...well, the scrambled eggs were way too easy, the OJ tasted like a cheap version of Tropicana and...overall it's just an egg sandwich, so I really don't get all this fuss.
But I guess it's an OK breakfast joint as long as you don't have to make those ridiculous lines that sometimes form on the outside ( I am talking about the new Venice location, where it's probably very fancy just to stand in front of their window).
In that area, I'd much rather go for a fresh fruit cup from those little carts on Winward Ave.
Finally went to eggslut, so I guess I can die now and go to heaven? I got the Fairfax on a salad. I like how they give that option. The scrambled eggs were tasty and went well with the mayo. It was good, but nothing to write home about, and I'm not having dreams about it. I can't speak for the other dishes, but I do have my eye on that egg in a jar.
I think the growing line and wait has officially made eating at Egg Slut a pain in the ass, but damn if their food isn't delicious. Keep it simple and go with the classic bacon, egg and cheese or explore a little bit and try the fantastic Slut. Nothing on the menu will leave you wanting, but maybe grab some coffee or juice before getting in line.