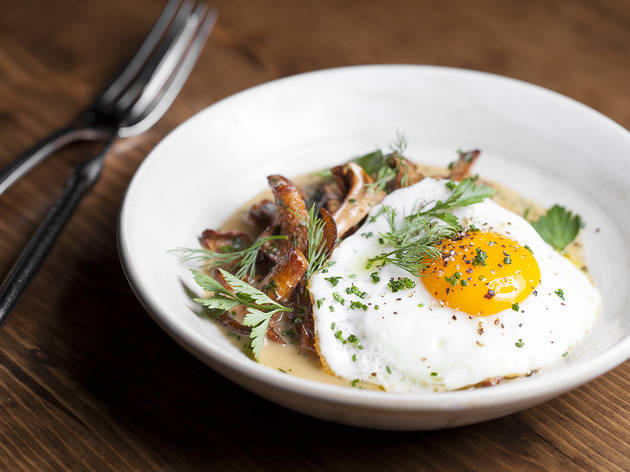 1/13
Photograph: Jakob N. Layman
Chanterelle mushrooms, soft herbs, lemon and chicken egg at Hatchet Hall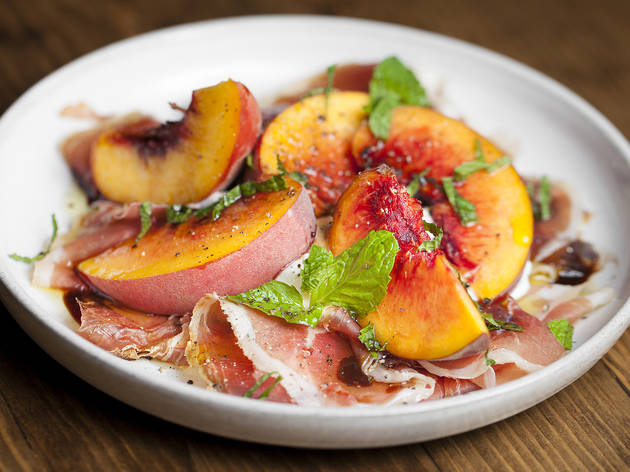 2/13
Photograph: Jakob N. Layman
Market peach salad with house cream cheese and ham at Hatchet Hall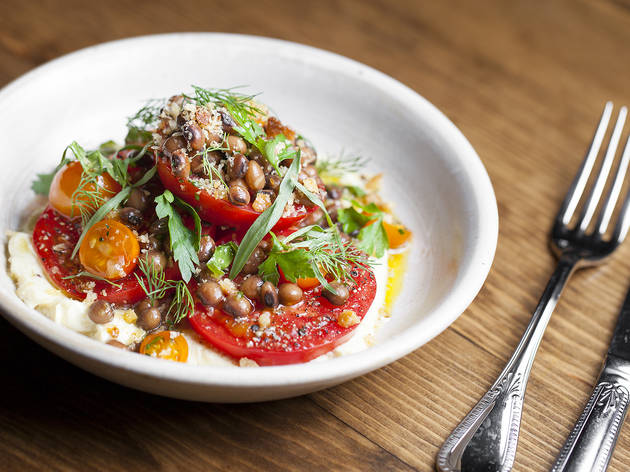 3/13
Photograph: Jakob N. Layman
Sliced tomatoes, pigeon peas, aged chedder and herbs at Hatchet Hall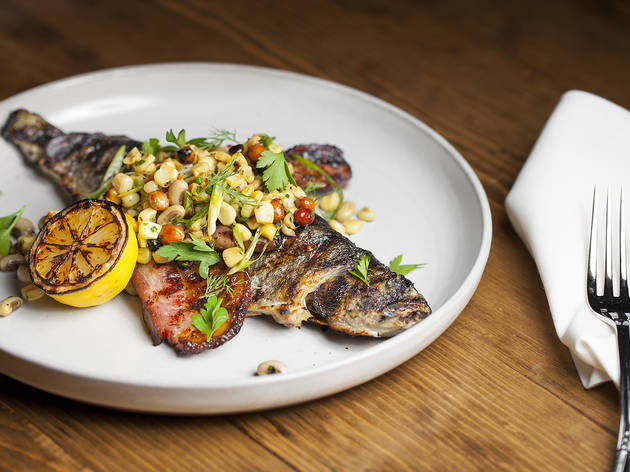 4/13
Photograph: Jakob N. Layman
Wood grilled trout, coal roasted corn, and bacon at Hatchet Hall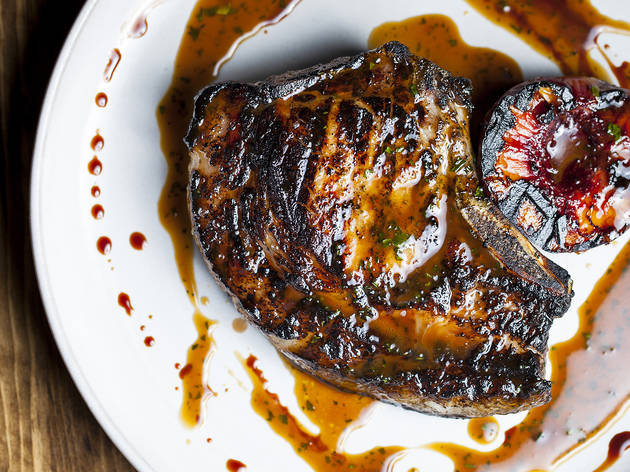 5/13
Photograph: Jakob N. Layman
Wood grilled pead & barnett pork chop with fig and brown butter maple jus at Hatchet Hall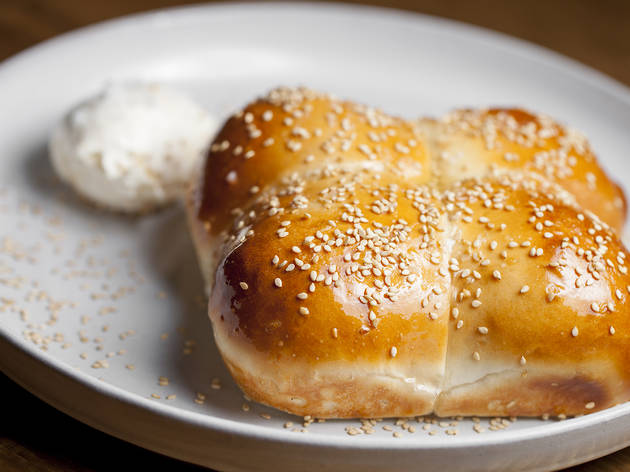 6/13
Photograph: Jakob N. Layman
Benne yeast rolls with honey butter and sea salt at Hatchet Hall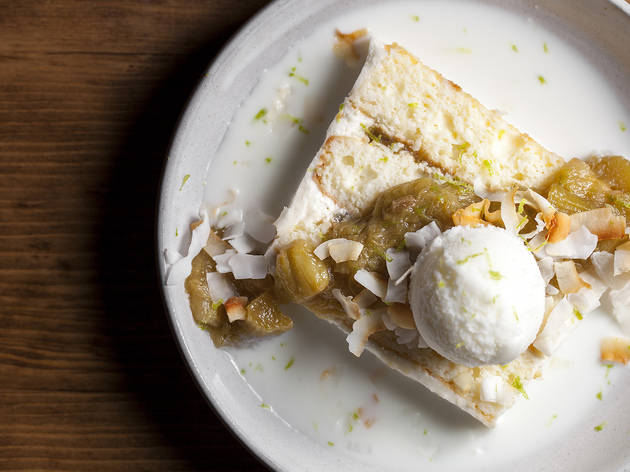 7/13
Photograph: Jakob N. Layman
Coconut cream cake with rhubarb and coconut lime sherbert at Hatchet Hall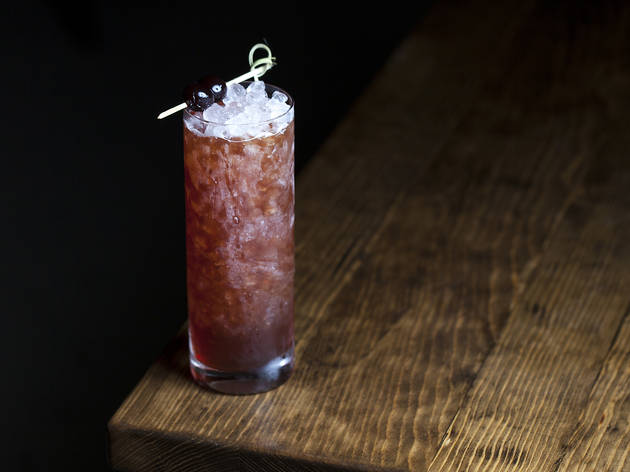 8/13
Photograph: Jakob N. Layman
Root beer gin & tonic at Hatchet Hall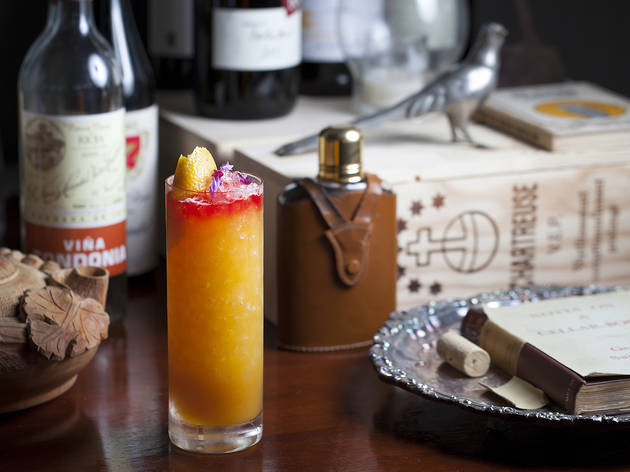 9/13
Photograph: Jakob N. Layman
The Roger Rabbit at Hatchet Hall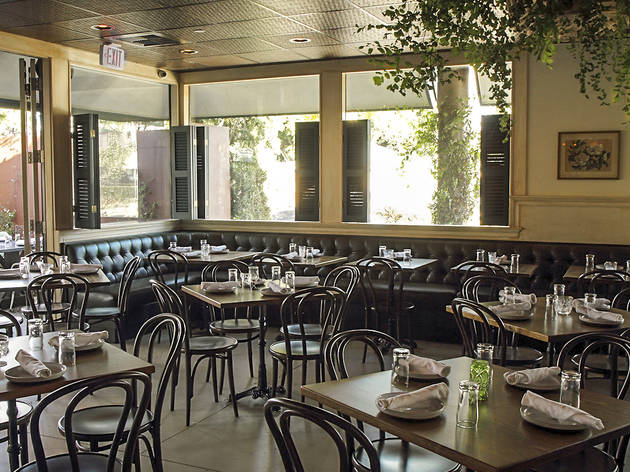 10/13
Photograph: Chapple Design
Hatchet Hall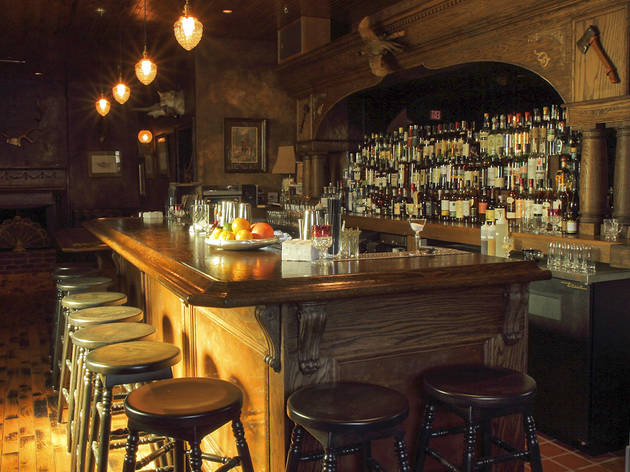 11/13
Photograph: Chapple Design
Hatchet Hall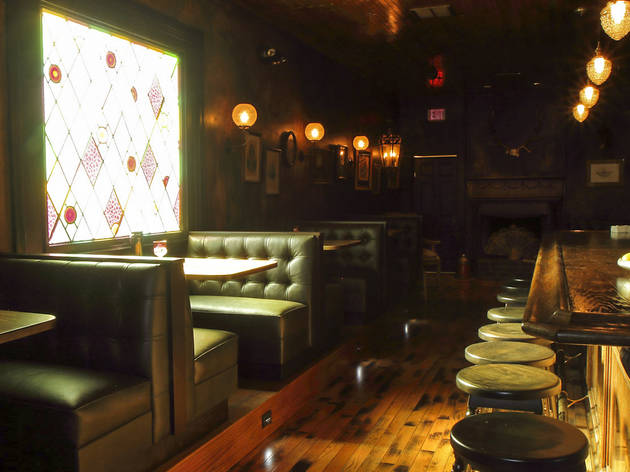 12/13
Photograph: Chapple Design
Hatchet Hall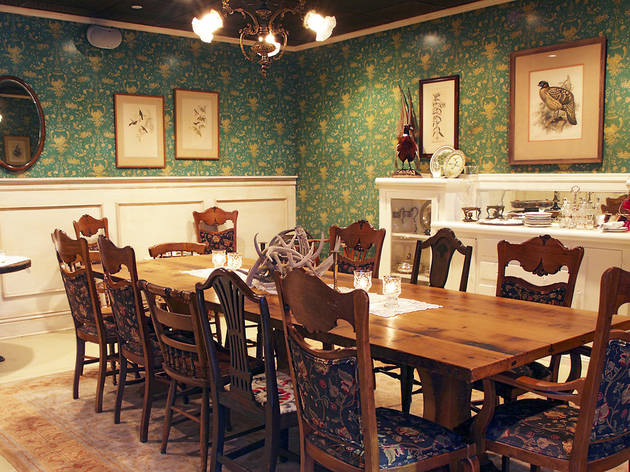 13/13
Photograph: Chapple Design
Hatchet Hall
Time Out says
Outstanding meat dishes abound at this Southern-inspired restaurant in Culver City. A must-try: the wood grilled pork chop.
There are plenty of places to eat a vegetarian meal in LA, but Hatchet Hall is not one of them. What gives it away? Subtle things, like the vintage photos of quail lining the wall. Not-so-subtle things, like mounted hatchets and a menu that doesn't list a single entrée without some kind of meat or fish. And then, more in-your-face things, like said menu sporting an illustration of animals hunting, most notably a goose chopping the head off its brethren.
So if you are a vegetarian, or just not that into meat, don't come here. But if you enjoy a good steak or pork chop or slab of fish—this might be your new favorite restaurant. Chef Brian Dunsmoor (The Hart and the Hunter) has created a love letter to rustic American cuisine at Hatchet Hall, with an environment and menu that channels a relaxed, beautifully curated Southern vibe. Take, for example, the benne yeast rolls, which arrive four to an order and come with luxurious honey butter that I could have eaten by the spoonful. Or the plate of just-ripe melon from Weiser Farms, presented on a tangled bed of fatty, Mangalista ham and sprinkled with mint. These are all dishes you have seen before, and yet Dunsmoor and chef de cuisine Jack Leahy seem to have perfected them completely.
In writing about restaurants, I thrive on branching out of my comfort zone. Crickets? Stinky tofu? Sure! And yet, some dishes are often ignored. I rarely order pork chop, because more often than not it is dry and overcooked, and not the easiest slab of meat to finish. So I was astounded by Hatchet Hall's wood grilled version, the best pork chop I've had in a very long time. The pork is from Peads & Barnetts, which sells its heritage meat at the Santa Monica farmers market, and the quality meat combined with a bite of blackened peach—everything drizzled with fig and brown butter maple jus—has restored my faith in this dish.
There are seafood options, like a whole crab that you may spend more time deconstructing than actually eating, and hearty sides, like sweet corn succotash tossed with green chickpeas, cherry tomatoes, cream and mint. There are fantastic desserts, too—a coconut cream cake with rhubarb and homemade coconut lime sherbert exhibits a beautiful combination of textures, and is a delightful way to end a meal on a hot summer night. But above all else, come for the meat: the chicken liver and the lamb sausage, the rabbit and the wood grilled octopus. And, oh man, that pork chop.
Vitals
What to Eat: The benne yeast rolls ($6). The melons and Mangalista ham ($15). The pork chop with burnt peach ($38). The coconut cream cake ($11).
What to Drink: Before ever stepping foot inside Hatchet Hall, I was already looking forward to the restaurant's cocktail list, an inventive collection of drinks designed by head barman Cappy Sorentino. More specifically, I had my eyes set on the root beer gin & tonic ($12), a drink that combines two of my favorite beverages. Unfortunately, sometimes two rights don't always add up. It's a strange cocktail, and one that takes patience (and a predisposition towards root beer) to get used to; I had to soldier my way through the strong medicinal taste until the flavors started to even out. Diners that are not so patient should probably stick to standards like the New East Side ($12), or maybe just the wine list.
Where to Sit: There's a place for everyone at Hatchet Hall: a seat in the dining room, where you can choose from communal tables or smaller, more intimate tables and booths; on the tree-flanked outdoor patio; at the small oyster bar; or, if you're just here for a drink, at either the elegant bar at the front of the room or the Old Man bar that opens at 8pm. You have choices, and it's a beautiful thing.
Details
Address:
12517 W Washington Blvd
Los Angeles


Contact:
Opening hours:
Sun-Wed 5:30pm-10pm; Thu-Sat 5:30pm-11pm. Old Man Bar: Daily 8pm-2am
Do you own this business?
Best selling Time Out Offers