LA's best dishes: French toast smackdown
It's a French toast duel between Downtown LA's Philippe The Original and Westside fancy-pants Farmshop. Guess who won our best dishes challenge?
The face-off begins with breakfast. Brioche, challah, sourdough or even croissants, the egg-battered toast's form is as varied as its adornments—maple syrup but the requirements are simple: warm homey goodness on a plate.
RECOMMENDED: More of LA's best dishes
Restaurants, Sandwich shops
Not too many places can brag a 100-year history, but the long-standing Philippe The Original—most known for its French-Dip Sandwich—is an L.A. institution. Time hasn't changed inside the Downtown standby where jumbo French toast—four halves of fluffy cinnamon-battered egg bread—is served alongside a cup of coffee and glass of O.J. for $4.95.
Restaurants, American creative
Don't let the name fool you. With a chef who graduated magna cum laude from the school of Thomas Keller, this Brentwood heavyweight is nothing short of refined. The pimped-out version involves two extra-large slices of brioche topped with blueberry marmalade, Mascarpone lemon curd, chopped pecans and served alongside two strips of glorious thick-cut bacon. While we balked at the $14.50 tab, we'd happily splurge on the extravagant dish and eat lentils the rest of the week.
Winner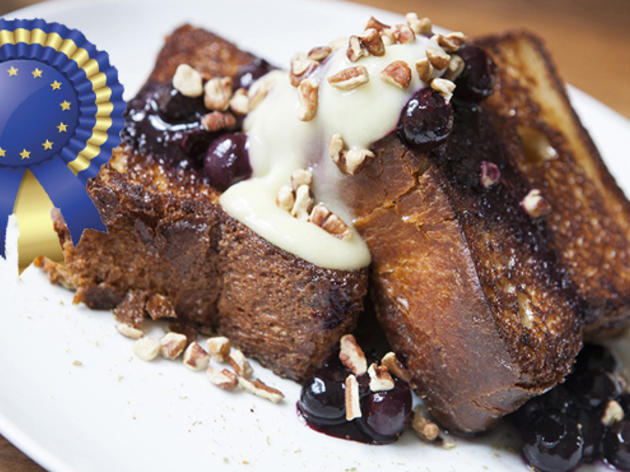 Restaurants, American creative
Philippe's French toast takes us back to Mom's; and she'd be proud of starting our day with a complete breakfast at a real steal to boot. But we couldn't stop daydreaming about the decadent Farmshop version that stole our hearts (and wallets). We were wowed by the fluffy homemade brioche, and swooned over the lavish cream and market fresh fruit; it was love at first bite.
More to explore