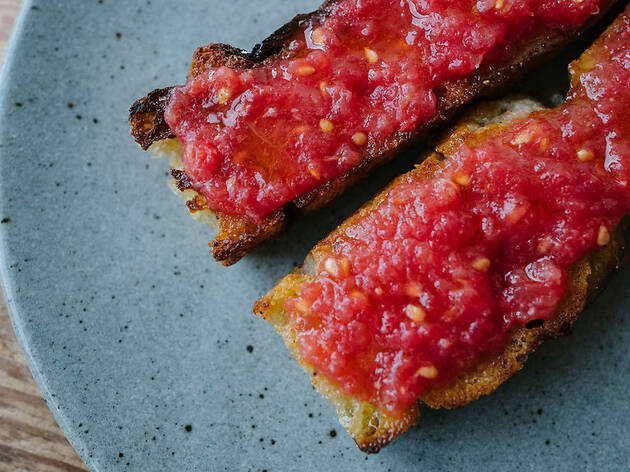 1/12
Photograph: Jesse Hsu
Pan con Tomate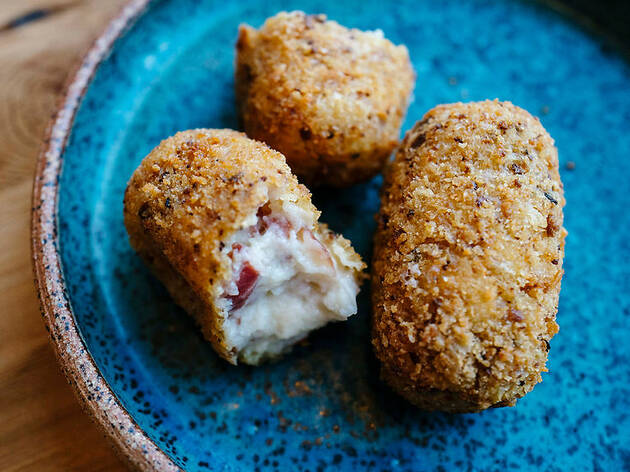 2/12
Photograph: Jesse Hsu
The Croqueta de Jamon, a fritter made with local milk and cured Spanish ham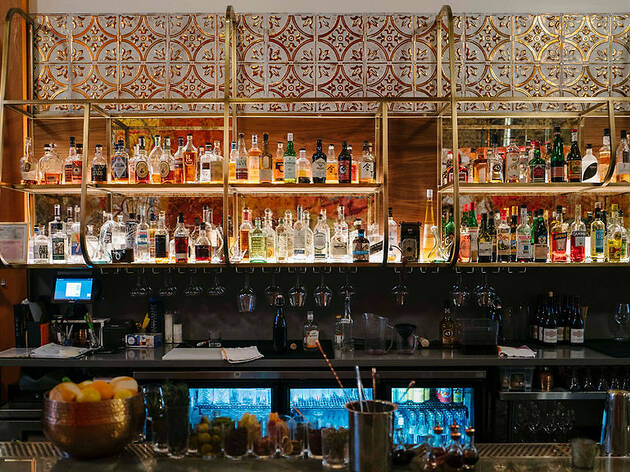 3/12
Photograph: Jesse Hsu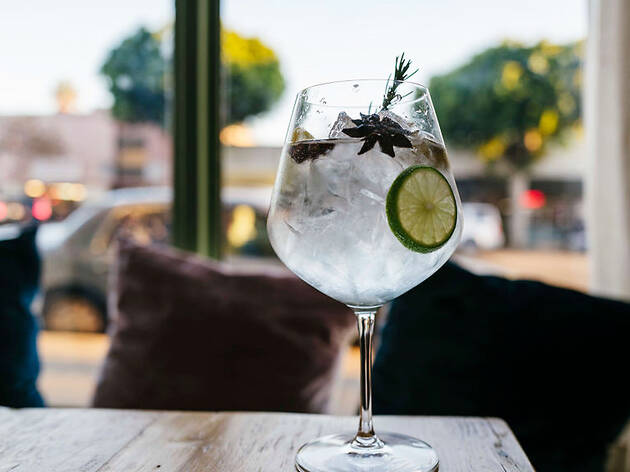 4/12
Photograph: Jesse Hsu
A traditional gin and tonic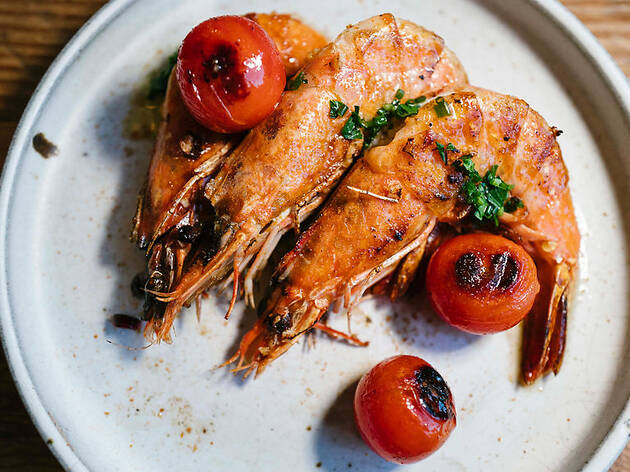 5/12
Photograph: Jesse Hsu
The Gambas a la Plancha, griddled blue prawns with cherry tomatoes, green garlic and Brandy de Jerez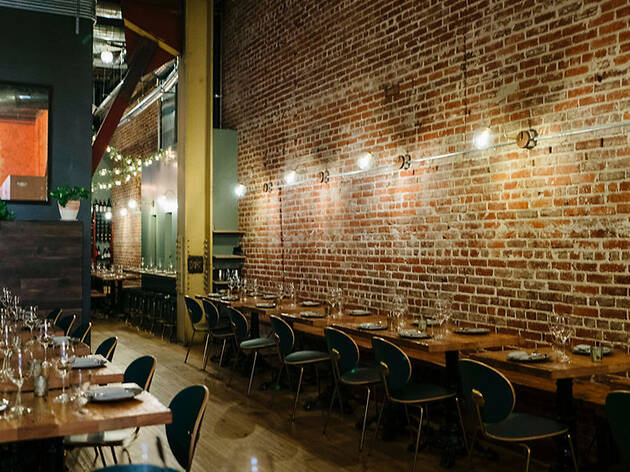 6/12
Photograph: Jesse Hsu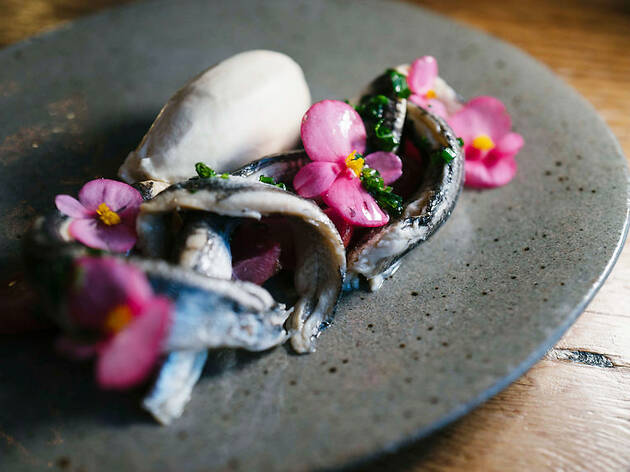 7/12
Photograph: Jesse Hsu
Boquerones y Mantequilla (tuna and anchovy served with goat butter, herbs, roasted radish and fresh baguette)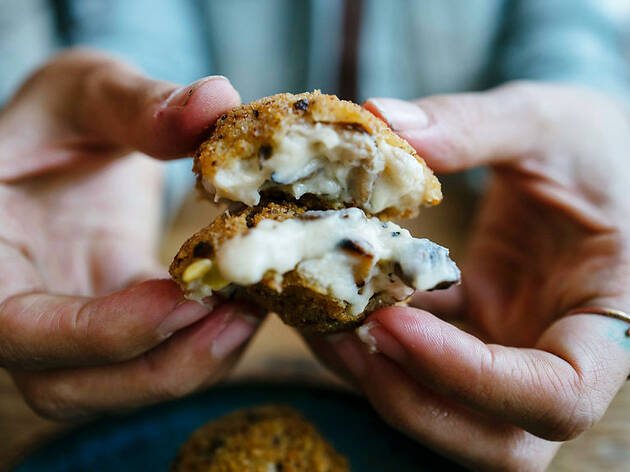 8/12
Photograph: Jesse Hsu
The Croqueta de Setas y Maiz, a fritter of wild mushroom, sweet corn and goat milk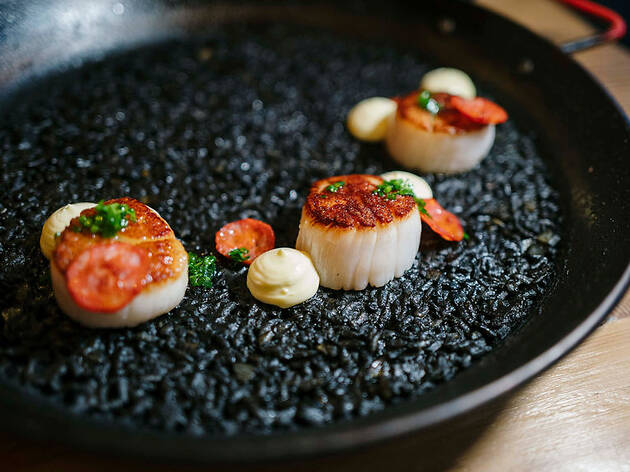 9/12
Photograph: Jesse Hsu
Arroz Negra Paella made with dashi, wild scallops, chorizo and lemon cream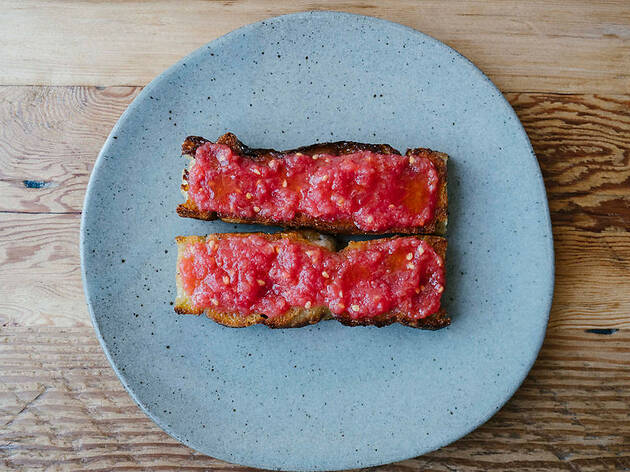 10/12
Photograph: Jesse Hsu
Pan con Tomate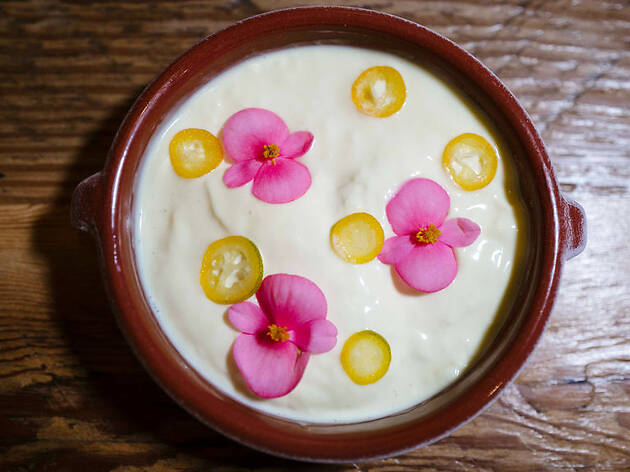 11/12
Photograph: Jesse Hsu
A classic dessert of Crema Catalana, made with citrus, cinnamon and pomegranate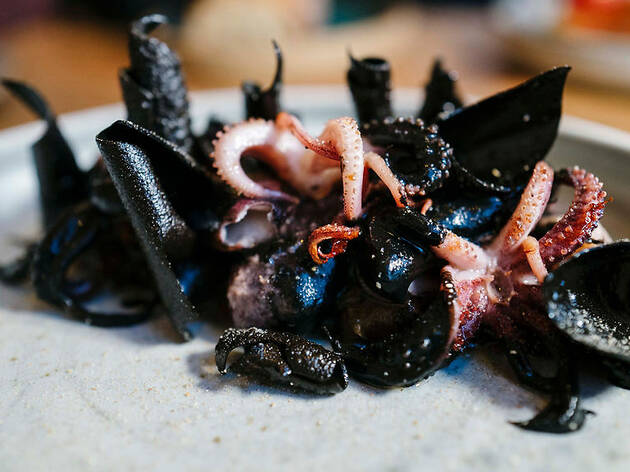 12/12
Photograph: Jesse Hsu
Calamares en su Tinta, grilled local squid tossed in a caramelized-onion salsa tinta with arroz negra crisps
Time Out says
This Highland Park restaurant is a needed taste of Spain, albeit an inconsistent one.
The paucity of authentic—even passable—Spanish dining is one of the great gaps in the L.A. restaurant scene. And, as a man who considers any time he doesn't spend in Spain as being ever so slightly wasted, word of a new addition is always welcome. I was thrilled to hear that chef Teresa Montaño—whose excellent provenance includes time in Valencia and in the kitchen at Pasadena's now-shuttered Ración—was planning to open Otoño in Highland Park.
It all begins well enough. The superb drinks list at Otoño includes a commendable gin-and-tonics program, and the Gin & Tonic "Classico" reflects the seriousness with which that iconic cocktail is treated in Spain (the Spaniards drink more gin than any other nation on earth). Meanwhile, a glass of briny Manzanilla came at the perfect chilled temperature. When combined with some of the well-executed standards of the Spanish bar repertoire, there's a feeling that everything is well with the world. The Boquerones y Mantequilla ($12) elegantly combines the vinegar sharpness of Spain's beautiful canned anchovies with a rich goat milk butter, while the Gambas a la Plancha ($18), a small plate of griddled blue prawns, came perfectly prepared with a slight char on the shell—and meat cooked to retain a bite. The Croqueta de Jamón ($6)—a fritter filled with serrano ham—and the Croqueta de Setas y Maize ($6)—stuffed with mushroom and sweet corn—are good enough to pass muster in any Madrileño bar.
Once we delved deeper into the menu, however, standards began to decline; our table dismissed the Calamares en Su Tinta ($14) as tough and slimy. Calçots ($11) are traditionally spring onions from the Catalan region, and should be eaten "sword swallower"-style after being dipped in a pungent romesco sauce. The attempt to elevate the dish at Otoño using a single, larger green onion failed, primarily because of the undercooking of the main ingredient and the blandness of the romesco with which it was topped.
Spirits improved with the arrival of the sardines ($18), a single, plump and juicy grilled French sardine served atop escalavida—a layer of smoked grilled vegetables—which combined seafood freshness with the smoky crunch of the vegetables. But, we were quickly disappointed when a tangy green peppercorn sauce couldn't disguise the fact that the Pollo Ahumado ($20) had been overcooked.
From her time in Spain, chef Montaño will know that a true paella is something to be taken very seriously as a joyous expresser of Valencian identity, which makes it even more disappointing that the arroz dishes at Otoño could best be described as two apologetic pans of over-salted parsimony. While the toppings on both the Mariscos ($32) and the Negra ($32), particularly the scallops on the Negra, show that the kitchen really knows how to cook seafood, the lack of soccarat—that essential layer of crisp rice—and the generous salting meant that what should have been the stars of the show were sadly left unfinished.
Desserts struggled, too. A Crema Catalana ($10) was overpowered by cinnamon, and a Caña de Cabra cheesecake ($10) had so much salt that I assume it was prepared next to the person who made the rice dishes.
It's no surprise that a new-ish restaurant is still figuring out its systems, and much can be forgiven for the genuine amiability of the staff. What's more difficult to explain is the blistering rapidity with which the food arrived from kitchen to table: Our second visit broke records as every dish we ordered was piled onto the table within 20 minutes of ordering, despite requests to staff to slow things down.
It's a failing that is often enough to make me cross a restaurant off my list of regulars, but at Otoño it merely served to confirm my regretful belief that the restaurant is, for now, too inconsistent to plug that yawning Spanish gap in the Los Angeles food scene, and certainly doing little to dampen the serious Spain jones of yours truly. I shall continue to wait, although more in hope than expectation.
VITALS
WHERE TO SIT
Otoño is small enough that one table is more or less like any other another, so, arrive early and snag a seat at the bar—that's where all the action seems to happen.
WHAT TO EAT
For the time being, Otoño best serves as a tapas-only destination. The Pan con Tomate ($5) here has just the right amount of garlic kick; order the Boquerones y Mantequilla; and the Conserva de Atún ($12), house-cured tuna, provides the perfect accompaniment to a glass of Fino.
WHAT TO DRINK
In addition to the gin and tonics, there's a sherry selection that not only offers versions across all the appropriate categories, but each is also served at the right temperature. The wine list offers bottles and glasses from some of Spain's most well-known and lesser-known producing regions, and there's a list of digestifs that offers Patxaran, a beloved Basque liquor, as well as some of the most wonderful but liver-shuddering brandies that have provided the end to far too many of my nights in Spain.
Details
Address:
5715 N Figueroa St
Los Angeles
90042

Price:
$$
Contact:
Opening hours:
Tues-Sat 4pm-midnight, Sun 4-10pm
Do you own this business?
Best selling Time Out Offers