The best coffee shops in West LA
Ditch the boba and satisfy your caffeine cravings at these speciality coffee shops in West LA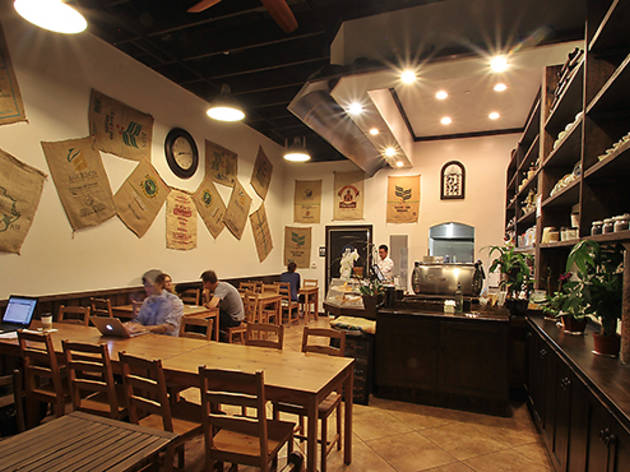 Restaurants, Coffee shops
Little Osaka's most ambitious specialty coffeehouse declares its intentions at the door: With a red, Dietrich roaster and canvas coffee bags that greet you upon entering, you know that they take coffee seriously here. Coffee beans are roasted in-house and baristas live up to the billing with a La Marzocco GB/5 espresso machine and a four-cone pour-over bar. Signature beverages include the Tomo Latte—tomo translates as "friend" in Japanese—sweetened with condensed milk, as well as non-coffee drinks such as the sweet potato latte and red bean latte. Other unique items include housemade pretzels—crab claw-shaped breads baked with stringy mozzarella and offered plain or filled with flavors like sweet potato, cheese or red bean.
Restaurants, Coffee shops
This coffee hideout—just outside Olympic Collection, near bustling Sawtelle Blvd—is the place to go when you need a somewhat dark and quiet space for a cup of joe. Once inside, you're greeted by giant French film posters and a bit of random and obscure wall art, but the main focus here is the coffee and brewing techniques. Balconi is known for their siphon (think: chemistry lab-like contraption) vacuum coffee and espresso. If dip coffee is your thing, choose from one of the six global blends courtesy of Verve and Four Barrel, brewed to perfection using the glass siphons. A must-try is the shop's unique Almond Espresso Latte, made with espresso, steamed Clover Organic Farms' whole milk (the only other option here is soy milk) and sweetened pulverized almonds—it tastes like liquid marzipan. And if you're all java'd out, opt for the popular matcha Green Tea Latte. Don't fret—you'll still get your fill of caffeine.
Restaurants, Coffee shops
Sister to the C+M at LACMA, this somewhat hidden coffee shop, located within the Westwood Gateway office building (on the corner of Sepulveda and Santa Monica) is in the perfect spot for a pick-me-up before jumping on the 405. The coffee and pastries, made by the Patina Group, are the same and just as delicious as its older sis' museum spot. Grab a buttery croissant or gourmet retro favorites, including lavender pop tarts and mini pies to pair with your Intelligensia coffee, served with Clover milk. Head over to the Westside C+M for a coffee date, business meeting or a quick meet-up with friends—the bright and all-white interiors are perfect for #foodporn Instagram photos.