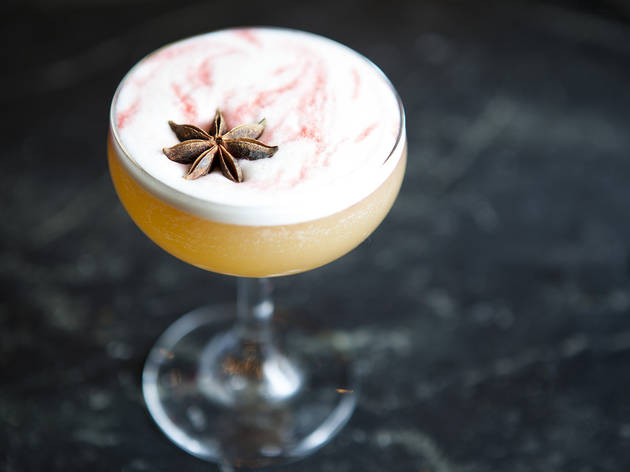 1/14
Photograph: Jakob N. Layman
The Shot in the Dark at The Church Key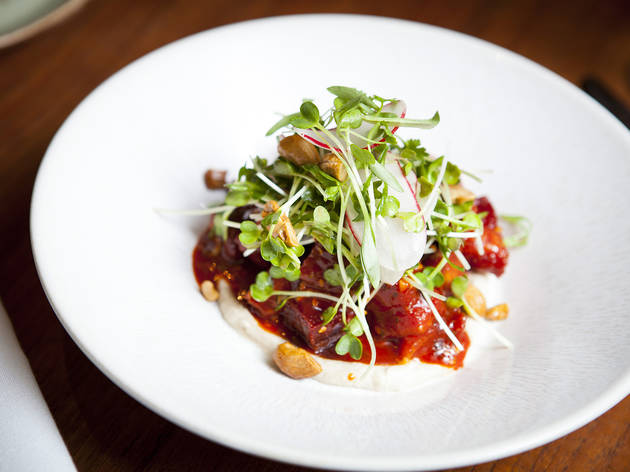 2/14
Photograph: Jakob N. Layman
Crispy pork belly at The Church Key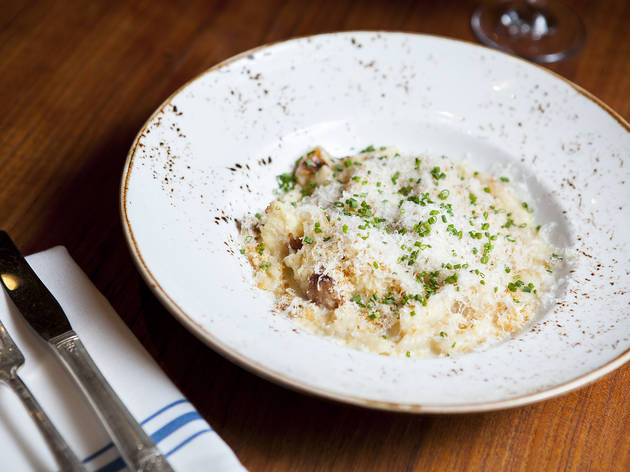 3/14
Photograph: Jakob N. Layman
Hand-rolled cavatelli pasta at The Church Key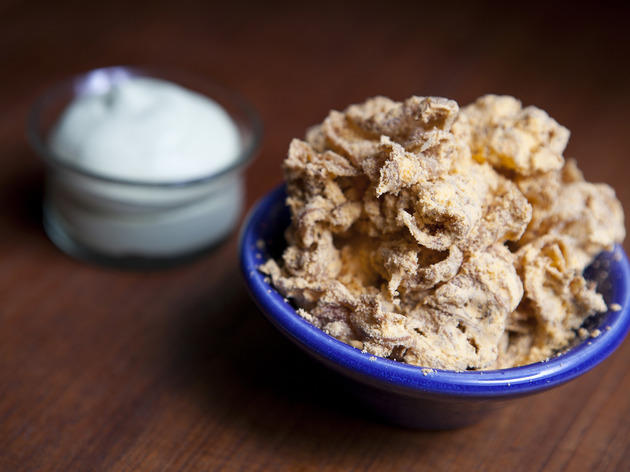 4/14
Photograph: Jakob N. Layman
Pig ear cheetos at The Church Key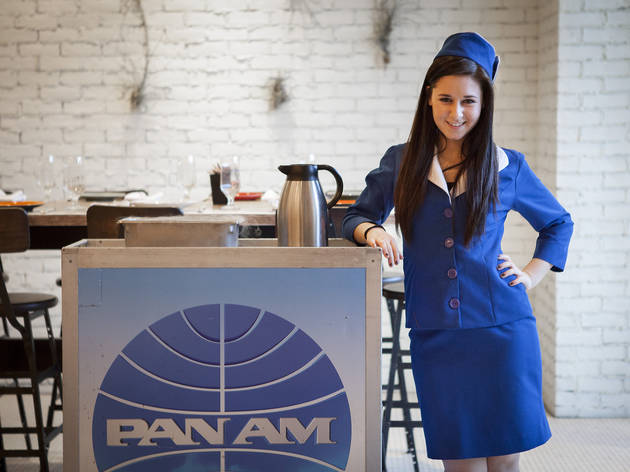 5/14
Photograph: Jakob N. Layman
The Church Key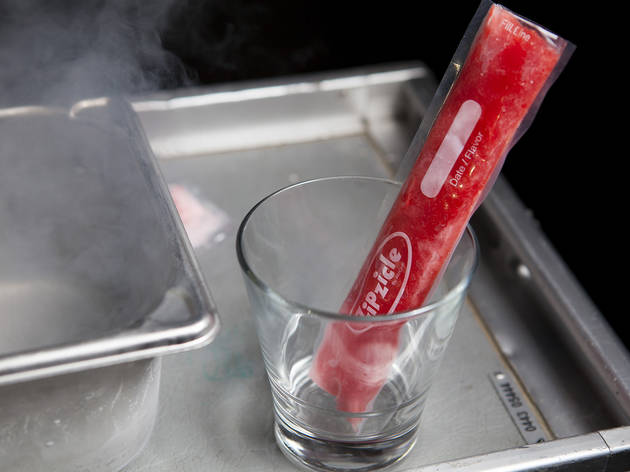 6/14
Photograph: Jakob N. Layman
Adult otter pop at The Church Key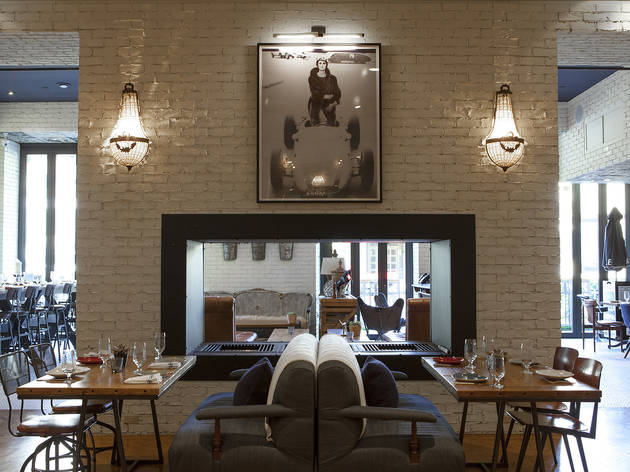 7/14
Photograph: Jakob N. Layman
The Church Key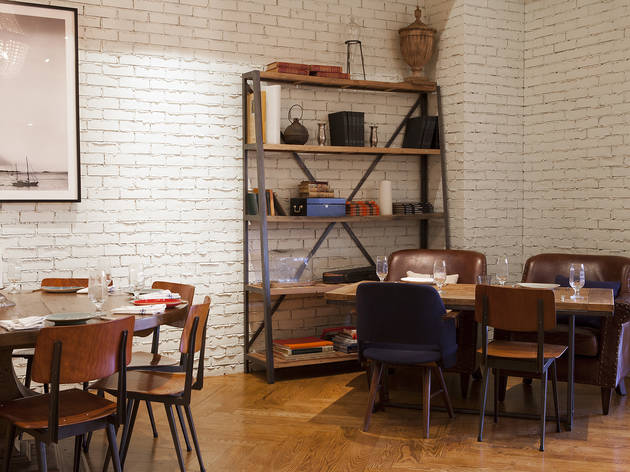 8/14
Photograph: Jakob N. Layman
The Church Key
9/14
Photograph: Jakob N. Layman
The Church Key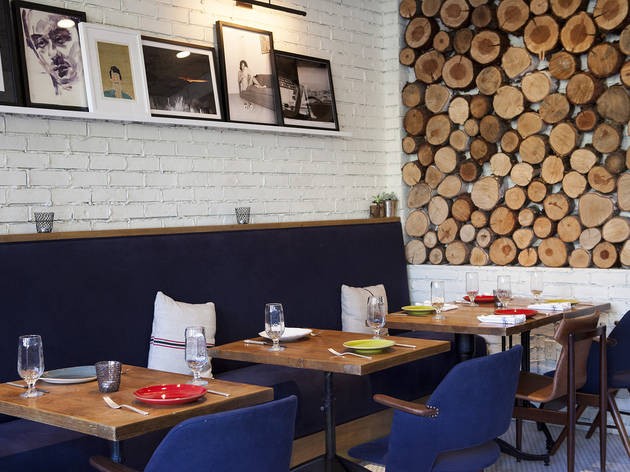 10/14
Photograph: Jakob N. Layman
The Church Key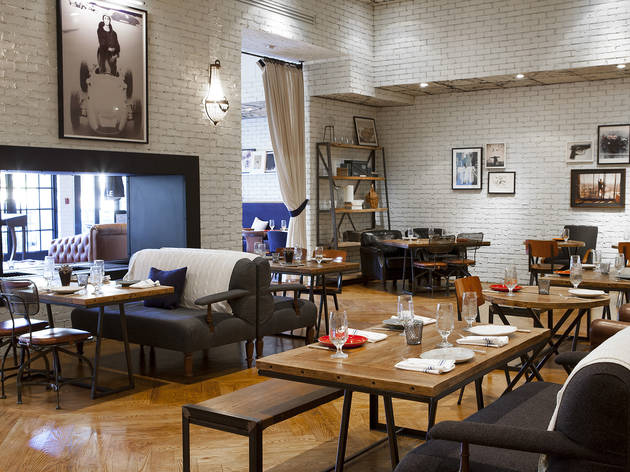 11/14
Photograph: Jakob N. Layman
The Church Key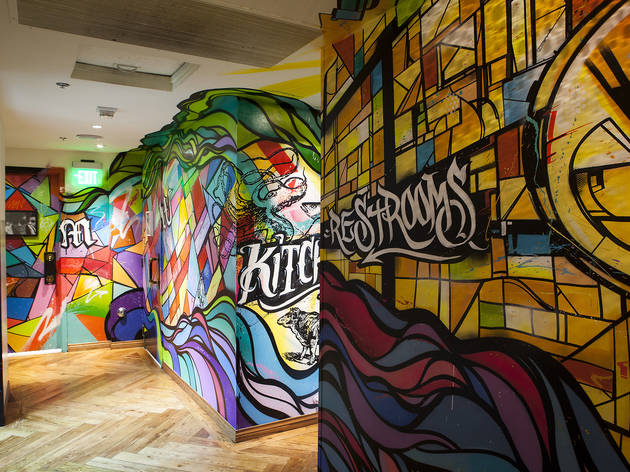 12/14
Photograph: Jakob N. Layman
The Church Key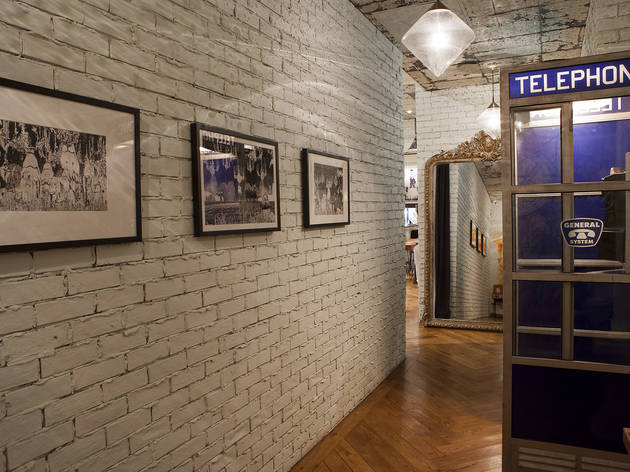 13/14
Photograph: Jakob N. Layman
The Church Key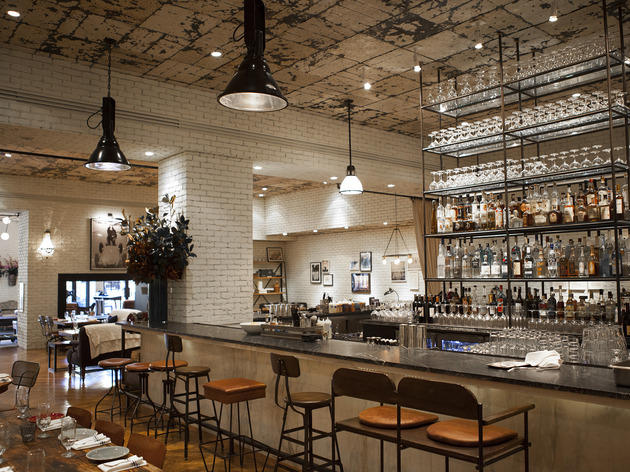 14/14
Photograph: Jakob N. Layman
The Church Key
The best people are often those who don't take themselves too seriously, and the same applies to restaurants. With its prime location on the Sunset Strip, The Church Key has every opportunity to be as banal as the next place; socialites and tourists will walk through these doors regardless of what's on the menu. But what makes West Hollywood's new addition special is its delicious food and delightful quirks. The décor is so Restoration Hardware, it feels like you've just entered the loft of an E! TV personality; however, stick with it and you'll find yourself snacking on pig ear "Cheetos" dim sum, sucking on alcoholic ice pops frozen right at your table by a Pan Am flight attendant, and having a ton of fun.
The printed menu offers a number of shareable plates that are substantially sized, and run anywhere between $6 and $30. It's easy to get caught up in the delectable-sounding selections, but don't forget the dim sum carts floating around, which serve a spectrum of small bites—from sashimi to falafel—that cost between $5 and $9 each. As for drinks, the house specialties cover the gamut with gin, vodka and whiskey. Try The Shot in the Dark, a frothy, slightly sweet cocktail that's almost too easy to drink with the amount of bourbon it contains. For a party of two, the best strategy is to order two to three dishes off the menu, which can be enjoyed during your 30-minute wait for the dim sum carts. The service is slow, better for a leisurely two-hour dinner than a quick bite.
Off the menu, begin with the hand-rolled cavatelli pasta with crispy artichokes and castelmagno cheese ($16), which is essentially mac n' cheese on steroids—warm, creamy and comforting, with a sprinkling of breadcrumbs for texture. Then, move on to the crispy pork belly ($14): thick morsels of tender gochujang-glazed pork on a bed of sprouts and radishes that's perfectly balanced and just plain excellent—no skimping on the pork here. Now that you've had mac n' cheese and bacon, round it out with potatoes. Pososky's potato pierogies ($13) are flaky potato dumplings with sweet apple butter and aged Gouda, surrounded by several huge dollops of crème fraiche. Gooey, soft and a little crunchy, they're grandma-level good with a 21st century flair.
Then, time suddenly warps. A Pan Am flight attendant, complete with an on-board drink cart, emerges from the chaos of the noisy restaurant. At first it seems a little bizarre, and you might assume it's one of those liquor promotions you might find at a TGI Friday's, but it's just The Church Key being weird and fantastic. When Miss Pan Am reaches your table, she'll offer you a canned Negroni with a church key (so that's where the name comes from!) to pry it open, and a variety of "adult Otter Pops," cocktails frozen at your table and served in a plastic tube. Try the Sex on the Beach and the Purple Rain, both of which are expertly mixed and wonderfully stiff.
Until your dim sum card is flipped to the "Dim-Done" side, carts will arrive every half hour or so with little bites that can be enjoyed by two people each. The sushi and sashimi selections are fresh and flavor-packed, especially the hamachi sashimi and spicy tuna roll, a hand-cut number wrapped in rice paper instead of nori. The tuna tartare, a tiny disc of chopped maguro, is topped with a thin slice of what tastes like burnt bread, adding a pleasantly unexpected texture and char. After some time another cart will pass by, this time with fried selections like falafel and pig ear "Cheetos"—basically chicharrones with little to no oil, a tangy avocado dipping sauce, and fun to pair with the spiked ice pops.
At this point you'll be ready to beach yourself, but you can't leave without trying the sticky toffee pudding ($9), an enormous brick of date cake and toffee that's so rich, moist and perfectly sweet, your eyes will roll to the back of your head at first bite.
So, let's get this straight: A trendy Sunset Strip restaurant with an outside-the-box menu and a sense of humor? Does it really exist? You bet your bottom dollar. It's a pricey place with slow service and perhaps a touch of identity crisis, but the quality of food and level of fun warrant repeat trips. With its casual yet boisterous vibe, The Church Key is a place to let loose, try new things and just simply have a great time, no matter who you are in this town.
Drink this: The Shot in the Dark and/or the Purple Rain "adult Otter pop."
Eat this: Crispy pork belly, hamachi sashimi, pig ear "Cheetos" and the sticky toffee pudding.
Sit Here: When making your reservation, be sure to tell the hostess you'd like to sit in the main dining room. Otherwise, you might be seated near the door, which slams loudly and often.
Park: Valet or take a gamble with Sunset Strip street parking, but be sure to read the signs carefully.
Conversation Piece: Dim sum is synonymous with tea time in southern China, which comes with specific tea-drinking etiquette. When someone pours your tea for you, you can thank them in one of two ways: 1. Tap the table with a bent index finger if you're single. 2. Tap with the index finger and middle finger if you're married.
Venue name:
The Church Key
Contact:
Address:
8730 W Sunset Blvd
Los Angeles
90069

Opening hours:
Daily 5:30pm-2am
Do you own this business?
Rating Breakdown
5 star:

0

4 star:

3

3 star:

0

2 star:

0

1 star:

0
The Church Key in West Hollywood offers quite a unique LA experience, with a regular dining menu, a full bar, "American dim sum snacks" wheeled around in dim sum carts (aka vintage Pan Am airlines drinks cart). The full bar includes a cocktail menu, while cocktails also are served in cans with keys to open them, and in otter pops.
Despite so much spontaneous ordering choices and methods, what really wowed me was their donut dessert, one of the best in town, hands down.
I'm not talking your donut shop donuts. These brioche donuts are made to order and come out of the kitchen piping hot and impossibly light and fluffy. When I visited, the brown butter glazed, cinnamon, caramel donuts come with a side of a mini mint chocolate milkshake. The cool and hot as well as mint and butter combinations meld beautifully.
No matter how full you are, you are not too full to enjoy this dessert.
They have the best drink names in the city... who would't want to order a "Mary Funkin' Poppins?" Aside from the drink names, the food is pretty damn awesome too. You can't go working with their fondue... although I'm not sure anyone can go wrong with melted cheese. Be sure to take advantage of the dim sum carts as they travel through the restaurant as well!