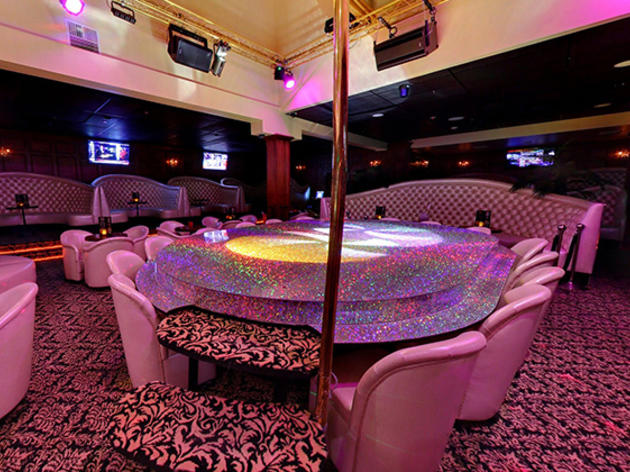 Time Out says
Deja Vu is a strip club in the truest sense of the phrase. It's massive, full of ladies hustling for private dances and open till 6am. A busy night (usually a Friday or Saturday after 1am) has the mesmerizing enchantment of a swiftly-moving assembly line: Dancers rotate between three stages and then head to the floor to wrangle a lap. At regular intervals, an announcement calls all dancers back to the stage for a $1 song special, then it's back to the floor to collect those singles, which gives the gorgeous waitresses (dressed as sexy maids) a chance to the clean the poles seductively—just in time for the next dancer to hit the main stage. Wash, rinse, repeat and before you know it it's closing time. One weird dance special of note: The $10 "balloon dance," in which one of the waitresses (who are typically the most attractive workers at the club) places a balloon on your lap and bounces and grinds on top of it until it pops. It sounds fun, but as is so often the case in life—and strip clubs—reality never quite meets expectations. The reality of a balloon dance is that anyone, sexy maid or not, bouncing on your lap with all her weight not only doesn't feel sexy, but also fills the air with latex odors and the awkward, intolerable squeak of a balloon rubbed raw. We recommend passing on the balloon dance and going for the higher mileage, more traditional $20 private dance.
Details
Address:
1800 S Main St
Los Angeles


Contact:
Opening hours:
Mon-Sat 3pm-5am; Sun 6pm-5am
Do you own this business?