Adult lunch boxes: Grown-up lunch gear for fall
Forget dining à la vending machine—this fall, revamp your lunch with sleek adult lunchboxes, artisanal snacks and handy accessories for the office.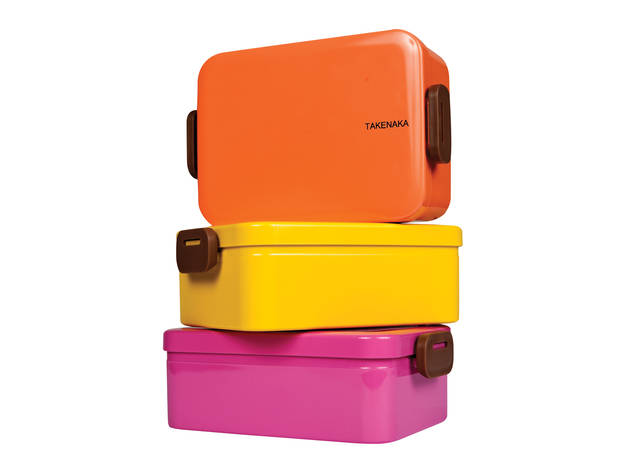 1/14
Photograph: Jessica Lin
Takenaka Lacquer bento box Put your coworkers' beat-up plastic bags to shame with these modern, candy-colored containers, which are small enough to throw in your workbag but smartly equipped with a deep well and a removable divider. Available at leifshop.com. $32.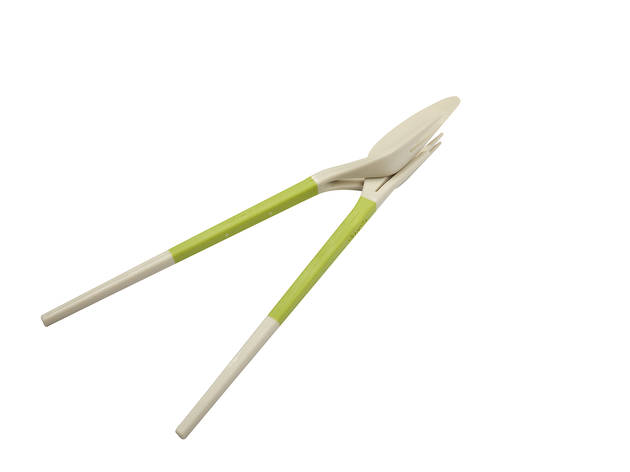 2/14
Lekue Twin One utensil set Stop hoarding sushi-bar chopsticks and plastic forks in your desk and invest in these multipurpose utensils. Bridging the East-West divide, the colorful fork and knife lock together to form easy-to-use chopsticks. Available at lekueusa.com. $10.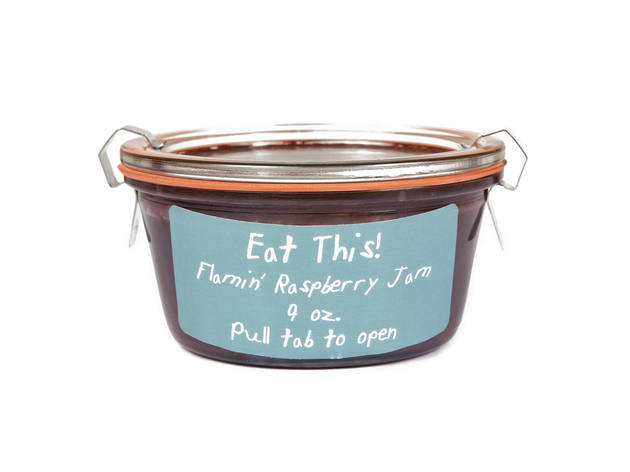 3/14
Photograph: Jessica Lin
Eat this! Flamin' Raspberry jam Fittingly made in the kitchen of a Pennsylvania firehouse, this fiery raspberry jam is bolstered with Hinkelhatz hot peppers and a touch of chocolate. The widemouthed Weck jar makes dipping easy, while metal fastening clamps ensure no desk spillages. Available at littleislandkitchen.com. 9oz jar $10.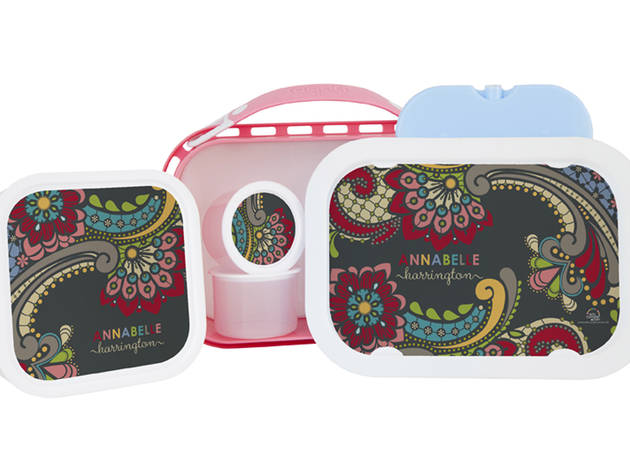 4/14
Photograph: Courtesy Erin Condren
Erin Condren lunch box deluxe set Bypass the hassle that comes with brown-bag lunches—this smart container is quipped with food compartments (ideal for helping with portion control), a removable silicone handle, ice pack and personalized faceplates that can be changed out so you can easily switch up the design. Small enough to throw in your work bag, but personalized enough to keep coworkers from stealing your lunch at the office, the boxes are dishwasher safe, BPA free and recyclable. Available at erincondren.com. $48.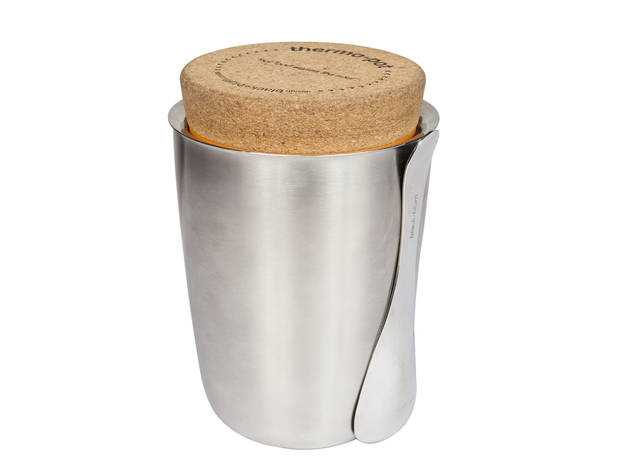 5/14
Photograph: Jessica Lin
Black + Blum Thermo Pot Keep your soups, stews and porridges toasty during your commute with this stainless-steel food flask, which comes with a clever magnetic spoon and utilizes a vacuum seal to keep food hot for up to six hours. Available at whisknyc.com. $42.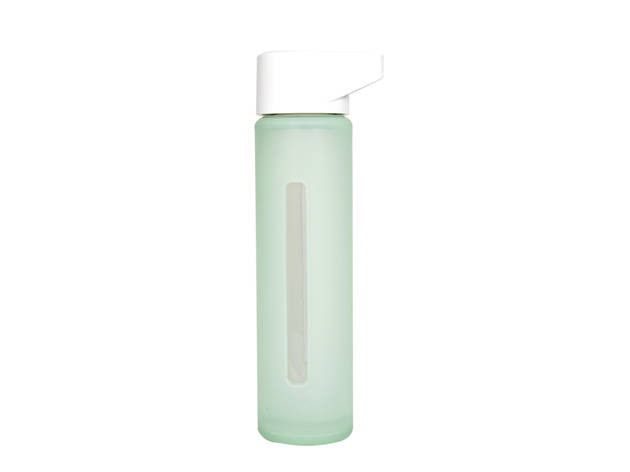 6/14
Photograph: Jessica Lin
Takeya Modern glass bottle Take your favorite drinks to go, sans metallic or plastic aftertaste with these eco-friendly glass bottles. Each slim vessel sports a silicone sleeve, to protect the glass if dropped, and a handy see-through window to gauge when you need to hit the watercooler. Available at takeyausa.com. 16oz bottle $15.99, 18oz $17.99.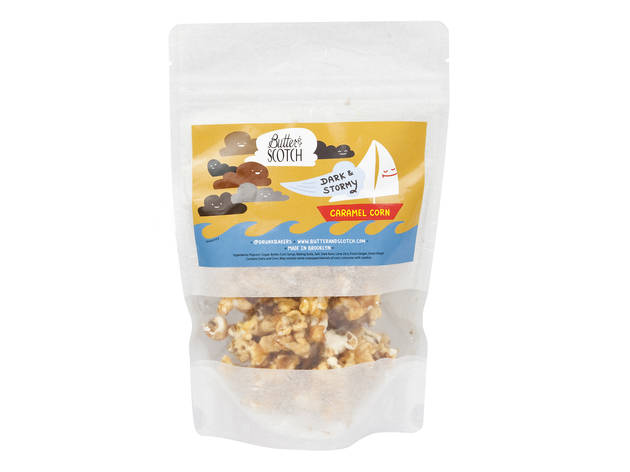 7/14
Photograph: Jessica Lin
Dark & Stormy Caramel Corn from Butter & Scotch HR can rest easy—though these spiked kernels brim with the familiar flavors of a classic dark and stormy (Gosling's dark rum, lime zest, fresh ginger), most of the alcohol's been cooked out. Available at shop.butterandscotch.com. 8oz bag $8.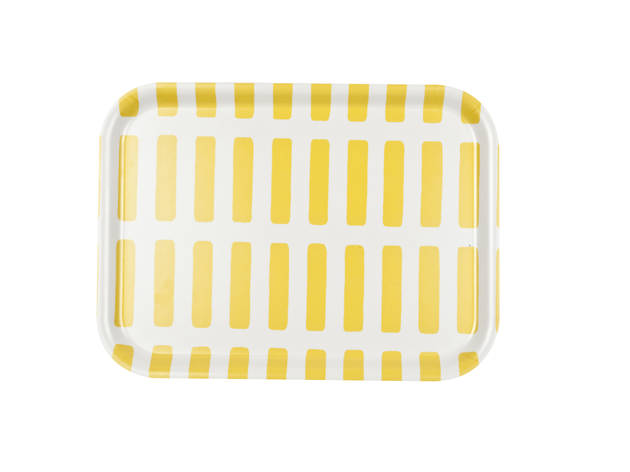 8/14
Artek Siena tray This lightweight, laminated tray allows you to easily haul meal from the office kitchen to your desk without spilling all over your button-down. Part of Alvar Aalto's abc Collection, the poppy plywood carrier is adorned with his iconic 1954 Siena print, sure to a few of your cubiclemates' heads. Available at shophorne.com. Small $29, large $55.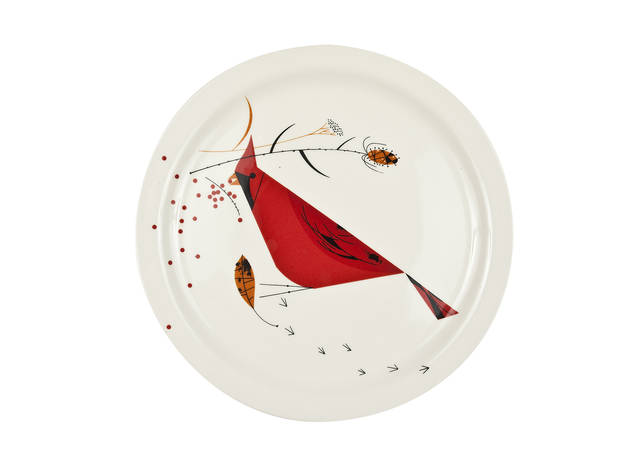 9/14
Oldham + Harper Cardinal dinner plate Prettier than paper, this elegant Todd Oldham–designed dish features the 1950s illustrations of American Modernist Charley Harper. Made of high-fired ceramic, it's both microwave- and dishwasher-friendly. Available at fishseddy.com. $26.95.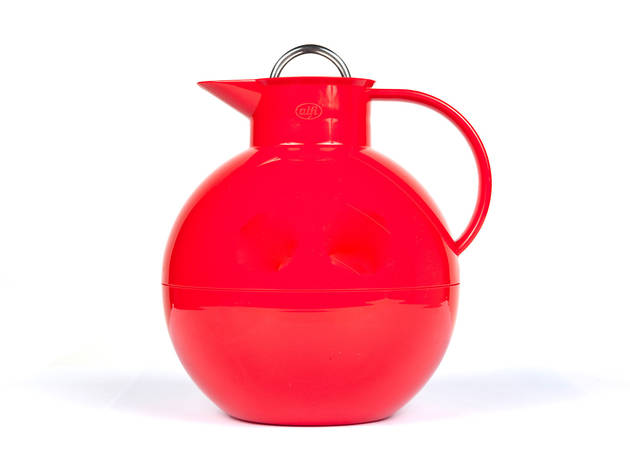 10/14
Photograph: Jessica Lin
Ole Palsby Modern Classic thermal carafe Add a pop of color to your seemingly never-ending workday with this cherry-red polypropylene carafe. Designed by Czech artist Ole Palsby, the pot can keep beverages hot or cold for up to 14 hours, thanks to a vacuum-sealed hard glass liner. Available at momastore.org. $42.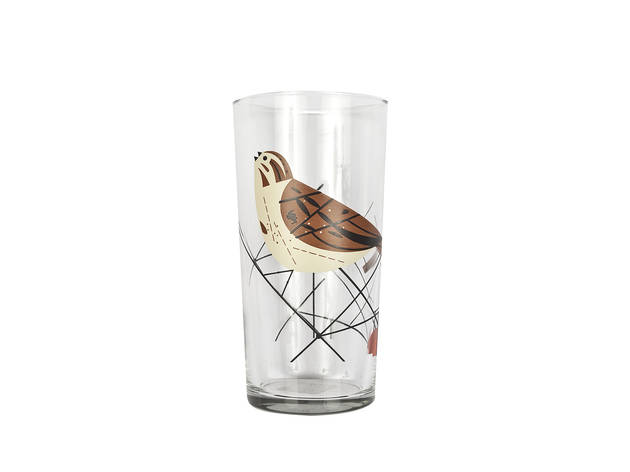 11/14
Oldham + Harper Song Sparrow glass Can't make it outside between 9 and 5? Bring wildlife in with this Oldham-designed glass tumbler, adorned with Harper's mid-20th-century bird illustration. Available at fishseddy.com. $8.50.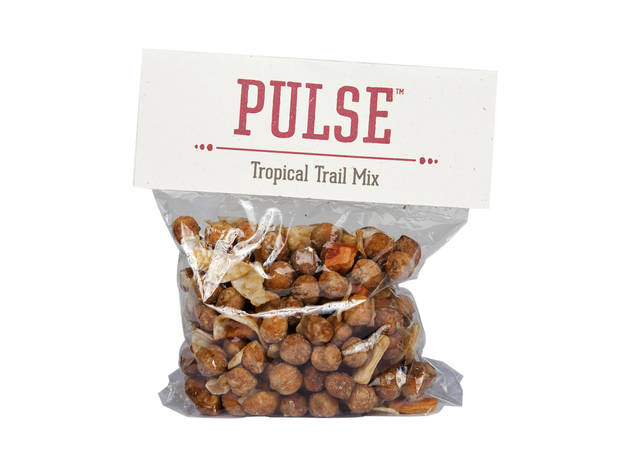 12/14
Photograph: Jessica Lin
Pulse Tropical trail mix Back away from the vending machine—instead of greasy chip bags for a midafternoon snack, keep an energy-boosting bag of trail mix on hand, featuring crunchy roasted chickpeas coated in coconut sugar, along with chewy pineapple and papaya chips. Available at pulseroastedchickpeas.com. 4oz bag $8.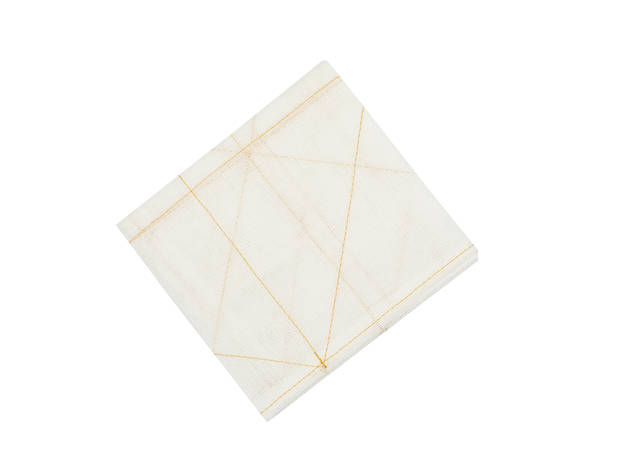 13/14
Kiosk Gauze kitchen towel Do you have a mess of takeout napkins piled on your desk? Make the switch to a reusable towel like this highly absorbent cloth, made with eight layers of compacted mosquito net. Available at kioskkiosk.com. $15.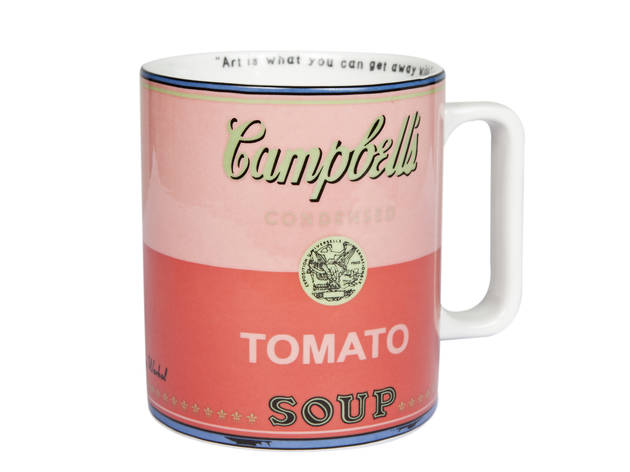 14/14
Photograph: Jessica Lin
Andy Warhol Soup mug Crunching numbers might not be the work of an artiste, but you can add Pop Art flair to your workweek with this coffee cup, inspired by Andy Warhol's iconic Campbell's Soup Cans print. Available at momastore.org. $25.
School's back in session, but that doesn't mean young'uns are the only ones who can trick out their lunch with brand-new gear and goodies. This fall, build an adult-friendly lunch with stylish lunchboxes, small-batch snacks and clever utensils. And for food-obsessed folk (guilty!), we're stocking your desk drawers with salts, spices and sauces for the ultimate at-work pantry.
RECOMMENDED: See more things to do in LA this fall.