Tour the Hedley & Bennett apron factory with an ice cream cone in hand
The most popular apron company in America has a new home—and it operates on smiles
If there's a more buzzed-about apron company in America right now than Hedley & Bennett, we haven't heard of it. Tied to the waists of chefs, wait staff and bartenders across the country, the LA-based company is on a hot streak, with Ellen Bennett serving as its badass founder. Bennett started H&B while working in the kitchen at Providence, steadily building her three year-old business into the gold standard of aprons. Now she has a new factory—a 16,000-square-foot warehouse in Vernon—where curious customers can stop by for a tour. Bennett showed us around the space, and we immediately fell in love. Take a virtual tour of the factory in our slideshow below!
Like what you see? You can purchase your own H&B apron online or at the factory, located at 3864 S Santa Fe Ave., Vernon, CA.
Take a tour of the Hedley & Bennett apron factory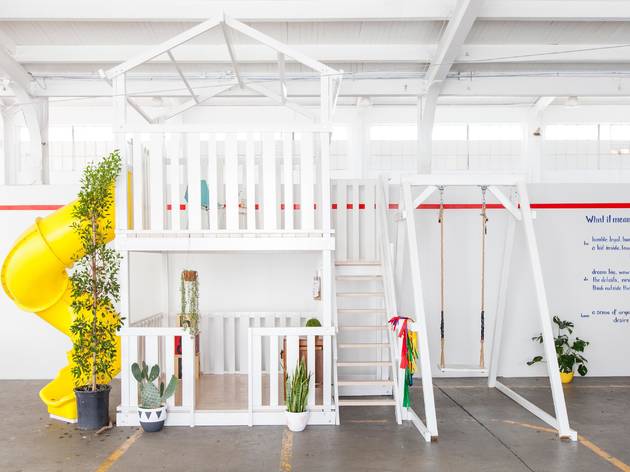 Photograph: Jakob N. Layman
Walk into the Hedley & Bennett factory and you'll immediately be faced with a playground set, complete with treehouse, slide and swing. The space underwent massive renovations before H&B moved in, and the main goal was to create a bright, fun and inviting space. Bennett's own office overlooks the factory floor, and a zipline—yes, you can ride it—stretches across the reception area.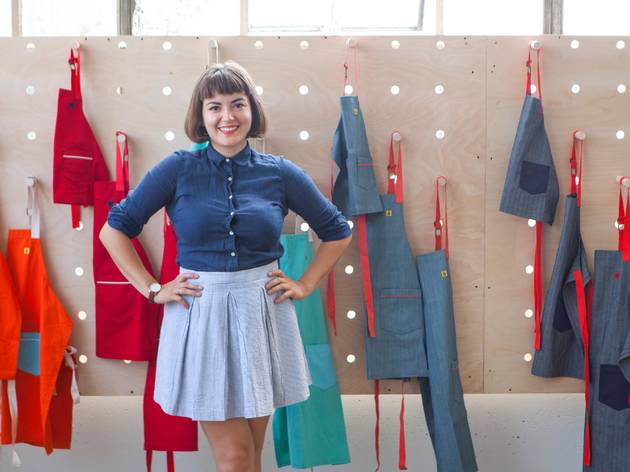 Photograph: Jakob N. Layman
Bennett has always maintained an open-door policy at her factory, but this is the first time it's been official. "There's not a right way to do business, but I want to do it my way and I want it to be special," she explains. "So we hired a Happiness Deliverer to receive people with hugs, give them ice cream, walk them around and get them whatever they want." Free ice cream? We're sold.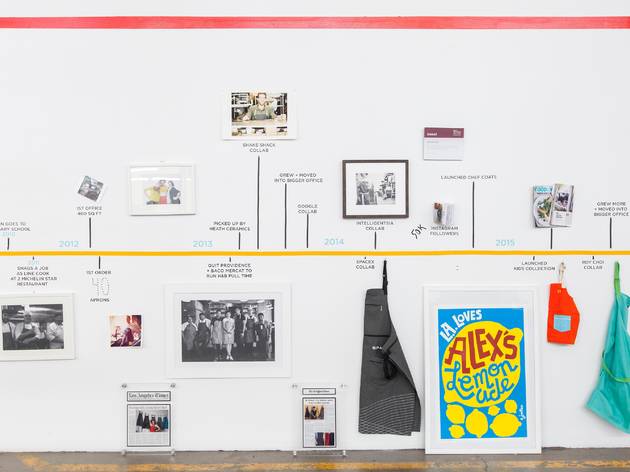 Photograph: Jakob N. Layman
The tour, which is free and doesn't require a reservation, starts with a timeline of H&B's success: Bennett quitting her restaurant job, 50k Instagram followers, partnerships, an article in Food & Wine. When asked whether it feels like the past three years have flown by, Bennett explains, "It feels like eternity. It feels like I don't remember what it was like before I was making aprons. We work our asses off every day, so we live, eat and breathe aprons."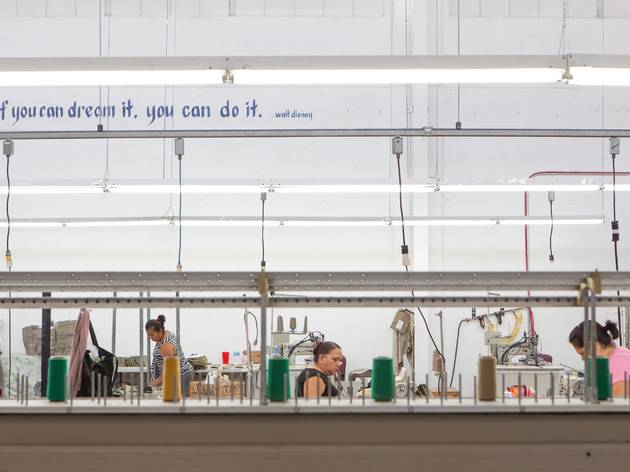 Photograph: Jakob N. Layman
The company has grown at such an astonishing rate (Bennett says they now make, on average, 1,500 aprons each week) that it's hard to imagine her sewing aprons on her living room floor (which she totally did). Now, 40 employees work here. "You can walk in for a tour at anytime," says Bennett. "We want it to be very open and tangible. I want to show people: This is what 'Made in America' looks like."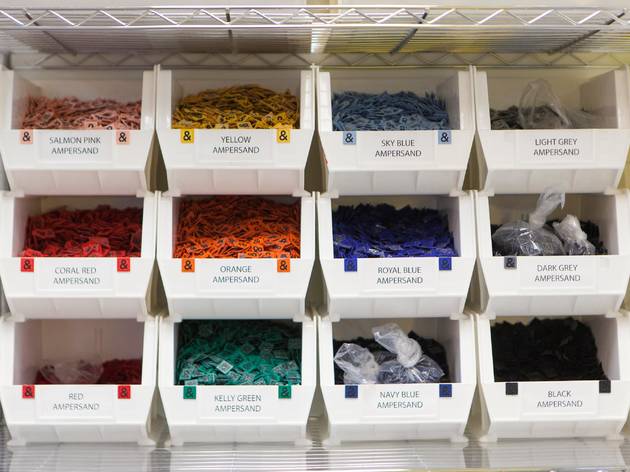 Photograph: Jakob N. Layman
Past the pre-production area and the sales office is the printing room, where different fabrics are stored and the signature H&B ampersand logos are arranged by color. While there are plenty of pre-made aprons, people often come in wanting one custom-designed. "But not all the ideas are well thought out," she says, "so that's where our team literally walks them through it. It's almost like a doctor diagnosing someone. We ask them questions and decide what path we can take, whether it's screenprinting or custom colors. You'd think we're building rockets."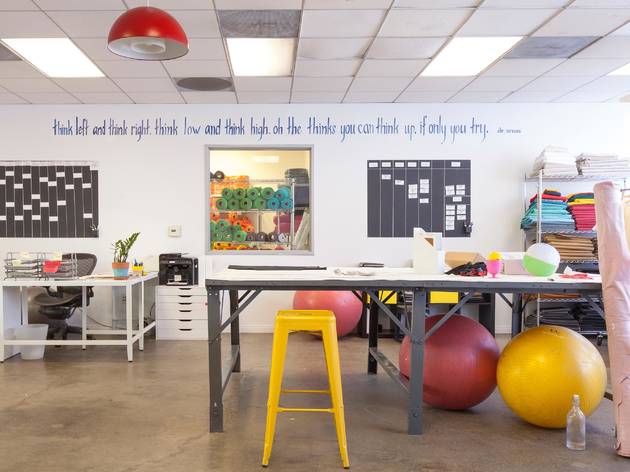 Photograph: Jakob N. Layman
The shipping room is a brightly colored space where apron orders are prepared with care. "A lot of restaurants will place a big order," Bennett explains, "so we'll house it for them. It's great for us too because it's all in one place. And we hand package every single order."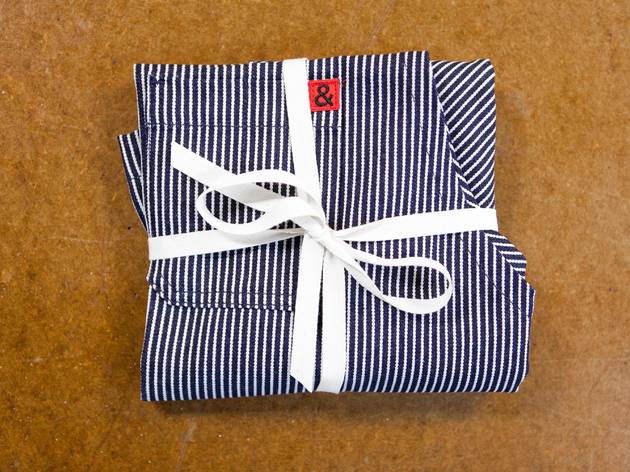 Photograph: Jakob N. Layman
To have a H&B apron arrive in your kitchen is a cause for celebration. "We send everything out with hand-tied bows," says Bennett. "Every package gets a note. Every sales rep writes a letter and sometimes puts candy in the box. It's a special thing when someone gets our aprons, and we want them to feel that." The Apron Squad—Bennett's name not only for her customers, but for her friends, coworkers and and industry colleagues who wear her product—has an impressive roster: Nancy Silverton, Richard Blais, Mario Batali, David Chang, Brooke Williamson and Jesse Tyler Ferguson, to name a few.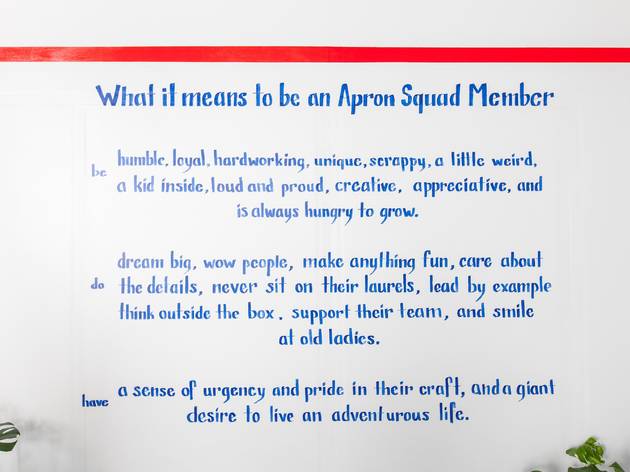 Photograph: Jakob N. Layman
The H&B factory walls are peppered with inspirational quotes. And back at the front of the factory, next to the treehouse, is this Apron Squad creed (pictured above). "We want to make the world a happier and better place through aprons," says Bennett. "We're using aprons as a vessel. To be able to do that and have a space to offer chefs, to donate aprons to a charity—those are the things that drive me. We appreciate the success that we have and never take it lightly. I make sure everyone who works for us thinks like that and has that happy factor to them." It's clear that her happiness is contagious—and once you take a tour of the factory, you'll be smiling from ear to ear, too.