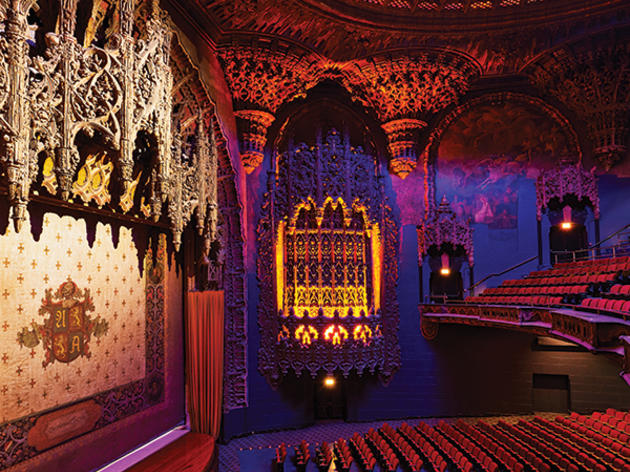 When the new Ace Hotel opened in early 2014, we didn't just gain a super hip hotel in an up-and-coming part of DTLA. We also got a jaw-droppingly beautiful 1920s movie house-turned-performing arts space, which has since billed an impressive lineup of performances, concerts, movie nights, lectures and more. The former flagship United Artists Theater is a 1,600-seat house with a beautifuly ornate, three-story lobby. When you visit, make sure to step out from under the balcony to admire the vaulted ceiling with thousands of shimmering mirrors.
Venue name:
The Theatre at Ace Hotel
Contact:
Address:
929 S Broadway
Los Angeles


Do you own this business?
Uncabaret

Even comedians need a place to vent and find their voice. Enter Uncabaret, the personal storytelling and alt comedy showcase that's been an L.A. staple for over two decades. While the show fosters fresh slates of up-and-coming talent, it's been a fixture...

Stand-up

Sunday November 18 2018

Cat Power

Chan Marshall is gutsy indie crooner Cat Power, who made her name as a cripplingly shy performer of bone-scrapingly raw and mostly acoustic songs. She's since grown in both stature and confidence, but her music is still astonishingly direct and vulne...

Rock and indie

Wednesday November 21 2018

Pee Cast Blast

Spend an entire day at the Theatre at Ace Hotel as nearly all of podcasting's funniest comedians come together for a "Monsters of Rock"-style event. Pee Cast Blast's lineup includes—deep breath—Comedy Bang! Bang! (featuring Scott Aukerman, Paul F. Tompkins...

Podcast recordings

Saturday December 15 2018
Rating Breakdown
5 star:

0

4 star:

2

3 star:

0

2 star:

0

1 star:

1
Beware the Theater at Ace Hotel…
Saw Jerry Lee Lewis there a couple weeks back, several members and pockets of the crowd were extremely drunk and belligerent.As regular rock n roll concert goers, this normally wouldn't faze us at all, but this crowd was crossing the line regularly, particularly the group right next to us.They were so out of control, we actually complained to management (which we have never done at any gig in our lives…) and asked to be seated elsewhere, pretty much ANYWHERE elsewhere would do, as long as we could get a reasonable distance away from this really obnoxious group.
So they changed our seats, putting us directly BEHIND this group, as opposed to being seated right NEXT to them.Really?What part of "we are specifically trying to get away from this one cluster of drunken idiots before a brawl breaks out" was misunderstood?Clearly, little logical thought or consideration was given to this issue by the House Manager, despite telling her our prior seat locations multiple times.After 3 songs, we left, as they were just too out of control.I expect it when I'm in a mosh pit, but not here.
Complained again to the so-called management on the way out and gave her my contact information, she promised someone would contact me in the coming week to discuss, never heard from them, and that was almost a month ago.Going to their website provides no legitimate contact info or any way to pursue with a human being, in typical corporate fashion.
Bottom line; once they have your money, the Theater at Ace Hotel does not care about crowd safety or control, beyond lip service.If you do have an issue that requires their help, yer outta luck and there's no accountability…
This theater is beautiful, but that's expected when a classic space is restored. I much prefer it for films than as a concert venue (only because I find seating at a concert to be limiting), but it's nice for almost any sort of event. I saw a Tron screening here a couple years back, and also saw Allen Stone perform a show here. For both events, I had no complaints other than wishing I had a seat closer to the front. Definitely will be back again one day soon.
If you've never been to the Theatre at the Ace, you absolutely must in order to the see this gothic beauty with a hauntingly exciting feel. Many cool events are put on in the lobby of the theatre, but its narrowness can make you feel cramped if the place is near capacity. The actual theatre auditorium is very well kept and maintains its historic grandeur. The rooftop of the Ace is a fun place to head over after any event in the theatre.