Free workouts: Top circuit training parks in LA
Forget your trainer—get in shape with free workouts at the best circuit training parks across the city.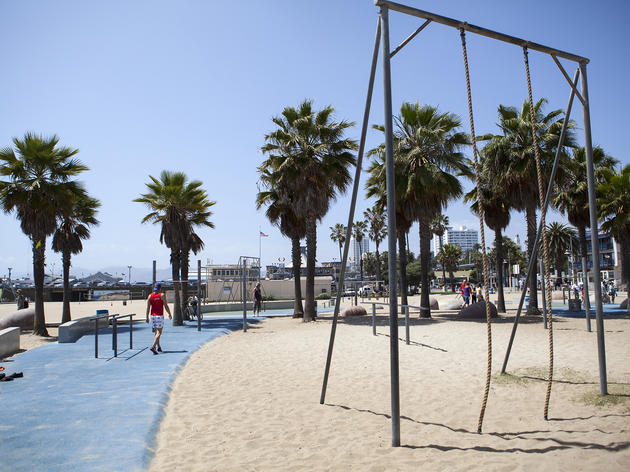 Looking for a free workout? Angelenos know where to go for their free events and attractions—even places for their free music fix and cheap eats. Rev up your workout and head outdoors to the best free circuit training parks, located across the city—from beaches to mountain tops—and get fit without having to open your wallet.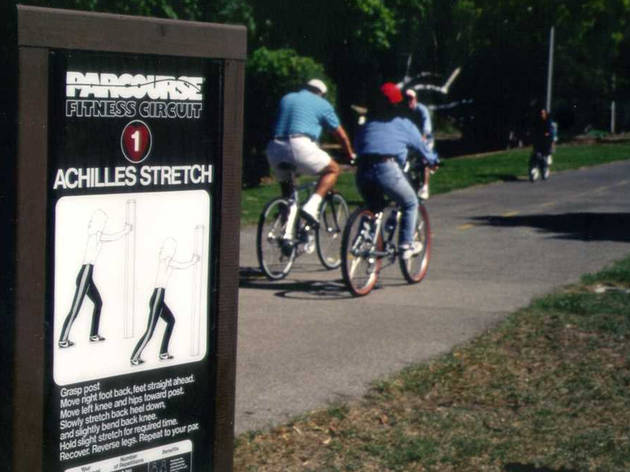 The workout: 18-station par fitness course that are lined up from start to finish with detailed instructions and illustrations of each workout. Do the entire circuit for a full body workout or choose a specific station. The scene: Bike paths surround this grassy island, located adjacent to Admiralty Way and across the Ritz Carlton Marina del Rey. While the equipment is made of dark wood (beware of splinters) and may be rusty at some stations, the atmosphere—just a block away from the ocean—is serene and mostly quiet. How's the parking?: There's a public lot ($0.25 for each 15 minutes; $8/day) with only a limited amount of spots attached to the fitness course, complete with bike storage locker—ideal for the cardio portion of your workout. Bonus: Need to warm up? There are even stretching stations separate from the par course as well as a heart check guide on ideal beats per minute for the ultimate workout. Plus, for the afterwork crowd, the park is lit for night workouts.
Where I go for free workouts...
Hear the inside scoop from top LA trainers on where they go for free circuit training workouts.
Gunnar Peterson
"Roxbury park has a baseball field with lawn bowling, basketball courts and a kids area. When my kids were younger, I used to take them there and make up my own circuit, like 10 pull ups, 10 push ups. Another place is UCLA's Drake Stadium. What's cool is that at the north end of the stadium there are pull-up bars and there may be rings and monkey bars. you can create a sick circuit with sprints, footwork drills at the end of the track at one of the outside lanes because you're closer to the monkey and pull-up bars and then drop down and do some ab work. Pick your spot and create your own rhythm."
Ashley Borden
"Fryman Canyon has a three mile loop and you can take your dog, which is great. The nonprofit TreePeople has set up areas with picnic benches, where you can do step-ups and push-ups. They has have push-up and pull-up bars at the top section. The terrain changes varies from cement to dirt and has a nice grade. It's not as crazy crowded as Runyon Canyon since there are many ways to enter and it has a nice parking lot, too. Ideally, if you're going with your animal, go in the morning or after the sun goes down because it gets too hot. They have a water fountain on the trail for both dogs and humans as well."
Steve Moyer
"I love steps especially the Beachwood Canyon steps—if you're coming from West Hollywood drive east or from Echo Park go west and get to Franklin and go north on Beachwood until you get to Woodshire. Just look out for them, they are kind of hard to see, they are near the Beachwood and Woodshire cross streets. There are two fantastic steps the first one is 148 steps and if you run all the up the road a little further up there another 120 steps. That's a really wicked staircase, almost 300 total. I've never seen a mob of people there, the most amount of people I've seen is one or two people other than myself. You want to make sure that it's not too hot when you go. There is another staircase a mile up that's about 180, those are good too—the last 50 or so are actually very steep. I see how many times I can do the stairs until I can't sprint anymore. It's a good way to test yourself."
Ramona Braganza
"I love to take my workouts outdoors and find it's easy to use my 321 Training Method especially along the Marvin Braude bike path in Marina Del Rey. I begin my workout with a bike ride or a jog from Washington then along Admiralty Way. Coming to a set of pull-up bars at the crosswalk before the fire station, I do a circuit which includes three exercises in a row, pull-ups, push-ups and a set of squats. I usually do these three times through then I head back along the trail, either on my bike or jogging. Along the way when I pass a bench I do my second circuit. This includes push-ups with my feet on the bench to target shoulders, step-ups and triceps dips. I finish with the Core work on a patch of grass and then back on my bike or jog back home. The best time to go is before the day gets busy with car traffic, so I like to do this early at like 8am."