Heads up! We're working hard to be accurate – but these are unusual times, so please always check before heading out.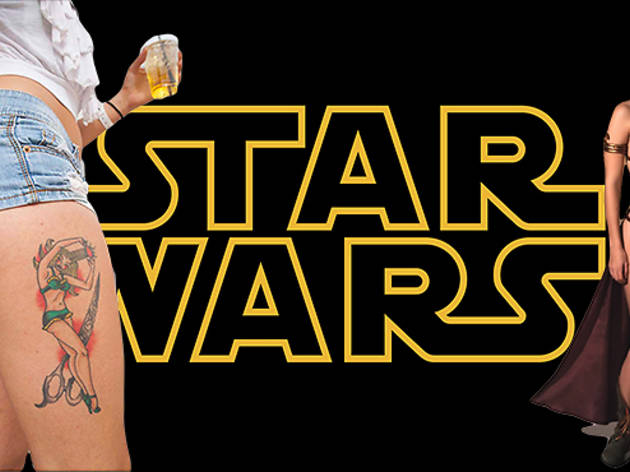 1/15
Photograph: Jakob N. Layman (booty shorts)
Slave Leia: Booty jorts Thirty years ago a generation of budding, impressionable, puberty-ridden adolescent boys laid eyes on perhaps the nerdiest sex symbol of all time: Princess Leia in her skimpy slave outfit as a prisoner of Jabba the Hutt. These days young Angelenos need look no further than eye-level on the sidewalk to find what (God help us) will define their sexual fantasy for years to come. All hail the booty jort. Relevant quote: "I remember that iron bikini I wore in Episode VI: what supermodels will eventually wear in the seventh ring of hell."—Carrie Fisher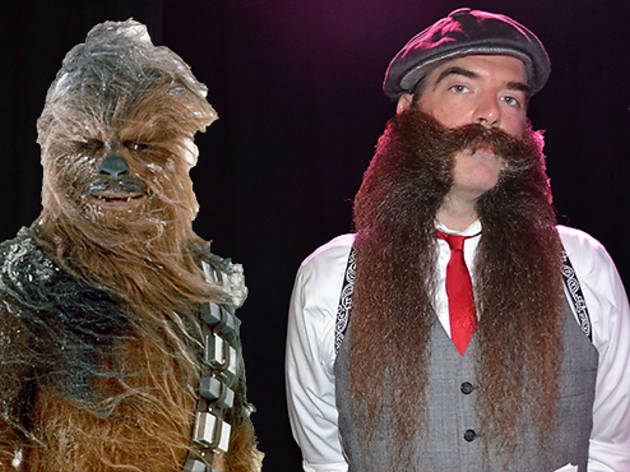 2/15
Photograph: Kate Wertheimer (bearded hipster)
Kashyyyk: Echo Park Sure, Echo Park may be missing the sprawling forests of Kashyyyk, but what it lacks in foliage this 'hood more than makes up for with hairy, bearded giants. Stay at the Short Stop long enough on a Thursday night and you might even hear some wookie mating calls. Relevant quote: Han Solo: Laugh it up, fuzzball.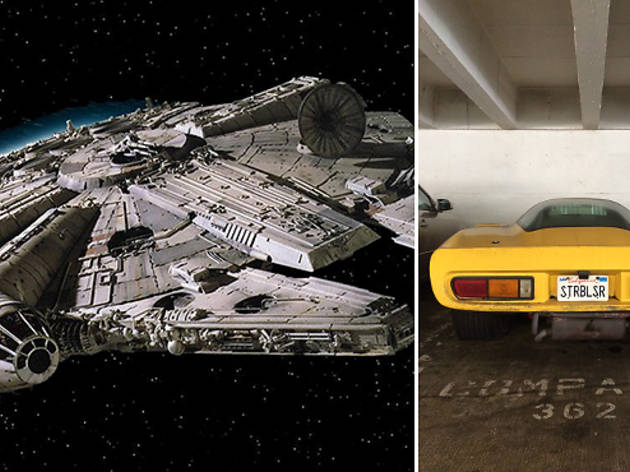 3/15
Photograph: Jakob N. Layman (STRBLSR)
Millenium Falcon: Custom whips Half the galaxy knows there's only one ship that made the Kessel Run in less than twelve parsecs, and the other half knows it's probably total bullshit. LA has no shortage of modified junkers, and the owner of each one won't hesitate to tell you how his "custom" ride can lick a Maserati in a street race (as long as it's on the right kind of pavement and at proper barometric pressure). Relevant quote: Luke: What a piece of junk! Han Solo: She'll make point five past lightspeed. She may not look like much, but she's got it where it counts, kid. I've made a lot of special modifications myself.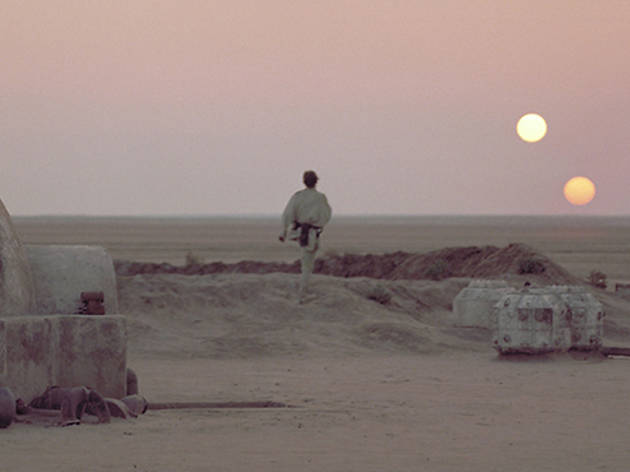 4/15
Photograph: Courtesy The Kobal Collection
Tatooine: Inland Empire It's dusty, hot and past the farthest reaches of LA's empire—take a trip to the IE to see its denizens rip through their own version of Beggar's Canyon atop quads and dirt bikes. Relevant quote: Obi-Wan Kenobi: The Sand People are easily startled, but they will soon be back, and in greater numbers.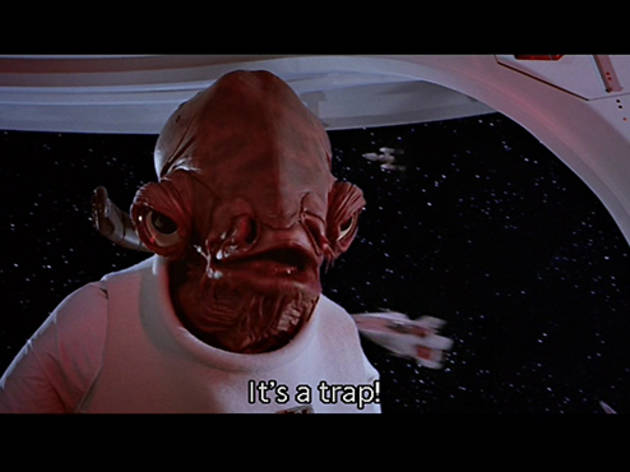 5/15
Admiral Akbar: Waze Waze is your personal Admiral Akbar, just as annoying and only helpful when it's already obvious. Sure, in theory Google's crashy traffic app lets you know when police, traffic cameras and occasional DUI traps are around the corner, but more often than not you've either already seen them or are driving off with your ticket when the alert interrupts your Wait Wait... Don't Tell Me! podcast. Relevant quote: Admiral Akbar: It's a trap!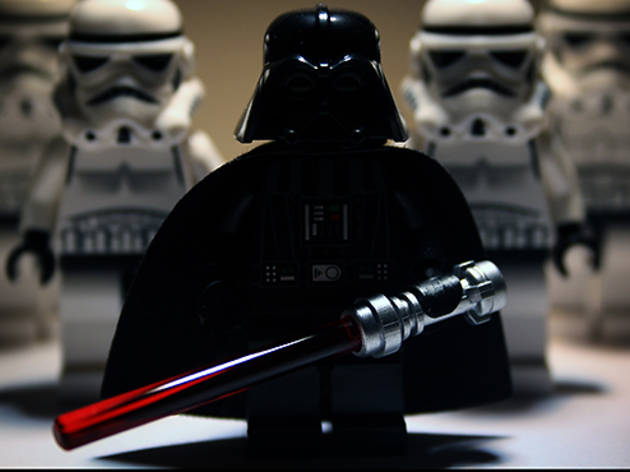 6/15
Photograph: Chris Isherwood
The Sith: Scientology Much like the Sith, Scientology's reputation precedes it and is full of mystery, mythology, and a fear of retribution. Relevant quote: Admiral Motti: Don't try to frighten us with your sorcerer's ways, Lord Vader. Your sad devotion to that ancient Jedi religion has not helped you conjure up the stolen data tapes, or given you enough clairvoyance to find the rebels' hidden fortress— [Vader makes a pinching motion and Motti starts choking] Darth Vader: I find your lack of faith disturbing.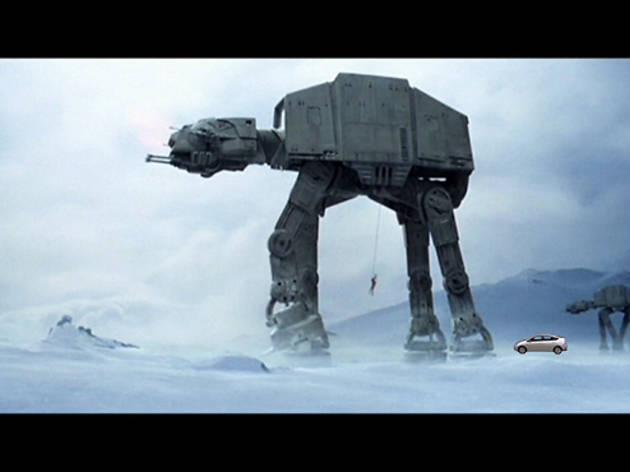 7/15
Photograph: James Benjamin Bleeker (Prius)
Imperial Walker: Prius Slow, boxy and always in your way when you have to escape from your secret rebel fortress... or, uh, turn into a crowded Trader Joe's parking lot. Relevant quote: Rebel soldier: Echo station 3-T-8, we have spotted Imperial walkers.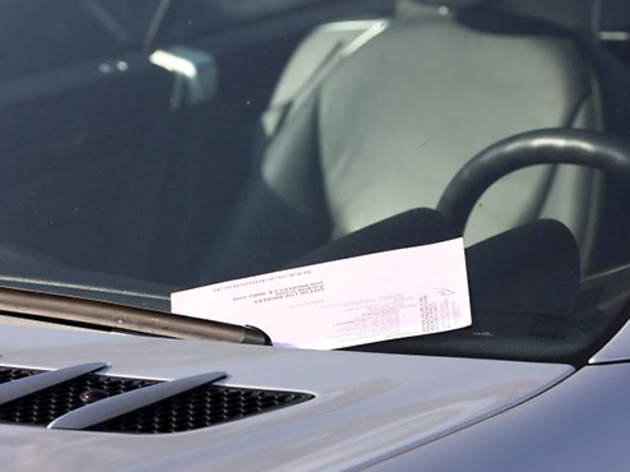 8/15
Photograph: Michael Dorausch
The Imperial March (Vader's Theme): LA Parking Enforcement theme The dread-inducing hum that fills your head at 8:01 on street cleaning days—especially when you see a parking enforcement officer striding purposefully towards your car while you're stuck across the street yelling for mercy and waiting for the light to change. Relevant quote: Darth Vader: I am altering the deal, pray I do not alter it any further…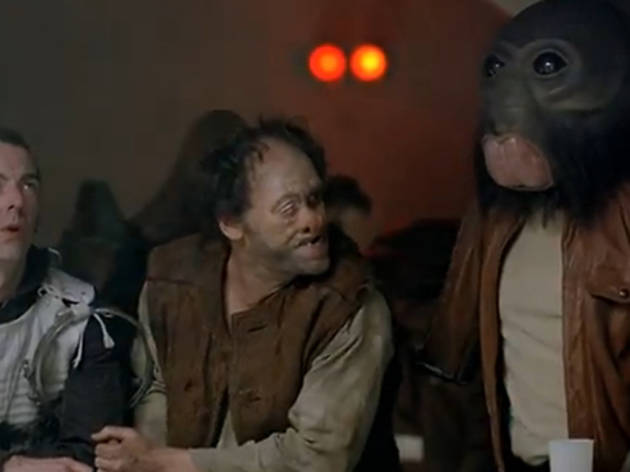 9/15
Cornelius Evazan and Ponda Baba: Rowdy Dodgers fans That you don't know their names doesn't change the fact that you know exactly who they are. Just like these two outlaw bros itching for a fight with Luke Skywalker, any stumbling Dodgers fan with a tribal tattoo is probably someone you'll want to ignore. Relevant quote: Cornelius: He doesn't like you. Luke: I'm sorry. Cornelius: I don't like you either. You just watch yourself. We're wanted men. I have the death sentence on twelve systems. Luke: I'll be careful then. Cornelius: YOU'LL BE DEAD!
10/15
C-3PO: Worthless industry award Physically he may look more like the much desired Oscar statue, but really he's about as coveted and useful as a Golden Globe. Relevant quote: C-3PO: Sir, If I may venture an opinion... Han Solo: I'm not really interested in your opinion 3PO.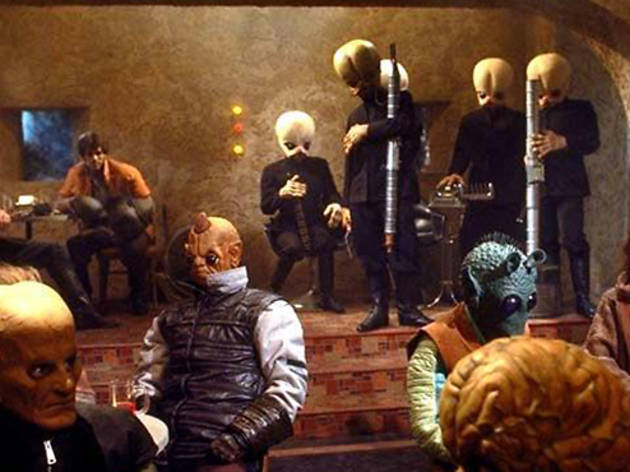 11/15
Mos Eisley Cantina Band: Marty & Elayne Enthusiastic, ageless and unfazed by rowdy patrons, Marty & Elayne have kept the dimly lit Dresden in Los Feliz hopping with catchy (and usually odd) musical numbers for decades. Whether you're stopping by in search of a tight-lipped outlaw or just to quench your thirst, LA's favorite two-piece will be there churning out the tunes. Relevant quote: Obi-Wan Kenobi: Watch your step, this place can be a little rough.
12/15
Trigger-happy Stormtroopers: Trigger-happy LAPD If there's one undisputed truth in the Star Wars universe it's that Stormtroopers can't shoot for shit, but bless their hearts, it doesn't stop them from trying. It seems the LAPD also takes the "shoot first, aim later" stance, which miraculously led to only two bullets (out of over 100 shot!) striking an LA Times delivery woman mistaken for a rogue police officer earlier this year. Yeesh. Relevant quote: Stormtrooper: Look sir, droids!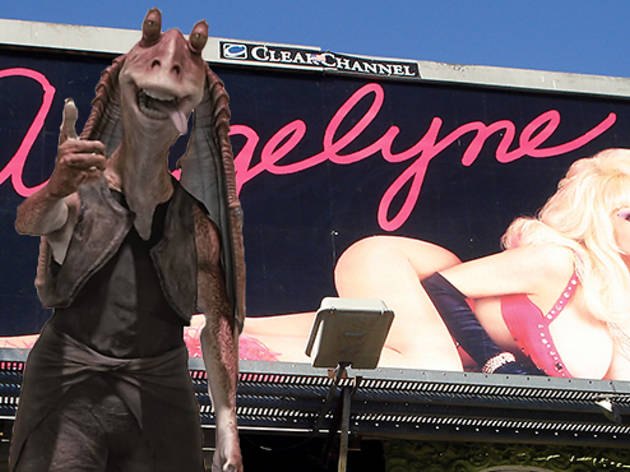 13/15
Photograph: Lord Jim (Angelyne)
Jar Jar Binks: Angelyne Similar to the largely disliked Gungan, nobody knows where she came from or why she keeps showing up, but Angelyne and her pink Corvette have somehow forced their way into becoming permanent fixtures of the Los Angeles mythos. Relevant quote: Qui-Gon Jinn: You almost got us killed! Are you brainless? Jar-Jar Binks: I spake! Qui-Gon Jinn: The ability to speak does not make you intelligent.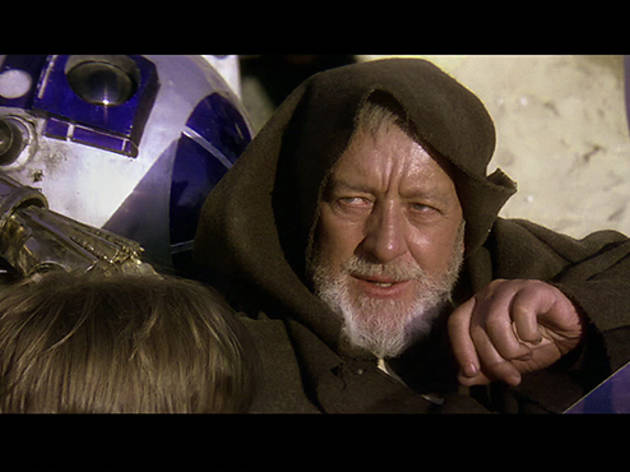 14/15
Jedi mind trick: Slick parking moves Somehow you were talked into eating lunch at the Original Farmer's Market and now it seems your only hope at finding parking before the free two hours runs out is pulling Jedi mind control over the other driver eying that last space. Relevant quote: Obi-Wan Kenobi: These aren't the droids you're looking for.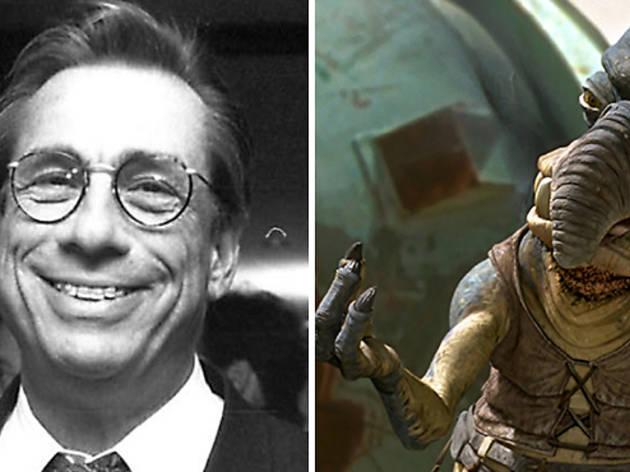 15/15
Photograph: Cliffwildes (Donald Sterling)
Watto: Donald Sterling George Lucas may have pushed the envelope a bit far with this swarthy merchant alien, composed of a few too many dangerously specific "greedy Jew" stereotypes. But really, it's his callous nature and his cringe-worthy performance that makes him a prime candidate for a match to LA's latest embarrassment. Relevant quote: Anakin Skywalker: My mother... Watto: Oh, yeah. Shmi... she's not mine no more. I sold her. Anakin Skywalker: Sold her? Watto: Years ago. Sorry, Annie, but you know, business is business.
If Star Wars were set in Los Angeles
Want to experience the Star Wars universe? You can do that right here in LA.