"Natural History of Horror"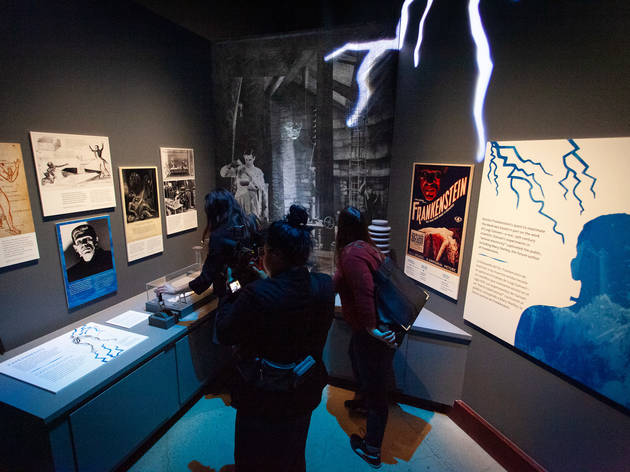 1/4
Photograph: Michael Juliano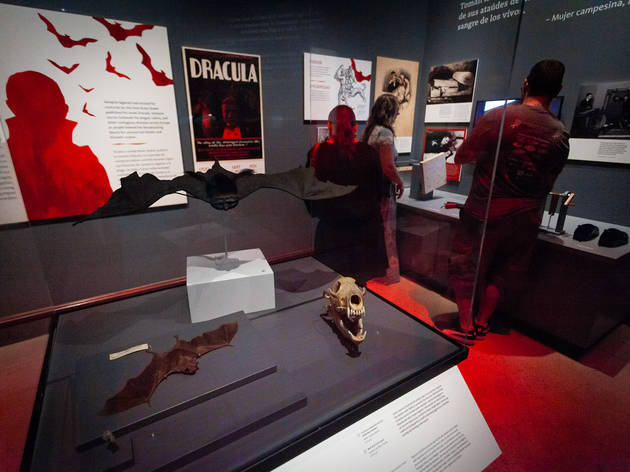 2/4
Photograph: Michael Juliano
3/4
Photograph: Michael Juliano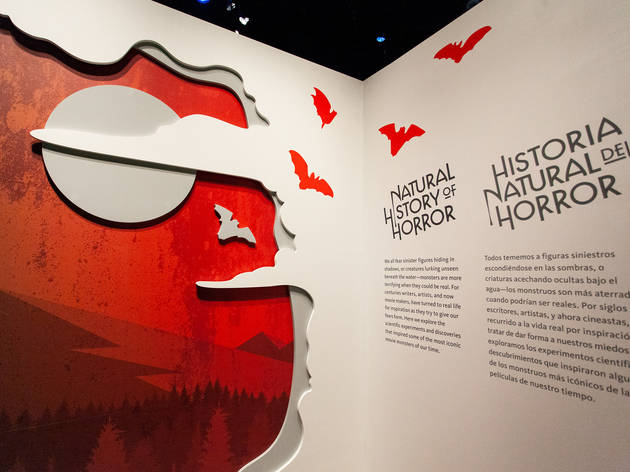 4/4
Photograph: Michael Juliano
Time Out says
It's alive. It's alive!
The Natural History Museum is taking a look at the science and history that inspired some of film's most iconic, hideous creatures. "Natural History of Horror" showcases scientific breakthroughs, like early experiments in animal electricity, (mis)understanding the spread of diseases, the discovery of the first living coelacanth and the excavation of King Tut's tomb, to explore how they influenced old-school monster movies, including Frankenstein, Dracula, Creature From the Black Lagoon and The Mummy.
Back in the 1930s, Universal Studios donated around 50 props to museum's still-growing moving images collection. You'll find some of these, like actor Boris Karloff's wrappings from The Mummy and a pair of shackles from Frankenstein, alongside their real-life inspirations: millennia-old mummified Egyptian figurines and preserved frog specimens, to name a couple.
At the center of the small gallery, clips from the four highlighted films play out. Sure, they all seem stylistically silly by today's standards—look no further than the featureless face of a wood-and-cloth bat that's pinned right next to an actual vampire bat specimen. But the monster designs, like the silicone reconstruction of the Creature from the Black Lagoon suit, are timeless and tap into our imaginations' ability to take a stranger-than-fiction truth and stretch it into something fantastical (see: vampires, missing link sea monsters and walking, talking mummies).
Unlike most of the museum's exhibitions, which take years to plan, this single-room show was pulled together in a matter of months. But the interactive elements on display are both informative and tons of fun; you can take a crack at some foley work with creaking clanks and clonking coconuts to supply sound effects for a scene from Dracula, and with the throw of a switch, you can reanimate an appendage and pretend you're bringing life to Frankenstein's monster. We can only imagine what an even bigger show could pull off—and the museum says visitors' responses to this exhibition will inform future ones.
Make sure to look out for special screenings and discussions tied to the exhibition, including Dracula (Oct 11), Creature from the Black Lagoon (Feb 14), Frankenstein (Mar 26) and The Mummy (Apr 10).
Details
Users say