The best wedding venues in Los Angeles and beyond
The best wedding venues in LA and beyond vary from a beautiful mansion to lush gardens, Malibu ranches and coastal gems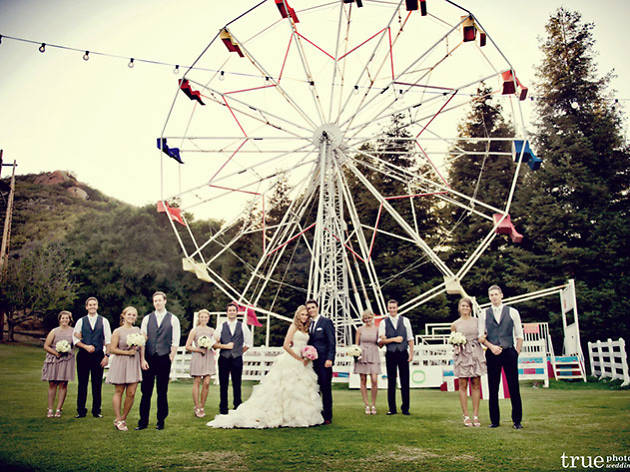 A lot goes into picking the right wedding venue—cost, location, vibe, indoor/outdoor options, venue rules—so it's hard to pinpoint the best wedding venue for every couple out there. Believe it or not, there are indeed some cheap wedding venues in LA, or you can keep it simple and opt for a city hall or courthouse wedding too—but just in case you're looking for a wide variety of top-notch spots, we've gathered up the places that we consider the best wedding venues in Los Angeles and nearby. A few may be out of your price range (unless you have a giant engagement ring on your finger), but these are some of the most beautiful places in the city that you can visit, wedding or no wedding.
Note: Some starting fees include the venue rental only while other starting prices have a variety of inclusions. Please contact the venues directly for more pricing information.
RECOMMENDED: A guide to wedding planning in Los Angeles
Best wedding venues in Los Angeles and beyond
1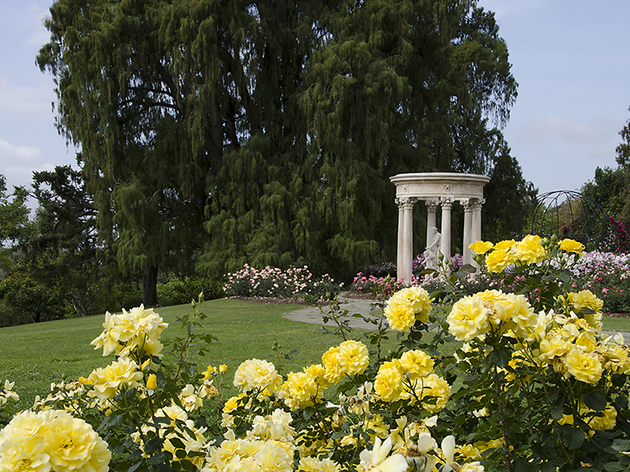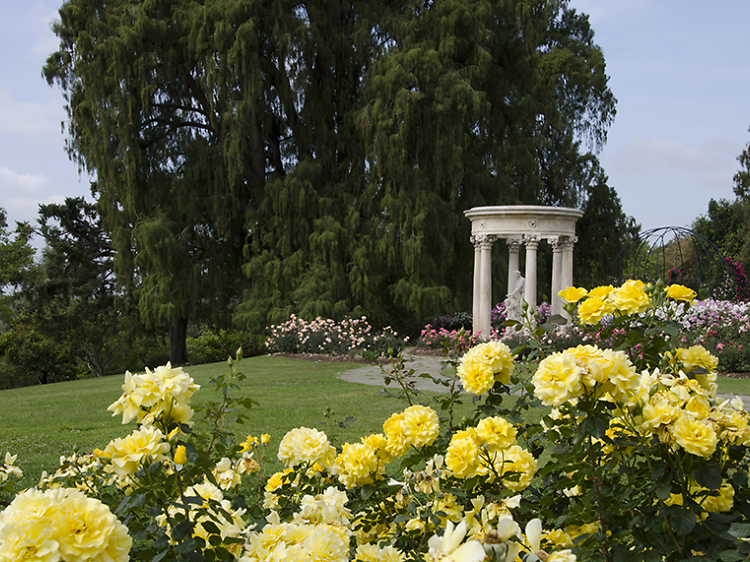 Photograph: Courtesy the Huntington
Huntington Library, Art Collections & Botanical Gardens
If you have the cash, the hefty price tag to get married in the Huntington's magnificient gardens is worth every single penny. There are multiple areas where the ceremony can take place, all of which vary in style and theme, but our personal favorites are the Rose Garden, with more than 1,400 cultivars of roses, or in front of the North Vista fountain. While celebrities flock to faraway destinations like Italy and France for over-the-top weddings, the Huntington offers a fairytale set up right here in Southern California. Rental fee prices start at $50,000 for ceremony and $150,000 for both ceremony and reception. Contact Huntington Library to find out what else is included in this price.

2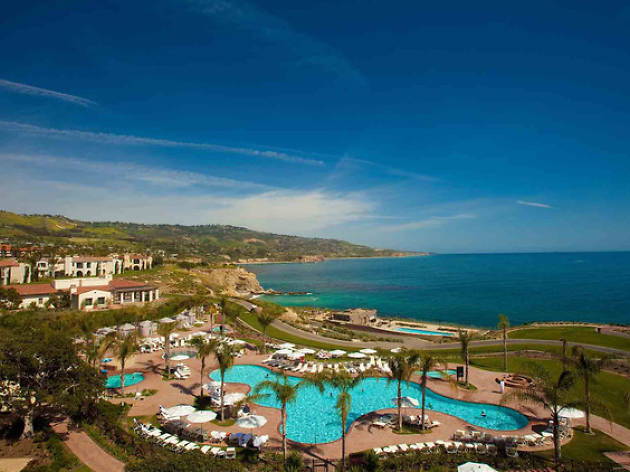 Photograph: Courtesy Terranea Resort
Always dreamed of a destination wedding? Well, now you can have the best of both worlds. Situated on the beautiful coast of Rancho Palos Verdes, at Terranea you'll feel like you're miles away from the madness that can be Los Angeles, yet you're only 30 minutes from LAX. Whether you choose a wedding spot on the cliffs at the resort or one of their many ballrooms, there are endless options to make an idyllic wedding. Rental fee prices start at $2,500 for a ceremony and $160 per person for receptions. Contact Terranea to find out what else is included in this price.
3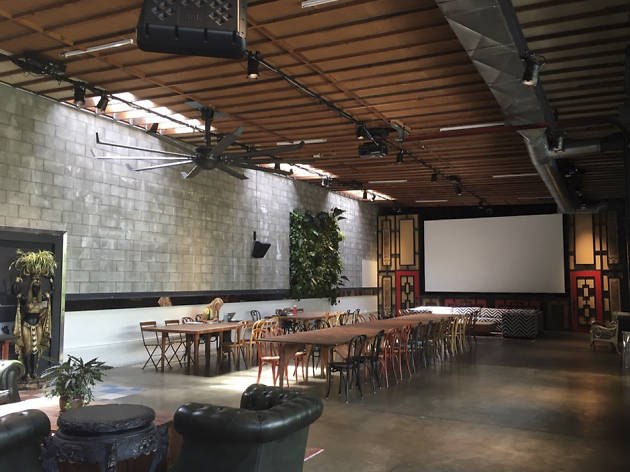 Photograph: Courtesy Yelp/Vicky P. 
Are you a green couple? No not green with envy, we're talking about being environmentally friendly. If so, SmogShoppe is up your alley. According to the venue, it's one of the greenest urban spaces in LA and the US. From solar panels that make up 100% of the venue's electricity source to a 10,000-gallon storm water management system, a 1,500-gallon rainwater tank and more than 2,000 square feet of drought tolerant vertical gardens, this venue is made for the eco-conscious couple. Plus it's beautiful; ceremonies takes place in the courtyard in front of a stunning "living wall" and receptions takes place in the grand hall. Rental fee prices start at $8,300. Contact SmogShoppe to find out what else is included in this price.
Photograph: Courtesy Yelp/Vicky P.
4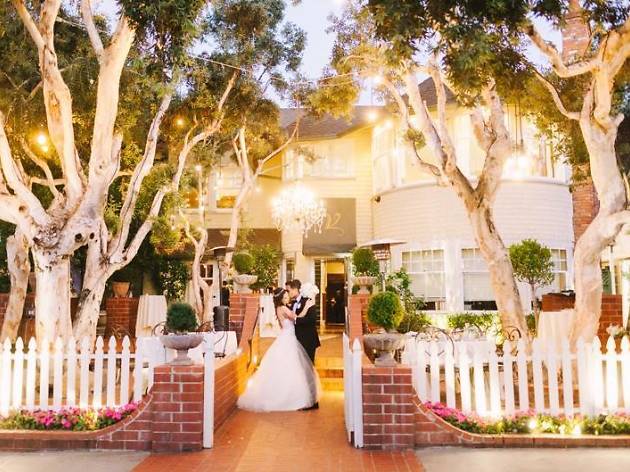 Photograph: By Koman Photography
Those looking for a vintage vibe will love the Victorian. Nestled close to the beach in Santa Monica, this Victorian house offers a unique wedding opportunity. Each room has a different vibe, from the main room on the first floor with its chandelier and wrap-around deck to the library upstairs. Mix it up and get married on the lawn outside or on the nearby beach to really make for a unique and personality-driven experience. To top it off, this place is practically turn-key, so there's not much you'll have to do planning and vendor wise. Rental fee prices start at $16,000. Contact the Victorian to find out what else is included in this price.
5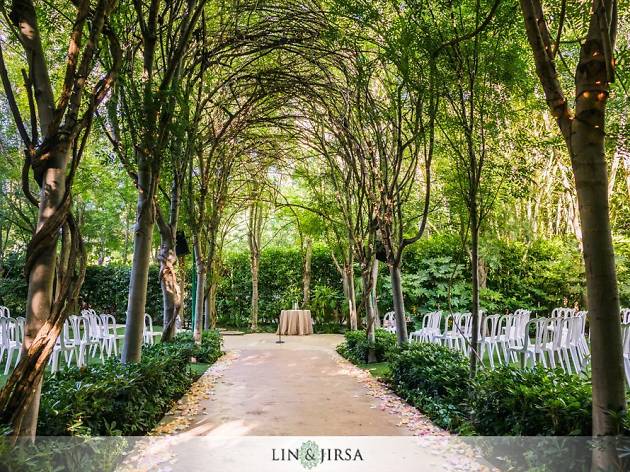 Photograph: Courtesy Yelp
Have you dreamed of getting married in a garden oasis, surrounded by waterfalls, vines and tropical landscape? Maybe an Asian-themed garden is more your style? Or perhaps you would like to get married under a large 200-year-old oak tree? If you said "yes" to any of these, we'd call Hartley Botanica to snag your date ASAP. Hartley is a paradise; and even if you're not looking for a place to get married, Hartley is a functioning nursery and its beautiful locations are open to the public when no events are taking place. Rental fee prices start at $3,500. Contact Hartley Botanica to find out what else is included in this price.
6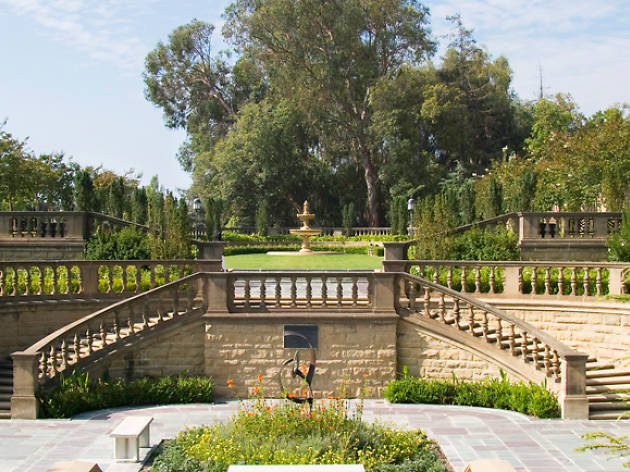 Photograph: Courtesy Greystone Manor
For just one day—ideally your wedding day—you should be able to get a glimpse into how the rich and famous feel. The glamour of getting your hair and makeup done, the beautiful dresses and tuxes—all that jazz. If you really want to amp that feeling up, choose Greystone Manor as your venue. Located in Beverly Hills, behind large iron gates, you'll feel like a celebrity having an exclusive, elegant affair at this large estate. And you have options too, you can use the property's formal garden, courtyard, terrace and interior rooms for various parts of your event. Rental fee prices start at $2,000 for ceremony only and $5,600 for both ceremony and reception. Contact Greystone Manor to find out what else is included in this price.
7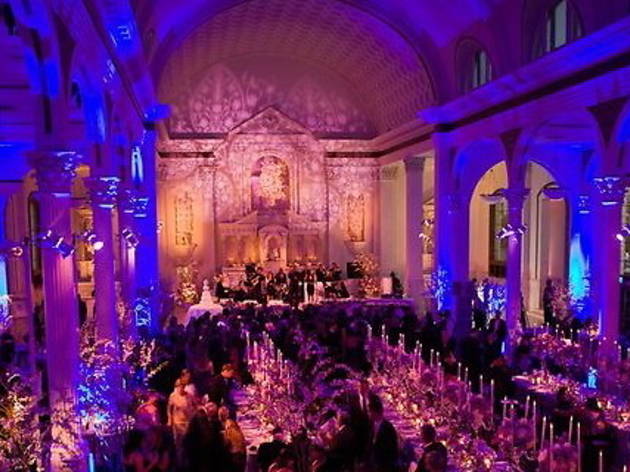 Photo Courtesy Vibiana
Vibiana
is the ideal wedding location for couples who love Downtown Los Angeles and the city's history—or just those who love architecture. Before being turned into a beautiful wedding and event space, Vibiana was LA's first
Archdiocese Catholic cathedral. Now, it's a versatile space in which couples can have weddings that pay homage to its history—or it can be a blank canvas for those who are looking to transform the spot to their own taste. Either way, we dig this place. Rental fee prices start at $4,000. Contact Vibiana to find out what else is included in this price.
8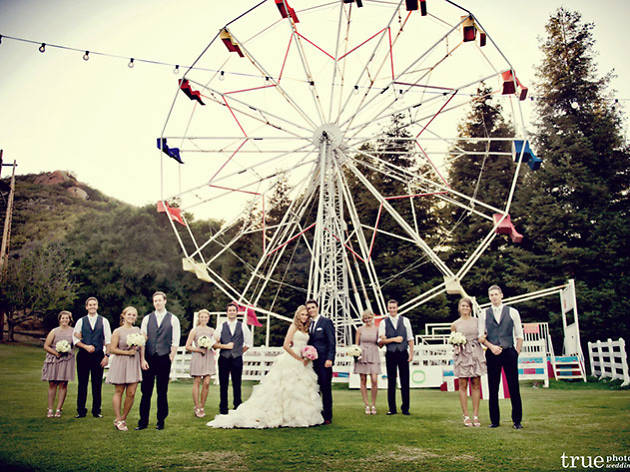 Photograph: Courtesy Calamigos Ranch
Calamigos Ranch
is located in the heart of Malibu Wine Country and is so large—130 acres total—it offers four ceremony sites and even more reception locations with a variety of vibes to please any style. From elegant to shabby chic to whimsical, Calamigos will make a couple's dream come true. The icing on the wedding cake? The venue has a farm-to-table menu, private cottages for you and your guests' needs, a spa on site and you can wow your guests by renting their Ferris wheel—how many people can say they had all that at their wedding?
Prices start at $125 per person. Contact Calamigos Ranch to find out what else is included in this price.
9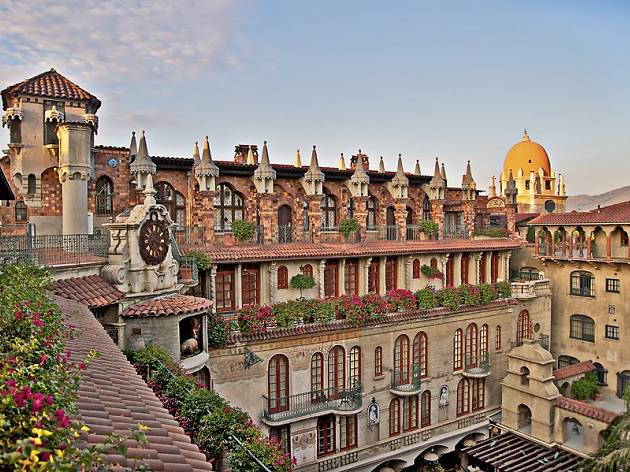 Photograph: Courtesy Mission Inn
Looking at how grandiose and beautiful the
Mission Inn
is, you may think having your wedding here would be in line with the cost of having a ceremony at the Huntington. But in reality, the Mission Inn is one of the best steals in Southern California. Though not located in LA (it's in Riverside), the Spanish-style hotel and spa's beautiful chapels and other locations for both ceremony and reception are worth the drive. A luxurious ceremony and reception, complete with a champagne and cheese cocktail experience followed by a multi-course plated dinner, can be had for roughly $30,000. We challenge you to find a place with a similar setting and perks for that price anywhere else, which is what lands it on this list. Rental fee prices start at $1,500. Contact Mission Inn to find out what else is included in this price.
10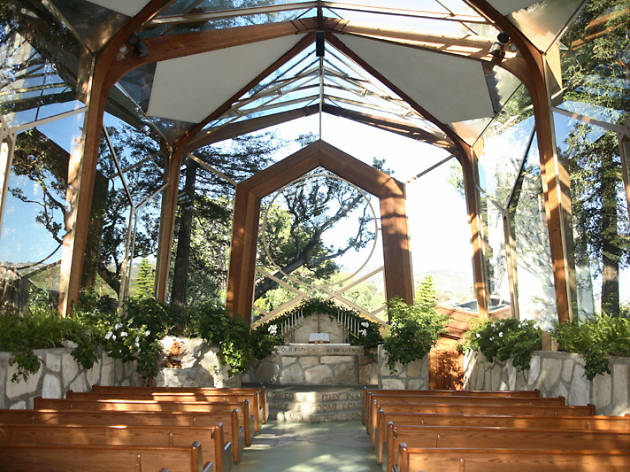 Photograph: John Borden
Okay, so one of you wants to get married in a church and the other wants to get married in a beautiful, nautral setting next to the ocean. At Wayfarers Chapel, both of your desires can be met. Located in the affluent area of Rancho Palos Verdes, this glass church has breathtaking ocean views outside and stunning architecture inside. The church also already has white flowers placed around the venue, so you will save money on flowers and decoration. This place speaks for itself, and it's surprisingly affordable. Rental fee prices start at $1,500. Contact Wayfarers Chapel to find out what else is included in this price.