5 ways to get into the Magic Castle
Trying to visit the Magic Castle? Here are five ways to get into the Academy of Magical Arts' clubhouse.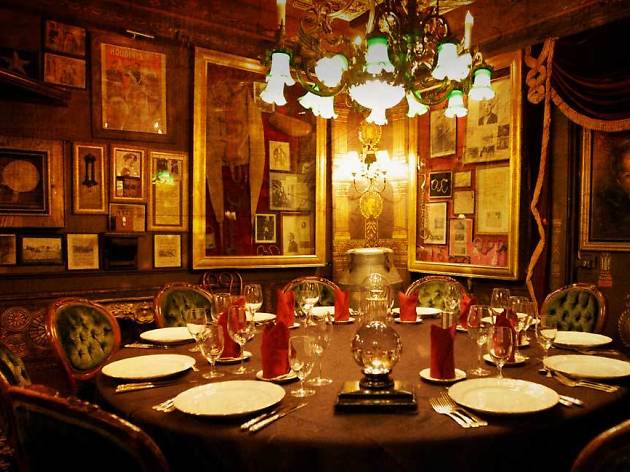 It's not too tricky to score an invite to the Magic Castle, Hollywood's members-only magician clubhouse. Since 1963, the century-old Victorian mansion has served as the sort-of-secretive home base for the Academy of Magical Arts. Step inside—reservations and formal dress are required, and no photos, please—and you'll find performance parlors, secret doors, mysterious illusions and—well, we don't want to ruin all of the surprises in store. Instead of spending years practicing your craft as a wannabe magician, you can gain access to the Magic Castle in these five ways (ranked from easiest to most difficult).
For most Angelenos, this will be the easiest way to enter. Finding a friend who can get you into the Magic Castle is like playing six degrees of separation: It's almost a sure thing that your friend's coworker's cousin can get you in. Members can hand out guest passes like candy; get one and you're in, though expect to pay upwards of $75 for the cover charge and dinner. If you attend the castle with a member, you'll forgo those fees.
If you take a look at the Magic Castle's show schedule, you'll find a list of magicians coming to the club over the next month or so. Try emailing a performer whose show you'd wish to attend and they can add you to the guest list. Just make sure to ask nicely—they're magicians, after all, so they'll know if your sincerity is just an illusion. And again, be prepared for that $75 cover charge.
Stay at the Magic Castle Hotel
Sadly, this hotel isn't in the actual castle itself. But if you stay next door, the Magic Castle Hotel can book a reservation at the club for you. It's not particularly cheap—rooms start around $200 a night—but the place has startlingly positive TripAdvisor reviews.
Consider this a follow-up to the first three options: When you're actually at the Magic Castle, you can have a photographer take a souvenir portrait (the only photos allowed inside). If you buy the photo ($20), you'll receive a guest invitation that allows you and up to seven others to return in the next six months. You'll still have to pay all of the normal fees, and the pass is only good for select dates, but it's an easy way to keep the option open to visit.
Become a member (or a magician)
You can apply for an associate membership into the Academy of Magical Arts, no magic training required. When applying, it helps to know someone who's already a member. If accepted, you can visit whenever you'd like with five guests and no door charge or dining minimum. Keep your eyes peeled for trial membership offers—in the past, the club has offered a year of admission for $250. Alternatively, if you've mastered sleight of hand then consider auditioning for a magician membership. Members of the Society of American Magicians and the International Brotherhood of Magicians are also welcome to visit.