Catalina weekend getaway guide
Looking for easy weekend getaways? Check out our top tips for where to eat, drink, play and stay in Catalina's two very different towns.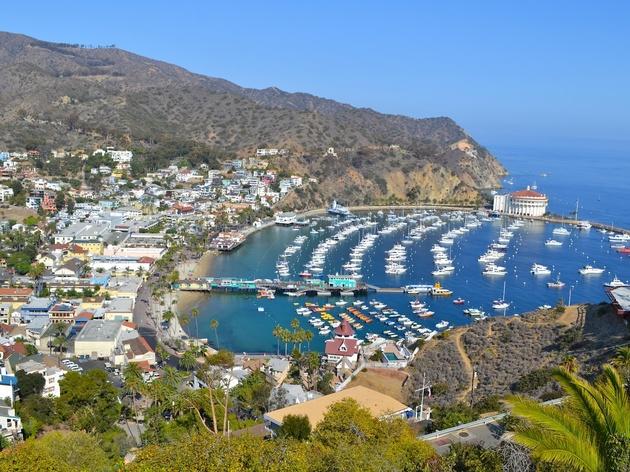 If you're looking for weekend getaways out of LA, Santa Catalina Island is a close and beautiful bet. The little strip of land—accessable by ferries from Long Beach or San Pedro—has all the makings of a well rounded vacation: Rich history, beach town relaxation and outdoorsy adventure. It's only 22 miles from the mainland, but whether you stay for a day or the whole weekend, you'll be on island time in no time. Like many popular vacation destinations, parts of Catalina (namely Avalon) exude touristy resort culture. It's a walkable, something-for-everyone kind of village where people flit around town in golf carts (full-sized vehicles are super rare in town, and on most of the island), shop in beach boutiques and stroll along the boardwalk with ice cream. There are plenty of restaurants (and a few choice dive bars) to choose from, and a fair amount of tourism mainstays (a zip line, a ritzy beach club, Jeep and heli tours—you get the idea). The history here is rich and beautiful: William Wrigley Jr.—of chewing gum and Chicago Cubs fame—at one time owned over 90 percent of the island. You can hike to (or stay in, if you've got the dough) his former residence, which sits atop a hill overlooking town. Herds of buffalo roam the interior of the island, descended from a much smaller herd that starred in a Western filmed there in the 1920s—and that Wrigley allowed to remain on the island after the movie folk forgot to remove them. There's also a gorgeous art deco casino which used to host regular dances, and is today reserved for special events, when it's not being used as the island's only movie theater. Make sure to check out the under-the-sea tile murals even if you don't go inside (which we highly recommend you do). If an outdoorsy, off-the-grid island trip is more your style, there's plenty of mountains and coastline to explore while hiking or biking, and lots of wildlife to see. Eighty-eight percent of the island, including 48 miles of coastline, is protected land and if you spend time outside of Avalon during your stay, there's a good chance you'll see buffalo, bald eagles, foxes, dolphins, whales and bright orange garibaldi among the striking kelp beds. For a less touristy destination—almost the opposite of Avalon, and great for campers and backpackers—check out Two Harbors (the ferries stop there, too). It's a one-horse (or restaurant, or general store, or hotel) kind of town where kayaks and stand-up paddle boards probably outnumber the permanent residents. Because it's so different from Avalon—and because you really need more than just a weekend to see both—we've given Two Harbors its own section in our guide. Read on for the best restaurants and bars, off-the-beaten-path things to do and places to stay in Catalina, both in Avalon and its laid-back sister town of Two Harbors.