World Pride Madrid 2017: The best of the LGBTI celebrations
From June 23 to July 2 Madrid becomes the world capital of LGBTI Pride, a celebration of diversity with concerts, art, performances and things to do in Chueca and around the whole city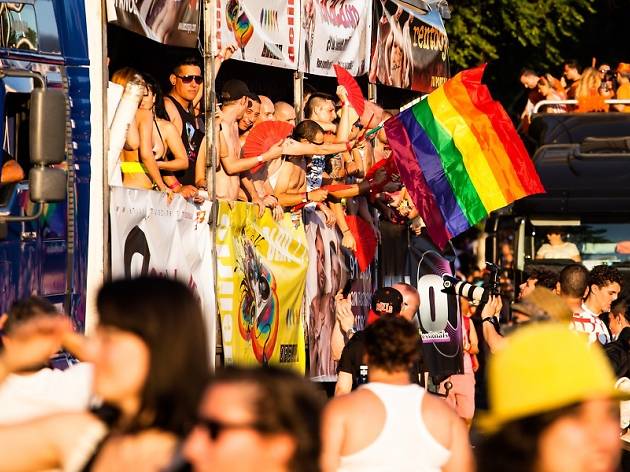 Madrid is a proud city. Proud of its diversity, of embracing multiple cultures, and of its hospitality. And this year Madrid is prouder than ever, because from June 23 to July 2, the Spanish capital is the city chosen to celebrate World Pride, the big worldwide LGBTI Pride festival on in the Chueca neighbourhood and some of the main streets in town. As with every year, cultural spaces, bars and other venues in the area pull out all the stops for a singular celebration that expects to host millions of revellers.
Concerts, parties, art exhibitions, dance performances and more make up the programme of what's on, with Pedro Zerolo giving the opening speech on June 28 at 8pm to start off the offical acts and traditional demonstration and parade. This year, the demonstrators start at 6pm on July 1 from Atocha and finish around midnight at Plaza de Colón. Brought together by COGAM (Collective of Lesbians, Gays, Transsexuals and Bisexuals of Madrid) and FELGTB (Spanish Federation of Lesbians, Gays, Transsexuals and Bisexuals), there will also be a festive air to the proceedings – in addition to calling attention to the missions of these groups – thanks to the parade of floats that accompany them.
And finally, new this year there's a children's space, Chueca Kids, in the Puente del Rey, with an area that boasts games, workshops and concerts for the little ones, as part of the WorldPride Park. Alongside everything else is the Summit World Pride 2017, a global conference on human rights that will be held on the Cantoblanco campus at the Universidad Autónoma de Madrid on June 26 to 28.