When you're too old to chase the ice cream truck, you turn to the next best thing to cool off: boozy frozen cocktails. One giant leap above summer's standard umbrella drinks, slushies with alcohol (and even spiked ice cream floats!) are what you've been waiting all year to sip by the pool or at your next happy hour.
A Day at the Spa at Repour Bar
The health benefits of this green, gin-based drink are dubious, but the mix of matcha-aloe syrup, cucumber juice and fresh mint does make it super refreshing.
Ice cream float at Ariete
Your post-work drinking routine just got a whole lot sweeter thanks to Ariete, which introduced a boozy cocktail float to its happy hour menu. Stop in on weekdays between 4 and 7pm and enjoy a half-price float made with house-made ice cream and spiked with Not Your Father's Root Beer, Fernet Branca and Luxardo liqueur.
Frosé at Pawn Broker
Up the ante on your favorite summer wine by ordering it frozen. This rooftop bar makes its version a little differently: The pink drink is spiked with blackberry and grapefruit liqueurs before going into the slushie machine.
Blood in the Sky at Barton G. the Restaurant
This boozy tribute to Prince is made with blackberry puree, lemon juice and sugarcane nectar. Plus, it's spiked with a gin liquid nitrogen-pop, which makes the drink stronger as it melts.
Guayaba Dream Slush at SUGARCANE raw bar grill
If you like Cuban guava pastelitos, you'll love this fruity, frozen concoction. The Ketel One vodka slushie is sweetened with guava puree and features orange bitters and a splash of Disaronno.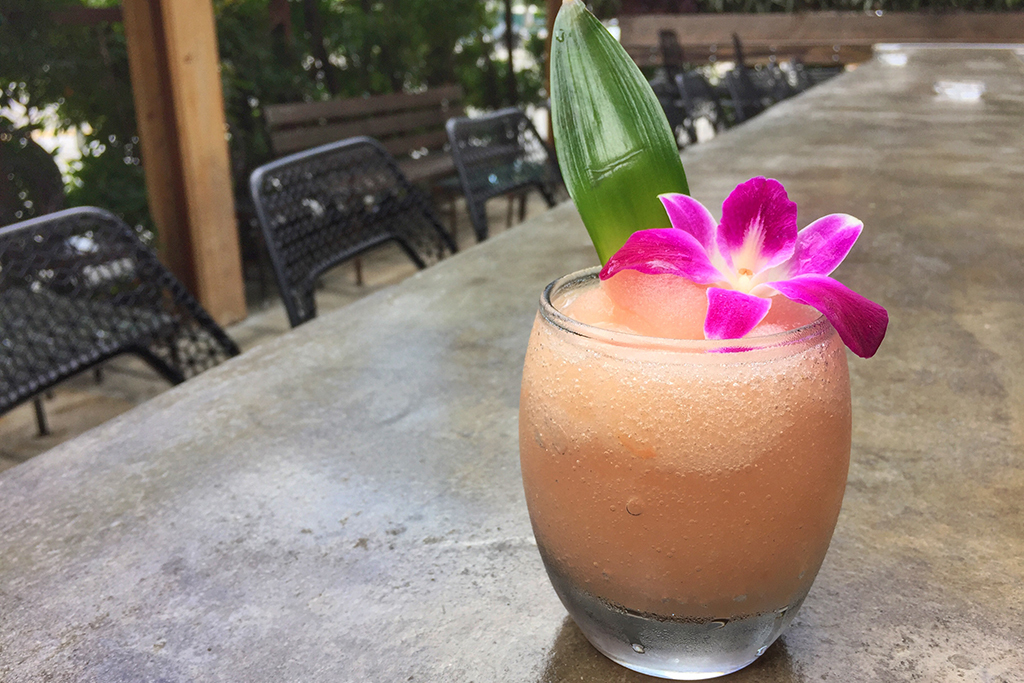 Frozen Negroni at Swizzle Bar
Your favorite nighttime cocktail is about to become your favorite poolside drink courtesy of Washington Park Hotel's lobby bar, Swizzle. The classic Negroni, made with gin, Campari and vermouth, is given a citrus twist and frozen. The result is a spirit-forward slushie that's as strong as it is refreshing.
PaletaRita at Coyo Taco
This offers the best of a stirred and frozen margarita in one drink. Part of a paleta is sliced and used in place of fresh fruit in the mix, while the remaining ice pop doubles as a garnish or stirrer—up to you!
Frozen margarita at Lolo's Surf Cantina
How do you make a classic margarita even better? Serve it frozen. At this South Beach Mexican joint, you can order your 'rita on the rocks or as a slushie, plus add a flavor such as mango, passion fruit, blood orange or guava. The frozen margarita is available by the pitcher, which is perfect for those hotter-than-Hades Miami summer days.
Adult root beer float at Vicky's House
When you can't decide between dessert and more drinks, the adult root beer float at Vicky's satisfies both. It's made with Not Your Father's root beer, which has a 5.9 percent alcohol content, and vanilla ice cream. Ask for the bottle to ensure your perfect beer-to-ice-cream ratio.
Liquid nitrogen caipirinha at the Bazaar by José Andrés
The frozen caipirinha made tableside at Bazaar in Miami Beach is a production. A server rolls up next to you and blends cachaça, lime juice and sugar with liquid nitrogen by hand as you watch a large cloud of smoke form over the cart and the mixture instantly turns into slush. Warning: the pint-size drink is deceptively strong and will lead to serious brain freeze if sipped too quickly.
Build Me Up Butter Rum at Nikki Beach Miami
This one is up there on the list of ultimate summer desserts. The blended milkshake is made with light rum, milk, brown sugar, nutmeg and butter pecan ice cream. It may taste like fall but the icy beverage is just the thing you'll want to sip on a warm, sunny day.
Aperol Frizz at Zucca
An aperitif cocktail fit for the weather, the Aperol Frizz, featuring prosecco and sauvignon blanc, is a frozen take on the Italian classic. While on the sweeter side, the passion-fruit-flavored drink is balanced by hints of lemon, grapefruit and orange.
Frosé at Charcoal Garden + Grill
Summer's favorite wine gets the slushie treatment with help from Brooklyn-based Kelvin Slush Co., purveyor of organic mixers. Order it all season long at the Yard, which is serving up the all-natural drink in both small and large sizes.
Want more? Sign up here to stay in the know.