Heads up! We're working hard to be accurate – but these are unusual times, so please always check before heading out.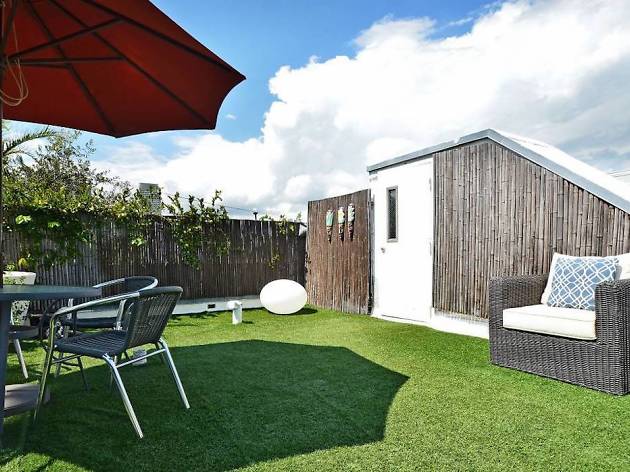 Amazing Airbnb Miami Beach homes you can rent
The Miami Beach Airbnb of your dreams—whether it's a South Beach mansion or a modified van—is only a click away
Your Airbnb Miami Beach needs to fulfill certain requirements. Is it close to the best South Beach clubs? Good. Is it walking distance from one of the best Miami beaches? Even better. Is it surrounded by Art Deco Miami gems? Perfect. Now the only thing left to do is stock up on sunscreen and get ready to have a blast in one of the coolest cities in America.
RECOMMENDED: Full guide to Miami Beach
Amazing Airbnb Miami Beach
Photograph: Courtedy Airbnb
Got deep pockets, a bunch of friends and an itch to throw one heck of a South Beach party? Well, for $6,500 a night, you can rent this entire SoBe mansion that comes with your own staff, four bedrooms, eight bathrooms, a pool and just about everything else you could need to live out your very own lavish Miami Beach fantasy. Rent it for a private party or just have the whole place to yourself for the greatest Netflix binge session of all time.
Photograph: Courtesy Airbnb
Sunny Isles is the perfect alternative for those who'd prefer to sidestep the noise of South Beach. A good half hour north of Lincoln Road sits this darling two bedroom, one bathroom houseboat. Decked out in nautical charm, the boat—which will stay docked at a marina during your stay—is perfect for anglers looking to cast from their couch or a couple after a romantic getaway. Watch the sunset as you grill out on the stern.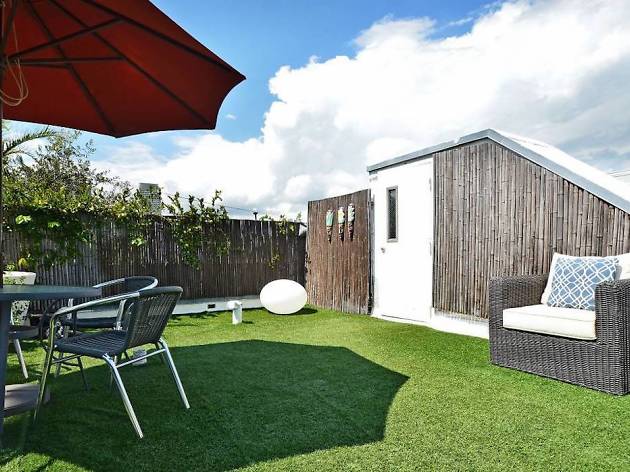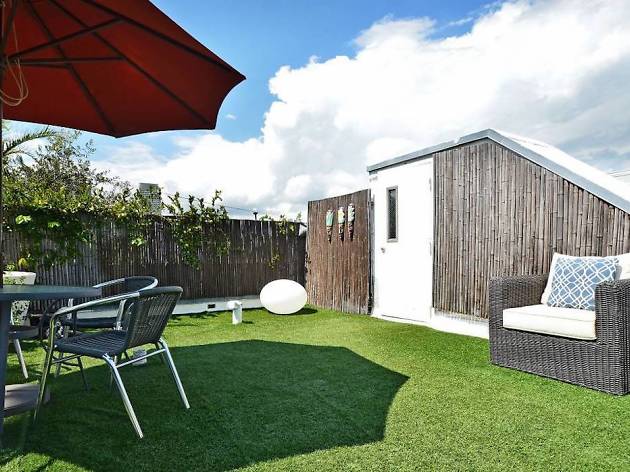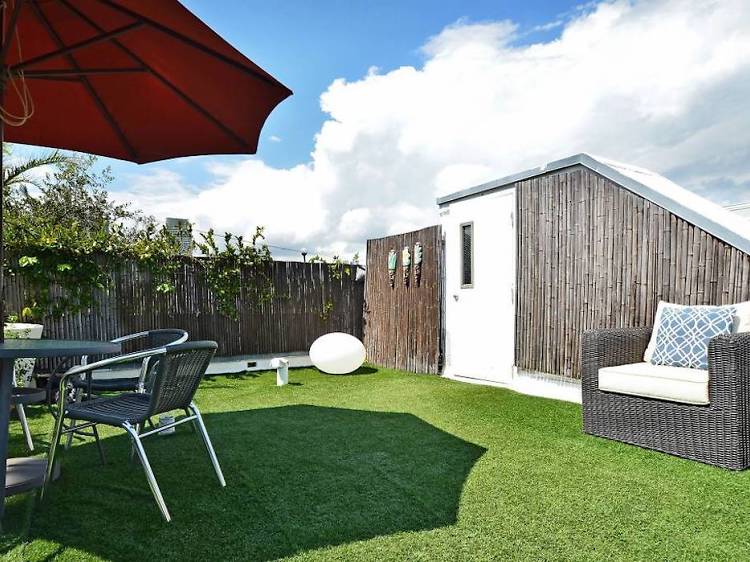 Photograph: Courtesy Airbnb
Honestly, we'd rent this place just for the shower, with its rain nozzle, pebbled floor and capacity to fit a baby elephant inside. But this two-story home (affectionately nicknamed the LoveShack) has so much more to offer—like the rooftop patio, sleek modern decor, full kitchen and proximity to the beach (just a five-minute walk). It doesn't hurt that Laiz, the LoveShack's manager, is a certified Superhost.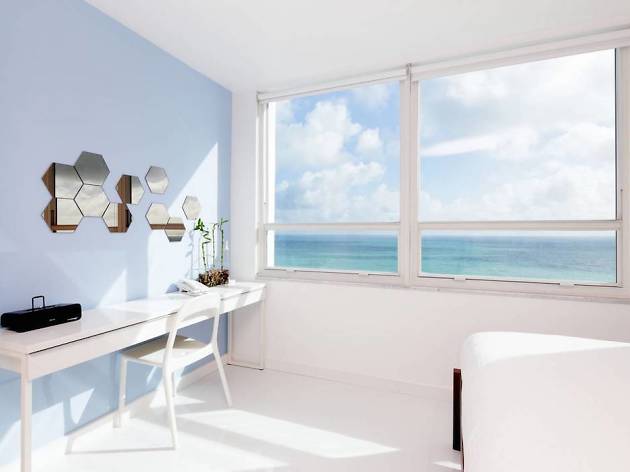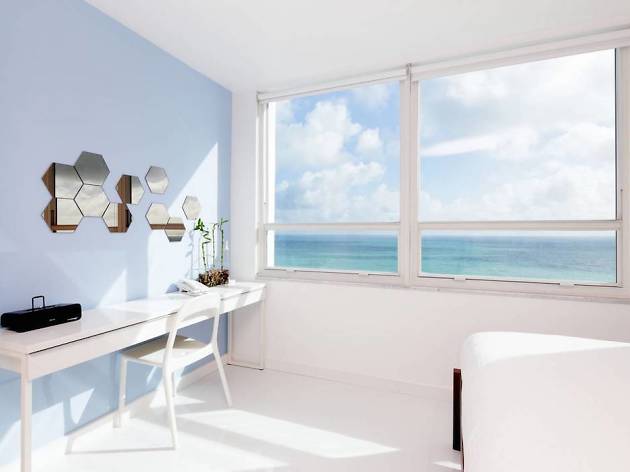 Photograph: Courtesy Airbnb
4. A view to end all views
If you're here for the ocean, book this one. The cloud white studio offers a perfect view of a reasonably quiet and clean strip of the beach. Over 200 reviews later, the apartment has maintained its five-star rating, and despite the king-size bed, 65-inch flatscreen, gym, tennis courts and the apartment complex's poolside tiki bar—it's the view everyone can't stop raving about.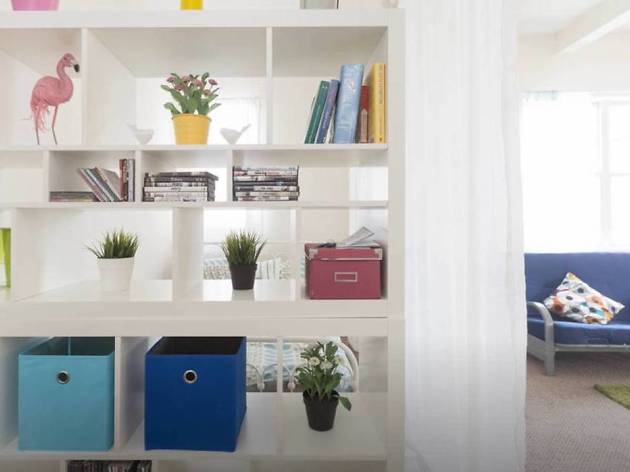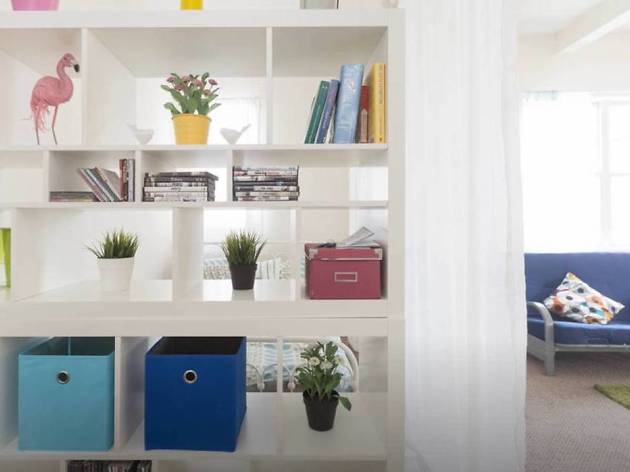 Photograph: Courtesy Airbnb
5. Miami Beach on a budget
This bright, comfortable studio apartment is a great find for a few different reasons. To start: the $29 per night (even with the $75 cleaning fee) is a steal. Tack on to that a great ocean view and location right in the heart of South Beach, and you've got a place worth raving about—which is just what over 200 reviewers have done, leaving this Airbnb with a five-star rating.
Photograph: Courtesy Airbnb
If you're going to stay in Miami Beach, you might as well feel like you're in Miami Beach. And the vibrant neon walls of this Airbnb will certainly not let you forget that you're in the heart of the city. Up to four people can squeeze into this studio, which has a full kitchen and—if you don't feel like cooking—the shops and restaurants of Lincoln Road are within walking distance.
Photograph: Courtesy Airbnb
While it technically falls somewhere just between Miami and Miami Beach, we're tossing this Venetian Causeway gem in the category of the latter. After all, it does have a sexy pool, funky modern art, shiny metallic furniture, a shower that you could fit your entire family in, a bathtub (just in case that massive shower wasn't cutting it), four bedrooms and a garden. And all that sounds pretty Miami Beach to us.
Photograph: Courtesy Airbnb
This Mid-Beach old Florida studio is going to feel like home the minute you walk in. The unit is attached to the owner's home but is completely private, plus it is within walking distance to the beach. It's an affordable and unique alternative to nearby hotels and features all the amenities you need to work, play and relax.
Photograph: Courtesy Airbnb
The real selling point of this corner apartment is its sunny balcony, where you can enjoy a nice bottle of wine with an even nicer view. The Collins Avenue and 14th Street location is right where you want to be in South Beach, close to major tourist hubs, beaches and local favorites (like Miami's greatest dive bar, Mac's Club Deuce, which is but a mere block away).
Need help building your itinerary?
Spend time on the sand, in the club and out on the town.