Art Deco Miami and South Beach's most beautiful buildings
Art Deco Miami is easy to spot if you know where to look—and these are the colorful, iconic structures to keep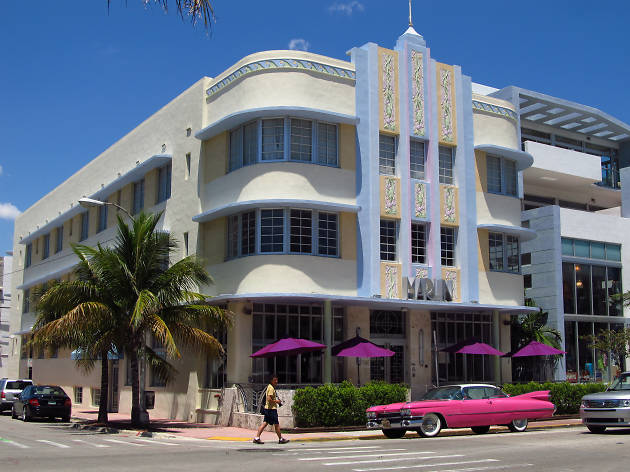 Art Deco Miami is an architectural wonder. The city has the highest concentration of Art Deco buildings in the world, and their preservation has saved the South Beach skyline from becoming a canyon of condos. Amazingly, these buildings were almost destroyed by developers in the early 1970s. Their survival is due to a handful of activists who, in 1976, founded the Miami Design Preservation League (MDPL). With their help, a number of the best Miami hotels, and even some South Beach clubs, have maintained their beautiful façades and historical designation. Looking to explore Art Deco? Miami, look no further than these vibrant structures.
RECOMMENDED: See the full coverage of South Beach, Miami
Art Deco Miami highlights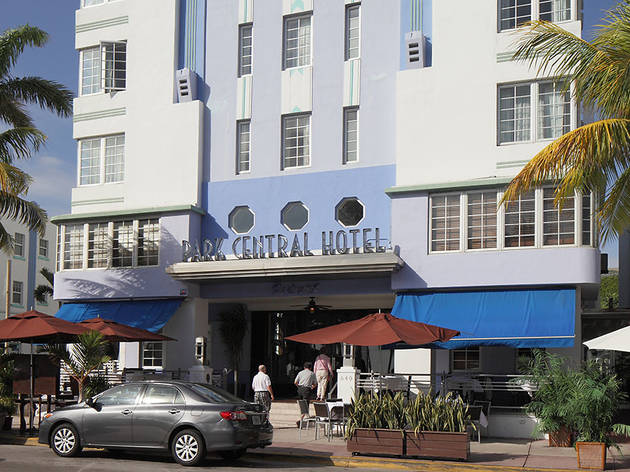 Photograph: Shutterstock/Felix Mizioznikov
The principal architects of deco South Beach were New Yorkers Henry Hohauser and L. Murray Dixon. Park Central Hotel (630 Ocean Drive) is one of Hohauser's best efforts, dating back to 1937 and featuring bold vertical bands and window "eyebrows." In the early 1980s, this area was a bad crime spot, a natural setting for the gory violence in Brian De Palma's movie Scarface, which was shot at 728 Ocean Drive, as well as much of the action in hit crime show Miami Vice.

The buildings of South Beach were originally painted white with subtle pastel trim. The candy colors came along in the 80s when interior designer Leonard Horowitz devised a palette of tones to draw attention to the architecture—and away from the squalor.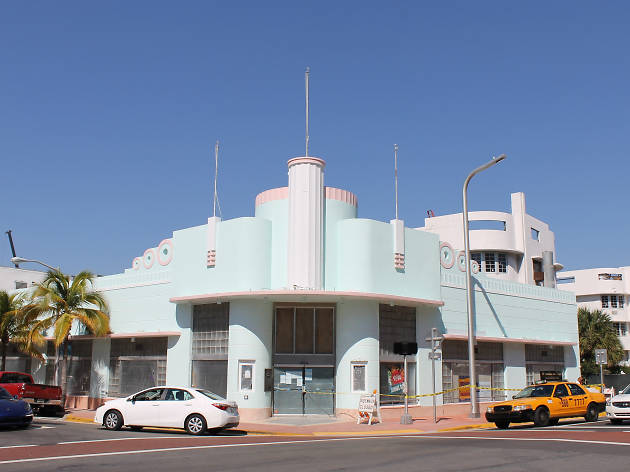 Photograph: Courtesy CC/Flickr/Phillip Pessar
Collins Ave and Española Way (Hoffman's Cafeteria Building)
The inspiration for the drag queens at the Birdcage was the Warsaw. Now closed, it was a legendary 1990s center of debauchery housed in the striking Hoffman's Cafeteria Building, a deco gem with central turret and sweeping "angel wings" designed by Hohauser in 1939. From a cafeteria it became a ballroom, then a series of clubs, including the Warsaw, and Jerry's Famous Deli, which shuttered in 2014. Now, the iconic structure is probably the world's most glamorous Señor Frogs, where you can down the famous yard stick in a beautiful pastel-colored bar. 1450 Collins Ave at 14th St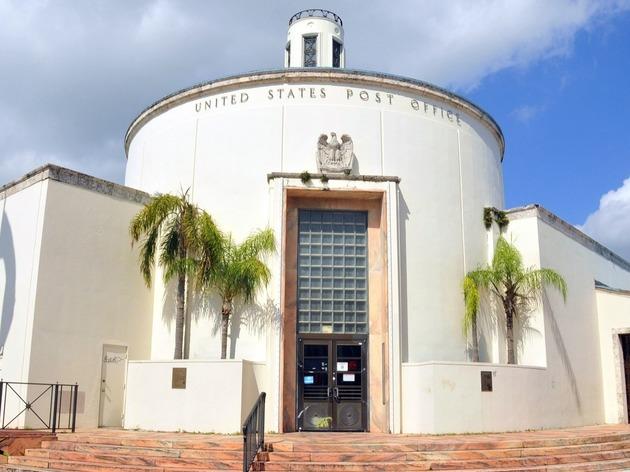 Photograph: Shutterstock
Miami Beach U.S. Post Office
The Miami Beach Post Office, designed by Howard Lovewell Cheney in 1937, was created in a style termed "deco Federal." It has a classical central rotunda and a minimalist façade, but the interior is busy with a cowboys-and-Indians frieze, a starburst ceiling and bits of shiny brass detailing. 1300 Washington Ave at 13th St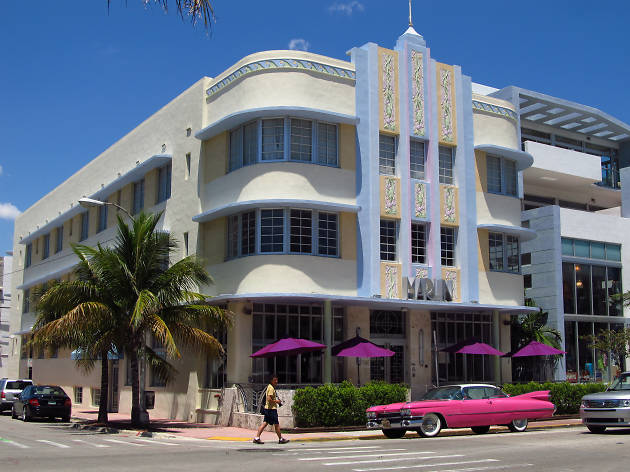 Photograph: Courtesy CC/Flickr/Jasperado
Collins Avenue is less of a unified architectural set piece than Ocean Drive. Nonetheless, a handful of gems survive, notably the Marlin, a 1939 design by L. Murray Dixon that recalls sci-fi serials of the era such as Flash Gordon. The beautifully renovated hotel still has its iconic "eyebrows" over the windows, a Dixon trademark across his other properties, including the Tides, and pastel-colored walls. Unrelated to its Art Deco past, the Marlin is home to one of the city's top recording studios.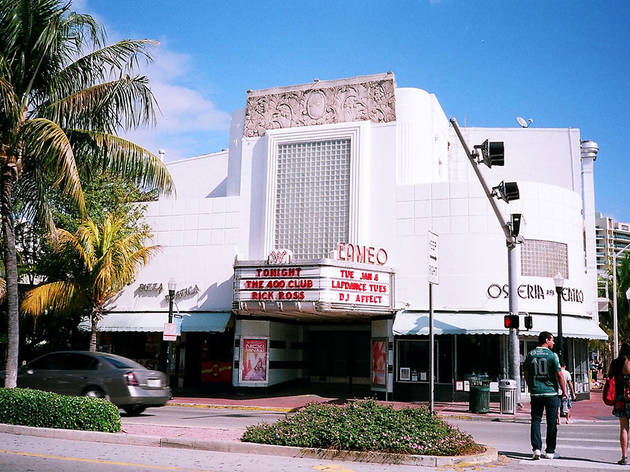 Photograph: Courtesy CC/Flickr/Phillip Pessar
Collins Avenue looks great at night, as the light fades to a bruised purple and the neon is switched on. Nightfall is likely when you'll see Cameo Theatre, turned Cameo nightclub, at its brightest and most vivid. The 1938 Art Deco movie theater, designed by Robert E. Collins, now uses its famous marquee to display the names of famous DJs instead of films. 1445 Washington Ave at 14th St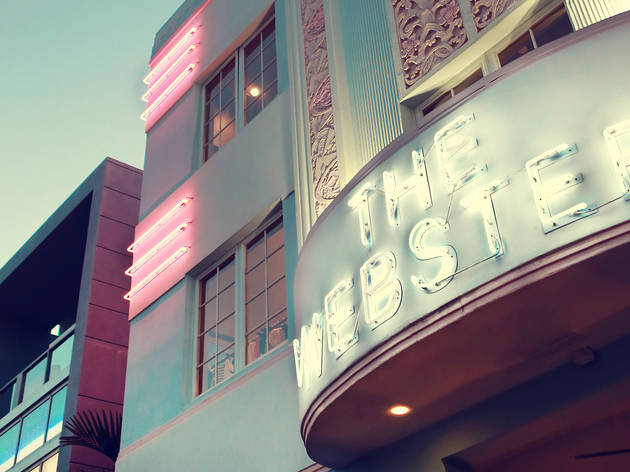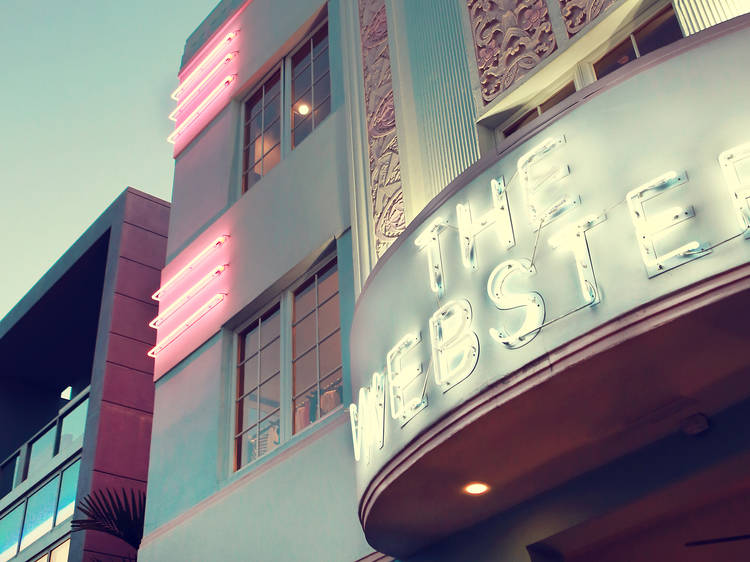 Photograph: Courtesy The Webster
Another of Hohauser's architectural contributions is this 1939 hotel-turned-luxury-boutique. While the Webster's collection of Parisian-designed fashion could easily be considered a tribute to its Art Deco pedigree, it's the building's original terrazzo flooring, as well as a geometric façade with neon accents, that solidify its Art Deco designation. 1220 Collins Ave at 12th St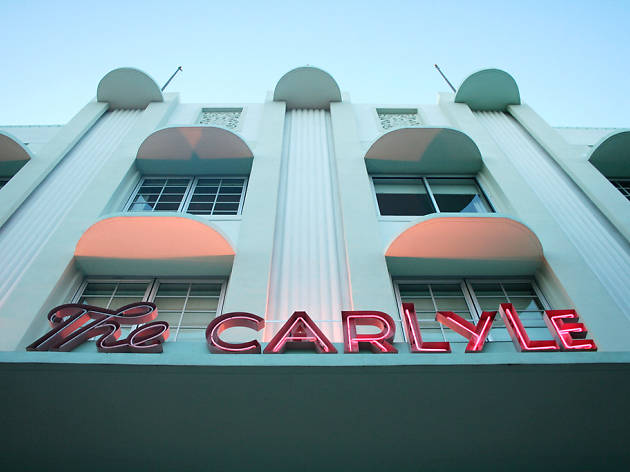 Photograph: Courtesy Creative Commons/Flickr/Alfredo Aponte
The Carlyle is classic Miami Beach deco: a flashy ensemble of striking vertical piers, horizontal lines, visor-like sunshades and curvaceous corners. Pure camp, it was a natural for the role of gay nightclub in The Birdcage. You may also recognize its Art Deco exteriors, virtually unchanged since its completion in 1941, from other films, such as Scarface and Bad Boys II. 1250 Ocean Dr at 13th St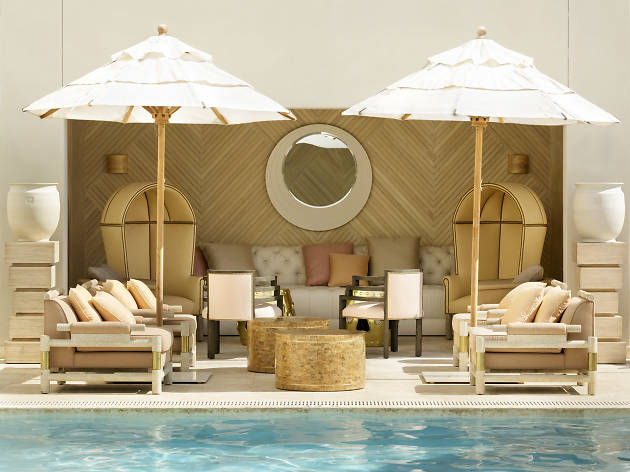 Photograph: Courtesy the Tides South Beach
L. Murray Dixon was one of the city's most prolific architects of the Art Deco era, so it's only fitting that the tallest Art Deco structure of the mid-'30s would be credited to him. At 12 stories tall, the Tides, which features nautical porthole windows, towers over its two- and three-story neighbors. 1220 Ocean Dr between 12th and 13th Sts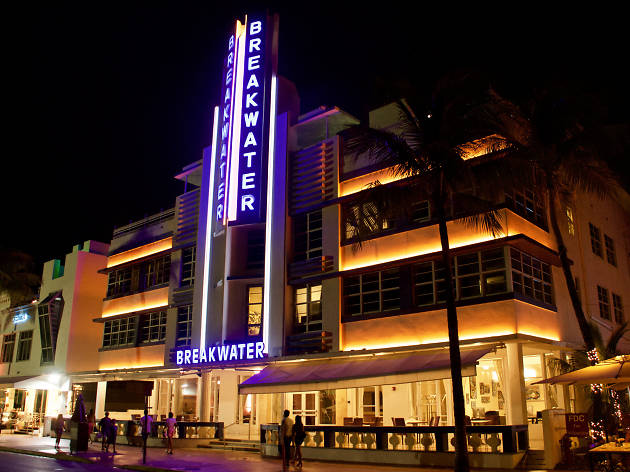 Photograph: Courtesy CC/Flickr/Valerie
You can't miss this iconic building along Ocean Drive—it's practically the focus of all Art Deco Miami commentary thanks to its strong deference to the architectural style. There's an emphasis on symmetry, it features a central tower and it's splashed in neon. Opened in 1936, the Breakwater remains one of the most popular deco hotels in South Beach. 940 Ocean Dr, Miami Beach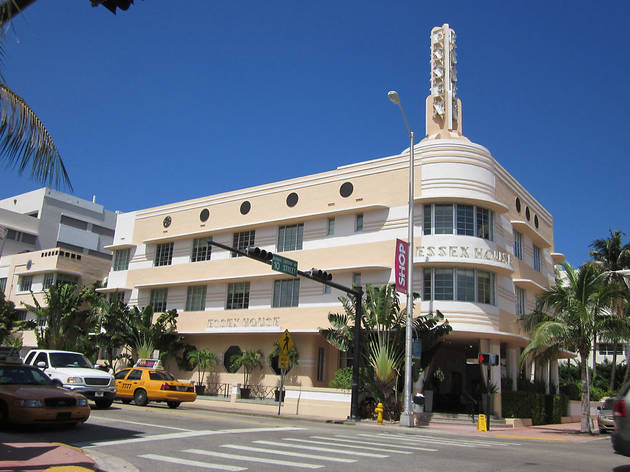 Photograph: Courtesy CC/Flickr/Infrogmation of New Orleans
Henry Hohauser's 1938 Essex House Hotel features porthole windows and a smokestack-like neon tower that call to mind a land-locked ocean liner. (This style of Maritime deco is appropriately called Nautical Moderne.) With its curved façade pointed streetward, the Essex appears to be docked on the junction of Collins and 10th Street. 1001 Collins Ave at 10th St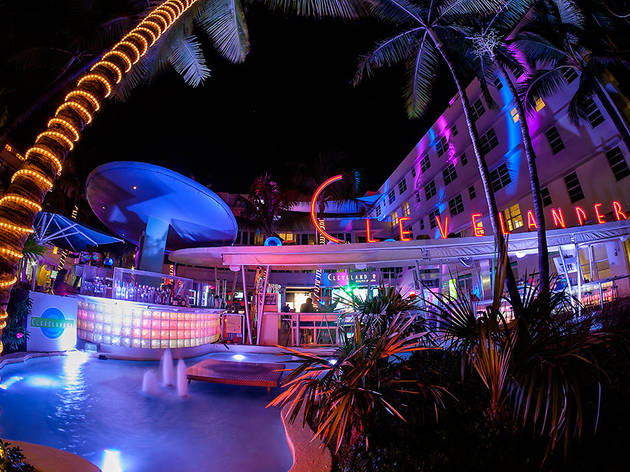 Photograph: Shutterstock
Albert Anis built this South Beach icon in 1938. The austere architect, whose portfolio included approximately 70 projects sprawled across Miami Beach, went total glam with the decorative Clevelander, incorporating a fully ornate central bay and "eyebrows" that split in the front but continue along the sides. Today, the building is embellished by more than just architecture, as its outdoor pool and bar area (added during future renovations) are favorites of Ocean Drive's most colorful characters. 1020 Ocean Dr at 10th St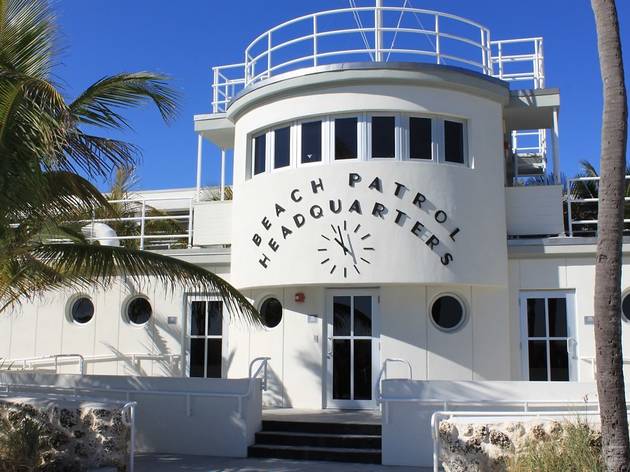 Art Deco Beach Patrol Headquarters
Designed by Robert Taylor and opened in 1934, the nautical-themed structure features long rows of porthole windows and railings on its oblong second floor. The center, circular tower flies the flags of the United States and Miami Beach. Conveniently for beachgoers, there are showers and restrooms inside. 1001 Ocean Dr, Miami Beach
Find more ways to have fun in Miami Beach
Discover what's fun and exciting with our guide to the best things to do in Miami Beach