The best Miami beaches
An insider's guide to the best Miami beaches, whether you want to swim, sunbathe, socialize or soak up the local vibe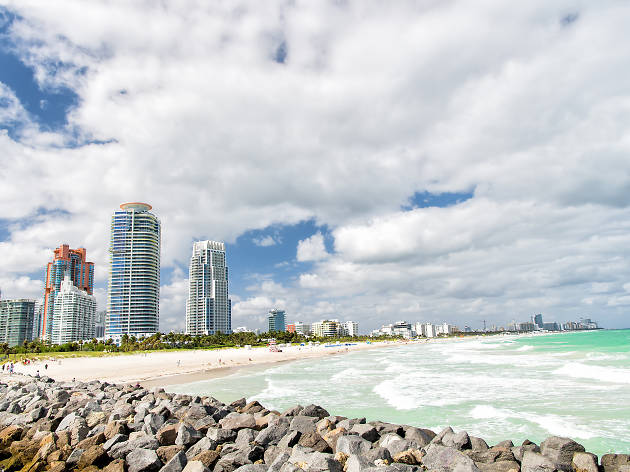 The best Miami beaches are where locals and visitors go to socialize, sunbathe, surf, swim, see and be seen—or avoid all of that, and just relax. Our favorite bits of South Florida coastline extend as far north as Delray Beach, technically not Miami but still only a short drive away, to the southernmost tip of Key Biscayne. They're as diverse as they are sprawling, so no matter which way you head you'll find a spot to fit what you're looking for—a fun thing to do with the kids, something free to do in Miami, a reason to head to South Beach for more than partying.
For a Miami Beach Private Airplane Tour, click here.
Best Miami beaches
1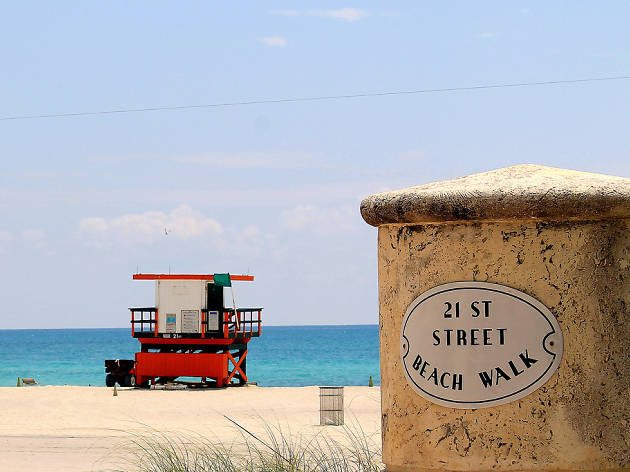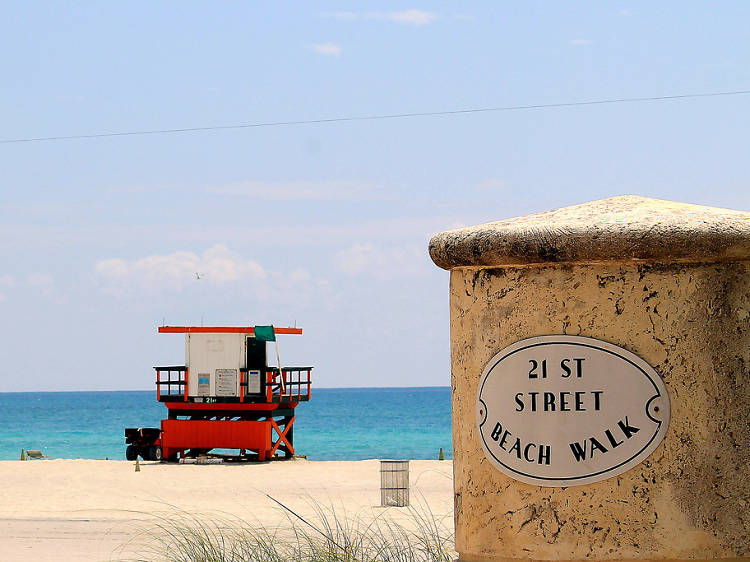 21st–45th Street Beach
A small stretch of sand, with sporadic lifeguard huts and snacks. It also serves as backdrop for some of the area's most luxurious hotels and exclusive beach clubs, which unexpectedly command less beachfront real estate than their neighbors to the south so more locals gather here. The Miami Beach boardwalk runs through it, turning into a paved surface as you head south past 23rd Street—ideal for joggers.
2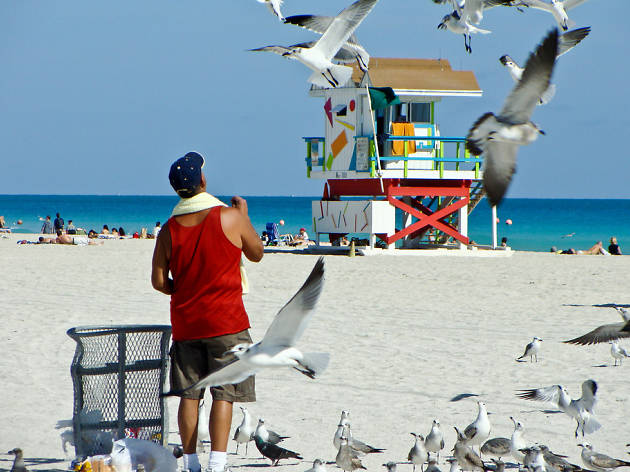 Lummus Park Beach
Volleyball, thatched huts and people-watching. There's also a gay beach at 12th Street and plenty of topless tourists and friendly bird feeders, which provide a good source of entertainment. Keep an eye out for the funky lifeguard stands: the one at 14th Street, which sports a circular roof crowned with AstroTurf, is our fave.
Photograph: Courtesy CC/Flickr/Anne Baekken
3
Haulover Beach
These dozen miles of white sand, ocean surf, landscaped dunes and shaded picnic areas rank as one of the area's most scenic stretches of beachfront. Worth the drive or bus journey (take the S from Lincoln Road), the beach is fringed with dense vegetation that blocks out the visual pollution of nearby high-rises. There's a nude beach (between the two northernmost parking lots) and a gay nude beach (north of the lifeguard tower). Tuesday nights bring a small food truck festival, with local vendors, live music and programming for the whole family.
4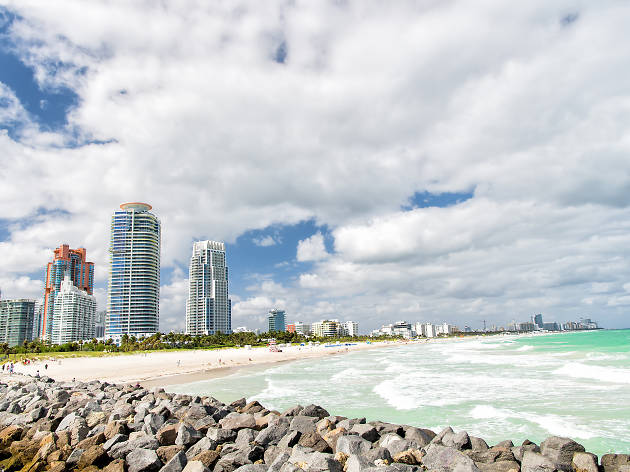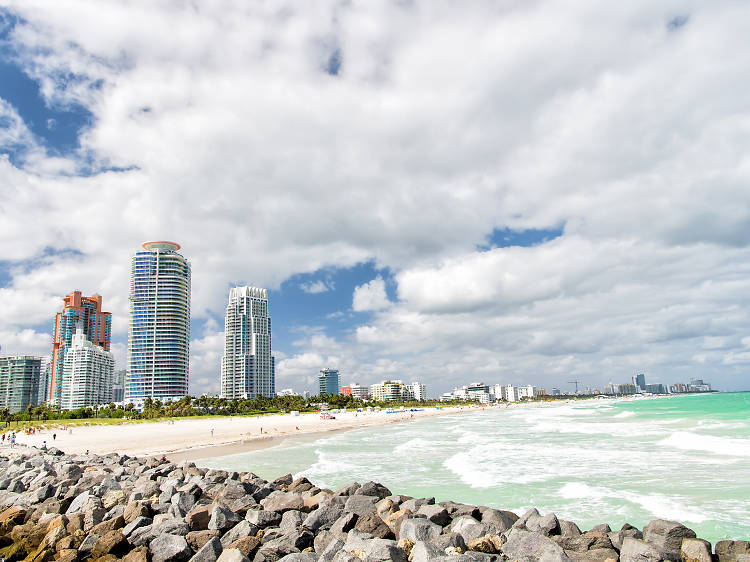 South Pointe Park Pier
This verdant spot on the very tip of Miami Beach is part of a 17-acre park with picnic areas, a playground, a fishing pier (complete with cutting and washing stations, and recycling bins for fishing lines) and great views of cruise ships. Surrounded by the Atlantic Ocean and Government Cut channel, it makes for a wonderful respite from the urban madness. During stone crab season, you'll find plenty of locals hoisting bags of claws and other goodies from nearby Joe's Takeaway for a beachside picnic at the park.
5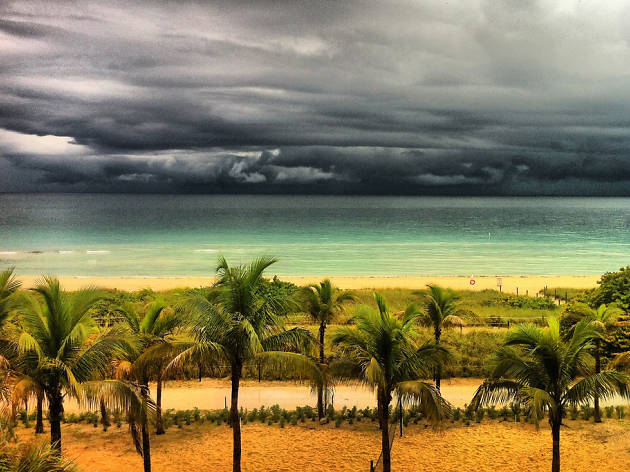 Surfside
A sleepy residential enclave less than a mile square, Surfside exudes a small beach town vibe. Everyone knows each other and there's a true neighborhood feeling to the town. Every first Friday of the summer months there's a communal beach picnic that happens on the sand near the lifeguard station on 93rd. It's mostly residents who gather to listen to music, feast and participate in kid-friendly activities. The Surfside Community Center also boasts one of the best water parks in Miami.
Photograph: Courtesy CC/Flickr/01steven
6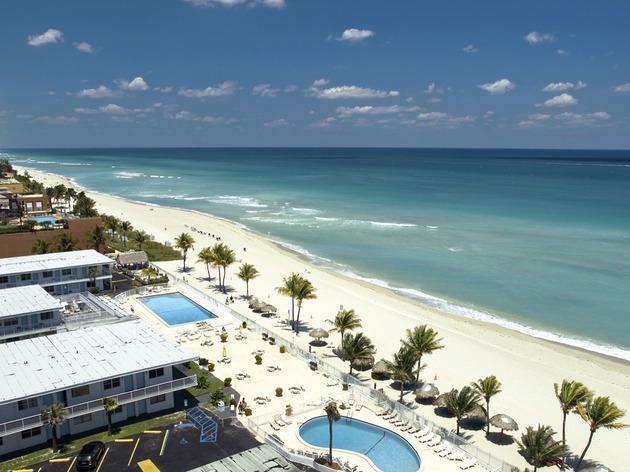 Sunny Isles Beach
Beyond Haulover Beach Park lies Sunny Isles Beach, two miles of public beaches, souvenir shops and hotels. Architectural kitsch and older tourists once prevailed here; in an effort to change its reputation forever, the place has recently undergone a luxury beachside condo boom. These days, Sunny Isles Beach resembles more the condo canyon of mid-Miami Beach than the low-rent beach community it was from World War II until just a few years ago.
7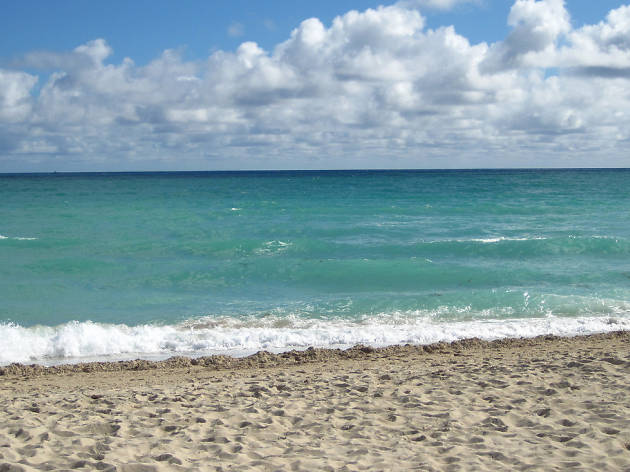 46th–63rd Street Beach
Pleasant, not too crowded and very family-oriented, with a play area at 53rd. On the downside, the otherwise vibrant Collins Street morphs into a soulless backdrop of bland condos around here with a few big-name hotels from Miami Beach's golden era sprinkled in-between. Parking is easier to come by than in South Beach, but you're exchanging environment and proximity to cool eateries for sheer convenience.
8
Occupying the southern tip of Key Biscayne, this park's wide beaches regularly make the national top ten lists. But this is more than just a place to catch some rays: there's history, wildlife and plenty of activities too. You can tour the Cape Florida Lighthouse, the oldest building in south Florida; explore native wildlife planted in the aftermath of 1992's Hurricane Andrew; and try your hand at shoreline fishing, ocean kayaking, windsurfing, cycling and in-line skating. Covered pavilions are available for picnics, and the Lighthouse Café offers good food.
Read more
9
Palm trees line Key Biscayne's Crandon Park, and shallow waters, barbecues and picnic tables make it a favorite destination for families. A winding boardwalk and convenient parking complete the picture.
Read more
10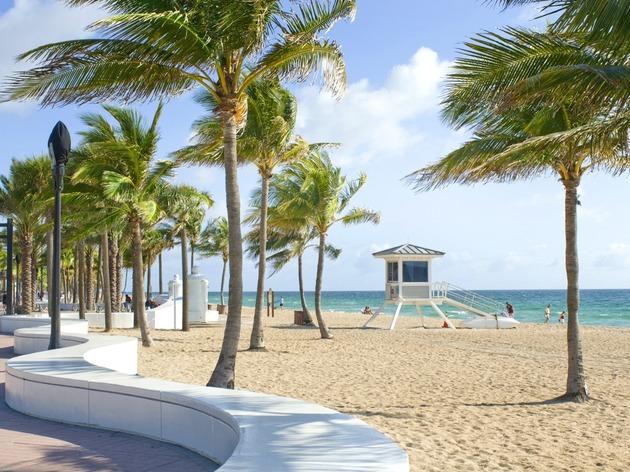 Fort Lauderdale Beach
A wide and handsome sandy strip with a brick promenade for skaters, joggers and cyclists. Postcard-perfect, it comes complete with bronzed lifeguards and coconut palms, and draws an altogether more laidback crowd than the beaches in Miami. Just looking to cruise? Fort Lauderdale Beach offers direct water views (and access) right from the street—like driving down the Pacific Coast Highway without all of the cliffs.
11
Scenic park with scores of nature trails and a man-made atoll pool that's flushed by the tidal action of Biscayne Bay—a hit with families with small children not yet ready to brave the waves of South Beach. It doubles up as a prime kite-boarding spot. Come with a hammock and gently rock yourself through an afternoon of people-watching. Or dock your boat (it's one of the city's most popular public marinas) before heading to dinner at Red Fish Grill, one of the Miami's best seafood restaurants right inside the park.
Read more
12
Bal Harbour
A small beach with a Vita course, nestled inside this famously well-heeled town just north of Surfside. There are said to be more millionaires per capita in Bal Harbour than in any other city in the U.S.—you need to be one to hang out here for long.
13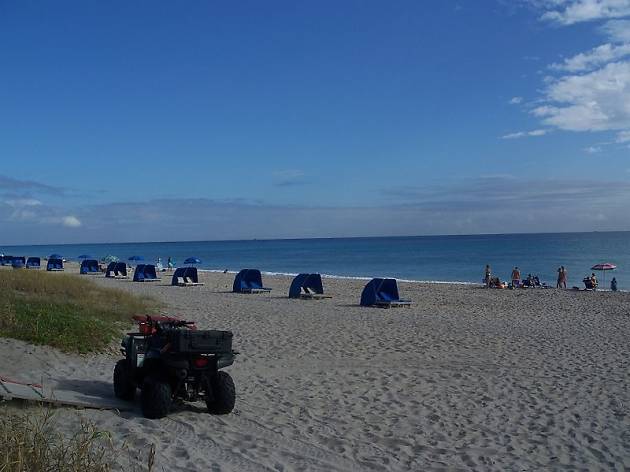 Delray Beach
If you want to stop between Fort Lauderdale and Palm Beach, do so at Delray Beach, an intimate town with wide beaches, trolley tours and an impressive cultural scene. The coast has always attracted visitors, from Spanish explorers in the 1500s to today's retirees and sun-seekers. It's not hard to see why: the beach is picturesque, and not too populated. You'll have no trouble finding an (inexpensive) umbrella and beach chair on which to lie on and soak up some rays for several uninterrupted hours.
14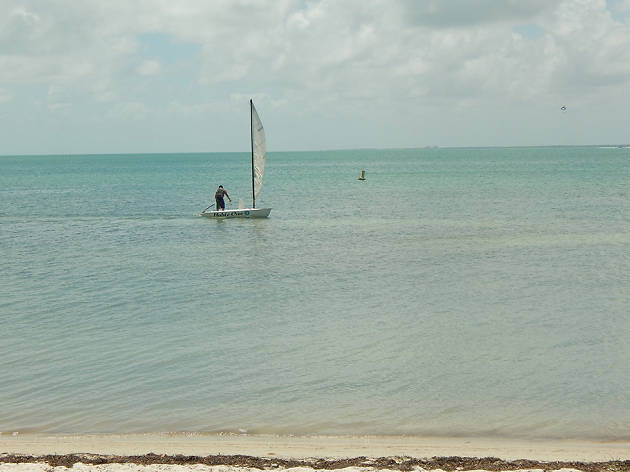 Hobie Beach
Hobie Beach, named for the late surfboard pioneer Hobie Alter, is unsurprisingly the beach of choice for practitioners of that sport. Windsurf, jet-ski and sailing boat rentals are all available onsite. It's also one of Miami's few dog-friendly beaches, so expect lots of canines splashing around in the shallow waters—which are often murky and covered in seaweed.
Photograph: Courtesy CC/Flickr/osseous
See the best beaches in the USA
Our sun-lover's guide to the best beaches in the USA for surfing, snorkeling, family vacations and partying by the sand
Read more