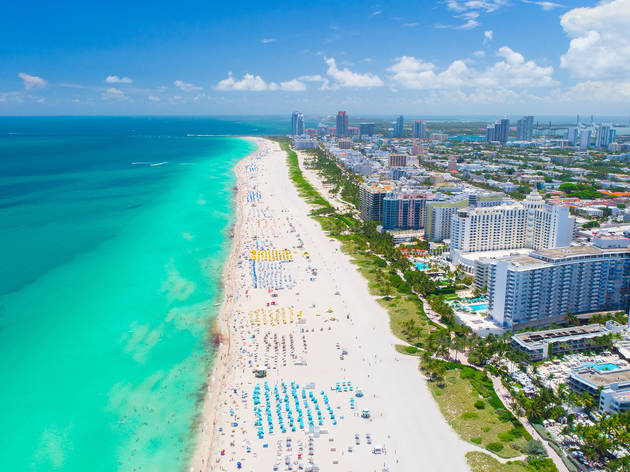 The absolute best Miami beaches for every type of sunbather
Chilling? Surfing? Picnicking? Whatever your outdoor vibe is, one of these stunning Miami beaches is right for you.
Note: Miami-Dade beaches are open with some restrictions: No groups of more than 10 people will be permitted; facial coverings must be worn when social distancing is not possible as well as in restrooms and when at concession stands; organized group activities for two or more, like volleyball, football, or soccer will not be allowed; picnic pavilions and playgrounds will be off-limits. City of Miami beaches are also operating under restricted hours. Check ahead before you go.
Spoiler art: Miami beaches are the best in the land. Ask any tourist strolling down Ocean Drive in Miami's Art Deco district or a pup-toting local making their way to a dog beach in Miami and both will confirm that our shoreside is the most magnificent part of our city. Folks travel from all over—especially during Spring Break—to visit them. The reason? They're beautiful. But that's not all. The best Miami beaches also come in many different flavors, too. Looking for a party scene? Hit South Beach. Interested in something more serene? Try Surfside. The truth is, regardless of the type of beachgoer you fancy yourself, Miami's got the right stretch of ocean for you.
RECOMMENDED: The best things to do in Miami
Best Miami beaches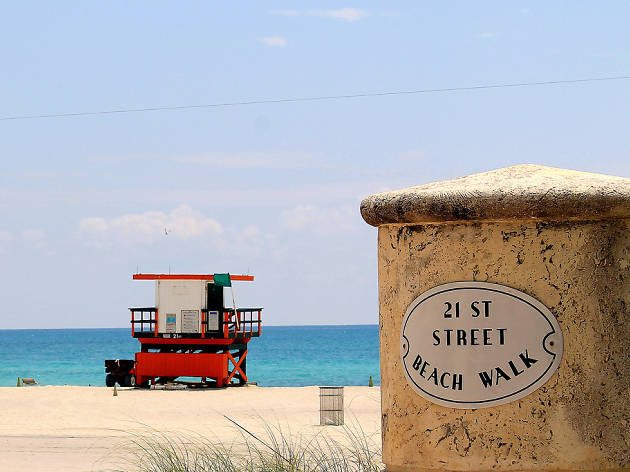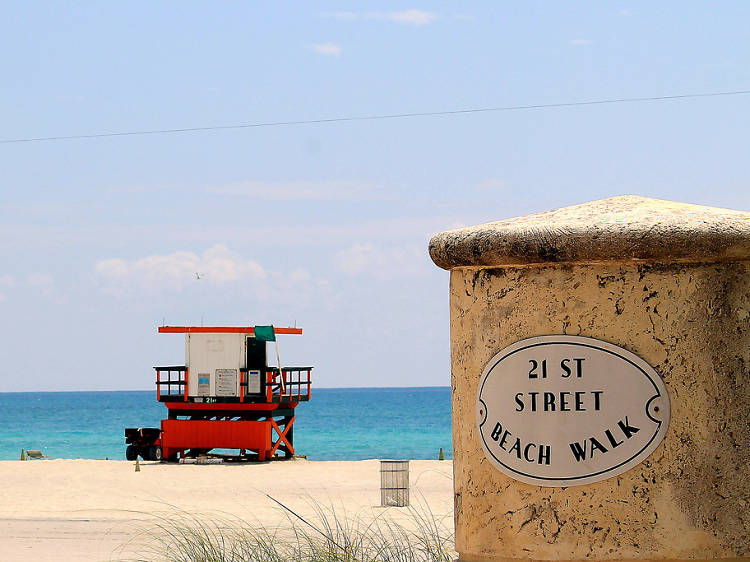 Photograph: Fintrvlr
1. 21st–45th Street Beach
What is it? A locals' beach that lies slightly north of the South Beach chaos.
Why go? When you need a break from the sand, you can stroll down the Miami Beach boardwalk, which runs through this strip of beach and makes for a great jogging or people-watching spot. This beach also overlaps with some of the area's best hotels, such as the Miami Beach EDITION and the Faena Hotel.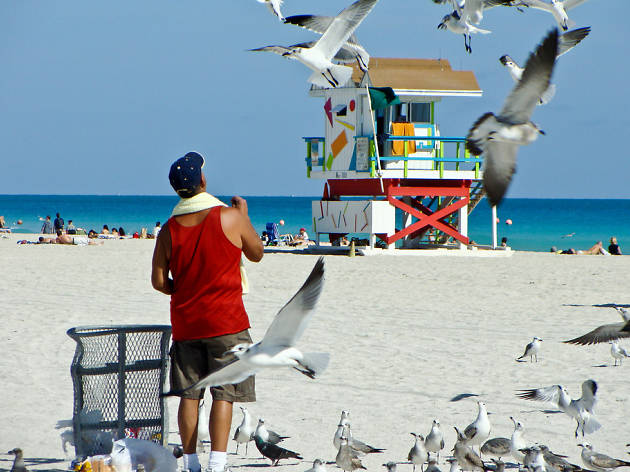 Photograph: Courtesy CC/Flickr/Anne Baekken
What is it? The Miami Beach you've seen in movies and TV. Expect bright colors and eye-popping sights all around.
Why go? This might not be for the person craving a laid-back beach day but it can be a blast—especially for the Spring Breaker looking to get into some fun. The LGBT beach at 12th Street is always poppin' too.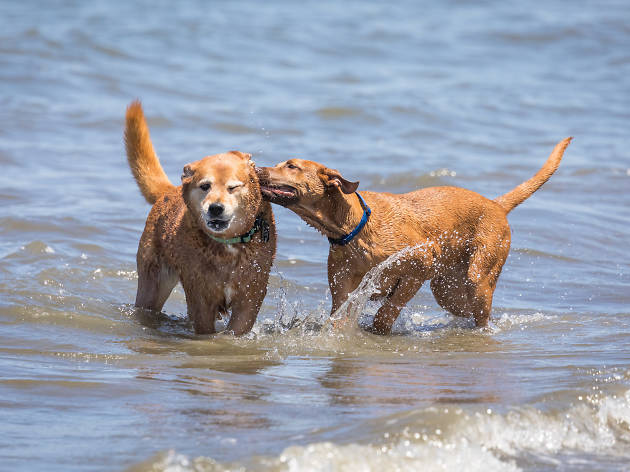 Photograph: Flickr cc/Roger Smith
What is it? Miles of perfect sand and surf make this a great family beach—or a perfect pick for someone looking to enjoy the actual beach, and not just be seen.
Why go? Other than the natural beauty, about 30 minutes north of Lincoln Road, Haulover has a nude beach (between the two northernmost parking lots), a gay nude beach (north of the lifeguard tower) and an always-adorable dog park/beach (between Lifeguard Towers two and three). Sounds fun, huh?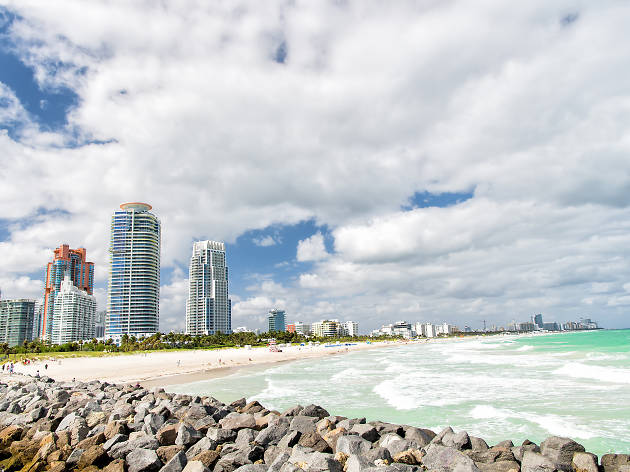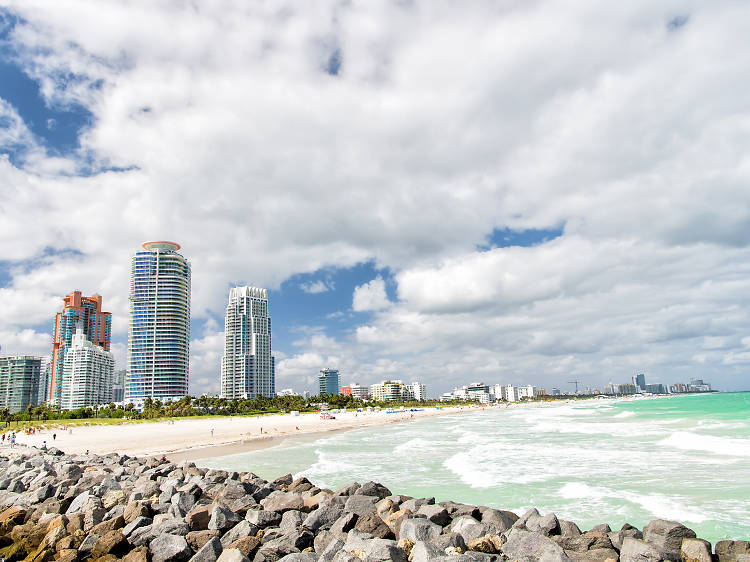 Photograph: Shutterstock
4. South Pointe Park Pier
What is it? A verdant spot on the very tip of Miami Beach and part of a 17-acre park with picnic areas, a playground, a fishing pier (complete with cutting and washing stations, and recycling bins for fishing lines) and great views of cruise ships.
Why go? Surrounded by the Atlantic Ocean and Government Cut channel, it makes for a wonderful respite from the urban madness. During stone crab season, you'll find plenty of locals hoisting bags of claws and other goodies from nearby Joe's Takeaway for a beachside picnic at the park.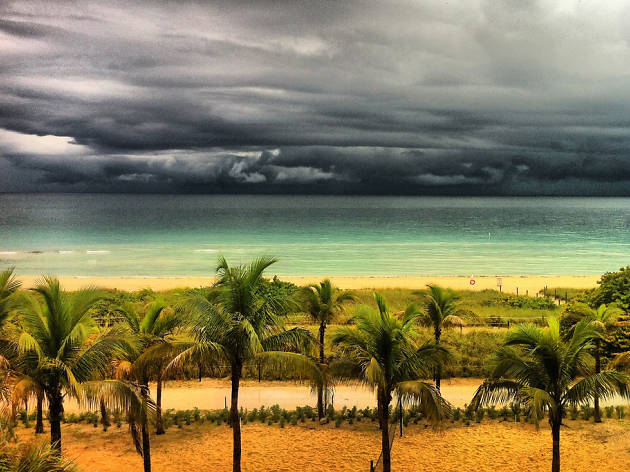 Photograph: Courtesy CC/Flickr/01steven
What is it? A sleepy residential enclave less than a mile, Surfside exudes a small beach town vibe. Everyone knows each other and there's a true neighborhood feeling to the town.
Why go? Every first Friday of the summer months there's a communal beach picnic that happens on the sand near the lifeguard station on 93rd. It's mostly residents who gather to listen to music, feast and participate in kid-friendly activities.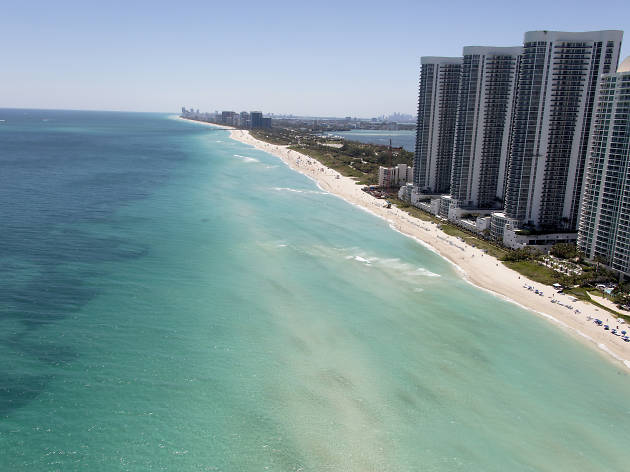 Photograph: Courtesy CC/FlickrJaxStrong
What is it? Two miles of public beaches, souvenir shops and hotels.
Why go? Architectural kitsch and older tourists once prevailed here, but an effort to change its reputation has seen a luxury beachside condo boom. So if you're feeling fancy, this is the beach for you.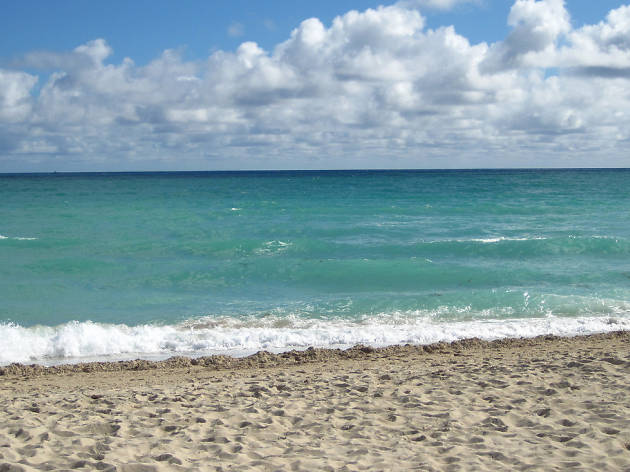 Photograph: Courtesy CC/Flickr/mamichan
7. 46th–63rd Street Beach
What is it? Pleasant, not too crowded and very family-oriented, with a play area at 53rd. On the downside, the otherwise vibrant Collins Street morphs into a soulless backdrop of bland condos around here with a few big-name hotels from Miami Beach's golden era sprinkled in-between.
Why go? Parking is easier to come by than in South Beach, and it makes for a decidedly less chaotic beach day.
What is it? What feels like an escape from Miami—even though it's just a short ride over the Key Biscayne bridge. And Bill Baggs Cape Florida State Park feels unlike anything you'll find on Miami Beach.
Why go? The beach is wide and overlooked by a historic lighthouse (one of the oldest buildings in Miami). Fishing, kayaking, windsurfing and cycling are all encouraged at this active beach. Pavilions offer picnic shelter and the nearby Lighthouse Café is good for a solid lunch.
What is it? Crandon Park is a classy beach with postcard views on Key Biscayne.
Why go? This beach is a favorite of families out for a beach barbecue. Parking tends to be a breeze and a winding boardwalk is great for those who get bored lying on a towel.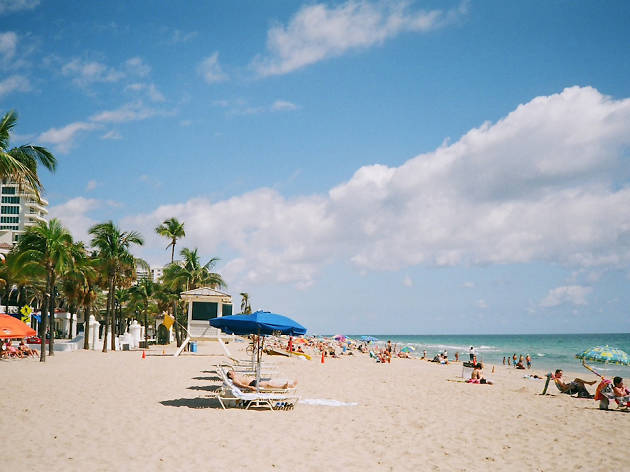 Photograph: Courtesy CC/Flickr/Phillip Pessar
10. Fort Lauderdale Beach
What is it? Our northern neighbor's wide and handsome sandy strip with a brick promenade for skaters, joggers and cyclists.
Why go? Postcard-perfect, it comes complete with bronzed lifeguards and coconut palms, and draws an altogether more laidback crowd than the beaches in Miami (except during Spring Break). Just looking to cruise? Fort Lauderdale Beach offers direct water views from the street—like driving down the Pacific Coast Highway without all of the cliffs.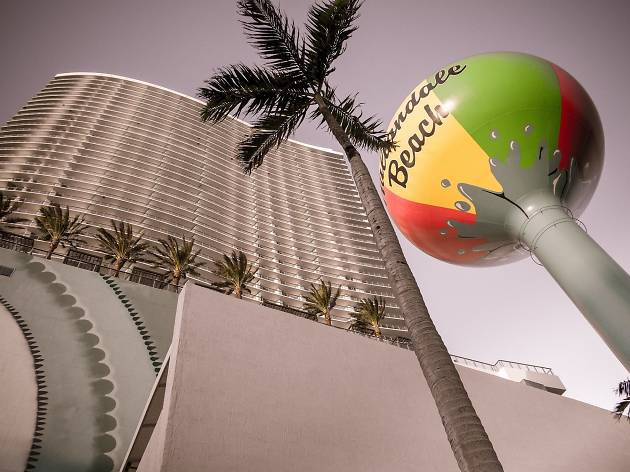 Photograph: Courtesy CC/Flickr/Vladimir Kuderski
What is it? Follow the colorful water tower that looks like a lollipop to Broward county's southernmost strip of sand with plenty of public-parking options for locals.
Why go? Convenience ranks high on the reasons to check out Hallandale Beach, which packs the metered lots and paved walkways. It's also home to Japanese restaurant Etaru. It overlooks the water and is the ideal place for a post-beach day meal outdoors.
What is it? A man-made atoll pool flushed by the tidal action of Biscayne Bay.
Why go? The peaceful, circular swimming area is great for those who don't have the energy or ability to trudge through beach surf. Boaters come and go from a nearby marina.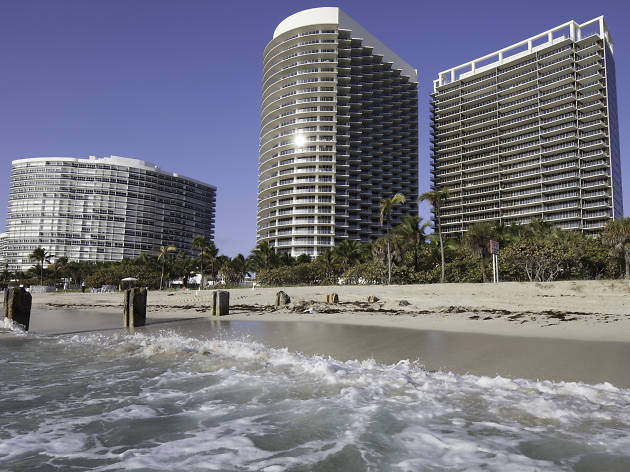 Photograph: Courtesy CC/Flickr/Jimmy Baikovicius
What is it? A small beach with a Vita course, nestled inside this famously well-heeled town just north of Surfside.
Why go? There are said to be more millionaires per capita in Bal Harbour than in any other city in the U.S. Spend an afternoon seeing how the other half lives.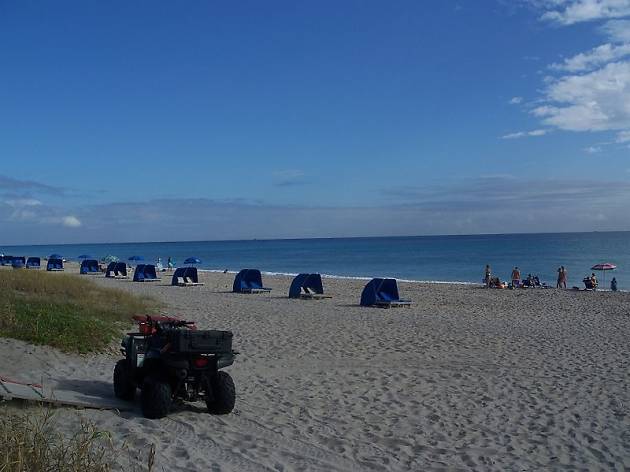 Photograph: Courtesy CC/Flickr/Ebyabe
What is it? An intimate town between Fort Lauderdale and Palm Beach with wide beaches, trolley tours and an impressive cultural scene. The coast has always attracted visitors, from Spanish explorers in the 1500s to today's retirees and sun-seekers.
Why go? The beach is picturesque, and not too populated. You'll have no trouble planting an umbrella and beach chair and soaking up some rays for several uninterrupted hours.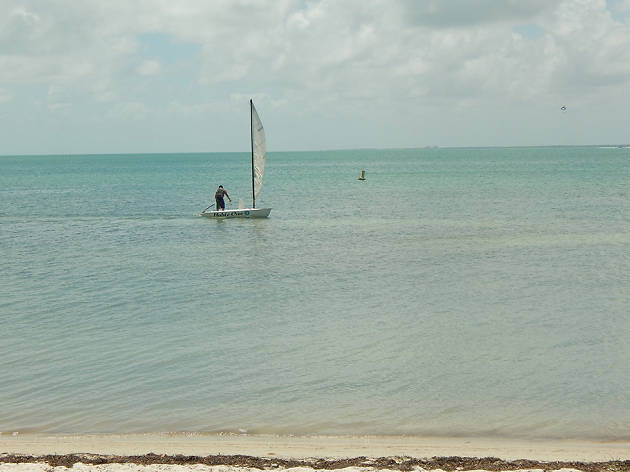 Photograph: Courtesy CC/Flickr/osseous
What is it? The beach of choice for practitioners of windsurfing.
Why go? Windsurf, jet-ski and sailboat rentals are all available onsite. It's also one of Miami's few dog-friendly beaches, so expect lots of canines splashing around in the shallow waters—which are often murky and a tad rocky, so maybe don't come here if you want to lay out in soft sand.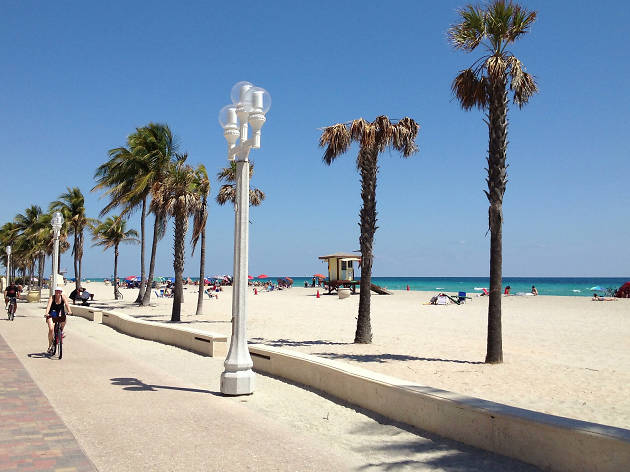 Photograph: Courtesy CC/Flickr/Phillip Pessar
What is it? The place to take your rum-loving uncle. He'll love this pretty beach and boardwalk, catering to an older crowd.
Why go? Sandwiched between Broward and Miami, Hollywood Beach has always been famous for its wide, walkable boardwalk. More recently, it's known as the home of Jimmy Buffett's humongous Margaritaville Hollywood Beach Resort. Stop by for a few rum runners after the beach or—better yet—grab the best burger in town over at the famous Le Tub Saloon.
Looking for more outdoor activities?